Risk Management and Compliance
HEALTH & SAFETY REPORTS

EA National Health, Safety and Welfare Survey Findings and Report - Dec 21 
Summary of Independent Review by Sport Australia - Sep 21
Read archived safety reports here:
CURRENT SURVEYS
We'd like to hear what you think about Health and Safety. Check back in for when the next survey is open. 
COVID-19
Keep up to date with the latest news, updates and advice surrounding Coronavirus (COVID-19).
COVID-19 Information for Equestrian Sport
EA MEDICAL SERVICE PROVIDERS REGISTER
This form is to be completed by all Medical Service Providers, eg doctors, medical service provider companies, individual paramedics/service providers, first aiders and any other health service provider (e.g. RN, ENs), who currently provide, or wish to provide, services at EA events, clubs and training days.
EA Event Medical Service Provider (MSP) Register (Public) 2023
Pleaseclick here to see the current list of MSPs that have agreed to share their details.
If you would like to be listed on this public register, please complete the form above and tick the public approval consent.
This register will be updated by the NSM if required during the first week of every month.
Thank you for your support in our Equestrian Sport.
EA MEDICAL SERVICE PROVIDER PRE-EVENT FORMS
These Forms are for Organising Committees to use when engaging a Medical Service Provider for an Event. Both Form 06 & 07 are writable PDF documents. A copy of all completed Forms are to be forwarded to the Event Organiser.
Form 06: Medical Provider Pre-Event Checklist & Service Agreement
This document outlines the agreed services to be provided by a Medical Service Provider and is to be agreed and approved by the Event Organising Committee (OC). All sections of this agreement are to be completed prior to the commencement of any endorsed Equestrian Australia event.   
NB: This Form is for EVENTING discipline use ONLY
Form 6 updated 17.02.22
Form 06A
Note: Form06A is NOT MANDATORY for use. This form and its processes have been developed by EAs H&S team following significant consultation to date with States, Discipline committees, event organisers and others who are looking to improve their risk mitigation or management processes. 
Form06A is currently for trial until 31.03.2023 when a review of further feedback will be completed, with additional changes made accordingly. If an OC/AC chooses not to use this document as it is non-mandatory this does not incur any additional liability for them. 
All feedback is to be directed to your State, and a feedback form will be provided to the States for the purpose of information collection during the trial of this NEW Form06A.
Form 06A updated 09.01.23
Form 07: Medical Service Provider Pre-Event Audit
This document is to be completed by any Medical Service Provider engaged for any endorsed EA event. Part A: Accompanies Form 06 and is to be completed PRIOR to the day of the event. All relevant sections of this agreement are to be completed by the MSP prior to the commencement of any endorsed Equestrian Australia event.   
Form 7 updated 07.02.22
EA NATIONAL EVENT/ACTIVITY MEDICAL REPORTING & PROTOCOL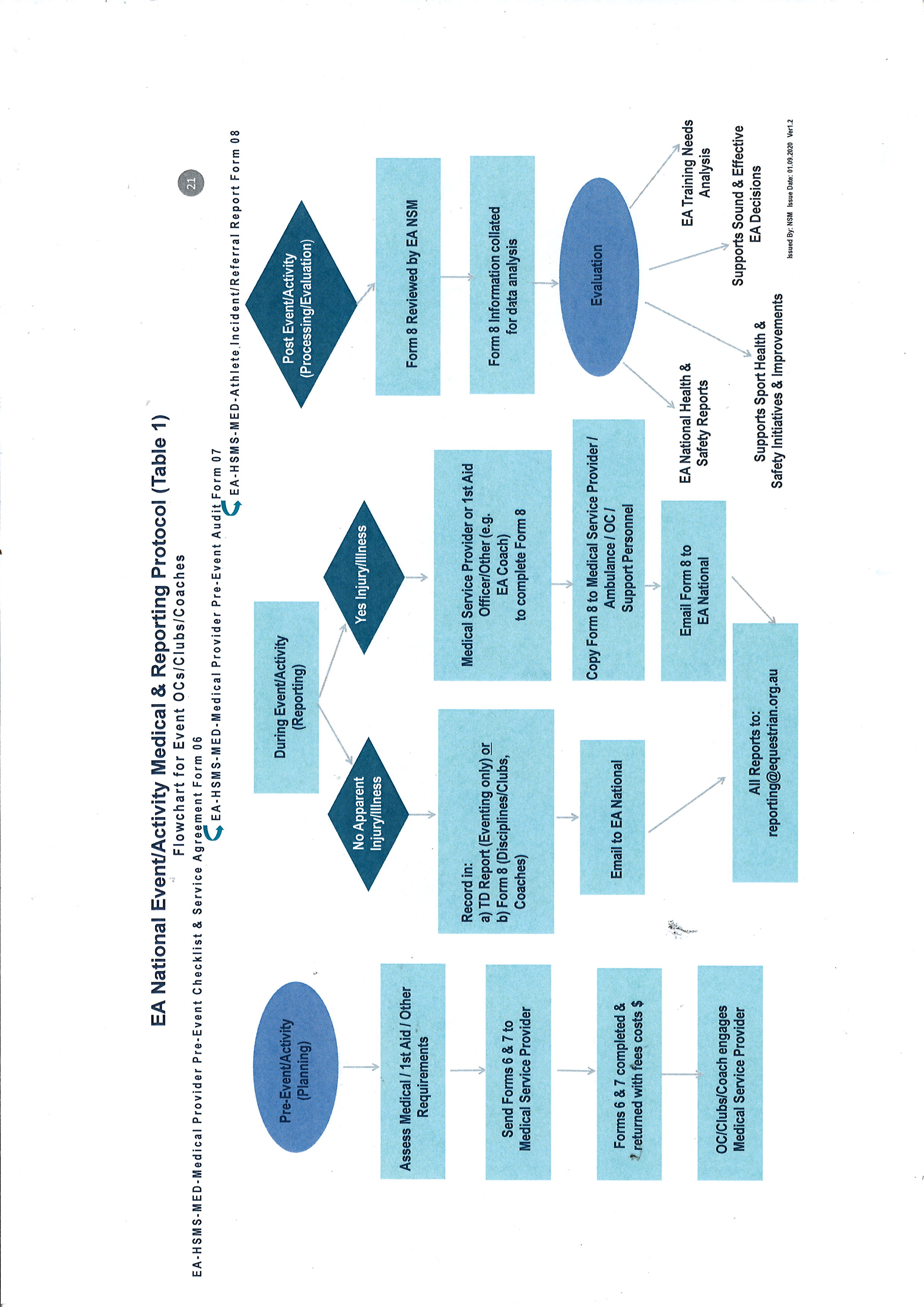 It is the responsibility of the Medical Service Provider (MSP) or Coach (not medical specific info) to complete EA-HSMS-MED-Incident Referral-Report Form 08. Training will be provided in 2021 for all EA registered MSP, Coaches and relevant others.

Form 08 Incident reporting requirements:
a) No apparent injury/illness (including a near miss activity).
Even any person who presents for a medical review or needs basic attention (band-aid) by a MSP or in the presence of an EA Coach. A copy is to be forwarded to NSM [email protected]
Note: For Eventing ONLY the TDs running sheet is sufficient to report no apparent injury or illness
b) ALL Serious Incidents (SI) (ambulance transfer, unable to return to sport, concussion or other). Form 08 MUST be completed by the MSP and /or EA Coach. A copy is to be forwarded to the NSM within 24hrs of the Serious Incident [email protected]
Reminder: For every Form 08 completed a copy is distributed to the following:
1) MUST be forwarded (scanned and emailed) to the NSM [email protected]
2) Medical Service Provider can keep a copy for their records
3) Copy for Organising Committee, Club or Coach
4) In the case of a suspected Concussion and/or transfer (e.g. Hospital) for further medical review following a Serious Incident a copy can go with the Ambulance, Athlete or their support person.
How to get Form 08?
Option 1. Purchase a triplicate booklet click here to order: 
Order Form for booklets
Cost: $20 per booklet plus postage as follows: 1-2 books $10 postage and 3+ books $20 postage
Payment can be by direct credit or credit card by calling EA National office 02 876 2777
OR
Option 2. FREE access to Form 08.
Complete Form 08 on your iphone, ipad or laptop. You can elect to forward a copy via email to relevant parties (at the bottom of the form) and a copy MUST be emailed to NSM [email protected]
Form 8

REDUCE YOUR RISK
As with a car, the decisions of the driver (rider), the condition of the car (horse) and the road you drive on (XC course) make a safe and successful trip (XC round).
Equestrian Australia (EA) with the support of the EA Making Eventing Safer Fund, State Branches and Organising Committees have invested heavily in making the road safer (XC course) with compulsory frangible devices, sloping shoulders on square fences and officials' education.
Most importantly it is you, the rider, like a car driver, that will have the biggest contribution to safe XC rounds. Find out more by reading our Athlete Risk Management Resource HERE.
EVENTS, CLUBS, WHERE TO APPLY FOR SAFETY FUNDING
Australian based clubs that are running EA/FEI events can access funds for frangible pins and Mim clips via their relevant State Eventing Committee. 
OTHER RESOURCES