Main Photo Courtesy of Julie Wilson
20th Anniversary Digital Recreation of the Sydney Olympic Course
To celebrate the 20th anniversary of the Eventing competition at the Sydney Olympic Games, CrossCountry App has released an exciting digital recreation of the cross country course.
Take a tour of the interactive map with Olympians Mary King, Blyth Tait, Stuart Tinney and Amanda Ross who remember their ride and their wonderful horses - and for Stuart Tinney, the Team Gold Medal ceremony. Course designer Mike Etherington-Smith explains how the venue and course came into being over three years.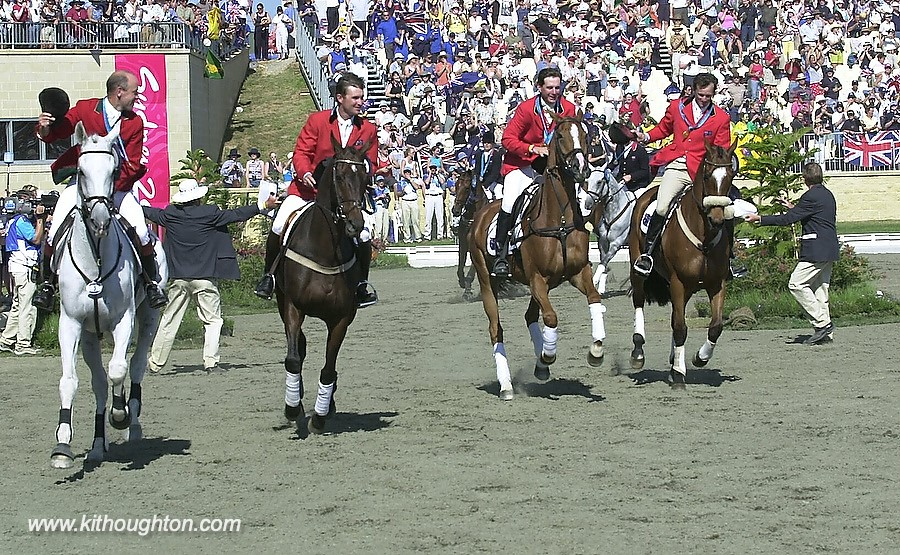 Aussie team glory - photo by Kit Houghton
"One great thing that has come out of the Sydney Olympics is the legacy of the venue" explains Blyth Tait who is now designing courses at Sydney. "It is a world-class facility which must contribute to the preparation for Australian teams when going overseas. It is such a credit that it is such a great venue twenty years later". 
The Sydney International Equestrian Centre continues to regularly host eventing competitions where riders from 60cm to 4* can experience the thrill of riding over the same terrain and galloping through the (albeit modified) Olympic water jumps.
"It has been an engrossing and fun project," says CrossCountry App co-Founder Jose Diacono who was herself a volunteer Team Liaison Officer - or Ollie Vollie as they were called.
Mike Etherington-Smith, Competition Manager Franz Venhaus and Deputy Competition Manager Vince Roche supplied documents and photographs and many others contributed photos of the competition and fences. The digital course includes the fascinating stories behind the fence names which celebrate the aboriginal heritage and history of the site.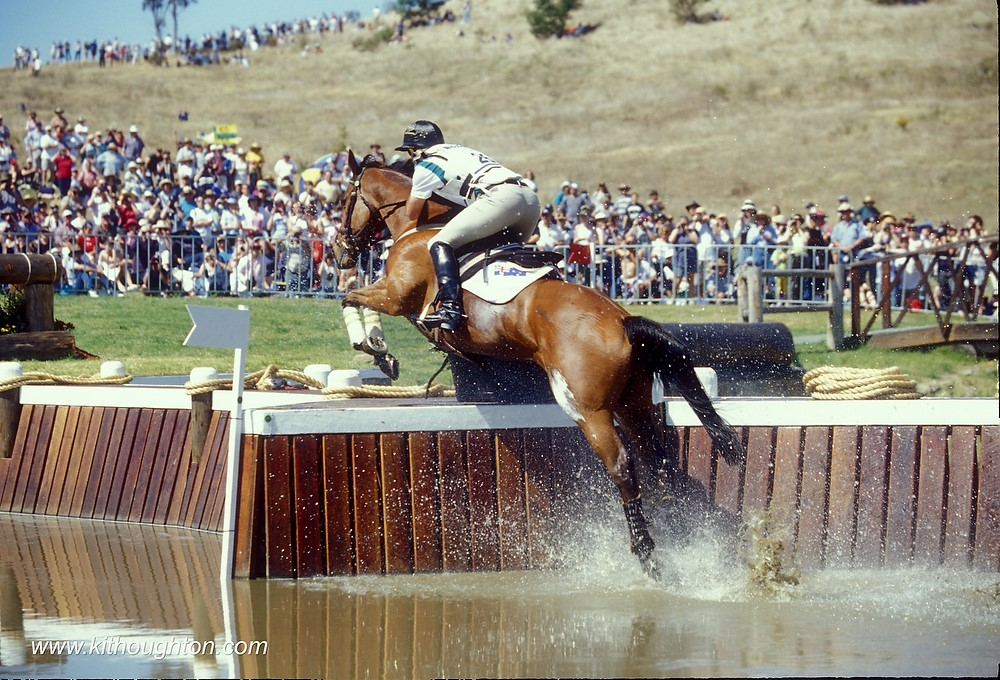 Reminisce and relive the ride - photo by Kit Houghton
The Anniversary Course includes audio extracts from a highly entertaining zoom panel in which Mary King, Blyth Tait, Stuart Tinney and Amanda Ross relived the excitement by watching their rounds with Mike Etherington-Smith. Hosted by former Australian Olympic coach Prue Barrett and Eventing commentator Fiona Hughes of SitTightRadio.
Find the 20th Anniversary Sydney 2000 course at http://bit.ly/sydney2000xc and on CrossCountry App. 
Listen to the SitTightRadio podcast on iTunes
Download the CrossCountry App for iPhone and Android 
Supplied by CrossCoutry App