© Australian Equestrian Team / Libby Law
Australia's Ginger Kennett: From Tights to Breeches
A confident, self-assured young woman with a sharp sense of humour stands across the table for this interview. 
Australia's Ginger Kennett, an international Vaulter from Picton, New South Wales, is also a student at the National Art School in Sydney. And if that's not a busy enough schedule, Ginger is also an Eventer, who finds no problem with dividing her time between the two disciplines she loves. 
The Mustang FEI Vaulting World Championship 2022 - Individual Female was the first time that she competed at Senior World level, having won the CVI Flyinge Junior 2* in Sweden in 2019 and was selected for the Australian team for the FEI Vaulting World Championships for Juniors in Ermelo (NED) in 2015 and 2018.
So what's the main difference between Vaulting and Eventing for her? 
"The first would be having to change from Tights to Breeches!" Ginger quips. 
The 19-year-old started in the discipline at the age of nine, when she was invited to attend a Vaulting Clinic with her friend, and she hasn't looked back since.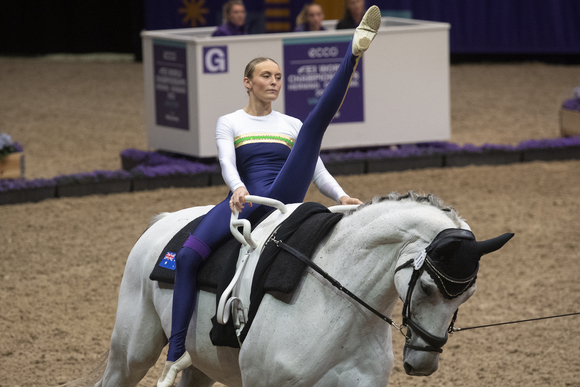 GINGER KENNETT and CORAZON GRAN at the Mustang FEI Vaulting World Championship 2022 © FEI / Richard Juilliart
"The connection with the horse is different in Vaulting and Eventing," explains Ginger. "In Eventing, you have the reins in your hands and you guide the horse using your leg and seat aids to go wherever you want it to. In Vaulting, it's the lunger's job to keep the horse going at a consistent pace, and you have to feel the horse underneath you.
"Your lunger really needs to know your moves, and they need to know what is going to happen in your freestyle and set routines, so they can prepare the horse for the next move. If you're in a stand, they're not going to bring the horse forward, they're going to ask the horse to maintain the canter while you're standing. The lungers have to go through some pretty intense training with the horse."
"I feel that riding has helped me vault better and understand my horse more. And vaulting has definitely helped me as an Eventer, with sitting up tall and especially with having that posture and balance you require when riding over jumps."
Ginger's mum, Georgie Kennett is an FEI Level 1 Vaulting coach and a lunger.  She lunges for Ginger at their home in Picton and has lunged for her daughter at all Australian national and international events. Also an Eventer, Georgie adds to Ginger's insights into the differences and similarities between the two disciplines. 
"Vaulting horses are special in the sense that their temperament is paramount," Georgie said. "They still have to be ridden and trained like any other horse in that they're listening to your aides, but in Vaulting you do most of your intricate talking with the horse through a lunge line and via the language of the whip commands.
"There is a lot more consideration given to ensuring that a Vaulting horse is able to travel on that circle. Trying to keep a horse moving on a perfect circle takes a lot of training. Any inconsistency in the horse's stride will affect the Vaulter, whose reaction or response to that move will in turn affect the horse. So as a lunger you're always trying to keep that harmony and make it all just so effortless."
Adding her perspective to the conversation is Chef d'Equipe Dr Tristyn Lowe, herself a highly experienced vaulter, lunger, coach, and an icon of the sport in Australia.
"I think the level of trust a Vaulter has to have in the horse and the lunger combination is really huge. In Vaulting you have a three member team – the Vaulter, the horse and the lunger. Getting that team right can be tricky and the connection with the horse is really important. In Eventing it's really just you and your horse.
GINGER KENNETT and CORAZON GRAN at the Mustang FEI Vaulting World Championship 2022 © FEI / Richard Juilliart
"A quarter of your score in Vaulting is your horse score. And if your horse isn't happy and doing well, then it's much harder to score. 
"For me, a Vaulting horse has to have the equivalent fitness to an Eventing horse. But Vaulting is also an art. And as any artist will tell you, drawing a perfect circle is not easy!"
Whatever discipline she practices, it is clear that Ginger has the admiration of both her Chef d'Equipe and her mum.
"Ginger's determination to get to the World Championship in spite of all the challenges that have happened this year reflects a lot about personality," Tristyn said. "Everybody faces challenges, but particularly when you come from a long distance and you don't have your own horse and that connection, you have to realign everything to a new training situation and a new horse. Ginger's capacity to adapt, has been a great thing."
And describing her only as a mother could, Georgie, who calls her daughter a highly creative, freaky, individual said, "Ginger has very good horsemanship skills and is sensitive towards her equine partners, which is what we love about her so much!"
*Supplied by FEI