Australian Vet Appointed as Vice Chair of FEI Veterinary Committee
Kirsten Neil is the National Head Veterinarian for Australia and now is also the Vice Chair of the FEI Veterninary Committee. We spoke with Kirsten to find out how she got into this line of work and what her role entails.
Kirsten has always been into horses. She was a member of Loch Nyora Pony Club as a teenager which led to becoming a member of Port Phillip Showjumping Club.
In 1996 Kirsten graduated as a veterinarian from the University of Melbourne. She got her first veterinary role in Victoria, before heading to Scone Equine Hospital to be the first intern in their intensive care unit.
Kirsten continued on with riding, competing in lower level jumping, until she went overseas to (heavily) further her veterinary career. She did an equine medicine residency at Michigan State University and became an Equine Medicine Specialist. Kirsten also completed a master's degree on using glucosamine and chondroitin sulphate for Equine Osteoarthritis.
From there, Kirsten set up her own practice called Sporthorse Veterinary Specialists. Her clinic focuses on performance horses – particularly lameness, musculoskeletal ultrasonography and sports medicine.
You may see a common trend emerging here, as Kirsten is also a Diplomate of the American College of Veterinary Sports Medicine and Rehabilitation, as well as a Certified Member of the International Society of Equine Locomotor Pathology (ISELP). This is sports medicine lameness and equine musculoskeletal ultrasonography group; Kirsten really knows her stuff.
Kirsten is an FEI Testing Veterinarian and Limb Sensitivity Examining Veterinarian. She has been a team vet for Australia too. 
Kirsten's involvement as an FEI vet started over 20 years ago. She's been the FEI veterinary delegate at over 100 events, including being Foreign Veterinary Delegate at the Children's Classic Jumping Final in 2017 and South East Asian Games in Malaysia in 2017.
Local events are another key part of her vet life. Kirsten has been involved with Melbourne Three Day Event since she was a vet student in 1993, and these days she is usually either the Vet Delegate or the Veterinary Services Manager.
Kirsten at the 2016 Rio Olympic Games
Olympic positions feature on Kirsten's strong repertoire. She was a volunteer vet at the Sydney Olympics in 2000 and was a member of the Veterinary Commission at the Rio Olympics in 2016.
In 2015, Kirsten became the FEI National Head Vet for Australia (this used to be called the contact vet).
"You act as a liaison between our vets as well as the national federation ie EA and the FEI, organise the FEI vet courses here with EA, make sure our vets are updated on any relevant rule changes etc." explains Kirsten of the National Head Vet position.
Kirsten joined the FEI Veterinary Committee after the general assembly in November 2017 and was asked to become Vice Chairman at the committee meeting at the start of April.
This committee is responsible for the welfare of the horse, clean sport, veterinary regulations etc. Each discipline has a committee which oversees all matters relating to that discipline. Likewise, there is a veterinary committee which deal with veterinary matters across all disciplines.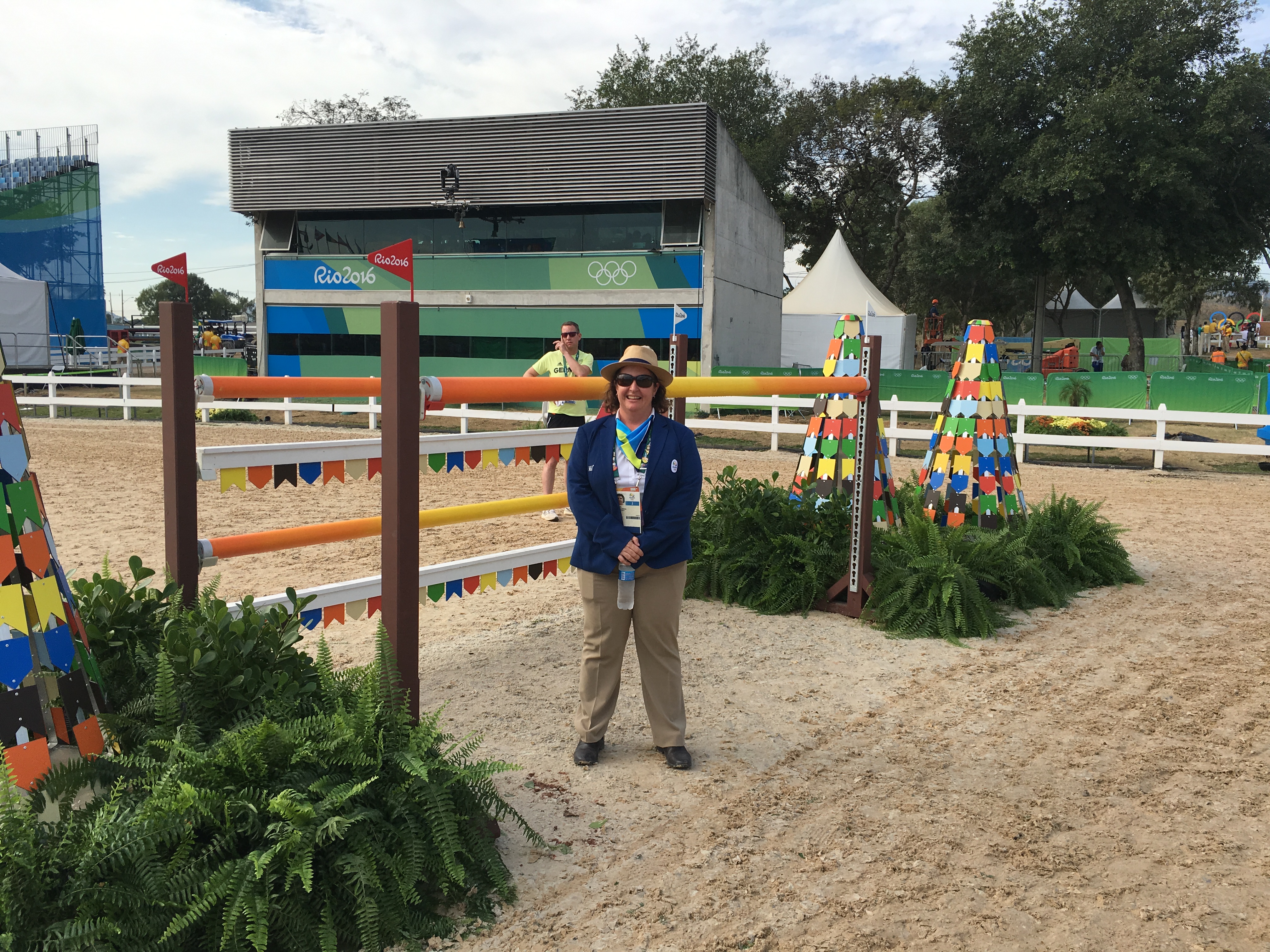 Kirsten checking out the show jumping course at Rio 2016
The Veterinary Committee has seven members from around the world and is a 4-year appointment.
"We meet in person twice a year and have regular teleconferences and obviously also lots of emails," shares Kirsten.
Other Australians who have served on the FEI Veterinary Committee in the past are Professor Leo Jeffcott who was the chair of the committee for several years; Dr Nigel Nichols, who was vice chair; and Dr Denis Goulding who was a member of the committee.
With this busy schedule, you wouldn't be surprised if Kirsten got her horse fulfillment quota simply by being on the job, but if you thought that, you'd be wrong.
"I have continued to ride. Now I'm riding Emily Anker's old 4*(now called 5*) eventer Keninski aka Kenny, [I] don't compete him as he is 23 now but really doesn't act his age!" tells Kirsten.
We are lucky to have such a knowledgeable and passionate person representing our country on the FEI Veterinary Committee; an asset to the sport.