Australia's Eventing national squads announced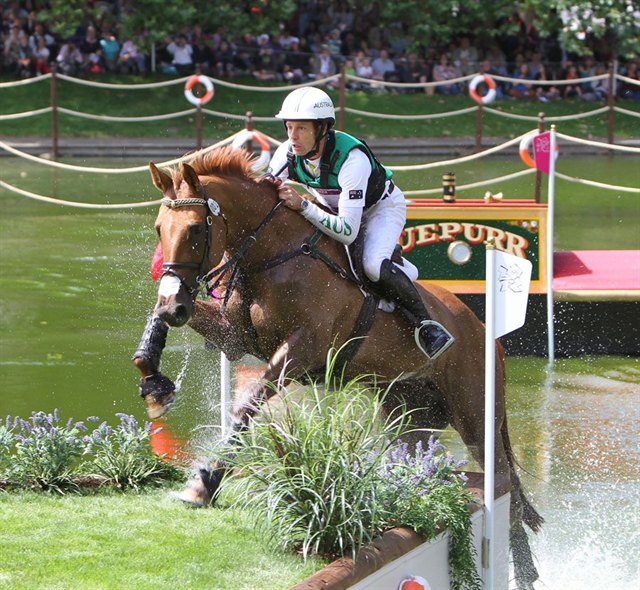 Chris Burton and HP Leilani on the Greenwich XC course
Photograph:© 2012 Ken Braddick/dressage-news.com
Equestrian Australia today announced the interim national squads for Eventing under the new criteria that was released earlier this year.
EA's National Performance Director Prue Barrett said ambitious targets that have been set for the World Equestrian Games (WEG) 2014 and for Rio Olympic Games 2016 have bought about a change to the squad requirements with clear focus on what scores riders need to be reaching in order to be considered on the squad. 
"We have made no secret that we're aiming for a team medal at WEG in Normandy, and two medals at the 2016 Olympic Games, including a gold medal," she said.
"We know that Australia has the talent both in horse power and riders to be able to achieve these goals and by structuring the squads as 'Rio 2016' and 'WEG 2014' we have clearly outlined the goals for our squad members.
"Both myself and the Chair of Selectors have contacted all riders who have been successful as well as spoken to those riders who were on squads in 2012 but may not have been successful this time round for various reasons. We recognised it was important to discuss with the riders who weren't successful what they needed to do to be considered on the squads in the future. 
"While the High Performance review from the last Olympic cycle is still to be finalised, the squads have been named as interim squads. However it is business as usual in terms of making necessary plans for our campaigns, with the squad riders in both Australia and UK set to attend camps in the coming weeks," said Barrett.
The interim Eventing squads are:
2014 Normandy Squad
Rider

Horse

Horse Owner(s)

Christopher Burton

Holstein Park Leilani

Jean and Jade Findlay

Andrew Hoy         

Rutherglen

Andrew Hoy

Lucinda Fredericks

Flying Finish

Angus Murray, Richard Ames

and Lucinda Fredericks

Megan Jones

Kirby Park Allofasudden

Allan Poulson and Megan Jones

Tim Boland

GV Billy Elliott

Waratah Equestrian

Shane Rose

Taurus

Johnnie Walker and Shane Rose

Paul Tapner

Kilronan

Fred & Penny Barker
2016 Rio Squad
| | | |
| --- | --- | --- |
| Rider | Horse | Horse Owner(s) |
| Craig Barrett | Sandhill Brillaire | Keith and Juliet Osborne |
| Andrew Hoy | Cheeky Calimbo  | Christiane Classen & Andrew Hoy |
| Kevin McNab | Kelecyn Cognac  | Kevin McNab |
A summary of the new squad criteria was issued earlier this year to all those who have been part of the Eventing High Performance Program in the past. In summary the criteria for inclusion on the squads is:
2014 WEG Squad
Minimum performance criteria (but does not mean automatic selection):
CCI4* 50 penalties or less
CCI3* 48 penalties of less
2016 Rio Squad
Minimum performance criteria (but does not mean automatic selection):
CCI2* 50 penalties or less
CCI3* 55 penalties or less
CCI4* 60 penalties or less
Age restriction of horse 6-13 years
Veterinary assessment compulsory before inclusion on a National Squad
For full version of the interim Eventing squad selection criteria see HERE.
In addition to the revised squad names and criteria, the national program will now be better aligned with the State program, to ensure a complete pathway for riders, horses and owners. Working closely with EA, each State will develop its own program of which details will be released in coming months, but they will include squads such as Futures Squads, Development Squads and other areas that are designed to recognise promising combinations at the lower levels.