Equestrian Australia is proud to announce the winners of its annual Sport Achievement Awards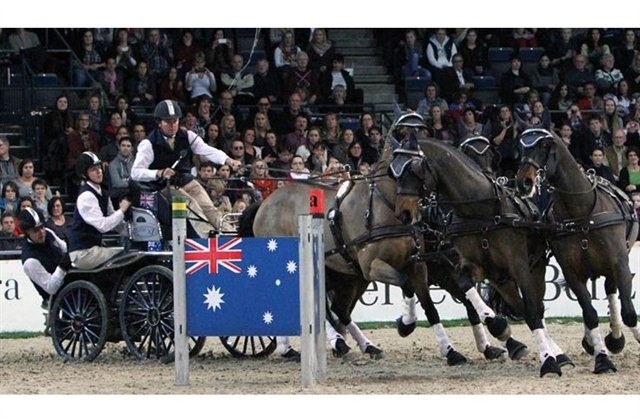 Equestrian greats and enthusiasts joined award finalists, their families and friends as well a host of industry members at Le Montage in Sydney this evening to recognise the sport's highest achievers of the past 12 months.
Among those to receive an award was World Champion Carriage Driver Boyd Exell who was the recipient of the 2013 Ariat International Athlete of the Year award. It is a fitting result for Exell as he claimed his fourth FEI World Cup victory in France in 2013.  Exell's Four in Hand team of horses - Carrington Park Ajax, Clinton Star, Bajnok and Spitfire who led Exell to victory took out the IRT International Horse of the Year award.
A highlight of the evening was the EA Hall of Fame presentation which paid tribute to legends of the sport. For the first time this year's recipients were chosen by living Hall of Fame members.
Individual Hall of Fame inductee, seven-time Olympian Andrew Hoy OAM wasn't able to make the induction ceremony as he is currently overseas amidst the European eventing season, but he sent a video message to express his gratitude. 
"It gives me much pleasure to be able to receive this award. I have been voted by the people who have been my absolute idols and heroes for many years, which makes this award really special. The support that I have had from Australia, from the Australian people, has helped me all the way through with my equestrian career," he said. 
Congratulations to each of the 2013 Sport Achievement Awards Night recipients and Hall of Fame inductees:
The Australian Sports Commission Event of the Year - Dressage with Altitude
The 2013 Dressage with Altitude CDI three star and CDI-Y event was the 3rd event of an international status to be run at Orange NSW by the small regional club the Central West Dressage Association. Dressage with Altitude has gained a reputation of being a well-run international dressage event attracting Olympic level international judges and riders. In 2013 the event was again a highly successful show attracting our elite Australian Dressage riders as well as our up and coming combinations. Each day the gallery was full with spectators and the Grand Prix Freestyle competition was sold out several weeks prior to the event. The event is known by riders, spectators, volunteers and officials to be the "friendliest event' whilst still providing top quality facilities and competition.
Gow Gates Official of the Year - Ian Coulson
Ian Coulson is an FEI four star Technical delegate (TD), an EA three star TD and also the Chair of the Tasmanian Eventing Association. In 2013 Coulson was selected to officiate overseas at events in Ireland and Portugal and in Australia. As well as working at some of Australia's top eventing competitions, he also successfully conducted TD and course designer clinics in Tasmania. Coulson has been instrumental in selection and mentoring all of Tasmania's course designers, builders and TD's from Pony Club through to EA and FEI level. Ian works closely with Pony Clubs in Tasmania to ensure that future riders have quality events to attend to develop their skills.
Gow Gates Club of the Year – Park Ridge Adult Riding Club
In 2013 the Park Ridge Adult Riding Club was awarded The Club of the Year by Dressage Queensland an award they also received in 2012. The club has worked hard to offer benefits to its members including a rewards system and low cost membership for club volunteers, improved club facilities, access to 'Meet the Judges' days for club members and instruction by Equestrian Australia accredited coaches at a reduced rate. The success of the club can be measured by an increased membership base and continued strong support for all events.
KER Owner of the Year – Shane Rose
Shane Rose has been riding and training horses for many years. Rose currently has three horses which he jointly owns on the National Eventing Squad including Taurus, CP Qualified and Virgil. His rising star CP Qualified showed so much potential as a top level Eventer that Shane bought back half a share in CP qualified after realising his mistake in selling the gelding. His results from 2013 include winning the Sydney International CCI2 star, Equestriad CIC3 star and Goulburn CIC3 star. CP Qualified is proving to be a world class eventer and Shane is currently aiming him towards the World Equestrian Games this year.
Administrator of the Year – Lorraine Wohling
In her role as Chair of South Australia's Dressage Committee Wohling has had significant input into the sport including the coordination of dressage events, masterclasses and young horse events. She held this position between 2010 - 2014. As Chair, Wohling was also the editor of the bi-monthly South Australia Dressage magazine Moving Forward. In 2013 Lorraine raised money through fundraising and sponsorship for Dressage South Australia to host a clinic with German Dressage master Christoph Hess.
Gow Gates Coach of the Year - Thomas Muehlenbeck
Thomas Muehlenbeck is a level 3 NCAS coach who has managed to deploy his skills across multi disciplines including Dressage, Show Horse and Eventing. His students have enjoyed a very successful career in the hack world producing 13 Royal show champions, 4 Equestrian Australia Horse of the Year titles and 2 National EA champions in 2013 alone. Amongst his students is Para Equestrian rider Chelsea Higgins has achieved outstanding results through his constant mentoring and currently has her sights set on the 2014 World Equestrian Games. Muehlenbeck coaching mantra is to equip riders to be able to think for themselves and give them pathways to solve their problems.
Gow Gates Volunteer of the Year - Sandra Atkins
In 2013 Atkins was the sole recipient of a grant from Sport and Recreation Tasmania to attend the Volunteering Tasmania 'Lessons in Leadership' conference. Atkins won this grant due to her broad and far reaching contribution to Equestrian Sport. Atkins is a committee member for the Tasmania Eventing Association, the Deloraine Show Committee and the Northern Hunt Club. She is also a course country course designer, a dressage judge and volunteers her time coaching at Pony Clubs and Adult riding clubs.
Ridley Young Athlete of the Year - Erin Krahnen
Queensland's Erin Krahnen riding her Anglo Arab mare Emily Jones TE took home the Bronze Medal at the 2013 FEI World Endurance Championships for Young Riders & Juniors, held in France. Krahnen finished the 120km course in third position in a time of 6 hours, 21 minutes and 10 seconds.  In addition to a podium finish, Krahnen and Emily Jones TE also took out the coveted Best Conditioned Horse Award.
Domestic Horse of the Year – TS Jamaimo
The 15 year old Thoroughbred gelding started off 2013 strongly with wins at both Wandin and Camperdown CIC3 star events and a fourth place at Melbourne CCI3 star. After his regular rider Will Enzinger unfortunately broke his leg, Chris Burton who was visiting Australia from overseas at the time stepped in to ride Jamaimo at the Australian International 3 Day event. Their newly forged partnership built in the one week lead up to Adelaide proved successful as the combination finished on their dressage score to win the event. TS Jamaimo, owned by Stephanie Pearce from Victoria, has now moved to the UK and is currently based with Burton where he is working towards selection to the 2014 World Equestrian Games team. 
IRT International Horse of the Year – Boyd Exell's four in hand team of Carrington Park Ajax, Clinton Star, Bajnok and Spitfire
Boyd's Exell's Four in Hand team had another exceptional year in 2013 claiming the FEI World Cup Driving title in Bordeaux. It was not an easy victory for the Australia driver and his superb team who narrowly won by .69 of a second. The experienced team was steady under pressure posting the fastest time of the night to take the title. In the lead up to the World Cup final Exell and his team also took out first place in four of the 8 qualifiers including Aachen, Windsor, Horst and Beekbergen.
Ariat Domestic Athlete of the Year - Jamie Kermond
Kermond enjoyed a consistent World Cup season in 2013 with wins at Gatton and Wodonga and second placings at the Be the Influence Equestrian Grand Final, Sydney Royal, Sale and Shepparton. In September Kermond won the Senior Australian Jumping Championship title in Melbourne on his mount Killeter Park Caracas. At this event he was also part of the winning Australian Team in the Oceania Jumping Championships. Kermond is currently  overseas campaigning for the World Equestrian Games.
Ariat International Athlete of the Year - Boyd Exell 
Exell had another exceptional year in 2013 claiming the FEI World Cup Driving title in Bordeaux. It was not an easy victory for the Australian driver and his superb team won by less than a second. Exell and his experienced team was steady under pressure, posting the fastest time of the night to take the title. In the lead up to the World Cup Final Exell and his team also took out first place in the Aachen, Windsor, Horst and Beekbergen qualifying events.
Hall of Fame Inductees
Service to Sport - Jim Dunn and Dr Denis Goulding 

Team - 1964 Jumping Team (John Fahey, Kevin Bacon, Bridget (Mcintyre) Hyem, Barry Roycroft and Coach Kalman de Jurenak)