Main photo by Shannon Parry
Finding Friendship and Freedom in a Friesian
Maddison Christou has struggled with mental illness her whole life. But when her Friesian gelding, Antonn of Terarossa, came into her life as a lanky two-year-old, he turned her life around.
All her life, Maddi has owned horses, specifically Arabians and Arabian Warmbloods.
At around age 15, the magnificent Friesian horse caught her eye and she decided she wanted something different.
Like many, Maddi was drawn to the gleaming black coat, the lustrous mane and tail, the extravagant movement. But when she actually met a Friesian for the first time, the attraction was amplified.
"I fell in love with their souls, even more than their looks," says Maddi. "They are quiet, gentle and oh so sweet. They have a way of capturing you."
Maddi decided this was exactly the type of horse for her. She set about doing her research, investigating bloodlines, conformation and movement. However, being based in Queensland presented Maddi with some challenges on her quest.
"There are pretty much no studs here," says Maddi.
Using the power of the internet, Maddi began to look further afield. She happened across a scrawny, young gelding but skimmed over him, as another horse captured her attention. But upon further consideration, the latter was not meant to be.
Maddi continued her search, browsing through multiple studs. Nothing really caught her eye. Six months passed by and still no luck. Maddi's thoughts once again turned back to that first youngster she had previously dismissed.
"I was speaking to his breeder about Friesian-related things and she mentioned that he was still available," recalls Maddi.
With renewed interest, Maddi asked for updated footage and conformation shots. The passing of time had seen the young gelding to grow into himself a little more; Maddi fell in love.
"Amongst over five other Friesian babies, he was the one, I just felt it in my heart," describes Maddi. "Apart from having visibly good conformation and bloodlines, he was more than that, he wasn't his sire or dam, he was his own special horse with his own name and soon his own accomplishments," recalls Maddi, "and so I purchased a two-year-old Friesian horse from Victoria, sight unseen!"
But Maddi says she has absolutely zero regrets.
Anton's arrival, the first time Maddi and Anton met each other
When Anton arrived, Maddi had just turned 16 and was burdened with a broken heart and mind.
From an early age, Maddi suffered from mental illness. Throughout her life, she has experienced anxiety, which eventually turned into paranoia and hallucinations, and depression, which led to extreme mood swings. Maddi could feel amazing one minute, then feel like she was at rock bottom just a few minutes later.
Going through hardship intensified the anxiety and depression. From a young age, her mental illness caused Maddi to self-harm and got so bad it resulted in a suicide attempt. 
When asked to reflect on these times and how her life has been impacted, Maddi sees two sides of the coin.
"There are two ways to look at it. The first way is badly. Which is true in itself. It caused me to bring pain and trauma to my family and friends who cared about me. There are things about me that will never change and things from my teenage years that I will never experience again, as well as PTSD (post-traumatic stress disorder)," Maddi explains. "But the second way is good. That is because every single aspect of my life as it is now would be different. I have grown as a person in ways that I cannot from 'normal' life experiences. I can see the world and universe in a way I never would have. I have a better time accepting myself and others, but most importantly, I want to live. I want to see the world change and I want to grow old and live as much as I can. I got a second chance at life and I'm not throwing it away."
For Maddi, having Anton has positively affected both her mental illness and her life.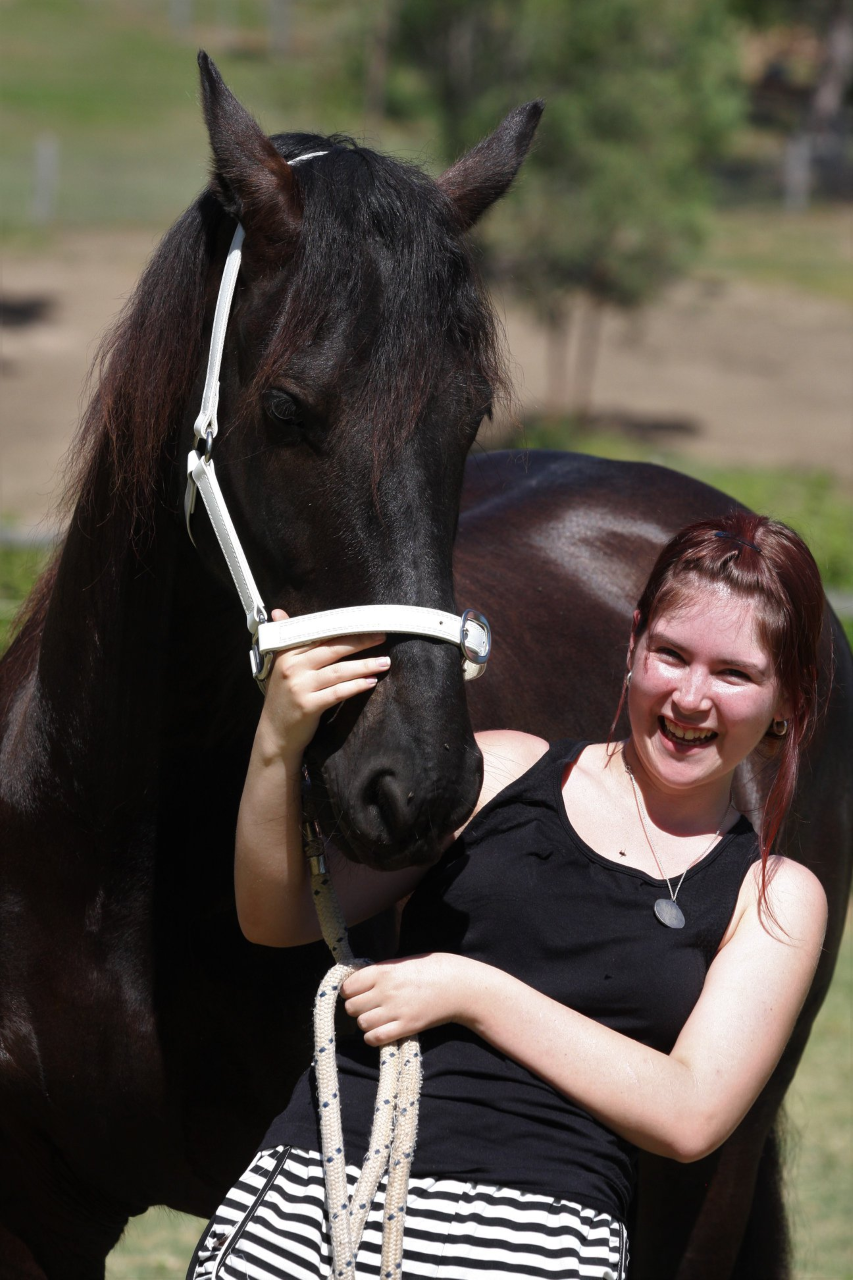 A soul connection, Anton has changed Maddi's life - photo by Shannon Parry
"When Anton first got here, I had been on my medication for a few months. After years of trying to find the right combination and right psychiatrist, we found one who listened to me and my needs. But though I was now mentally stable, I still felt lost, I still didn't know what my purpose was," she recounts.
Then Anton arrived. Everything suddenly made sense and Maddi knew what she wanted to do.
"He helped me find my calling in life. He healed me more than any medication or psychologist could have. He taught me more than any teacher could and he loved me more than any lover could. He's made me realise what I want to do in life, with him being the beginning of that journey. But the most positive impact he's had on me is just being there. Just being my best friend and looking after each other."
Acquiring a young horse has not been without its difficulties. Even though Anton is quiet, sweet and gentle, he is still learning and working through his own individual life-challenges.
"He is quiet but can be very sensitive, very introverted towards new people and VERY smart, which he can use against you if you aren't constantly thinking out of the box," describes Maddi.
"When Anton first got here, he was very pushy and did not know what personal space was. He walked all over me and had no respect for me," tells Maddi. "We got to know each other and each other's boundaries and with some help from our trainer, Heath Rowbottom, we just got that bit more understanding of each other."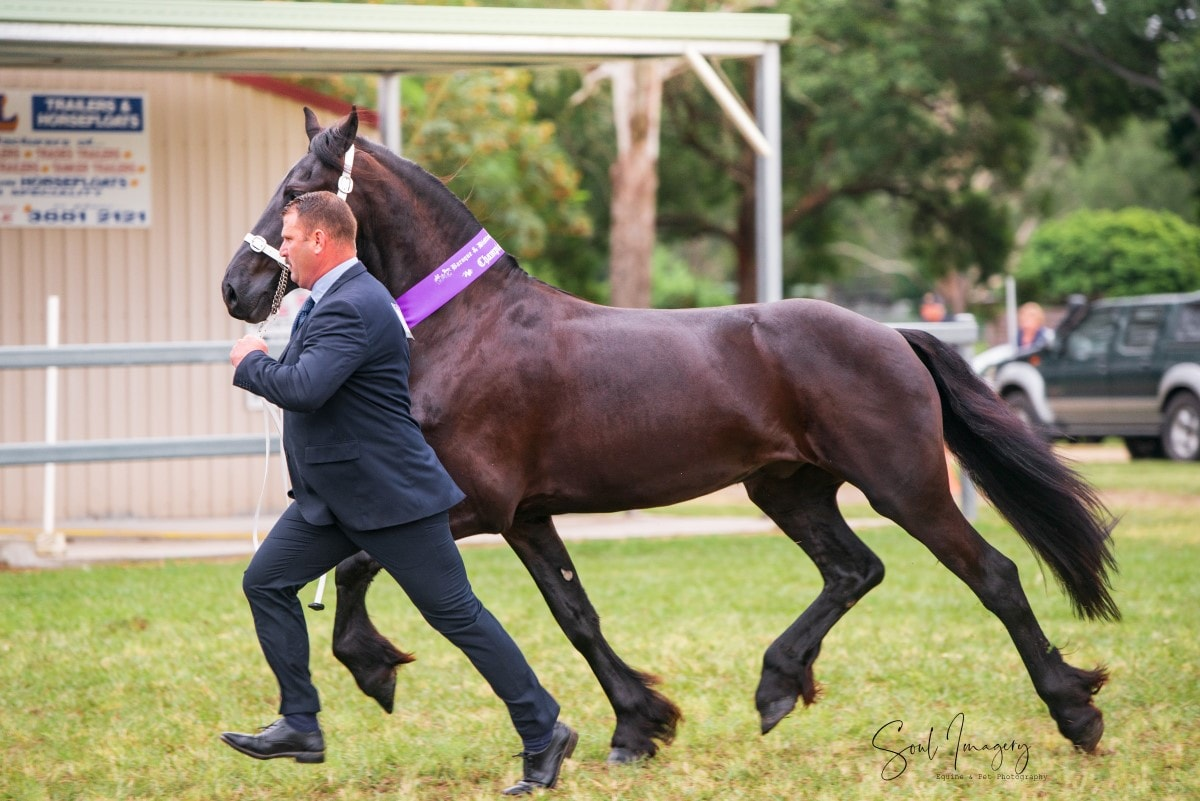 Anton at his first show, the Baroque and Distinctive Breeds Show 2019, where he took out the Ultimate Supreme Led Horse of the show - photo by Soul Imagery
Initially, it took the duo a long time to get comfortable with each other on the ground. Then, a year and a half after he arrived, Anton was broken-in. So far, Maddi has ridden Anton a handful of times. While she finds him completely different to anything she's used to, Maddi is not deterred.
"His movement is smooth yet throws you out of the saddle. Being used to Arabians my whole life, this is a big hurdle to come across, but with determination and fitness, we will get used to each other. I think with young horses too, it's certainly exciting when you put in all this hard work and it starts to pay off."
Anton has been with Maddi coming up two years now. He will turn four this November, while in December, Maddi will be celebrating her eighteenth birthday. With big dreams for the dressage arena, Maddi plans to start competing in Dressage with Anton in late 2021/early 2022.
But overall, this is bigger than any competition. Ever since Anton arrived, Maddi's whole life has changed. Her view of the world, of people, of herself.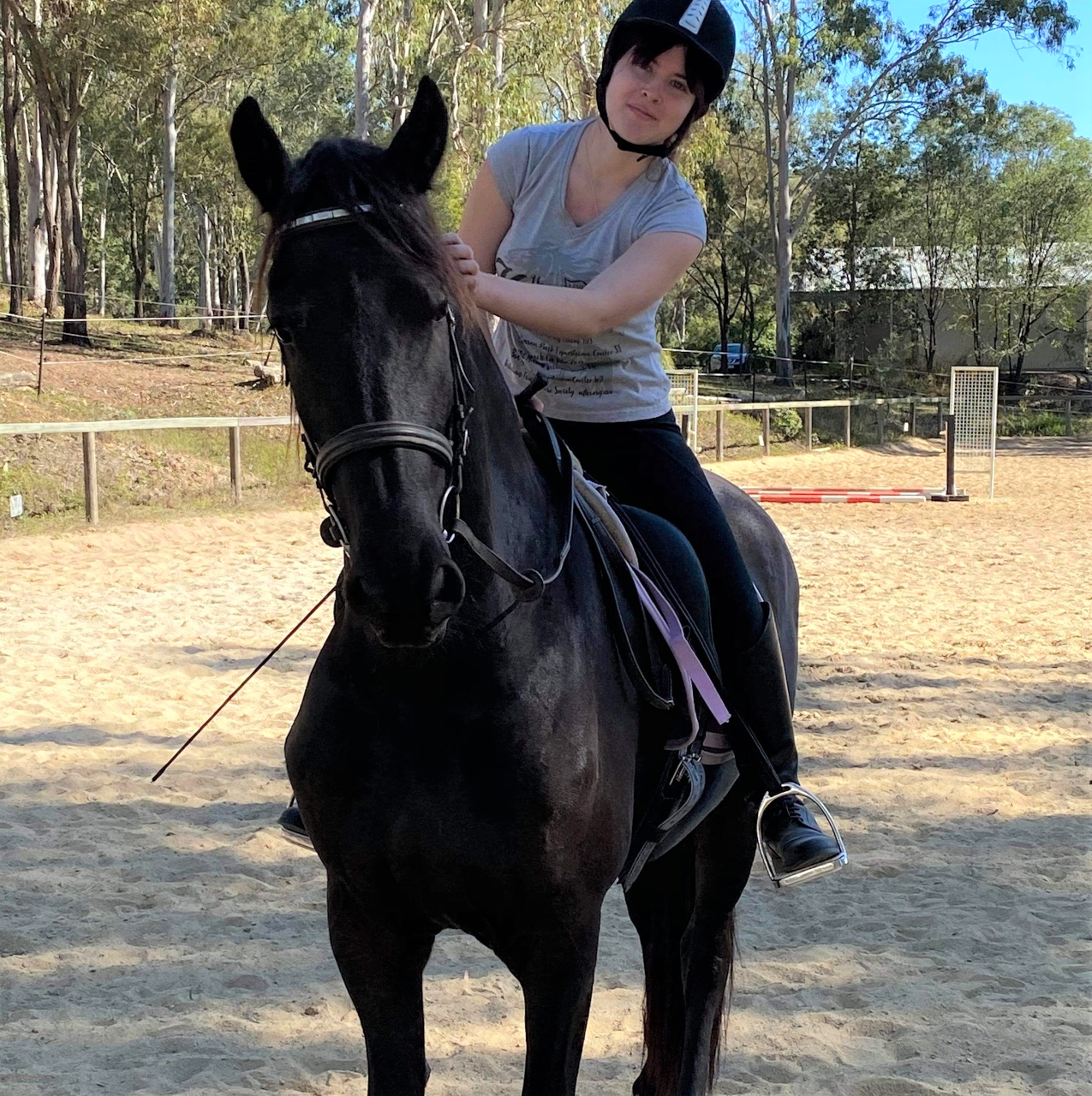 Maddi and Anton's very first ride, one step of many on their journey together
"I believe now that he has changed how I see myself; we can do anything with dedication! It truly feels like our souls are connected. He is my absolute best friend and purpose. Without him, it would have taken me so much longer to see the world in a bright light," shares Maddie with pride.
Maddi offers words of advice to others going through similar challenges, "It will get better! I know, anyone who can relate to me will think 'how many times have I heard that?!' but it's true and it's not just coming from your psychologist, but from a survivor. Find your purpose in life and you will know you're needed here. Listen to your gut instinct!"