Photo credit Michelle Terlato
Join the Australian Showjumping Championships team!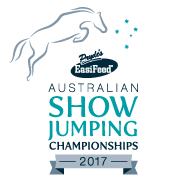 Aussie Champs are back and will be held at Werribee Park National Equestrian Centre between 15 – 18 September, 2017.
The Organising Committee is committed to the continued growth of this event and we're recruiting enthusiastic people to be part of our fun and hard working event team. If you were part of our winning team last year, we couldn't have done it without you and encourage you to re-join us.
We are especially looking for course builders, judges and officials but we're also calling for any help with marketing, event organisation, secretarial, venue preparation and catering. If you are a student you may think about using the event as a base for your project, case study or just great hands-on event operations experience.
For riders competing at Aussie Champs, it might not suit to have an event operations role but there are still lots of things you can do to help us throughout the year and in the lead up to the event.
Please apply via the registration page on the ASJC website. For any specific questions you may have about the roles we have on offer, please feel free to contact the [email protected]