Learn more about the Dressage Long List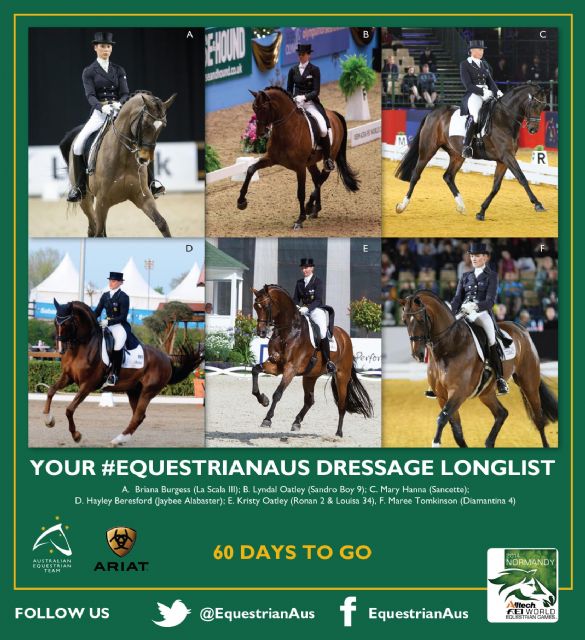 National dressage selectors have advised the horse and rider combinations that will contest Australia's two round nomination series ahead of the 2014 FEI World Equestrian Games.
Briana Burgess (photo digishots)
In 2009 Briana moved to Germany where she worked, rode for and trained under German Dressage Star, Olympic Gold Medallist and German Team Trainer Monica Theodorescu for three years.  Briana currently trains under Patrick Kittel with her Grand Prix horse La Scala. Relatively new to GP Burgess represented Australia at the Australian Youth Olympic festival and was the highest placed Australian individual dressage rider.
Lyndal Oatley (photo FEI/Jon Stroud)
After watching her cousin Kristy compete in the Sydney Olympics in 2000 Lyndal knew her fate as a dressage rider was sealed. Lyndal made her Olympic debut at the 2012 London Olympics and also represented Australia at the 2010 World Equestrian Games. Oatley was also a member of the 2010 Team to compete in Aachen, the first ever team to represent Australia in dressage at this event. Lyndal is married to Swedish equestrian Patrik Kittel who is also Lyndal's coach.
Mary Hanna (photo Michelle Terlato)
Mary dabbled in other equestrian disciplines such as eventing, show jumping and even found success as a pentathlete before committing to dressage in her 20's. Mary was the first Australian dressage rider to qualify for the GP Special at the 1996 Atlanta Olympic Games. In Mary's career she has represented Australia at four Olympic Games and three World Equestrian Games. Mary and her husband Rob (a successful event rider) have two children, Gitte and Alexandria. With 2014 marking her 60th birthday Mary doesn't show any signs of slowing down, with her up and coming young horse Boogie Woogie achieving great results overseas and Sancette continuing to produce strong results recently representing Australia at the Longines FEI World Cup Final for Dressage.
Hayley Beresford (photo Genevieve Kirk)
Western Australian born Hayley was born into a very horsey family. Now German based, Hayley attributes some of her success to both her Mum and Dad who spent countless hours with her on the lunge riding without stirrups and reins. Beresford made her Olympic debut at the 2008 Beijing Olympics and in 2010 she represented Australia at the World Equestrian Games held in Kentucky on her mount Relampago do Retiro.
Kristy Oatley (photo digishots)
Oatley has represented Australia at the 2000, 2008 and 2012 Olympics Games, as well as the 1998 and 2006 World Equestrian Games. Kristy grew up on a farm where she began riding when she was two and in 1995 she relocated to Germany. Kristy is married to Piotr Staczek who is a Polish soccer player and together they have three children Rosie, Oskar and Ben.
Maree Tomkinson (Michelle Terlato)
Maree a former show rider made the switch from hacking to dressage in 2002 after countless Champion Lady Riders and Champion Hack titles. She has also won Australia's prestigious Garryowen Perpetual trophy twice. After competing in her first Grand Prix class in 2007 Tomkinson, although relatively new to the dressage scene was named a member of the Beijing Olympic qualifying squad and competed successfully in Europe in 2007 and 2008. Her current leading horse Diamantina was purchased as a four year old in Germany and went on to represent Australia at the World Young Horse Championships in 2007 and 2008, finishing in the final on both occasions  with her best placing 6th in 2008. Since 2008 Diamantina has been based in Australia where she has progressed to Grand Prix level. In 2012 Tomkinson and Diamantina were crowned Australian dressage champions.