New vision for Dressage and Para-Equestrian Dressage in Australia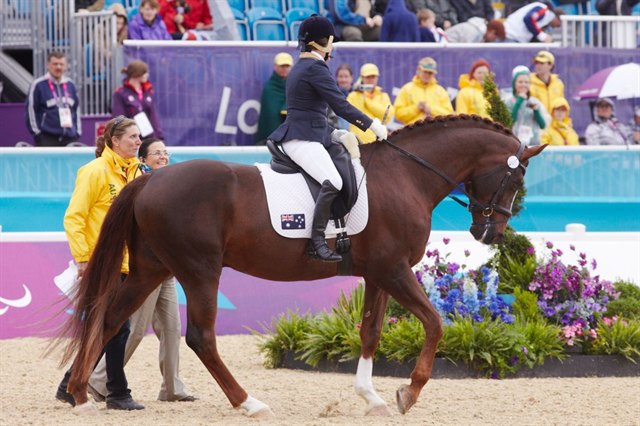 Julia Battams with Joann Formosa at the London 2012 Paralympic Games 
Photograph:FEI/Liz Gregg
A clear vision and focus is what is needed for Dressage in Australia according to Equestrian Australia's new National Performance for Dressage, Julia Battams.
Julia who successfully led the Para-equestrian Dressage team for the London 2012 Paralympic Games, has been appointed as the National Performance Director for Dressage & Para-equestrian Dressage for 2013-2016.
Having built the Para-equestrian Dressage (PE) program after Equestrian Australia took responsibility for it in 2009, Julia successfully worked to bring about a strong team culture in the PE program which she believes can be developed for Dressage.
"We want to focus on fostering a positive team environment across the whole sport from Futures' squads through to our Elite squads. Identifying young horses and bringing them into the High Performance Program and team environment early on will be important," said Ms Battams.
"We want to establish a mentoring program across Dressage sport in the country where Dressage riders can offer support to our Para-equestrian riders, and vice versa.
"A systematic approach to training across all we do will be important as we set ambitious targets for Dressage and Para-equestrian both in the short term and long term," she said.
Julia will be supported by a new look Dressage Selection Panel, with veteran selector Maria Schwennesen to be joined by Richard King and Jacqui Van Montfrans as part of the three person panel.
Equestrian Australia's Chairman Paul Biancardi believes the new Dressage Selection Panel is a good combination of experience and fresh ideas that will support the long term vision for the sport.
"In appointing the panel, it wasn't simply a matter of finding selectors who could do the job, but also people who had a clear vision on how to improve Dressage sport in Australia.
"The ability to bring in new ideas as well as draw on the experiences of the past will be important as we set goals both in the short term and long term.
"The selectors will have the opportunity to work collaboratively with National Performance Director Julia Battams, who brings to the role a new vision for the sport. Julia's success and experience leading a national high performance program was demonstrated in the 2012 Paralympic Games campaign and we are pleased to her have onboard for both the Dressage and Para-equestrian programs," he said.
Equestrian Australia is pleased to have the following selectors on board for the next four year cycle:
Maria Schwennesen has been a national selector for Dressage for the past six years and is a recognized FEI4* Dressage Judge, National Dressage Judge Educator and Mentor as well as many other positions she has held during her thirty year association with the sport.
Richard King competed for many years at a national level in Australia and internationally in the UK in Dressage and Eventing, trained with many international coaches in Europe and brings to the role more than 25 years' successful experience as a coach.
Jacqui Van Montfrans is a well-respected Level 2 Coach and Coach Educator with more than 20 years' experience who has also represented Australia both here and overseas.
EA Chairman Paul Biancardi also wanted to thank outgoing Selectors Joanne Fowler and Virginia Creed for their significant contribution, after both chose not to stand for another term.
"Both Joanne and Virginia have provided substantial contribution to the Dressage community over many years especially during their time as Selectors.
"A recognised FEI3* Judge, Joanne was appointed to the National Dressage Selection panel in 2001, and has Chaired the panel since 2003 for which oversaw the selection of Australian Dressage teams for three Olympic Games and three World Equestrian Games. 
"Virginia has served on the panel for more 16 years and brought to the panel her experience as an international judge and Coach.
"Equestrian Australia thanks both for their contribution as National Selectors and we look forward to their continued contribution to Dressage through their various roles as Officials," he said.
The appointments of the National Performance Director for Dressage/Para-equestrian Dressage and the Dressage Selectors is a four year term through to the 2016 Olympic Games.
The selector positions for the Para-equestrian Dressage panel are still open and will be announced in the coming weeks.