Sheridyn Ashwood is crowned Australian Dressage Champion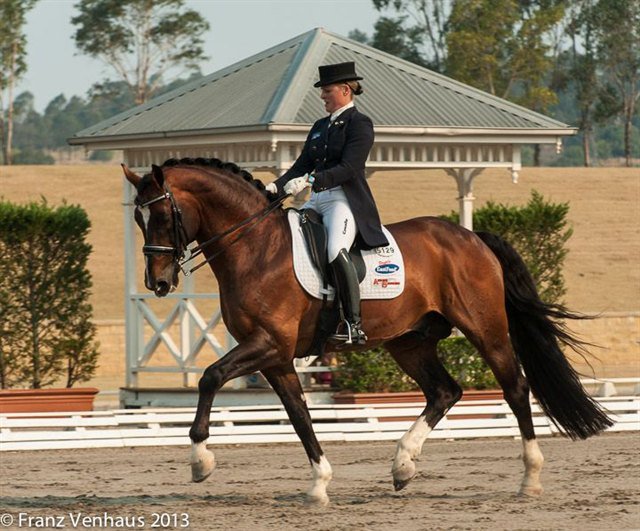 Sheridyn Ashwood and Prestige VDL 
Photograph:Franz Venhaus
Australia has a new dressage champion this evening after Sheridyn Ashwood won the Grand Prix Special at today's Saddleworld Australian Dressage Championships.
Having already claimed the reserve champion ribbons in the Grand Prix and Freestyle, the overall title was Ashwood's for the taking after the winner of the Grand Prix, Maree Tomkinson, and overnight Freestyle winner, Mary Hanna, did not start in Sunday's Special.
To determine the champion, standings from the Grand Prix are combined with a combination's best standing from either the Freestlye or Special.
In today's Special Ashwood and her KWPN stallion Prestige VDL were ranked first by each of the judges, who combined to give her a score of 69.13. Heath Ryan and Regardez Moi scored 68.23 for second while Sue Hearn and Remmington snared a top three placing with a score of 66.04.
The Sydney International Equestrian Centre has once again proven to be a favourable venue for Queensland based Ashwood who returns home with another significant accolade after winning the Grand Prix, Freestlye and Special here in May at the prestigious Sydney CDI3*.
For Ashwood and leading dressage riders the focus is now on next month's Be the Influence Equestrian Grand Final which will take place at EQUITANA Sydney on Saturday 9 November.
Overall Champions of other divisions to come.
26 October 2013
Mary Hanna chasing a sixth Australian Dressage Title
Four-time Olympian Mary Hanna has emerged as a contender for the title of Australian Dressage Champion after winning the Grand Prix Freestyle overnight at the Saddleworld Australian Dressage Championships.
Hanna and her London Olympic mount Sancette were sixth in Friday's Grand Prix and they bounced back from a sluggish start to this event to produce a superior performance in tonight's showcase event which was rewarded by the judges with a score of 70.85.
The four-time Olympian and five time Australian Dressage Champion is pleased with her mount's performance considering he's only just come back into work.
"He's not so fit and he hasn't been back in work so long, we almost didn't make the trip but he   was telling me that he wanted to so here we are."
"He wasn't at his best yesterday but I was absolutely thrilled with him tonight and I'm really looking forward to him improving even further," she said.
The last time that many of these combinations gathered at the indoor arena of the Sydney International Equestrian Centre was at the Sydney CDI where Queensland rider Sheridyn Ashwood was a dominating force. This venue continues to be a happy hunting ground for Ashwood who backed up her second place in Friday's Grand Prix with a second place in tonight's Freestlye.
The battle between husband and wife duo Heath and Rozzie Ryan was as close as it could get with Heath nudging out wife Rozzie by the slenderest of margins. Heath finishing on a score of  69.55, just ahead of Rozzie on 69.50.
Last year's champion Maree Tomkinson received a score of 68.15 for her test which saw her finish the event in 5th place.
The title of Australian Dressage Champion will come down to the wire with all eyes now focused on Sunday's Grand Prix Special which will prove decisive in determining who reigns supreme.
26 October 2013
Tomkinson set to claim back to back  Australian dressage titles
Maree Tomkinson has taken the first step towards claiming the title of Australian Dressage Champion for the second consecutive year after winning today's Australian Sports Commission CDI-W at the Saddleworld Australian Dressage Championships.
Last year's defending champion was the last to go in Friday's Grand Prix and the crowd waited eagerly to see her and her mare Diamantina's first performance at a major event in almost a year.
Judges awarded the combination a score of 67.96% which moved them into first position ahead of Sheridyn Ashwood and Prestige VDL who obtained a score of 67.77%.
The battle for the top three was tight with third placed Rozzie Ryan and GV Bullwinkle scoring 67.36%.
Tomkinson was pleased with her performance but had been hoping for more of an improvement on the score she achieved last year.
"She can piaffe now quite clearly but she's still a young horse so things will just get better.
"She's an amazing horse and I'm very lucky to have her and I thought the test was a lot better and I think she has improved a lot.
"I'm very lucky to own a beautiful horse that gives me and all my team an enormous amount of pleasure.
"My Young Rider (Morgan Duell) won the CDI-Y this morning so it's been a great day for us," Tomkinson said.
Saturday will see riders of all grades complete their freestyle test. Competition commences from  8:15am with the Grand Prix Freestyle commencing at 7:30pm.
  23 October 2013
Dressage and Para-Equestrian riders put through their paces ahead of Saddleworld Australian Dressage Championships
As well as crowing Australia's national dressage champions for 2013, this weekend's Saddleworld Australian Dressage Championships will see Australia's leading Para-Equestrian riders battle it out for individual and state team's trophies.
This is the first year that Para-Equestrian classes have run in conjunction with the Dressage Nationals and Para-Equestrian riders from four states have made the journey to the Sydney International Equestrian Centre (SIEC) to contest the inaugural event which commences today.
Entries to the dressage boasts representatives from each state and territory and with Australia's leading horse and rider combinations looking to claim their respective national title, fierce competition from novice through to Grand Prix is assured.
National squad riders of both disciplines have been provided with the ideal preparation leading into the nationals with a week-long staging camp which offered coaching sessions with visiting trainers Lone Joergensen and Bjarne Elefsen.
On-horse sessions were complemented with a series of lectures on international horse transport, equine nutrition, sports science and medicine as well as a series of veterinary talks from the Australian Equestrian Team Vets for Dressage and Para-Equestrian, Dr Robin Bell and Dr Kirsten Neil.
National Performance Director for Dressage and Para-Equestrian, Julia Battams, says the camp has provided the squad riders with the best possible preparation ahead of the nationals.
"Staging the camp within such close proximity to the nationals has given our riders an excellent opportunity to work with the trainers on specific areas and will give them a chance to put into practice everything they've learnt over the past week."
"One session which was particularly successful saw the riders work together to brainstorm a vision statement for the squads moving forward.
"Let's step it up - professionally inspire excellence came out of a four hour seminar and embodies the squad's collective purpose moving forward," she said.
It's been a busy week for Para-Equestrian Nicole Blanks who has been studying for end of year University exams in-between lectures and training sessions.
"I have an exam on the first morning of competition and then I ride that afternoon."
"Although it's been a busy time for me personally, the whole experience has been a great learning experience. I really enjoyed the brainstorming session and having a chance to play a role in coming up with a vision for the squads."
One rider that all spectators will have their eyes on this weekend is the defending champion Maree Tomkinson who is looking to cement her name in the record books for a second consecutive year.
"I feel so lucky to have such a great partner in Diamantina, we've been working really hard in recent months and hopefully efforts will pay off," she said.
The Saddleworld Australian Dressage Championships will run through to Sunday 27 October. Further information on the event is available at http://www.dressagensw.com.au