Thinline Dressage with Altitude CDI3* & CDI-Y - Event Report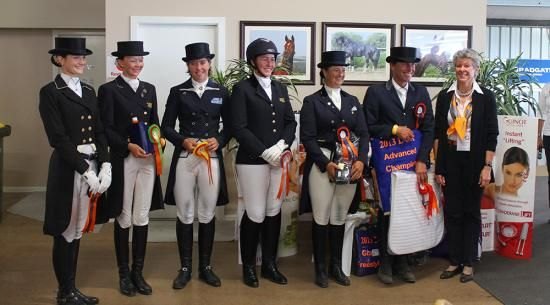 Rodney Martin accepting one of his many accolades at DWA
Welcoming new sponsors, elite combinations and Olympic level judges, ThinLine Dressage with Altitude CDI 3* had success written all over it!
Maintaining its boutique style and relaxed, friendly atmosphere, DWA continued to impress spectators and competitors alike.  Owned by John and Bev Healey, the venue, Bradgate Park with its breathtaking views of the surrounding hills and valley floors, shone from the first to last stable door latch to the immaculately presented world class indoor arena and outdoor grass warm up areas– surely this property is the jewel in the crown of the Colour City – Orange, NSW. 
Competition kicked off on Thursday, February 14 with the Pryde's EasiFeed Inter II won in style by Nadia Coghlan and her talented Oldenburg gelding Carlyle looking more comfortable with every outing scoring 66.0179%, followed closely in second by the ever improving Kooinda Saint on 65.158% showing such harmony with his rider, Mark Arthur.
Following the all important and ever fascinating "Fitness Inspection" of all CDI horses, the Darlington Stud PStG CDI 3* settled the visiting 5* judges Gustav Svalling (Sweden) and Anne Gribbons (USA) down to business. This level in Australia continues to show promising talent and future international prospects. Taking the first steps into this Small Tour level, the imported Westphalian stallion Aber Hallo 29 ridden so softly by Brett Parbery, looked amazing – confident and so up-hill - scoring well on 70.421% for 1st place. Not content with just one placing, Brett took out second position on DP Weltmeiser for long time owner and supporter Susie Duddy of Tamworth. It was the "gents event" with the boys taking first to sixth positions.
A new twist to DWA for 2013 was the introduction of Advanced and Novice Championship competitions with the first Advanced run on Thursday showing some exciting performances from Rodney Martin's, talented and athletic Australian Warmblood SS Sonata Hit on 67.917% and Denise Rogan's Virtuel I scoring 66.458% for second spot.
Friday's early start saw the running of the Orange Vet Hospital Intermediate I CDI 3* again highlighting the softness and correct training of DP Weltmeiser giving Brett a blue rosette for a score of 69.579% with Heath Ryan and the expressive Johnny Depp in 2nd. Tanya and Scott Notley were thrilled with the result and are clearly devoted owners and fans of this horse.
To encourage Grand Prix horses at National level, this class was invited onto the 2013 programme sponsored by Sportscamera.com and supported well with a top podium result for Heath aboard Utopian Cardinal scoring 64.085% with a developing Waca W and Alexis Hellyer in 2nd and Rodrigo III coming out with his new rider Gina Montgomery with a creditable performance for 3rd place.
Anticipation grew noticeably amongst the spectators once the ThinLine Grand Prix CDI 3* got underway. With a professional and polished performance that we have come to expect, Regardez Moi with Heath held onto 1st position from Queensland's Sheridyn Ashwood competing her Dutch Stallion, Prestidge VDL. This partnership is showing real development in all aspects of this demanding test, the perfect platform to highlight his power and presence and the crowd was certainly captivated by his impressive piaffe.
The stage was now set for an enthralling tussle in the Grand Prix Freestyle CDI 3* at Saturday's "Evening of Artistic Dressage with Wine and Gourmet Hamper" supported by Centennial Wines.
Friday evening's Secret Men's Business drew a packed gallery wanting tips on the training of the young dressage horse through to the demanding requirements of FEI level. Brett Parbery, Tor Van Den Berge and David Shoobridge were entertaining with their mates banter and had no trouble explaining the intricacies of this difficult sport.
Saturday's AusWest Seeds Advanced 5B was the battle ground for the seven year olds with Lisa Martin's lovely big grey In Time stealing the limelight on a score of 68.862% from rivals SS Sonata Hit (67.276%) and Virtuel 1 (67.236%). Eventually the Dunbar Scaffolding Hire Advanced Championship was confidently secured by Rodney Martin and SS Sonata Hit having produced two very accurate and expressive tests.
Supported by Gidgee Eye's Sunglasses and Kingland Equestrian Riding Wear, the Cooramin Sporthorses CDI-Y Championship was closely contested by Luxor 118, a German Hanoverian gelding, ridden by Kate Farrell and Victoria Stuckey riding Mayfield Miracle. Victoria held her composure with a very distracted Mayfield Miracle and will be a combination to watch for the future, but in the end, with a win in both the CDI-Y Individual and the CDI-Y Freestyle, Kate Farrell was awarded Champion taking home generous prizes and prizemoney for her efforts.
The beauty of dressage is never more evident than in freestyle competitions and this certainly was the case on the Saturday afternoon with the Edinburgh Horse Rugs Advanced Freestyle being won comfortably by Megan Bryant and her up and coming Jive Magic gelding, Mr. Jackson scoring 69.700%. 
The Pryde's EasiFeed Intermediate CDI 3* Freestyle followed with the judges favouring Johnny Depp both technically and artistically resulting in a 1st place on 69.700% ensuring Heath and Johnny Depp the Hertz Bathurst Small Tour Championship with Brett Parbery and DP Weltmeiser 2nd and Amanda Shoobridge and Ferrero Rocher 3rd.
The Bradgate Park Grand Prix CDN Freestyle was next up and the audience was treated to fabulous music by super group Queen, matched with expression and lightness from Rodrigo III and Gina, the judges showing little conflict with the final result of 1st and a score of 65.575% with KS Beauchamp and Robyne Smith in second on 63.900% - this paring has such an understanding partnership and the horse again displayed his solid workman like attitude.
Without the threatening skies of 2012, the Saturday evening's spectator crowd relaxed into what was to be an evening of frivolity, fun and beautiful dressage. Delighting the audience, young 12 year old Jamie Redenbach from Orange began proceedings singing two hauntingly beautiful songs before the mayhem of the Bird's Equisports Hula-Hoop competition got underway. Outrageously funny involving the whole audience cheering on their chosen team, six teams of three took part, hula-hooping to the sounds of the Beach Boys. The all conquering "Grooms" team took home the title but special mention should be made of Fiona Neill from the "Sponsor" team and Mark Kiddle of the "Male Riders" team for their serious flair and ingenuity!
Following this frivolity, it was back to business with the Jilli Cobcroft Grand Prix CDI 3* Freestyle promising creative sparing from rival stallions, Regardez Moi and Prestidge VDL and this was exactly what the gallery expected and came to see. With a commanding performance from Prestidge VDL and Sheridyn for a 68.900%, it was up to Regardez Moi to pull one out of the box and that's precisely what Heath did. With canter pirouettes that were almost perfect and a rounded performance in all aspects, the score of 72.325% and 1st placing delivered Heath and Regardez Moi the Orange City Council Big Tour Championship with Sheridyn and Prestidge VDL 2nd and Kerry Mack riding Mayfield Pzazz 3rd. A shared result for NSW, Queensland and Victoria.
The Darlington Stud Highest % in any Freestyle Competition Award, with a tidy purse of $1000, was happily accepted by Heath. The judges, Gustav Svalling (Sweden), Anne Gribbons (USA), Mary Seefried (AUS), Helen Hughes-Keen (NZL) and Ricky MacMillan (AUS), unanimously agreed and the entire audience appreciated that this Grand Prix Freestyle test had all the right elements producing a technically reliable and very entertaining performance.
From Moira Kelly of Darlington Stud – "Thank you to your entire team for such a fabulous rider friendly CDI, it just gets better and better every year ….. such amazing organization and your team could not do enough for all of us. Saturday night was a blast and we are blessed to have the opportunity to have such an amazing event in a fabulous private home…."
With the backing of Equestrian NSW, the Grand Prix Special CDI 3* on Sunday morning saw a more subdued gallery and a small but quality field compete. The sparing continued between Prestidge VDL and Regardez Moi and at the end of the bout, Prestidge VDL stood tall taking the honors with a score of 68.521% to Regardez Moi's 67.229%. It's a long way home to Queensland from Orange but it's safe to say that Sheridyn would still have had the smile on her face when she pulled into her driveway.
Completing 4 days of excellent competition were the Keiffer Novice Championship competitions supported by Orange Vet Hospital and Zilco. The experience of the judging panels for the Novice horses was appreciated by the competitors and a large and competent field vied for the title. With deserved high scores of 71.717% for 2nd in the N2B and 74.619% for 1st in the N2D, Rodney Martin and SS Dante took out the overall Championship closely persued by Lisa Martin and First Famous for Reserve and Roger Fitzhardinge and Amerigo in 3rd.
And from some of the judges –
Gustaf Svalling 5* (SWEDEN) – "It is a well organized and friendly show. There seems to be a good feeling between riders and organizers and officials. I particularly liked the prize giving routine with the Grand Prix horses – it was fantastic."
Maria Schwennesen 4* (QLD-AUS) – "I can't tell you how much I enjoyed your show. It was so friendly and great for the horses, riders and judges …. The International judges were astounded at the hospitality and openness with the riders, officials and everybody. They said all shows should be like that one …."
Peter Shaw National A Level – "…. The team members did the most tireless and amazing job bringing this competition all together …. a great stepping stone event, some very impressive young horses and with the same level judges as the big shows."
At the end of the event a final award was announced - "Spot a Talent" - $1000 generously given by John Healey. This award was voted on and decided by the Grand Prix CDI riders at ThinLine Dressage with Altitude. It was awarded to Rodney Martin for his balanced riding technique and correct training of his horses. To say that Rodney was blown away when told is an understatement. A truly deserved recognition of a talented rider.
Australian Dressage is witnessing a surge in numbers and in potential and with the ongoing support of sponsors, volunteers and competitors alike, ThinLine Dressage with Altitude will continue to help bring this potential to reality. The Organising Committee thanks all those involved in the successful staging of the 2013 ThinLine Dressage with Altitude CDI event and wish to acknowledge the ongoing support of Equestrian Australia, Equestrian NSW, the Australian Sports Commission and the NSW Government Sport and Recreation.
For full results go to www.centralwestdg.equestrian.org.au
Is it possible to be serious and have fun at the same time……..we at DWA know that it is!
Sue Scaysbrook and Cathie Drury-Klein
ThinLine Dressage With Altitude Event Directors
Photos courtesy of Horsezone, Toni Venhaus, Tracey Lesslie, Jenny Carroll
Fun at the Pryde's EasiFeed table - Tanya Notley, Graeme and Fiona Neill, Heath's dad Rod Ryan
Balanced and soft - Lisa Martin riding In Time
Megan Bryant and Mr. Jackson - a combination to watch