Victorians dominate Melbourne International 3DE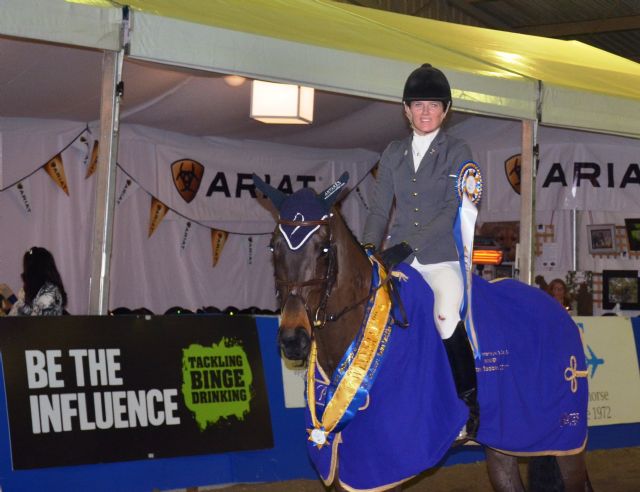 2013 Melbourne International 3DE CCI3* winner Katja Weimann & BP Flamboyant
Victorian riders dominated the 2013 Melbourne International 3DE, with riders from the home state taking out the CCI3*, 2*, 1* as well as the CCIJ*.
In the prestigious CCI3*, it was Katja Weimann and BP Flamboyant who came home strong with only one rail down to snatch victory on 50 penalty points. In front of a packed crowed at Werribee Park, Weimann stormed home to become the first Victorian in nine years to take out the title.  Not since Emily Anker in 2004 has a home state rider won the 3* event.
Weimann outclassed a top field, with Olympian Sonja Johnson and Belfast Mojito finishing in second place (51.60) and Seumas Marwood and Wild Oats rounding out the minor placings on 57.90.
Rohan Luxmoore of Gisborne, Victoria and Bells N Whistles rode to success in the Logan Floats CCI** competition, edging out second placegetter Tim Boland and Lord Limmerick in the final phase of the competition.
This year's CCI* competition, sponsored by RACV Farm Insurance, was won by Victorian Robert Palm and his mount Parklands Oakley, having finished on their dressage score following faultless cross country and showjumping rounds.
The Racing Victoria CCIJ*, taken out by 17 year old Charlie King of Main Ridge, Victoria and Charlton Veeza who, like Palm and Parklands Oakley, led the three-phased competition from start to finish.  King finished ahead of New South Wales sisters Bridget and Elizabeth Crosato who took out the minor placings on 50.66 and 50.79 respectively. Bridget riding Silenzio II had clear rounds in both the cross country and jumping phases, with Elizabeth and Koyuna Banditrecording one time fault after a flawless cross country round.
Record numbers of families, equestrian enthusiasts and lovers of the outdoors were attracted to this year's competition where Australian and international riders competed in dressage, cross-country and show jumping phases, at the picturesque Werribee Park precinct.
Equestrian Victoria CEO, Greg Pratt, said the 56-year old MI3DE is an event steeped in history, providing a valuable and entertaining experience over the Queen's Birthday long weekend.
"It has been a fantastic weekend of sport for both Australian and international riders. We have seen some world-class performances from both our Olympian competitors and our up-and-coming local stars," said Mr Pratt.
For a full list of competition results and further information on the 2013 MI3DE, please visithttp://www.equestrianvictoriaevents.com.au/Melbourne3DE/results.php.
9 June 2013 - 6.00pm
Jones maintains lead in CCI3* at Melbourne International 3DE
Beijing silver medallist Megan Jones together with Flowervale Maserati has maintained the lead in the CCI3* after today's cross country phase, with clear jumps and 2.8 time fault enough for her to stay on top of the ladder.
The impressive ride from Jones has put her on 41.60, just over a rail ahead of Victoria's Will Enginzer and Ruban Son (45.80) and Katja Weimann and BP Flamboyant (46.00). With Olympian Sonja Johnson and Belfast Mojito sitting just outside the top three on 47.60, tomorrow's final jumping phase is shaping up for a tough battle.
Jones admitted while today's course was good to ride, she really had to work hard.
"I don't think I've worked that hard in years," said Jones. "It was just about us (CP Qualified) getting used to working together."
Not only was Jones busy riding, she also took time out to meet Be the Influence competition winner Nicole Harley and her sister Melinda, who won the online competition.  Jones, who is the equestrian ambassador for the Be the Influence, tackling binge drinking campaign, is active in helping promote the dangers of binge drinking among young people.  Be the Influence are a proud sponsor of the Melbourne International 3DE.
Today's competition saw thousands of people line the cross country course and make the most of the suns, hine, with Werribee producing a stunning backdrop to the event that celebrates 56 years.
The event is set to come to a gripping conclusion tomorrow as riders will look to produce a strong round in jumping to clinch victory in the CCI3*, CCI2* CCI1* and CCIJ*.
9 June 2013 - 8.00am
Megan Jones and Flowervale Maserati have taken an early lead at the Melbourne International 3DE in the CCI3*after Dressage wrapped up yesterday at Werribee.
On 38 penalty points, Jones has a nice lead ahead of Shane Rose and CP Qualified (42.9) and Belinda Isbister and Holy Bruce (43.50).
It's a positive start for Olympians Jones and Rose who are both debuting their horses in the CCI***.
Prior to Rose's dressage ride, he played host to former Australian Wallaby Captain Stirling Mortlock who was at the event yesterday to meet some of the riders and to check out all the action and behind the scenes of the event.
Celebrating 56 years, the Melbourne International 3DE is expected to attract large crowds for cross country day, with sun shining over Werribee park.
Victoria's Amanda Ross is in the lead in the CCI** with Loxley, with Robert Palm and Parklands Oakley in first place after the dressage in the CCI*.  Charlie King and Parklands Oakley are currently in the top spot in the CCIJ*.
For all the highlights from the cross country visit the event website www.equestrianvictoriaevents.com.au/Melbourne3DE