WEG selection policy for Para-equestrian released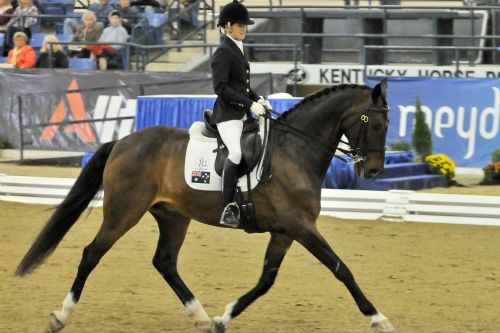 Sharon Jarvis and Applewood Odorado win bronze in the Gr 3 Freestyle 
2010 World Equestrian Games, Kentucky 
World Equestrian Games selection policy for Para-equestrian was today released, as the countdown to the 2014 WEG in France starts to heat up.
In accordance with the review following the London 2012 Olympic/Paralympic Games, Equestrian Australia (EA) has reviewed all selection policies ensuring that consultation with key stakeholders was conducted prior to the release of the updated policies.
The changes to the policies reflect the goals EA has set as part of the Winning Edge strategic plan that was completed under the Australian Sports Commission framework.
Ambitious targets for Para-equestrian have been set for the teams and individuals at WEG 2014 with the selection policies aligned to ensure the combinations can work towards achieving those outcomes.
Equestrian Australia will work towards fielding a full team at the 2014 World Equestrian Games across all disciplines including Eventing, Jumping, Dressage, Para-equestrian, Vaulting, Carriage Driving, Endurance and Reining.
Follow all the updates as our riders countdown to the 2014 World Equestrian Games – log on to www.weg14.equestrian.org.au as the Aussies prepare for Normandy.