Vicky Lawrie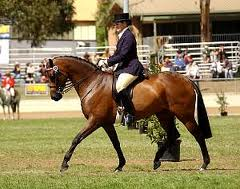 Having won six Garryowen trophies, four Barastoc Horse of the Year titles and 15 national titles, Show Horse rider Vicky Lawrie is in a class of her own.
Lawrie is one of Australia's most accomplished Show Horse riders who has been just as active behind the scenes as she has been in the Show Ring.
Vicky started riding when she was four years old on a cattle property and attended Bundaberg Pony Club. She represented South Australia in eventing until she was 16 competing at Gawler and Sydney three day events. Before switching to Show Horse she also rode in ladies races in country meetings.
It didn't take long for Lawrie to make her mark on the sport and in her early days in the ring she won The Royal Show's Championship in Hack Galloway, Pony and Riding classes. In this time also competed in Pony and Galloway show jumping at Sydney Show.
Vicky won her four successive Barastoc Horse of the year titles with the horse Picasso, which also won 13 Royal Shows in a row including seven Royal championships and 3 Garryowens.
At the SA horse of the year she won the Pony Gall Hack Horse of the Year 25 times then went on to represent her state winning 15 National titles and 3 reserves titles.
Vicky is the most prolific winner of the Garryowen trophy taking out the event an amazing six times on three different horses (Picasso, Breughel and Kings). She has also placed several times including second place when she once forgot her hacking cane.
Vicky has served on numerous committees and was an inaugural member of the EA Show Horse Committee. For eight years she served as National Chairperson of the Riding Pony Society and following this became the National Riders Rep for the EA, a position she held for six years.
Vicky has conducted countless judges and riding clinics all over Australia and still remains involved with the local show horse committee in SA, encouraging people in isolated areas to become involved in the sport.