1996 Atlanta Olympic Games Eventing Team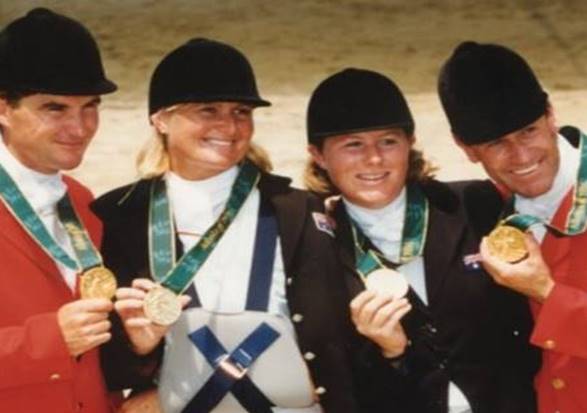 Australia's Eventing team in Atlanta was notable not only for its riding ability but also for its exemplary standards of raw courage and perseverance. Wendy Schaeffer, the youngest Australian equestrian to ever win gold, rode with a broken leg which she suffered in training two months before the Games. After she was driven around the course in a buggy by Chef d'Equipe Jim Dunn, the American team protested that if she wasn't fit to walk then she wasn't fit to ride. It led to Schaeffer needing to have more X-rays taken to be cleared to compete. Despite being in pain for most of the competition, Schaeffer still finished on top of the overall table which at previous Games would have entitled her to a second gold medal.
During the Cross Country phase Gillian Rolton's Peppermint Grove slipped and fell on the flat at the 5 minute mark causing Gill to break her collarbone and ribs. Another fall at the next fence saw Gill fall in the water but she remounted and made it home. Phillip Dutton finished second to Schaeffer on the points table and Hoy was fourth, enabling Australia to win by a huge 57 points from the second positioned US.