Laurie Morgan
"Laurie" Morgan (5 February 1915 - 19 August 1997) spent most of his early years in Yea, north east of Melbourne and is best remembered for his Equestrian skills, yet he made his mark in many other sports. At one stage, Morgan held the Victorian amateur junior heavyweight boxing championships, and between 1937 and 1939 played 34 games as a ruckman with the Fitzroy Football Club. He was also a champion rower and was selected to row in the Kings Cup for Victoria. 
Morgan won two equestrian gold medals at the 1960 Rome Olympic Games, the individual and team Three-day Event. He was captain of the Australian Equestrian team and became the first rider in Olympic history to receive maximum bonus points for cross-country and endurance.
These were the first Equestrian medals ever won by Australia at the Olympic Games and set the precedence for future Australian Equestrian Team representatives. Morgan, an outstanding horseman, beat his teammate Neale Lavis into second place in the individual event. Along with teammates Bill Roycroft and Brian Crago (who unfortunately did not complete the event therefore was not awarded the medal), Lavis and Morgan won the team event in extraordinary circumstances. Although the Australian Olympic team consisted of big names like Herb Elliott, Dawn Fraser and Murray Rose, Morgan was the only dual gold medallist.
Morgan was 45 years of age at the time of his Olympic triumph. He missed out on selection for 1956 Olympic Games for controversial reasons. He did not represent Australia again at Olympic level.
Following his Olympic success Morgan pursued his love for steeplechasing and competed in many races in Great Britain including riding around the Grand National course in the Aintree Fox Hunter's Cup, which he won riding Colledge Master. Laurie won 22 of 33 starts as an amateur steeplechase jockey in England. At this time Morgan was invited by the Duke of Beaufort to compete at Badminton and put Salad Days back into training to polish up his Dressage. The pair won the 1961 Badminton title, only the second Australians to do so (following the win by Bill Roycroft and Our Solo in 1960). Before Morgan returned to Australia later that year, he presented 'Salad Days' to the Queen as a gift from one friend to another.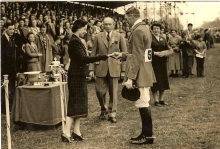 Morgan was also an accomplished polo player, winning numerous trophies. Morgan bred some brilliant racehorses, including AJC Derby winnerValiant Crown and STC Golden Slipper winner Royal Parma.
'Gold Ross', 'Salad Days' and 'Colledge Master' were his three great horses.