Photos Courtesy os Sue Billson-Hewett
From Abattoir to Life-Long Teacher, the Little Red Pony That Could
Sue Billson-Hewett lives in Kingscliff, QLD and spent many years as a riding coach. Here she shares with us the heart-warming story of Red, a pony who touched the lives of thousands over his long life, and who is truly a one-in-a-million.
I have been a riding coach for probably longer then I care to admit, being a tad age sensitive.  But we will say a very long time.
'Red' was one of my very first school ponies. A chestnut pony, 13.2hh, with the body size and head of a quarter horse, but a little short in the legs (much like my husband).
Red was bought by a trail-riding proprietor at Homebush Auctions, which before being an Olympic venue, was an abattoir. I was with her when she purchased Red.
He was raw-boned and had the coat of a worn out tooth brush. He seemed wild-eyed and frightened.  I would not have picked him as a suitable school horse… but the trail riding lady had an astute eye.
Later I had the opportunity to lease Red and consequently purchase him. He was 7yrs old. Throughout his life he maintained a fear of adults, but my trust in him just kept growing.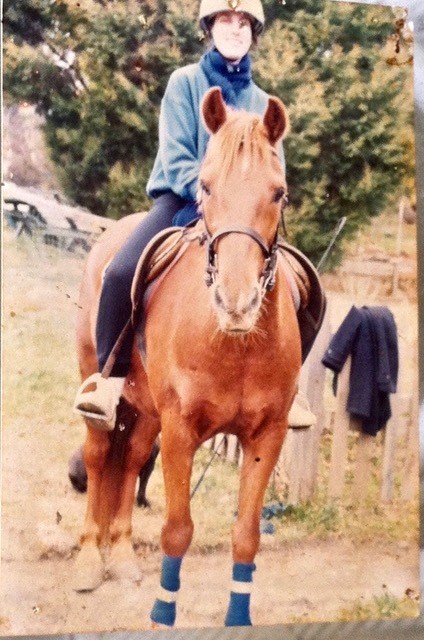 A very young Red ...about 10yrs old
One day, at a school holiday camp, of which I ran many, I found one of the younger pupils sitting on ground between his back legs grooming him. There were summer flies around and his tail was swishing, but he never moved a leg.
As I came to trust him more and more, he became the cornerstone of my riding school. The scruffy little red pony became the fat, shiny red pony.
In a period of 35 years, yes that's correct - 35 years, he taught probably over a thousand people to ride.  Nobody ever fell off Red. He constantly adjusted his pace and balance, to keep his precious cargo aboard.
He loved the children, there was never fear in his eyes, he gave everyone confidence and fostered an enduring love of horses in numerous pupils, many who have since gone onto horse ownership and become successful competitors.  For others, Red is a memory of a very special time in their life where they felt overwhelming joy and confidence.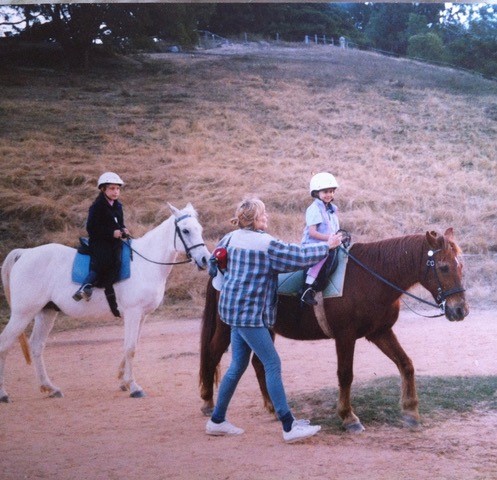 Little 5-year-old Rikki on Red - she grew up riding Red
Red was gently put to sleep at age 44. I never followed up as to whether he had reached some record age. He was still working in the school in that year, just doing short walk-arounds with little ones, maybe the occasional little trot. 
He was put to rest because I realized that his best mate in the riding school, a grey Arab called Romani, had become his eyes. When it was 'time' for his best friend Romani, who was ill with cancer (aged 33), they were both very peacefully put to rest and buried together on my property.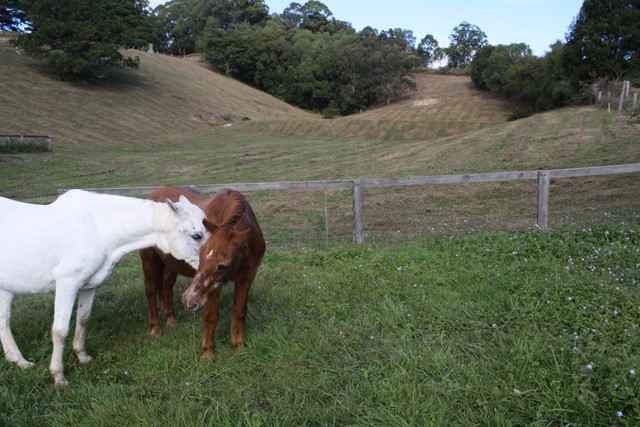 Red with his best friend Romani (who had become his eyes), just before they were put to sleep peacefully
Since Red's passing, I no longer run a riding school. He was my partner. We were a great team.
He was purchased from a place that become an Olympic venue, and to me he was a true Gold Medallist.
Supplied by Sue Billson-Hewett