Aussie Dressage Judge Selected as Ground Jury Member for Tokyo Games
Australia's own 5* Dressage Judge, Susan Hoevenaars, has been selected by the FEI to be a member of the Dressage Ground Jury at the Tokyo 2020 Olympic Games.
"You always dream as a young rider of going to the Olympics, and sometimes it works out in a different way and I am going as a judge," shares Susie.
To add to the prestige of this Olympic selection, Susie has also been given a judging extension by the FEI, and as a breast cancer survivor is very happy to be able to celebrate this milestone in her judging career.
Susie has been an influential member of the Australian dressage community for many years. She has "done her rounds of committee work".
Susie has been an active member of multiple committees, including both the NDC and ADC, and has also held the position of the Chair of Selectors. 
The popular and prestigious Aachen Challenge, where the winner wins a trip to Aachen, has been running for more than 5 years and was originally initiated by Susie when she was the event director of the Dressage Festival in Victoria.
She has also judged at Aachen herself on five occasions, which Susie has thoroughly enjoyed.
As the most prestigious show in the world, with an extremely knowledgeable public, it is huge pressure  - but at the end of the day she says, "you have to remember it's just an arena, it's just a dressage arena."
Susie is an FEI mentor and judge educator. When she was on the board of the International Dressage Officials Club (IDOC), she initiated with support of IDOC and the FEI what has now become a hugely successful bi-annual FEI refresher clinic, for the Australasian-Pacific Region.
"It provides National and International level Grand Prix judges the opportunity for professional development. Gaining educational judging opportunities, working with headsets and mentors, judging a whole range of riders across the levels," explains Susie.
The last clinic hosted 32 attendees from 10 countries.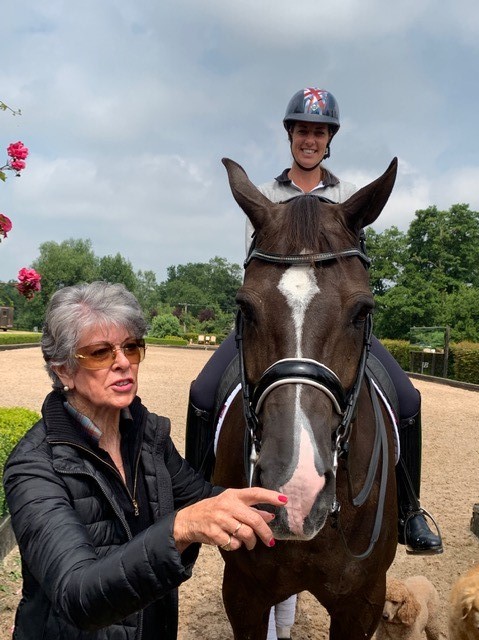 Susie Hoevenaars with Valegro & Charlotte Dujardin at Hartpury 2019
Susie considers the biggest thing for a 5* judge is responsibility.
"You need to stay focussed and judge what you see in the arena; to give not only the first horse in the arena your full attention, but the last horse too," shares Susie.
This is not made easy when at big championships classes run over two days. Judging 40 horses a day means approximately 1,400 decisions to be made by each judge.
To this end, Susie is careful not to be influenced by outside speculations, stories and news of riders and their results on the internet and social media.
"Every ride is new, and riders can have good days and not so good," explains Susie.
"You are responsible for your every decision and your score can make the difference between a gold, silver or bronze medal so you have to be consequent with your marks."
The latest technology of a paperless scoring system is one Susie thinks is fantastic. "For competitors and judges the results are immediate," says Susie, "I hope we introduce it at CDIs everywhere in Australia."
This system also means Susie can write a longer comment than she otherwise would, as typing is quick and no scribe is required. "I like to give as many remarks as possible," shares Susie, who feels it important to help a rider understand why they got one mark, and not another.
When asked about giving scores of '10', Susie explains, "10 is a special number, not given lightly". She has given out "a couple of handfuls" in her judging career.
Susie continues, "But the level of riding at the top now sees not just one [horse and rider] combination with the possibility to score 80%, but a number [of combinations], so now we see more 10's given than in the past."
Olympic judging selection is reserved for the best in their field. Susie is one of the top dressage judges in the world, and to hear her regime, you can start to see why. She puts a big emphasis on the importance of fitness and healthy eating.
"To be good at judging, you have to be fit and able…you have to look after yourself," shares Susie. "Decision-making [such as judging dressage] uses a lot of brainpower…the brain is a muscle and like any muscle needs rest and protein to function well."
Susie travels a lot, on average she is away 2-3 months every year.
"You have to immerse yourself in Europe, where you have the opportunity to judge many shows at all levels" she explains.
"I have been extremely lucky to have been given those opportunities."
She'll be overseas at least five times this year, heading to Europe and the United States, in the build-up to the Tokyo Games next year.
Susie carries a skipping rope in her luggage wherever she travels, along with her yoga bands. She does 100-150 skips every day, in an interval training-like fashion.
She firmly believes, "You need to exercise, even if you have limited time".
For our most senior judge in the country – Susie has been judging for over 20 years - this Olympic opportunity "is the icing on the cake."