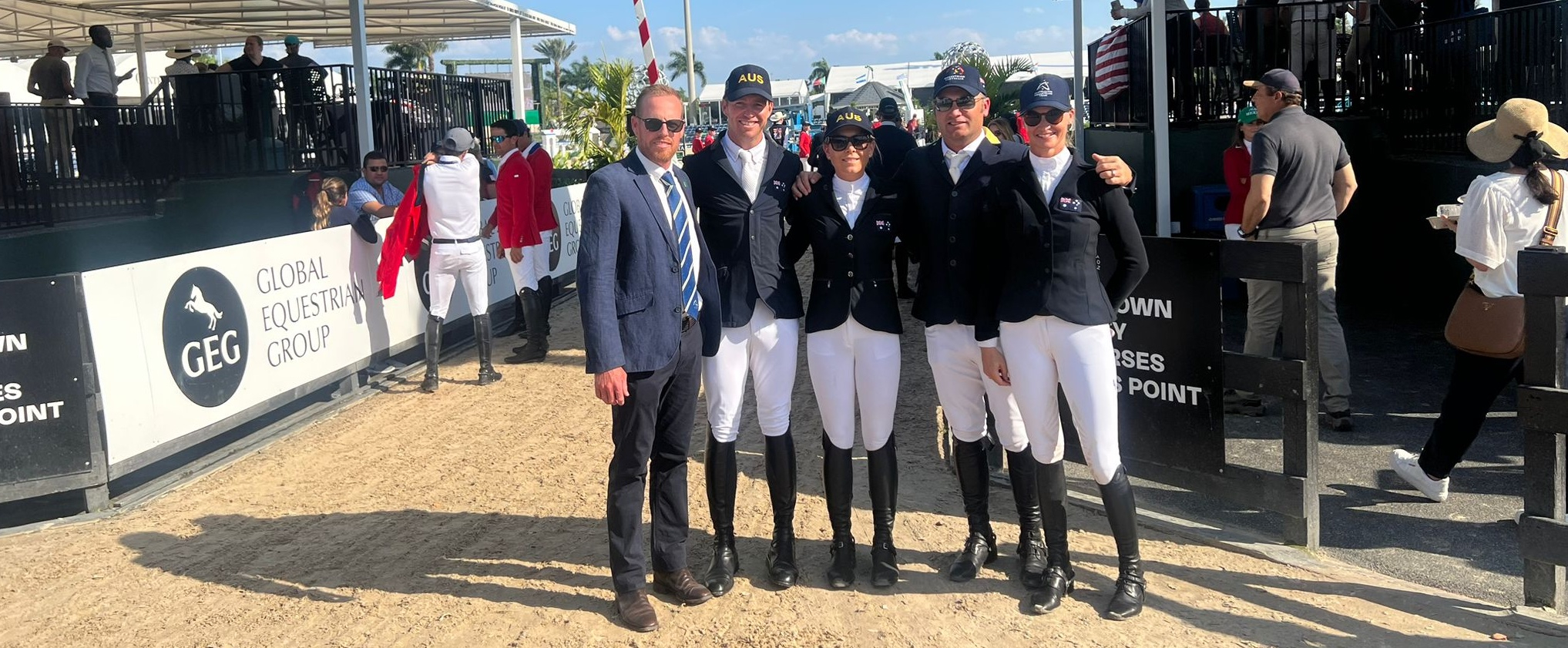 Australia Finish Sixth at CSIO4* Wellington Nations Cup USA
Australia has finished in sixth place at the Wellington International Nations Cup CSIO4* presented by IDA Development.
Eleven nations came forward to contest the prestigious event, which took place over two rounds of competition and was the feature class of the week-long show in Wellington, Florida. 
Australia was represented by Lauren Balcomb riding Verdini d'Houtveld, David Cameron riding Oaks Come By Chance, Thaisa Erwin riding Vanturo and Matt Williams riding ABC Quantum Cruise.
The Australian team started the competition strong, qualifying for round two in promising form. Matt Williams and ABC Quantum Cruise had a challenging first round, retiring from the first round, which made them Australia's drop score. However, Lauren Balcomb and Verdini d'Houtveld delivered a sensational clear round and under time boosting Australia up the leaderboard. 
David Cameron and Oaks Come By Chance finished with just 4 penalties in the first round, with Thaisa Erwin and Vanturo finishing with 8 penalties which saw Australia finish round one in 5th position, securing a start in round two where only eight nations qualify to move forward.
Many nations, including Australia, faced challenges in round two as the competition was jumped under floodlights in front of a full house and an electric atmosphere. 
In round two, David Cameron and Oaks Come By Chance had 12 faults, Thaisa Erwin and Vanturo had just one rail down for 4 penalties and Lauren Balcomb and Verdini d'Houtveld had an unfortunate 8 penalties. Matt Williams and ABC Quantum Cruise used all his experience to finish the second round with just 8 penalties.
EA High Performance Jumping Manager, Todd Hinde, said:
"It was two rounds of tough competition tonight and our team showed some great performances with new young horses that are stepping up to this Nations Cup level.
"It is always a privilege to be competing amongst some of the most quality combinations from around the world, so for the Australian Team to finish overall in 6th place, it shows the camaraderie and hard work from all four riders and their teams. This definitely shows promising things to come for the future."
The final Nations Cup standings are as follows: 
1st - Canada
2nd - Brazil
3rd – Ireland
4th  - Mexico
5th – United States of America
6th – Australia
7th – Great Britain
8th – Belgium