Jon Stroud
Australia Thirteenth in Team Test at Tokyo and Sharon Jarvis Makes Her Final Salute
Australia finished in 13th position in the Team competition at the Tokyo 2020 Paralympic Games this evening on a score of 206.458% as the second day of the Team competition concluded with the Grade V and Grade IV divisions at Baji Koen Equestrian Park.
The competition was run over two days, starting with the athletes from Grades I, II and III performing on Saturday, leaving Grades IV and V to seal the fate of each country today.
While qualified Teams competing at the Games can have up to four Athletes taking part in the competition, for the Team Event only three Athletes per Team are allowed to be nominated to compete, meaning there is no drop score. 
Representing Australia in the Team competition was:
Grade III – Emma Booth and Zidane
Grade IV – Sharon Jarvis and Romanos
Grade V – Amelia White and Genius 
Each of the Australian combinations did an outstanding job, displaying their ability to compete under difficult conditions on the world's greatest sporting stage.
On Saturday evening, Emma Booth and Zidane were Australia's first combination in the arena, and despite a few small errors, the duo earned 68.000% in the Grade III class. 
"It wasn't our best performance. I made an error of course which obviously at this level you just can't afford to be doing and that along with a few other little mistakes afterwards the score just wasn't up where it needed to be. But you know we went out and did the job and I think did the best we could given the situation. Afterwards it is hard to keep your mind really focused after they have rung the bell early on in the test," shared Emma.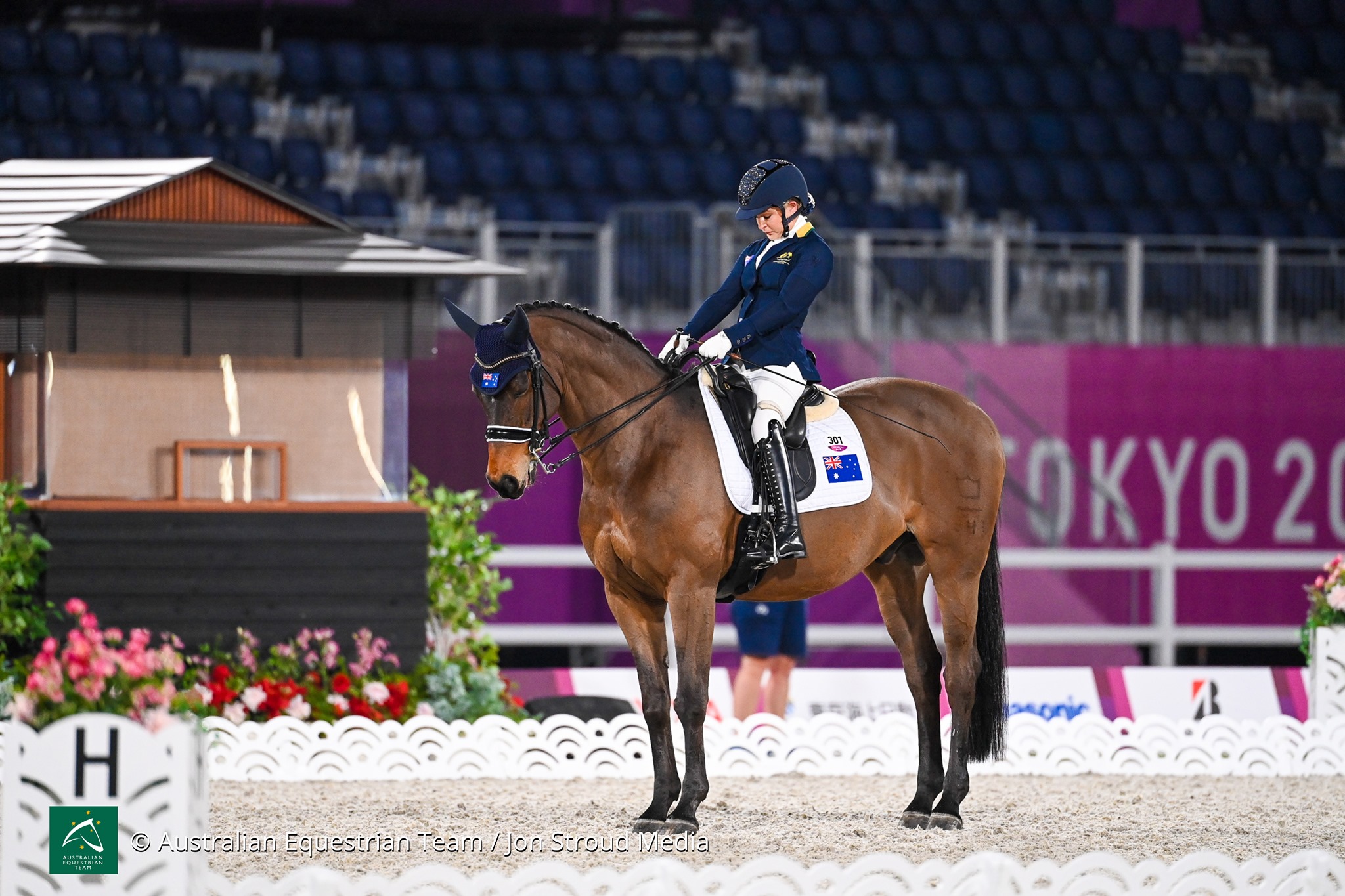 Emma Booth & Zidane, Photo credit: Jon Stroud Media
Amelia White and Genius were the second pair to complete the Team Test, opening day two of competition in the Grade V division. 
Amelia and Genius looked stunning in the main arena throughout the duration of their test and secured a score of 70.558%, just less than 1% behind their Personal Best score. 
"He was really good, I think he definitely improved on the score from the previous test which was a goal. I think there is always more in the tank and I think if you ask me if I am happy the answer is never 100%, but where we are now and to have these scores here I am really happy with that," said Amelia.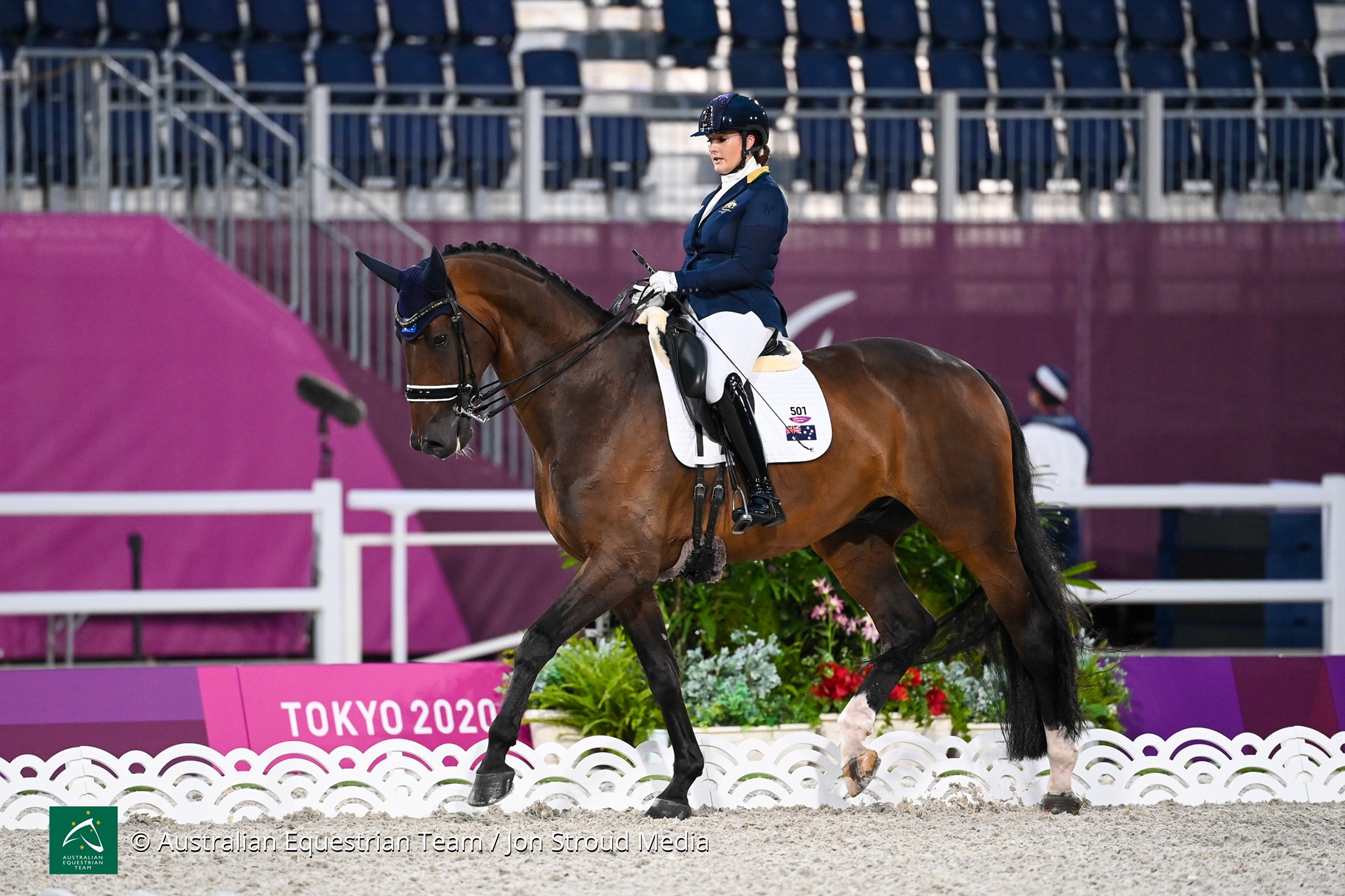 Amelia White & Genius. Photo credit: Job Stroud Media
However, it was Sharon Jarvis and Romanos who delivered an emotionally charged performance which marked the final Paralympic ride of Sharon's career, a decision Sharon had made prior to embarking on her Tokyo 2020 campaign.
Sharon and the 19-year-old gelding Romanos, who is owned by Donnella Merrett, danced their way through their final test to score 67.900%. 
Sharon made history at Tokyo by becoming the only Para-equestrian athlete to represent Australia at three Games, and it is on this note that Sharon has made the decision to retire from international competition.
"The part that makes it a lot harder is that I made a choice before Tokyo that this would be my last Games, so that was my last ride at a Paralympics."
"The Paralympics have given me so much, I was a bit lost during my teenage years and didn't know where I belonged," said Sharon.
"When I found the Paralympics I suddenly belonged to a family that was incredibly inclusive."
When reflecting on her Paralympic career Sharon said she hopes that she has been able to inspire others, even if just one person, to follow their dreams, no matter what that dream is.
At the conclusion of the test, the three-time Paralympian was visibly emotional, and spoke of her bond with her horse Romanos and thanked his owner, who had given her the opportunity to ride such a wonderful horse at her final Paralympic Games.
"After Tokyo he will be returned to his owners, it's very emotional as I've absolutely loved riding him. We have had a wonderful two years together, where I have been able to improve my skills and learn so much."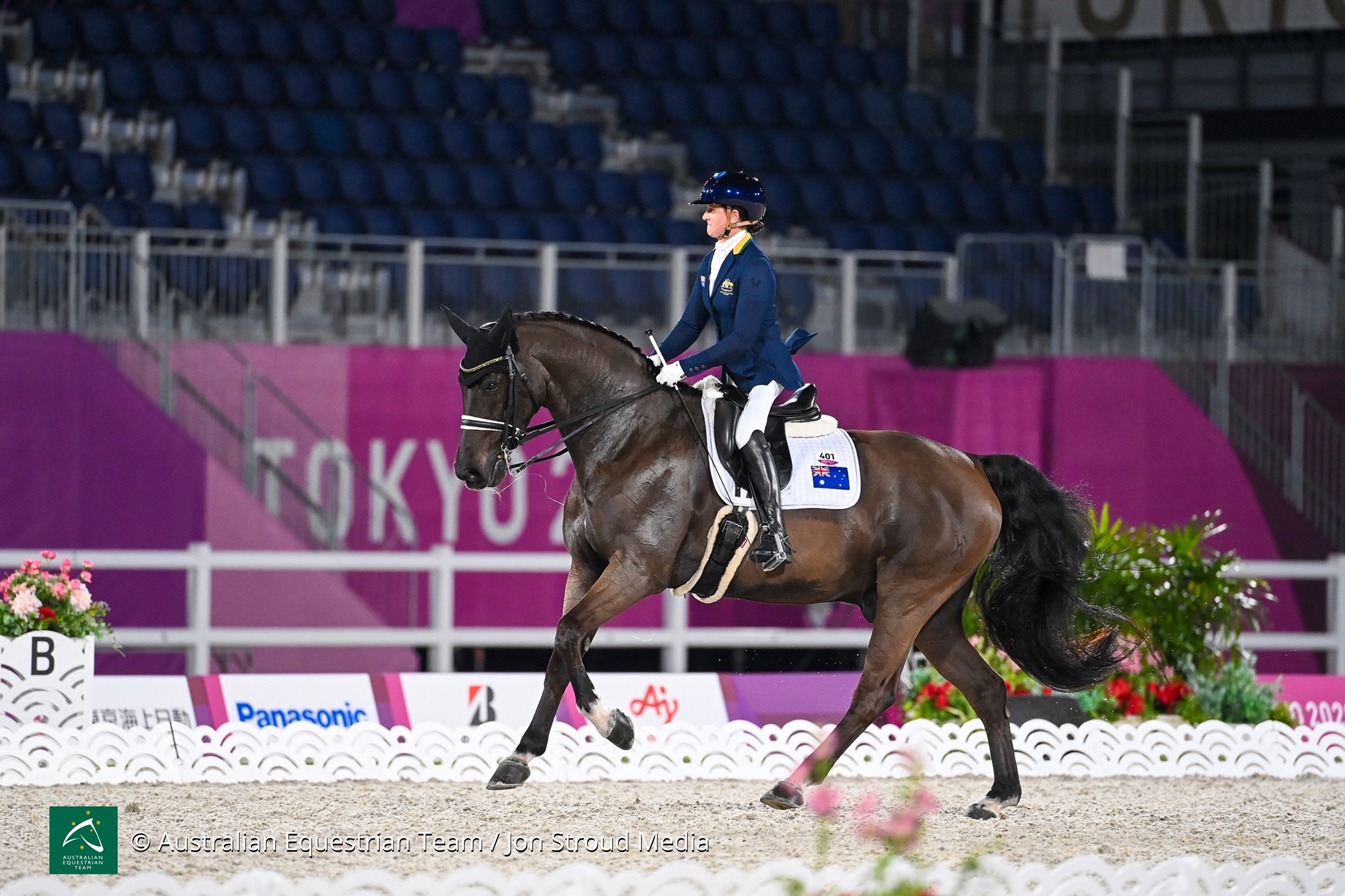 Sharon Jarvis & Romanos. Photo credit: Jon Stroud Media
Sharon has no plans to leave the sport she loves entirely in the future, and she aims to give back to the sport by working as the EA High Performance Para-Equestrian Pathways Coordinator.
Stefanie Maraun, EA Para-Equestrian Manager, was proud of the overall performance of all combinations throughout the Team competition. 
"With the conclusion of the Team competition, I would like to congratulate all three riders on their performances, which has put Australia into thirteenth position. The Australian riders held their own against some world-class combinations competing in Tokyo and delivered scores that are remarkable for the world stage. 
"These performances couldn't be achieved without all the support teams behind each of these riders, so a congratulations must also be extended to all those involved in getting the combinations to this point. 
"I would also like to acknowledge the incredible achievement of Sharon Jarvis, making history to become the only Para-equestrian athlete to represent Australia on three occasions and to wish her well in her future. We are lucky that Sharon will continue to inspire and contribute to Para-equestrian sport in Australia."
The Para-Dressage competition at Tokyo 2020 continues tomorrow with the Freestyle competition, with both Emma Booth and Amelia White qualifying in Grade III and Grade V, respectively.