Australian Equestrian Team/Libby Law Photography
Australian Dressage Team Dance Under Tokyo Lights
Following two days of hotly contested competition, the Dressage Grand Prix concluded under the lights of the main arena at Baji Koen Equestrian Park.
The Grand Prix test was the first of three rounds for the Tokyo 2020 Dressage competition, serving as a qualifier for both the Team and Individual finals. Despite their best efforts, the Australian riders were unable to secure a place in the finals, with the team finishing in 13th position. 
Mary Hanna, Australia's oldest athlete at the Games and a six-time Olympian, rode her horse Calanta to a score of 67.981%, ranking 6th in their qualifying group. However, Hanna declared that age is no barrier to success in equestrian sport with Paris 2024 firmly in her sights.
"It's only four years away. Unless my body really breaks down, I'm certainly aiming for Paris. You always dream that your next horse, your next competition, that you're going to make it better. You just keep striving to do the absolute best you can. The Olympics is a lot about participation, too, so just being here is great. I think it's getting a little bit late to aim for a gold medal, but I'm not giving up."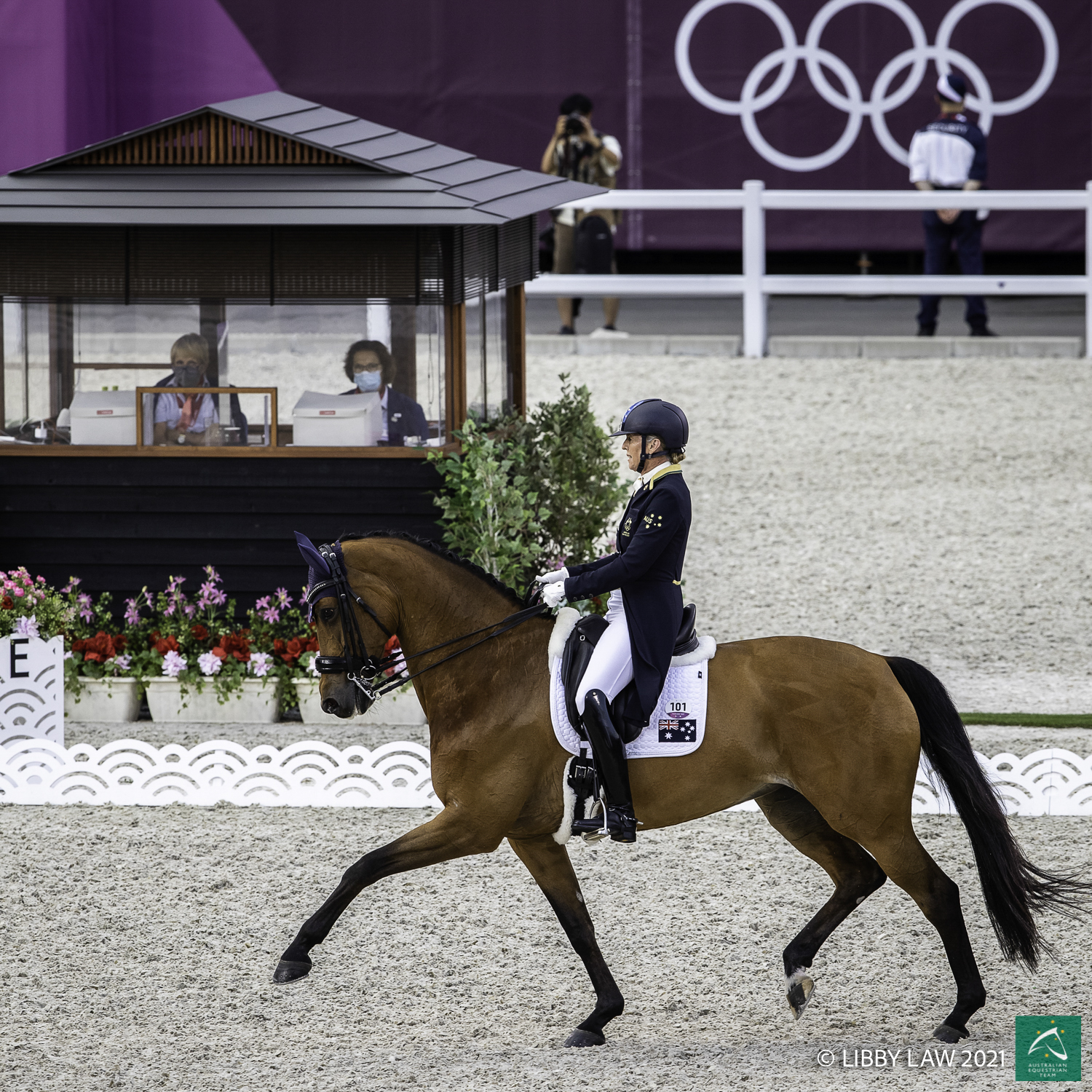 Mary Hanna & Calanta, photo credit: Australian Equestrian Team/Libby Law
The youngest member of the Dressage team, 30-year-old Simone Pearce, made her Olympic debut riding the black stallion Destano. The pair finished 5th in their qualification group with a score of 68.494%, with Pearce explaining that despite her disappointment she is proud to have been part of the Australian Olympic Team,
"Not everything in life goes to plan and sometimes you just have to live and learn and grow from the days you are not able to meet your expectations. I'm of course very disappointed not to have been able to show the level of performance we are usually capable of, however I'm still very proud of wonderful Destano and the amazing year we have had which lead us to this point."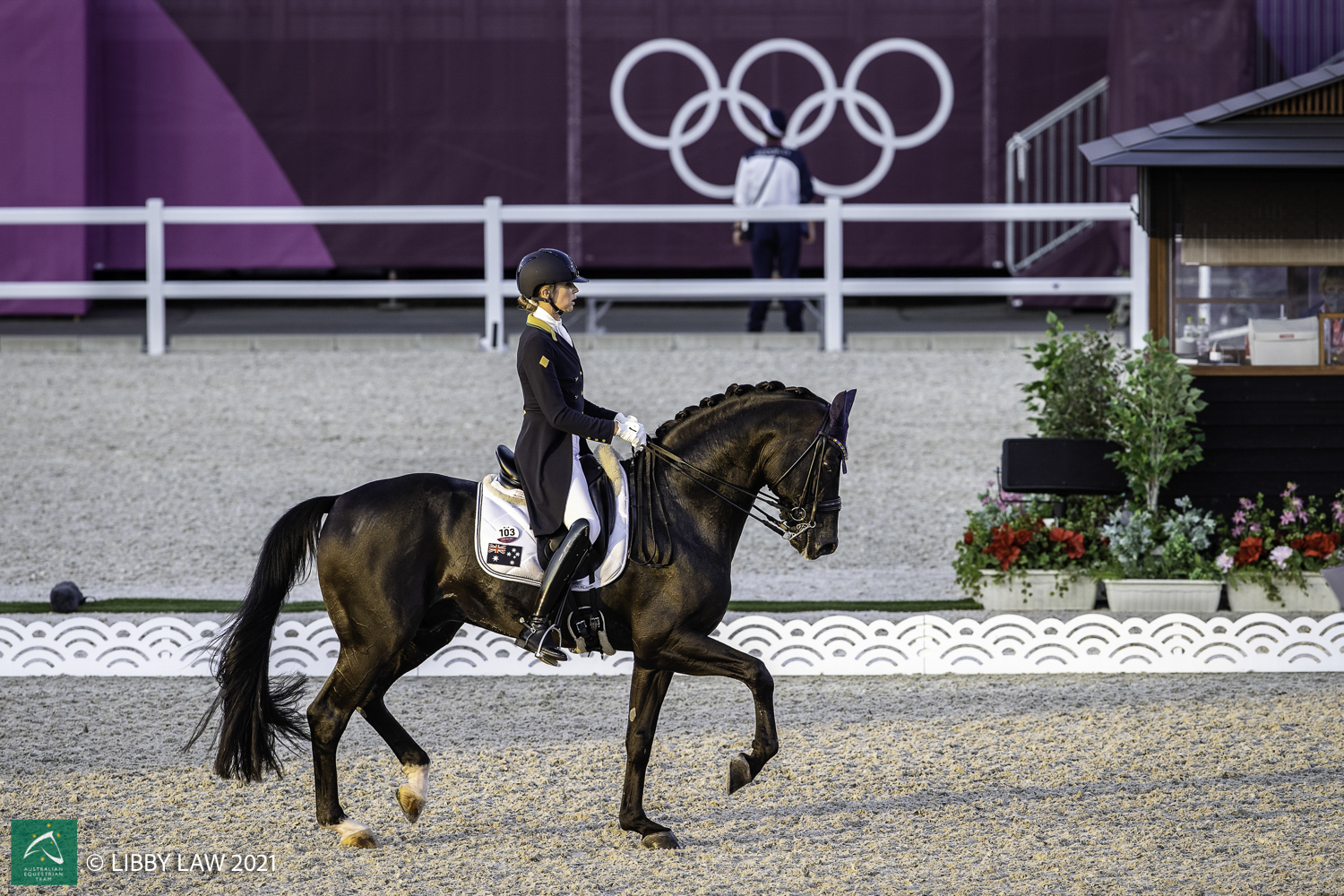 Simone Pearce & Destano, photo credit: Australian Equestrian Team/Libby Law
Kelly Layne and Samhitas were the final combination to ride for Australia in the Grand Prix competition. Tokyo 2020 also marked Layne's first Olympic Games, after being forced to withdraw from the Rio 2016 team due to a horse injury.
Layne and Samhitas experienced a few difficulties in their test, resulting in a score of 58.354% and a 10th place finish in their group. However the future remains bright for the combination. 
"It is amazing how the universe works, in Rio I was the person that had to pull out and somebody replaced me, and this time somebody pulled out and I replaced them," explains Layne.
"The horse is still a little bit green and that showed tonight, but it is for the future for that horse, it is about the experience and also for me for the future too. Coming here you see all the behind the scenes action, you learn so much and it can catapults you forward. You get that Olympic fever."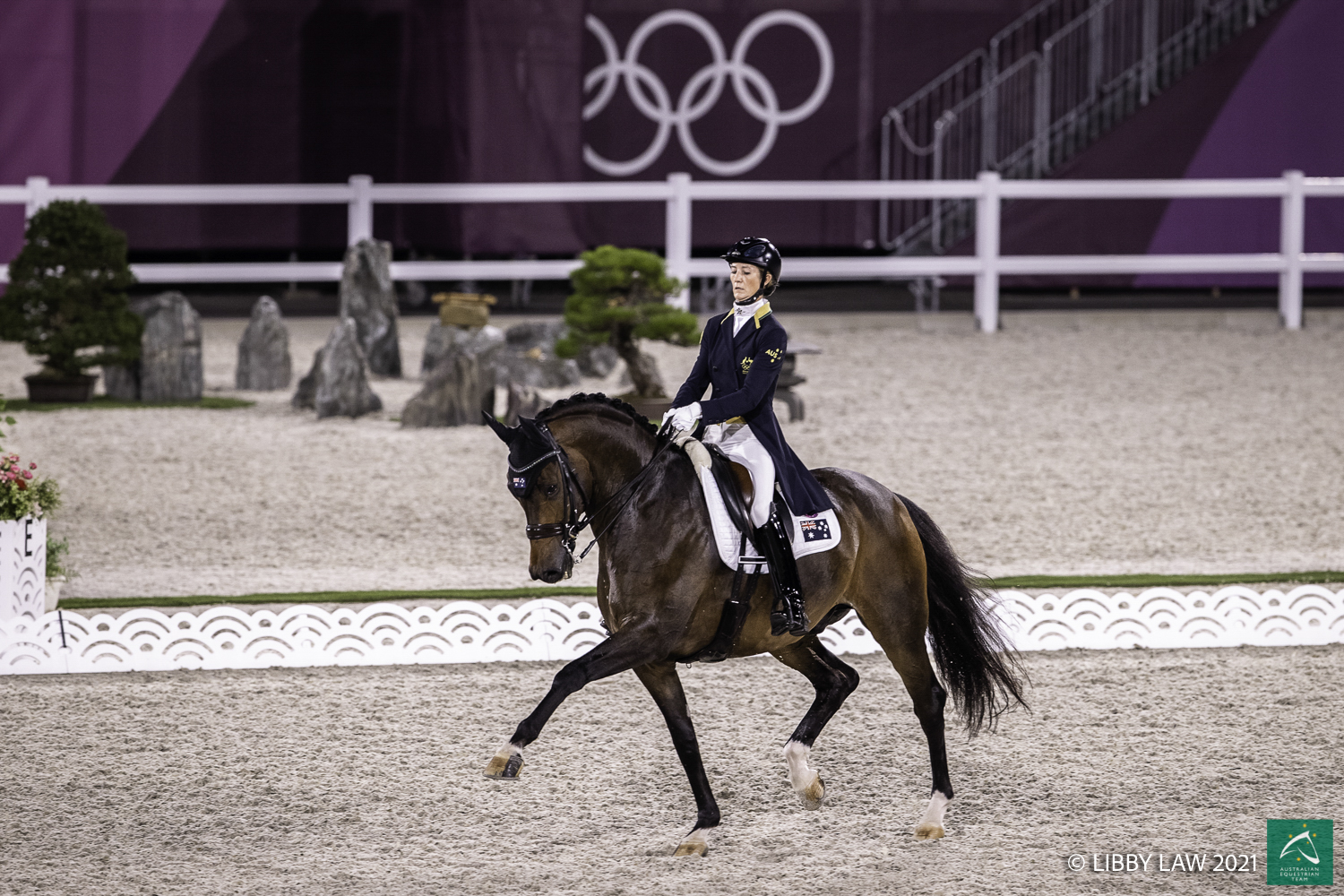 Kelly Layne & Samhitas, photo credit: Australian Equestrian Team/Libby Law
Individual Final
The first two in each group of six riders from the Grand Prix have made the cut for the individual final (Freestyle) - Charlotte Fry and Charlotte Dujardin (GBR), Therese Nilshagen and Juliette Ramel (SWE), Cathrine Dufour and Carina Cassoe Kruth (DEN), Edward Gal (NED), Jessica von Bredow-Werndl, Dorothee Schneider and Isabell Werth (GER), Sabine Schut-Kery and Adrienne Lyle (USA). Also qualified are the six next-best individuals, Nanna Skodborg Merrald (DEN), Beatriz Ferrer-Salat (ESP), Hans Peter Minderhoud (NED), Carl Hester (GBR), Rodrigo Torres (POR) and Steffen Peters (USA).
Team Final
The teams that have made it through to the final (Grand Prix Special) are Germany, Great Britain, Denmark, United States, Netherlands, Sweden, Portugal and Spain.
Full results can be found HERE