Australian Dressage Team - Grand Prix Wrap
The Grand Prix competition concluded today at the FEI World Championships in Herning, Denmark with monumental performances from Team Australia. 
The Grand Prix, Team and Individual competition, took place over two days with 93 combinations taking to the Stutteri Ask Stadium in Denmark.
Overall, the Australian Dressage Team placed 8th out of 19 countries in the Team competition. Simone Pearce riding Fiderdance finished in 19th place, Lyndal Oatley riding Eros finished in 25th place and Jayden Brown and Willingapark Sky Diamond finished in 41st position.
Jayden Brown was the first competitor to ride for Australia on day one of competition, making his senior FEI World Championships debut. Jayden and WillingaPark Sky Diamond, affectionately known at home as Beans, performed a beautiful Grand Prix test achieving 69.674%.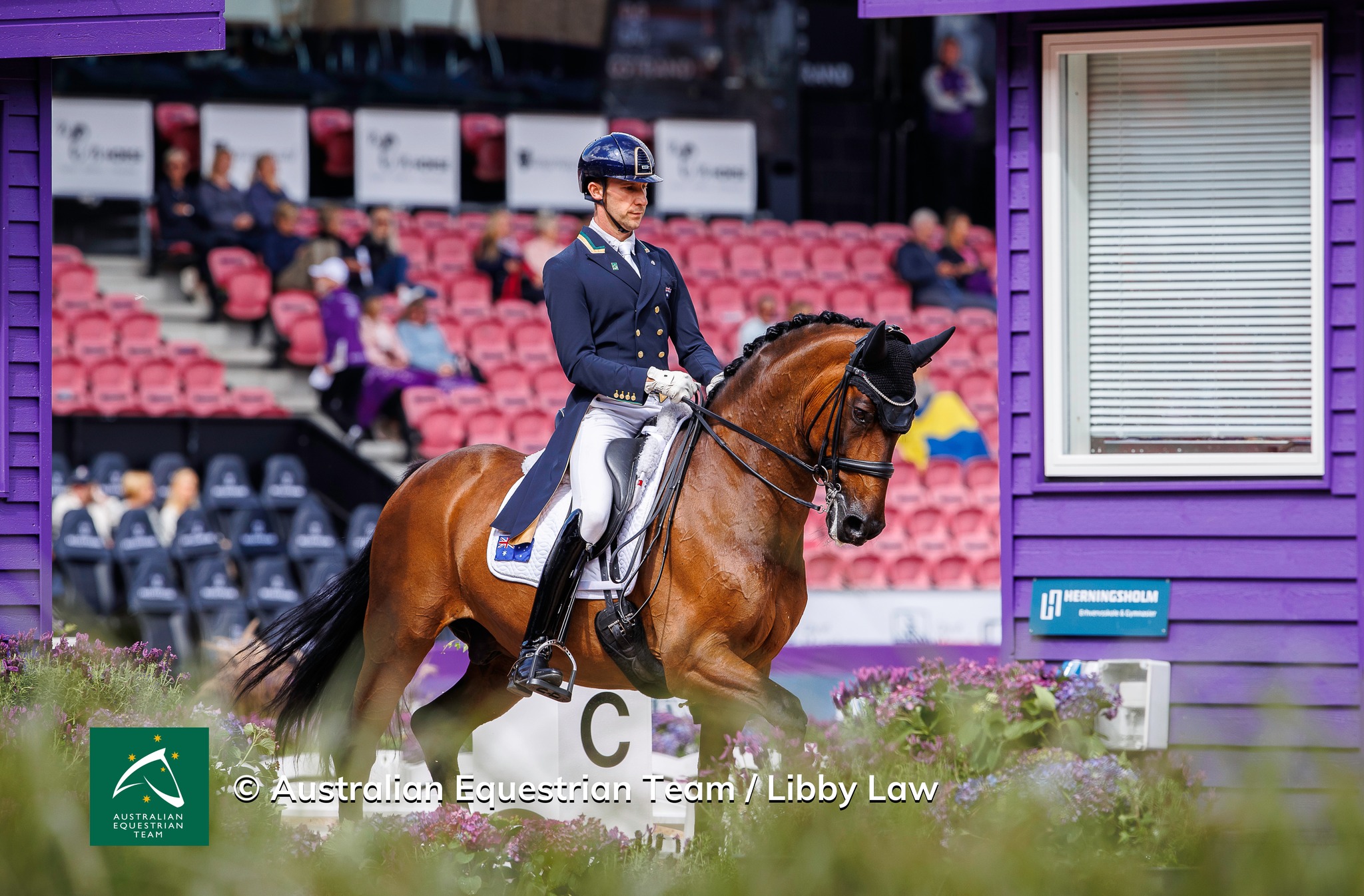 Jayden Brown and WillingaPark Sky Diamond
Jayden and 'Beans,' owned by Terry and Ginette Snow, recently relocated to the UK from Australia to pursue their Dressage dreams.
"I have been riding him for two years. I took him on when he was just coming out of Prix St Georges and have taken him into Grand Prix. This is only his fifth international Grand Prix, so he is pretty inexperienced but he makes up for it in his good temperament and he is a real trier," shared Jayden.
When asked where the pair are headed from here, Jayden said "I think he has earned a bit of a rest after this competition, but I am just looking forward to getting out to more international shows and getting some more experience."
Australian Dressage Team stalwart Mary Hanna was due to ride her Olympic mare Calanta on day one. However, Mary had to withdraw from the competition, after much consideration with the team, due to Calanta having pulled a muscle in her back. A very disappointing outcome for Mary and the Australian Dressage Team members. However, Mary put Calanta's welfare first and remained throughout the duration of the competition to support her teammates.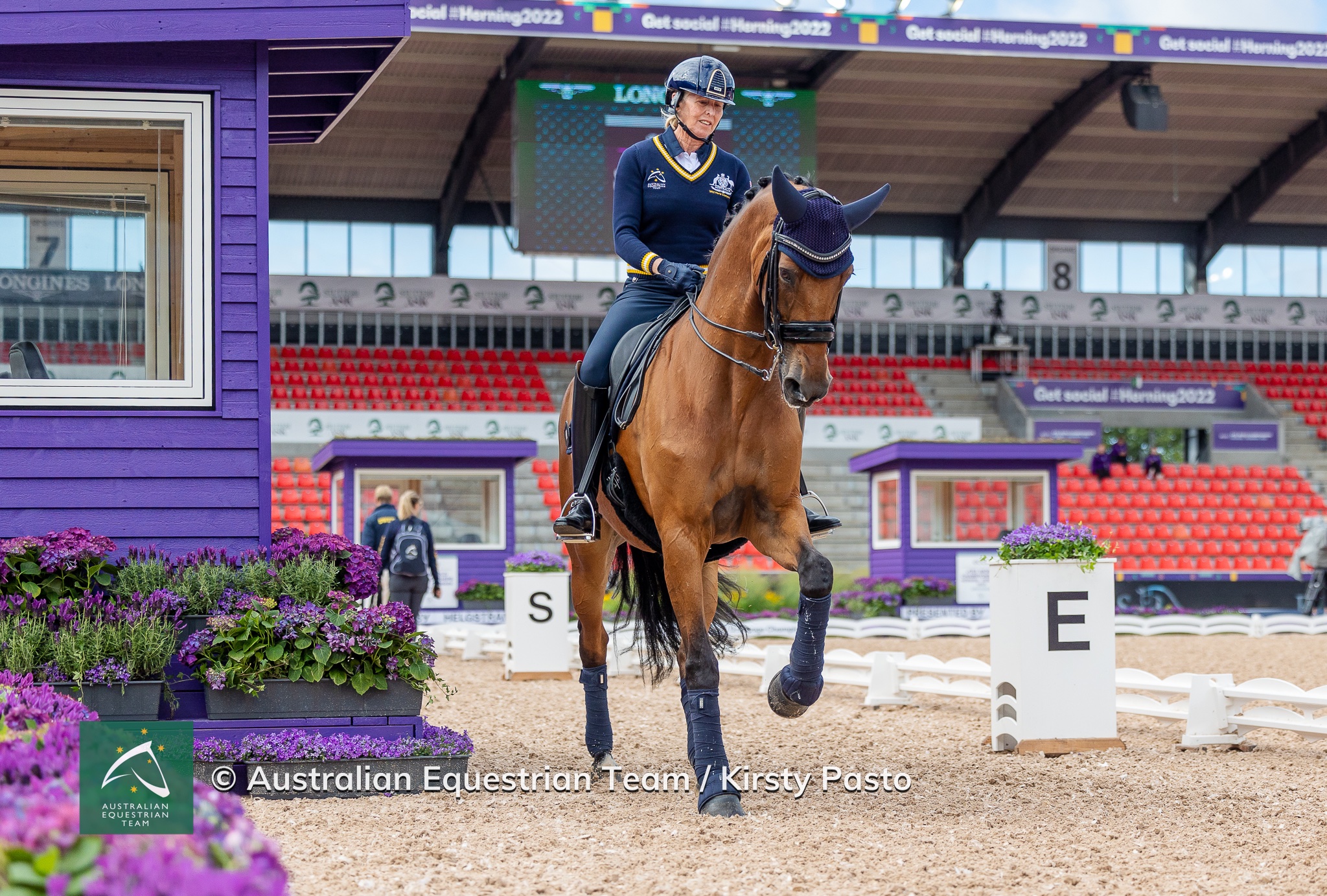 Mary Hanna and Calanta
Lyndal Oatley and her real life unicorn Eros delivered a stellar test in the Grand Prix, scoring 72.189%. The performance left Lyndal emotional as she achieved her best ever Championship score with the horse she originally purchased just "to have fun with and enjoy" following the birth of her daughter. Amazingly, Eros started off his career as an eventer before being discovered by a para-dressage rider, who rode him for several years, before he made the move to high level dressage.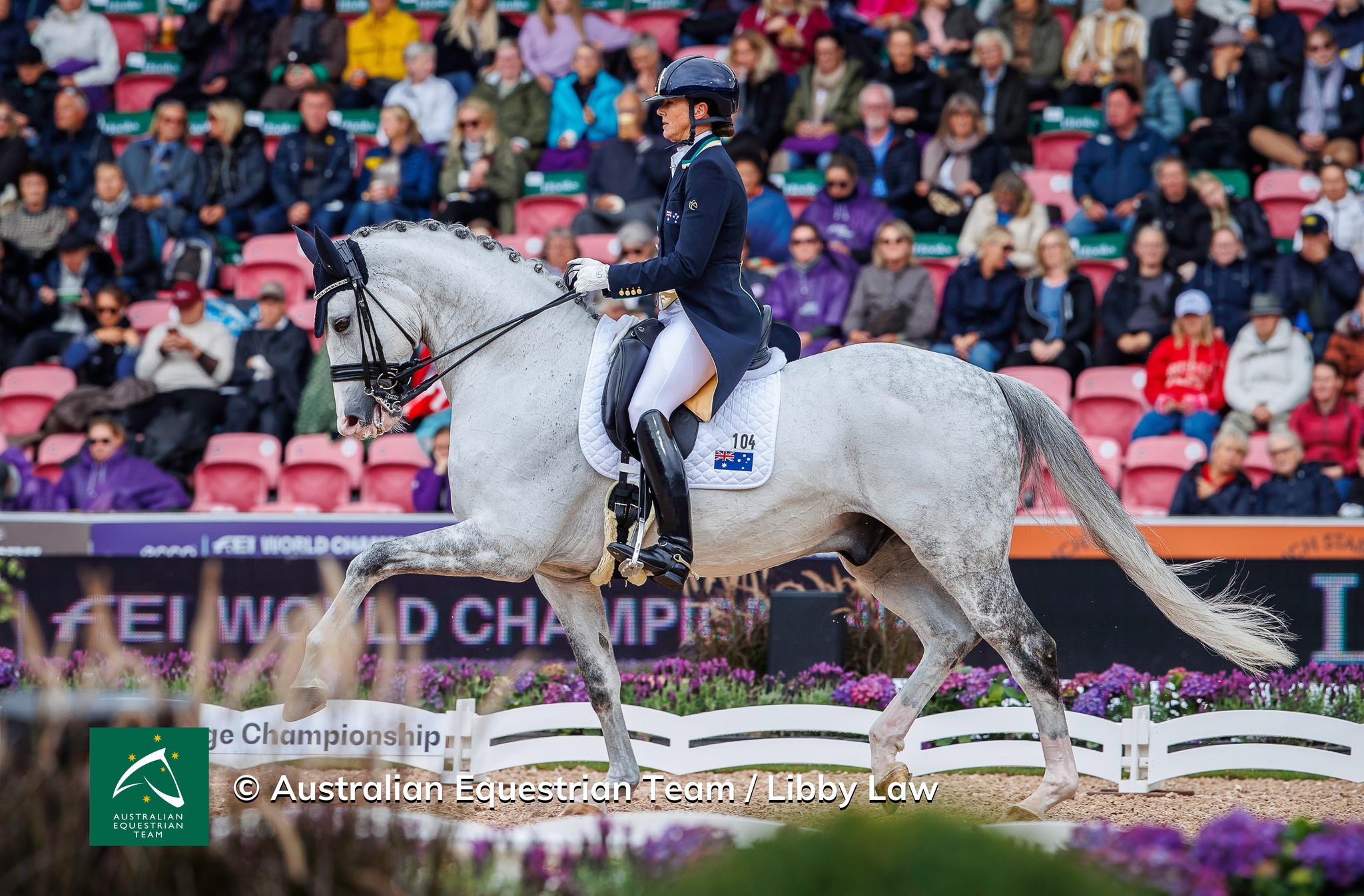 Lyndal Oatley & Eros
"He is a unicorn. He is exactly what you'd think he is. He is adorable. He loves attention. He loves people. He loves to feel confident and he loves to be with you. He is a really fun horse to ride because he loves the partnership. If you offer him everything you have, he will give you everything he has in return, even if it is overwhelming for him. He is a very rewarding horse, and very kind," said a beaming Lyndal.  
The final Australian combination into the arena was Simone Pearce and Fiderdance. The sensational combination scored an incredible 73.463%. Impressively, the partnership is relatively new with Simone only riding Fiderdance for two months.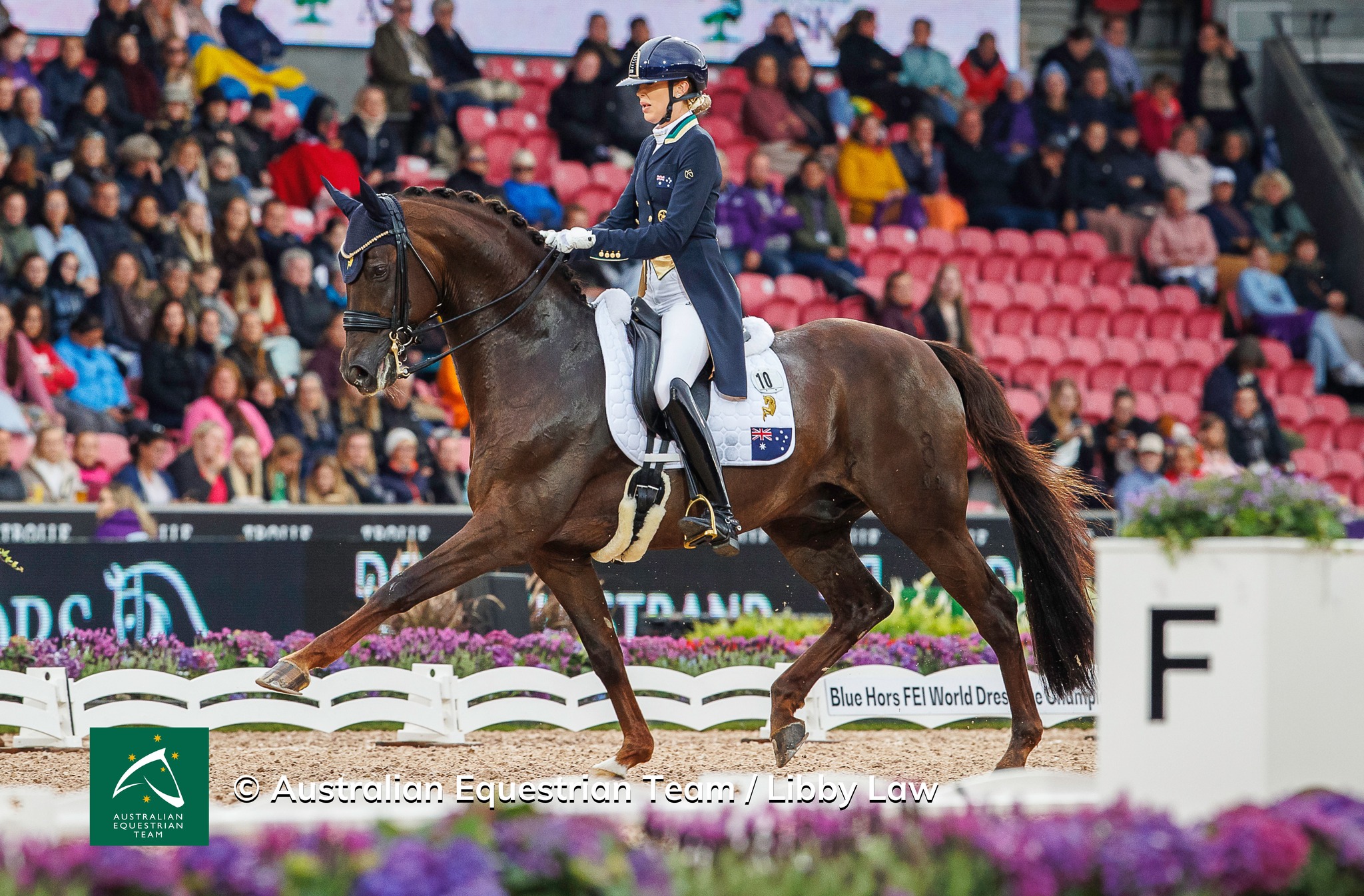 Simone Pearce & Fiderdance
"He is very spritely," laughed Simone. "He is very cute and shows his personality at every opportunity he gets. He was a little bit overwhelmed, but he did a really good job and I am so proud of him. Every test is learning, and every test we get better together."
Following the Grand Prix competition Australia has not one, but two combinations qualified for the Grand Prix Special at the FEI World Championships.
The top 30 combinations from the Grand Prix competition will ride again in the Grand Prix Special tomorrow.
The Australian ride times are as follows:
Lyndal Oatley & Eros - 15:00 CEST (23:00 AEST)
Simone Peacre & Fiderdance - 15:30 CEST (23:30 AEST)
The competition can be streamed live for free on 7Plus.
Full results and ride times can be found HERE.