Australian Jumping Team – FEI World Championships Wrap
The Australian Jumping Team tackled two imposing tracks at the FEI World Championships in Herning, taking on the world's best athletes in the Stutteri Ask Stadium.
The Australian Team was a mix of seasoned Championship athletes as well as new faces to Championship level. Billy Raymont, who rode Black Jack IXE, represented Australia at the FEI World Equestrian Games in 2018 and Katie Laurie, who rode Django II, competed at the Tokyo 2020 Olympic Games for Australia.
Two combinations were making their debut at the FEI World Championships in Herning, Hilary Scott riding Oaks Milky Way and James Arkins riding Eurostar I.
All of the Australian Team combinations had a fantastic first day of competition in the Speed class, which also counted as a Team and Individual qualification round.
Australian Team pathfinders Billy Raymont, and the stallion Black Jack IXE, set the pace, jumping a stylish clear round. Katie Laurie followed next aboard her long-time partner Django II, with the pair knocking only one rail.
James Arkins and the stunning Eurostar I were the third combination out for Team Australia, jumping a confident round but having an unlucky two rails down.
"I got quite nervous beforehand especially walking around, but when I got in the ring it all sort of went away. It was nice to just get in and get it down and he felt fantastic. He is a young horse at this level and it is also my first Championships," said James.
"It is really exciting to be here. It is a privilege. It is something I have worked for ever since I started riding over fifteen years ago. To actually be here and to actually do it is amazing. All the support from home has been wonderful and everyone that has made the big effort to be here. What an opportunity and what an experience, I couldn't be happier."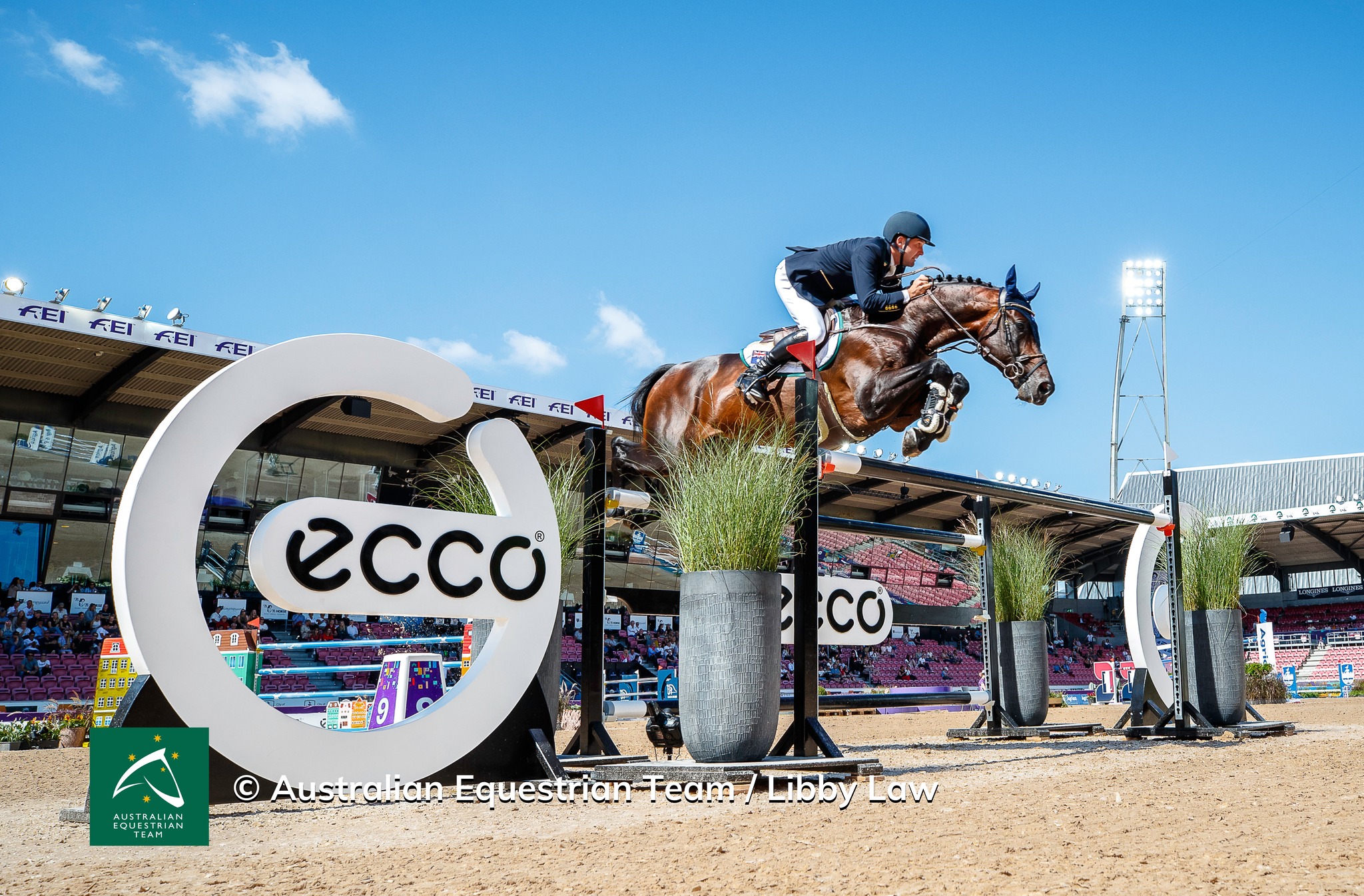 James Arkins and EurostarI. Photo credit: Libby Law
Hilary Scott and Oaks Milky Way were the final Australian combination to compete in the Speed class on day one. The pair looked phenomenal as they flew around the huge course with no jumping faults. Impressively, Hilary has produced 'Milky' herself from a young horse, and they share a very special partnership.
Hilary Scott and Oaks Milky Way. Photo credit: Libby Law
"I have been riding her all her life, since she was a four-year-old. We broke her in and we bred her as well. She has been with us for all her life. It is always what you dream of. It is one thing to go to an event like this, but then to have a horse you have bred and know so well is a special feeling," shared Hilary.
However, in Round Two of the competition Australia's luck changed, with all combinations having rails down.  
Billy and the beautiful black stallion, Black Jack IXE, looked amazing in the arena. However, Billy said that things did not go to plan with the pair finishing their round with two rails and a foot in the water - totalling 12 penalties.
"To be honest I am super proud of him. He really tried amazing again today. If there is anything it is that I'd be a little bit disappointed that I didn't quite give him as good a ride as yesterday. I was super proud of myself yesterday. Today, just a couple of times it was not quite perfect," explained Billy.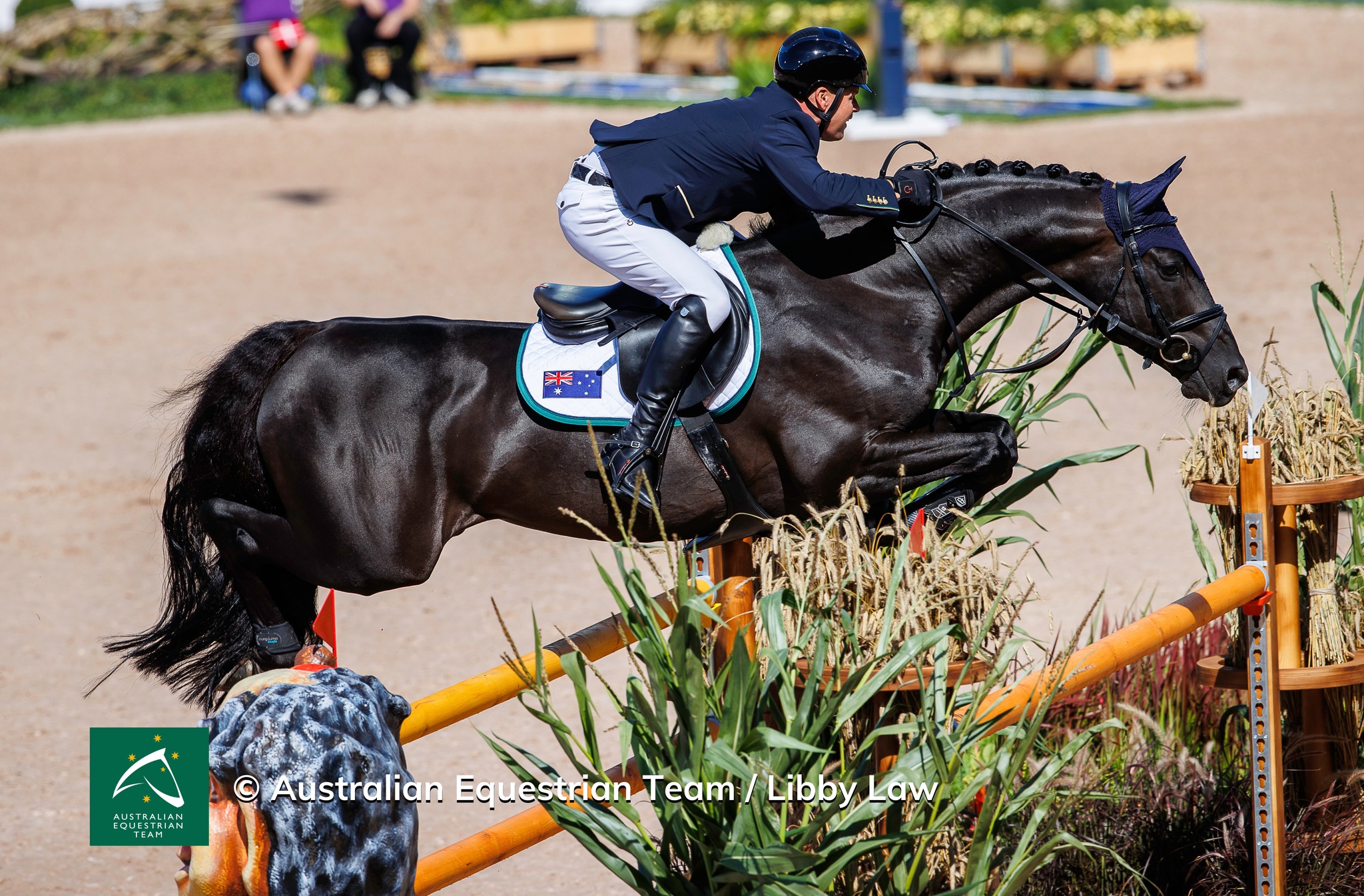 Billy Raymont and Black Jack IXE. Photo credit: Libby Law
With a slight change to the draw order from day one, it was James Arkins and Eurostar I next into the arena for the Australian Team in Round Two. James and Eurostar also delivered a round with 12 penalties, incurred after dropping three rails. 
Katie Laurie and Django II followed, accumulating nine penalties with two rails and one time fault. 
"I thought he was jumping really well today. I am probably a little bit disappointed. I just legged him a bit at the third and he jumped incredible from there. Just unlucky to the last. I did the four because I knew I was a bit tight for time," said Katie.
The 1.60m course caught out a lot of combinations throughout the day and Katie said that it required a tactical ride.
"It has been good to be able to watch. There were a few options and I changed my mind a few times throughout the class, but it rode really nice." 
Katie Laurie and Django II. Photo credit: Libby Law
Again, the final combination to jump for Australia was Hilary Scott and Oaks Milky Way. The pair were full of fighting, but despite their energetic round they also finished with 12 penalties.
The Australian Jumping Team finished 20th overall in the Team competition.
Unfortunately, this meant the Australians did not move to the Team or Individual final as only the top 10 teams and top 60 individual combinations qualified to progress. 
Todd Hinde, Australian Jumping Team Chef d'Equipe, said that the team should be proud of their achievements, with two combinations stepping up to Championship level for the very first time. 
"We started the competition strong on day one with solid performances by all of our combinations. Unfortunately, luck wasn't on our side for Round Two, but our team has gained valuable experience that they will all carry forward"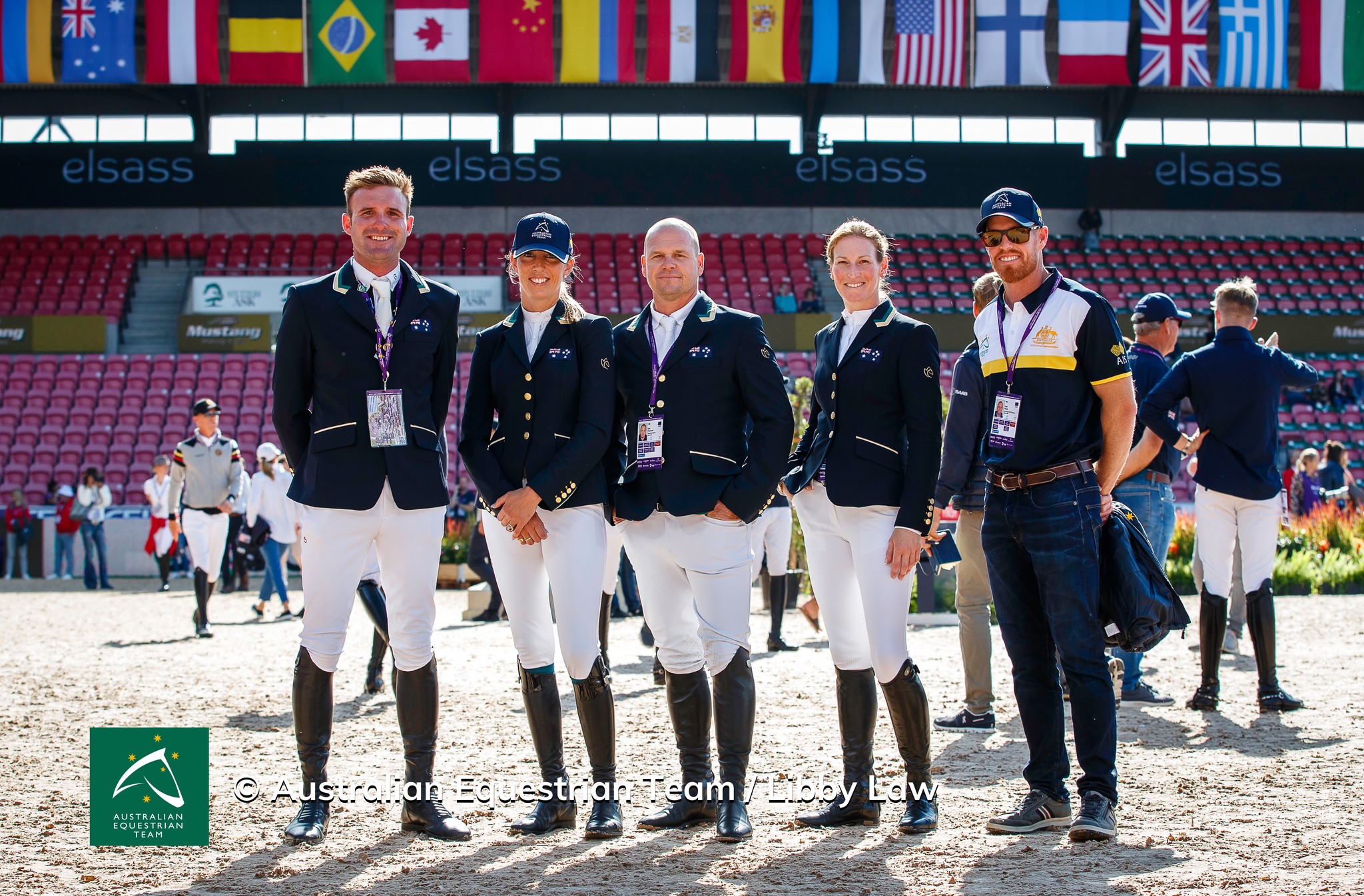 The Australian Jumping Team and Chef d'Equipe, Todd Hinde. Photo credit: Libby Law.
"I would like to congratulate Billy, Hilary, James and Katie on their professionalism and sportsmanship towards each other, and the wider Equestrian Team. I'd also like to thank our wonderful grooms; Linda, Ali, Rosie and Brooke. They worked tirelessly day and night making sure our four amazing horses were cared for, and the owners of our four horses for supporting our riders to campaign and compete this week in Herning. It is a big team effort and a thank you must also go out to the team vets, farriers and support staff." 
The overall Australian athlete rankings were:
Billy Raymont and Black Jack IXE – 43rd
Katie Laurie and Django II – 57th
James Arkins and Eurostar I – 62nd
Hilary Scott and Oaks Milky Way – 55th
 Full results cab be found HERE.