Beresford Withdraws From Fritzens Nomination Event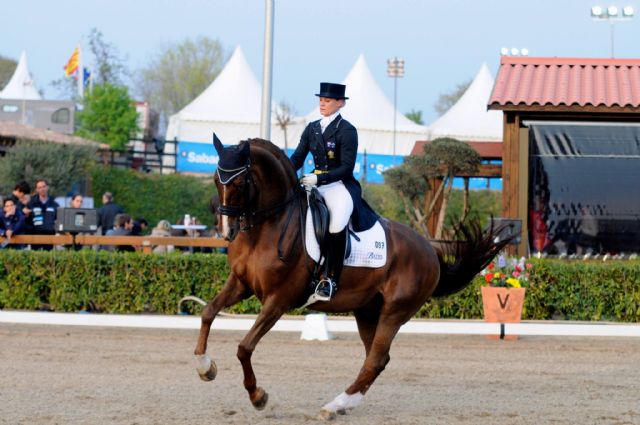 Olympian Hayley Beresford has withdrawn from the first Australian dressage nomination event for the 2014 FEI World Equestrian Games due to an injury to her mount Jaybee Alabaster.
On her website, Beresford says Basti's short term prognosis looks promising and is hopeful he will be fit to compete at Deauville CDI3*, from 25-27 July, which will host the second Australian nomination event.
Having last month been named on Australia's dressage longlist, the pair was one of seven Australian combinations due to compete at this weekend's Fritzens (AUT) CDI4*.
"It's been a very long, emotional and stressful week at my home in Bissingen.
"On the 25th June Basti trained very well in the morning, however, when we pulled him out for a check in the evening he was not quite ok. By the 26th in the morning he was lame in walk and clearly uncomfortable in the box. Naturally my vet was called immediately.
"Basti has at some point banged his leg and has suffered an acute injury. He has responded very well and quickly to treatment and the prognosis in the short term looks promising.
"My team is working around the clock and consulting very closely with the Australian Veterinary Team. I thank the Australian Federation for their support and guidance through the selection policy consideration process. We will not be attending the first selction event in Fritzens this weekend.
"Hopefully Basti continues to respond well to treatment and can be back on track in time for the final selection event in Deauville in 4 weeks time. His welfare will be our primary concern and will not be jeopardized at any cost," she said.