Boyd Exell finishes a close second to Dutchman Koos de Ronde in the FEI World Cup Driving Final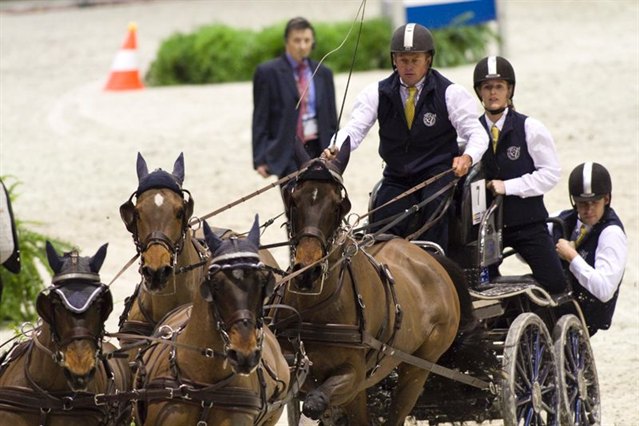 Boyd Exell at the 2012/2013 FEI World Cup Driving Final
Photograph:Rinaldo de Craen/FEI
Flying Dutchman Koos de Ronde drove two impeccable clear rounds in the thrilling final competition of the FEI World Cup Driving Final in the fully packed arena in Bordeaux (FRA) last night to become the series' new champion.
After four years as the FEI World Cup™ Driving champion, the Australian driver's dominance has come to an end. He finished second, ahead of IJsbrand Chardon (NED) in third.
The Final on Saturday night was very exciting and the suspense lasted until the very end. International O-course designer Gábor Fintha (HUN) had laid out a very demanding and fast course, which was great to watch for the spectators. It included a technical obstacle and a speed obstacle, inviting the drivers to go fast but to remain careful. It was Fintha's first FEI World Cup™ Driving Final as a course designer and he was very proud of the opportunity to design a course for the world's best drivers.
 
The drivers had carried forward 50% of the score differential in seconds between them and the winner in the first competition Boyd Exell which resulted in a tight line-up.
 
Ijsbrand Chardon managed to get the speed back in his team of Lipizzaner horses and recorded a very good time which, despite one knockdown, guaranteed him a place in the Winning Round. Koos de Ronde was 3.12 seconds behind Exell and had planned his tactics very carefully. The 36-year old driver had noticed that gate two was the bottleneck and he decided he would take advantage of this. De Ronde did not take any risks and drove a very fast and clear round finishing six seconds ahead of Chardon.

The overnight leader Exell was pushing his horses for speed and made a mistake in the dangerous second gate where he deliberately drove on the inside to stay clear and knocked a ball down. Cheered by the enthusiastic spectators, he finished just 0,99 seconds behind De Ronde and was second to go in the Winning Round.

IJsbrand Chardon is always going for victory, but he already knew that making up six seconds on this technical course would not be possible. Chardon went too fast and knocked no less than six cones down.

The Winning Round then turned into an extremely close battle between Koos de Ronde and Boyd Exell. Exell's horses had missed some important training because of the snow in the United Kingdom. On top of that, his truck had broken down during the 26-hour journey to Bordeaux and his horses had not had enough time to rest. Exell's horses could not hold their curve and the lack of energy caused a ball to fall.

Koos de Ronde knew that even though he now had an advantage over Exell, he had to stay clear in order to remain in the lead. As the tension in the arena grew and the atmosphere reached an amazing level of excitement, Koos de Ronde was fully focused and applied the same tactics as in the first round managing to stay clear once more. His performances were breathlessly watched by thousands of Driving fans and the relief was enormous when he crossed the finishing line two seconds ahead of Exell and took the first FEI World Cup™ Driving champion title in his career.

Koos de Ronde (NED): "It is just a great feeling that I finally did it! I had finished just behind Boyd so many times and it is amazing that it all came together for me here in Bordeaux. In indoor Driving, everybody can win, but the jigsaw puzzle has to fit together. I started this indoor season with the same team of horses with which I had finished third in the Final last year, but it was not working anymore. I am really pleased that I found the right shape in time so I could qualify for the Final. To win this gives me a real kick!"

Boyd Exell (AUS): "At this level, you have to have all your ducks in a row, everything has to be spot on. I threatened Koos and my team tried their hardest, but it is usually easier for them. I still put down the fastest time in the Winning Round. But to come second with one ball down and a difference of just two seconds to Koos is nothing to be ashamed of."
Results of the Final competition CAI-W Final Bordeaux (FRA), 9 February 2013:
1. Koos de Ronde (NED) 244,26
2. Boyd Exell (AUS) 246,54
3. IJsbrand Chardon (NED) 284,27
4. József Dobrovitz (HUN)135,34
5. Theo Timmerman (NED) 148,78
6. Thibault Coudry (FRA) 155,50
7. Tomas Eriksson (SWE) 168,46