©FEI/Christophe Taniére
Boyd Exell Lights Up Lyon
The adrenaline was pumping for the first leg of the FEI Driving World Cup™ 2021/22 with Boyd Exell, and team members Emma Olsson and Hugh Scott-Barrett, winning the first leg of six at the FEI Driving World Cup™ competition at Lyon Equita.
Boyd and his formidable indoor team claimed top honours after an exciting drive off, finishing with a time of 144.83 seconds and no penalty points. Boyd, who is a nine-time World Cup champion and current FEI World Champion following the 2018 FEI World Equestrian Games™ at Tryon, showed his mastery of this team of horses and his Driving prowess guiding the team to victory.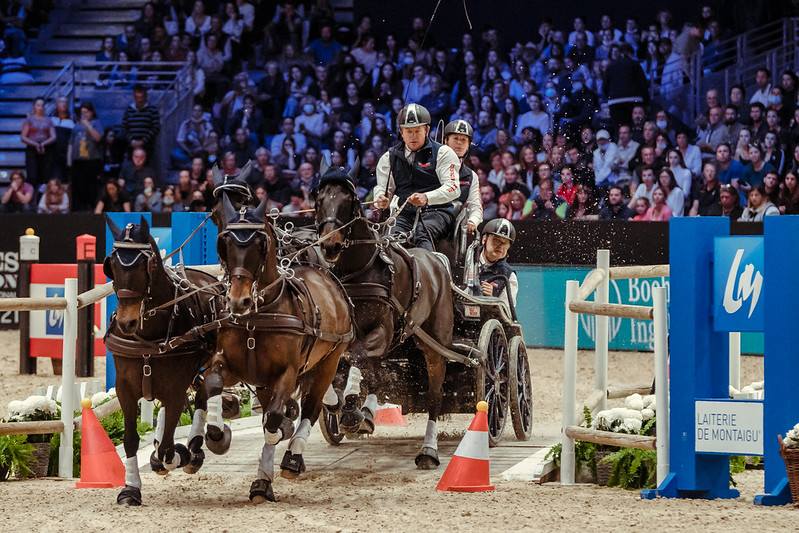 Boyd Exell and his team at Lyon. Photo credit: ©FEI/Christophe Taniére
The course was designed by Jeroen Houterman of the Netherlands and featured a bridge and two sets of marathon boxes, which aimed to provide nothing too complicated yet for the teams as the sport is just returning for the first time since 2020 following an enforced break as a result of Covid-19.
Every obstacle had a ball placed on top that, if it landed on the ground, would result in 4 penalty points being added to the team's total time. In Driving, speed, power, and agility are the name of the game, and the entire team must work as a one to cross the finish line cleanly and in the shortest time possible. 
Boyd Exell and his team at Lyon. Photo credit: ©FEI/Christophe Taniére
Teams consist of not only four horses and a driver but also a navigator who assists in directing the team around the course (Emma Olsson) and a back stepper (Hugh Scott-Barrett) who works to balance the carriage and ensure the weight is distributed where it needs to be – proving the sport is truly a collective team effort.
"A great feeling to be back at the World Cup Indoor Season, today was the result of horses and people on carriage finding form, together, like a team," said Boyd of the team win.
Congratulations to Boyd Exell and his entire team and their connections on the win.