Boyd Exell regains the FEI World Cup Driving Series lead after finishing second in Mechelen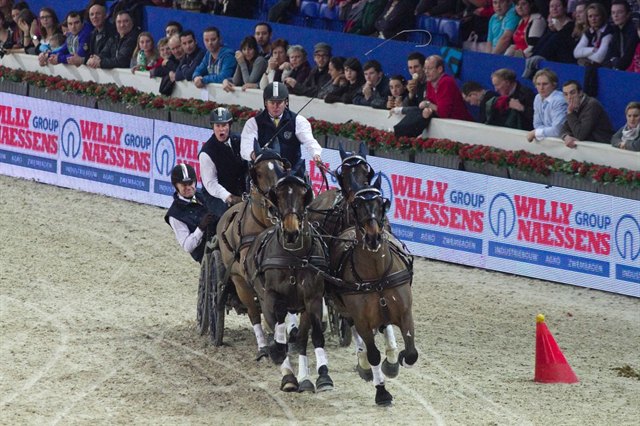 Photograph:Rinaldo de Craen/FEI
Boyd Exell takes second place at Mechelen World Cup Driving Series 
The seventh round of the FEI World Cup Driving Series took the world's leading drivers to the Belgium city of Mechelen and saw Australia's Boyd Exell walk away with second position which sees him regain the lead in the eight round qualification series. The penultimate qualifying round before next month's series final in Bordeaux was won by Dutch driver Koos de Ronde.
Boyd used the competition as an opportunity to try out his horse Twister, as the leader of his indoor team for the first time. Boyd had lent the 13-year-old gelding to Fredrik Persson (SWE) in Olympia and the horse was part of Theo Timmerman's (NED) four-in-hand last season. Boyd knew he was a fantastic wheeler and had a feeling that he would be a good leader. Boyd wanted to test him at full speed, knowing his starting place for the Final at Bordeaux was already secured and he had nothing to lose in Mechelen. Twister did a very good job and Boyd was thrilled with him, even though he got very strong in the Winning Round and Boyd missed a loop in the first marathon obstacle, which cost him precious seconds.
"I tested Twister because I needed to know if he was a top level horse or a good horse. I found out that he is a good horse, but I am always comparing new horses to my top horses Bill and Spitfire, and it is hard to equal their standard. I am searching for supersonic leaders and they are hard to find. I was lucky in the marathon obstacle where I went too fast and missed the B-gate. My regular navigator Michelle was not with me, but her replacement Sarah did a very good job, she prevented me from getting eliminated."
With his second place behind wild card driver Koos de Ronde, Boyd picked up the full 10 points and has taken over the lead in the standings from Chardon. Boyd will now return to Australia and will be back rested and fit for the Final in Bordeaux.
Boyd was not the only driver who used Mechelen to try a new horse. Koos de Ronde was not very pleased with his results at the previous competitions and decided to replace one of his father's wheeler horses with his outdoor horse Celina. After winning the first competition on Saturday, Koos already knew he had made the right decision. De Ronde drove his multi-coloured team of a black, a grey, a bay and a piebald fast through the course, determined to put the pressure on Chardon, who was starting after him. His right leader horse Night unfortunately knocked down two balls, but his time was still very fast to put him ahead of Exell and, when last starter IJsbrand Chardon had tipped over, De Ronde held on to first place. De Ronde made it clear that he does not like to win this way, but he was pleased to have been able to compete in Mechelen with a wild card and to get the chance to test the new set-up of his team. He would very much have liked to win the 10 points in Mechelen because he desperately needs more points if he is to qualify for the Final. The team gold medallist in Riesenbeck is currently lying seventh in the standings and will have to finish in the top at the last competition in Leipzig to be part of the top six who will go to the Bordeaux final.
De Ronde's compatriot IJsbrand Chardon was actually well underway to secure his first-ever victory in the 12-year history of the FEI World Cup™ Driving in Mechelen when fate struck and his carriage tipped over. Luckily, Chardon, his grooms and his four horses were all uninjured and the four-times World Champion ended the night in third.
The excitement grew when each of the eight competitors entered the fully packed Nekkerhal in Mechelen where Dutch O-course designer had laid out a good fast course. Rookie Glenn Geerts (BEL), who also competed with a wild card, set the time to beat in the first round and nearly made it to the Winning Round, much to the excitement of the Belgian driving fans. But Boyd Exell, IJsbrand Chardon and Koos de Ronde all beat Geerts' very fast time to qualify for the Winning Round with very small time differences.
Results CAI-W Mechelen 2012:
Koos de Ronde (NED) 219,16

Boyd Exell (AUS) 234,17

IJsbrand Chardon (NED) –

Glenn Geerts (BEL) 109,23

Jozsef Dobrovitz (HUN) 111,73

Werner Ulrich (SUI) 121,09

Christoph Sandmann (GER) 122,64

Gert Schrijvers (BEL) 137,99