Boyd Exell secures ticket for Final with victory in Geneva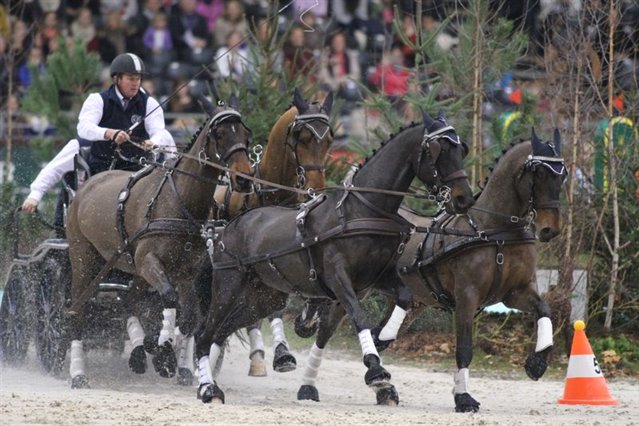 Four-time FEI World Cup Driving Champion Boyd Exell (AUS) has secured his ticket for the FEI World Cup Driving Final with victory in Geneva (SUI), sixth leg of the 2013/2014 season.
 IJsbrand Chardon gave (NED) everything he could, but one knockdown dropped him to second ahead of Stockholm winner Tomas Eriksson (SWE) in third.
Dutchman Johan Jacobs, O- and World Cup Course Designer, replaced his colleague Falk Böhnisch who retired last year. Jacobs treated the eight drivers in Geneva to a nice course with fluent and technical parts, including the exciting and unique water obstacle.
Despite the early hour on Sunday morning, the stands in the Palexpo hall were filled with enthusiastic spectators, who enjoyed this 'small final' as the competitors described the competition in Geneva. The time difference between the top three drivers after the first round was less than two seconds, resulting in a thrilling Winning Round that demanded the most of the drivers' skills.
Boyd Exell had a short stop in the first obstacle in the first round, which cost him around six seconds, but his speed overall was excellent and he remained clear in the long course to earn a place in the Winning Round. Second man in for the decider, Exell tried to maintain his high speed without making any mistakes. Driving a new right leader horse, the seven-year-old gelding Aba Sam previously driven by József Dobrovitz junior (HUN), the Australian Boyd powered round the course to set the fastest time and an unbeatable standard.
It was Exell's sixth win in a row in Geneva, including the FEI World Cup™ Driving Final of the 2009/2010 season. He has now tops the standings after finishing his five FEI World Cup™ Driving events. The Great-Britain based driver will compete with a wild card at the next leg in London-Olympia next week, after which he will enjoy a well-deserved holiday in his homeland Australia.
Exell's good performance put the pressure on last man in, IJsbrand Chardon, who drove the same team that he steered to victory in the FEI World Cup™ Driving competition in Budapest (HUN) two weeks ago. Although the speed of his Lipizzaner horses was not so high in the first round, Chardon gave everything he had and took all the risks in the Winning Round. The speed was good this time, but with one ball down at obstacle 11, Chardon had to settle for the runner-up spot to secure his place on the Bordeaux Final start list.
Tomas Eriksson also had the same team of horses with which he was successful at Stockholm two weeks ago, including a horse of his Swedish colleague, four-in-hand driver Axel Olin, who acted as navigator for him in Geneva. Eriksson was first to go in the Winning Round and he really put the pressure on his rivals by driving his team fluently through the course, putting down a very fast and clear round. But both Exell and Chardon were faster, leaving the Swede in third place at the finish.
Wild card driver Jérôme Voutaz (SUI) put down a wonderful performance with his four-in-hand of Freiberger mares and his results were much appreciated by the other drivers. Voutaz is the reigning Swiss champion and competed for the first time in an international competition in September of this year in Donaueschingen (GER), where he finished 19th. A mechanic by profession, he spends all his free time after work training his horses and was very proud to be able to compete in the FEI World Cup™ Driving competition in Geneva, his first-ever World Cup start. Voutaz set a fast time and had two knockdowns, which resulted in a well-deserved fourth place, leaving experienced drivers Theo Timmerman (NED) and reigning FEI World Cup Champion Koos de Ronde (NED) behind him.
Both Timmerman and De Ronde made a driving error going into the water obstacle, which cost them precious seconds and one knockdown.
Werner Ulrich (SUI) and Thibault Coudry (FRA) had also received wild cards. Ulrich, who is manager of the driving department of the Swiss Equestrian Centre in Bern, competed with the same horses that he used in the FEI World Cup™ Driving season 2012/2013 to finish seventh in Geneva. His goal for next season is to be in the Top Ten again and to compete in the FEI World Cup™ Driving.
Thibault Coudry used the bay trotter horses of his outdoor team and was kindly lent two grey geldings by a four-in-hand driving friend from France, but the unfamiliar team did not have the necessary high speed in the world's largest indoor arena and finished eighth.