Bronze for Australia at the FEI World Endurance Championships for Young Riders & Juniors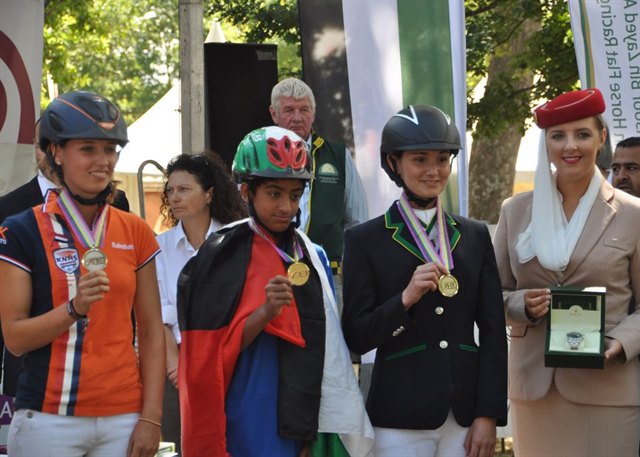 Erin Krahnen (right) wins bronze for Australia 
at the FEI World Endurance Championships for Young Riders and Juniors 2013 
Photograph:Barbara Miller/FEI
Congratulations to Queensland's Erin Krahnen riding Emily Jones te for winning the Bronze Medal at the FEI World Endurance Championships for Young Riders & Juniors held over the weekend at Ibos-Tarbes, France.
Erin and Emily Jones te finished the 120km course in third position in a time of 6 hours, 21 minutes and 10 seconds.  They also took out the coveted Best Conditioned Horse Award.
Emily Jones te was bred and trained by Peter, Penny and Alexandra Toft of Toft Endurance Marburg, Queensland.  She is a registered Anglo Arabian mare by WN Dasmjir from Tallaroon Creo Royarle.
Alexandra Toft was due to compete at this event but her horse Centrefold te trotted up lame just prior to the event.
The event was won by the UAE's Khalifa Ali Khalifan Al Jahouri riding Niac Armor with VIsser Marijke of the Netherlands taking the silver medal.
Results:
Al Jahouri Khalifa Ali Khalif riding Niac Armor (UAE) – Gold Medal – 6:00:34
Visser Marijke riding Eomeir (Netherlands) – Silver Medal – 6:13:05
Erin Krahnen riding Emily Jones te (AUS) – Bronze Medal – 6:21:20