Photos courtesy of Annyka Overton
COACH OF THE MONTH Annyka Overton
COACH OF THE MONTH is a regular Education series on our website. It is a way of highlighting the EA coaches and educators who work with dedication and passion all over Australia.
Annyka Overton is an EA Level One General Coach and SSTA based in Walcha, NSW, with an unbelievably patient husband and three awesome teenagers, "who keep me very grounded and present!"
"My journey from a small coastal town in NZ with no one in my family interested in horses to Head Coach and EC Coordinator at NEGS, Armidale has been full of amazing humans who are helping mould me into the person I am yet to become.
Self-confidence and self-belief never came easy for me. In fact, the lack of it rippled throughout my entire riding and coaching career until my 30s. If it wasn't for a nasty fall and head injury when my children were only small, it probably would still plague me today. That fall and the work I had to do to recover from it changed my life for the better. Although I probably would have rather found a slightly easier route to get here, here I am.
Growing up, horses were my world and Mum, as a solo parent, did everything she could to support me and my brothers. Mum taught me the values of hard work, resilience, gratitude and kindness. These values I still hold dear.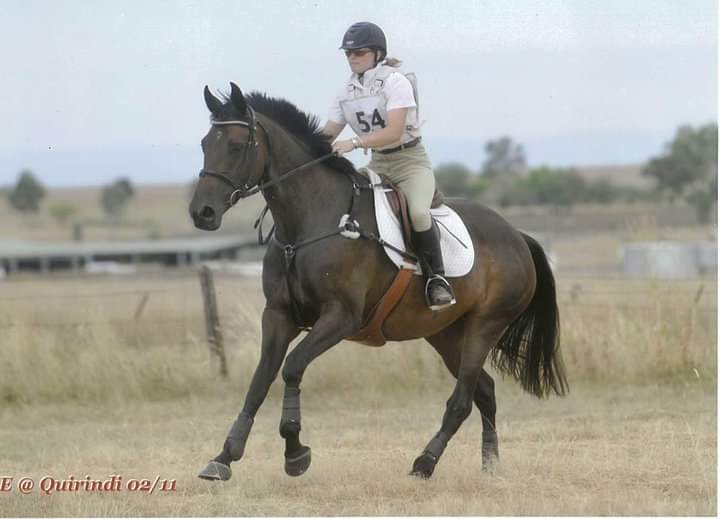 Annyka and Wondaree Bean a dream at Quirindi Horse Trials
I learnt from a young age that If I wanted something I had to go out and work for it. Nothing came easy, but if you worked hard, there are many beautiful people out there who are willing to help you along the way.
My first pony was a broken down palomino gelding called Carlo. I think everyone got sick of me wanting to ride their horses, so a few banded together to give me something to care for. Over the years, through the generosity of many, I competed several horses up to Pony Club Championships in Eventing.
As a young rider, I loved competing. Eventing and Show Jumping are my primary passions.
Working for Cate Wallace as a competition rider at Wondaree stud was such a pleasure. We had so much fun following the World Cup and Agricultural Show circuit all summer and Eventing all winter; I was in heaven.
Competition success for Annyka aboard Rangatera Swish - TIE
When Wondaree Without a Doubt and I won the 5yr old Horse of the Year at Jumping with the stars, Cate and I both cried; we were both so proud of him. Cate is such an inspiration and I am still to this day so grateful for both the opportunities she gave me and the lessons I learnt whilst working for her.
I met my husband Tony while at Cate's and eventually we settled down in a small country town in Northern NSW. Through the kindness of a good friend and neighbour I came across a coaching position at NEGS, a private boarding school with an equestrian centre as part of it's offering.
NEGS is such a unique place to work. With over 60 students agisting their horses on-site and competing in a range of disciplines it can get pretty hectic. There are regular competitions where I will take a team of over 15, sometimes up to 40 girls to an event. Usually jumping anywhere from 60cm to 1.30m and Eventing up to 3*.
Annyka and her NEGS Team at the North West Equestrian Expo
There is never a shortage of opportunities to observe and I immerse myself in their development. Every student has taught me something; a new way of explaining an exercise or concept, a new way to better engage the horse and/or rider and new ways to improve their personal wellbeing through what the horse can teach them.
I am so grateful to have had access to many coaches, clinicians and coach educators that have come through NEGS. I made a point of spending as much time in the arena as I could with every one of them. I would absorb every exercise, quote and concept they offered their students. Many of these coaches became my mentors and helped me to progress through my coaching qualifications.
I am incredibly grateful for the EA coach educators who have been a major part of this process. I love that by continually upgrading my coaching levels gives me access to amazing coach educators who care about the journey. I am acutely aware that they are not there to tick off the paperwork, but to genuinely make sure we have all the knowledge and tools needed to move to the next level. The support I have received from these amazing humans has been incredible.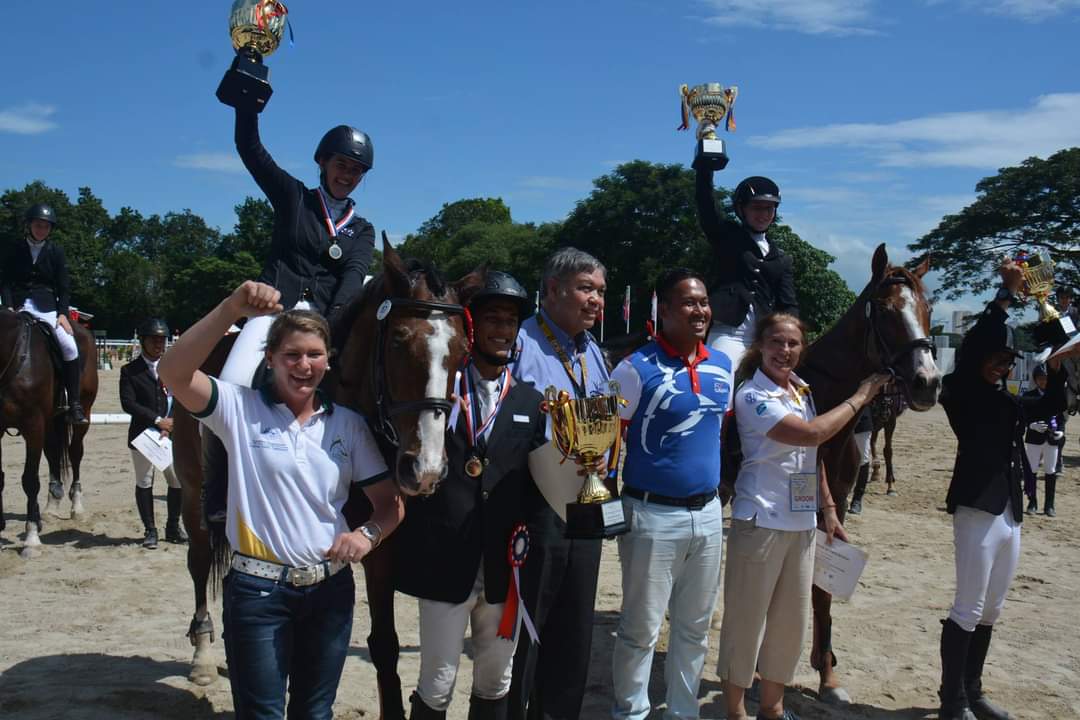 Australia wins at the Penang International Horse Show 2015
Alongside brilliant mentors and my own coaches, my horses and students have been my greatest teachers. I believe that as I continually strive to grow and develop myself I have a deeper understanding of how to help others do the same.
Immersing myself in the studies such as Neuro-Linguistic Programming, Psychotherapy, Life Coaching, Brain Health and Sports Science has helped me to completely and radically change my thinking. It has helped my to work through all the feelings of inadequacy and fear to make better choices and trust in myself.
I believe that skill, talent, strength and knowledge is only a part of what makes a rider great. The rider's mindset is vital to ensuring all of the above is available for use when required. I work just as hard on my mindset as a coach.
Representing Australia on several occasions as a coach would have to be one of my proudest moments. The first time in 2015 as Chef De Quipe and Coach for two talented young riders at the Penang International Horse Show followed by several trips at Australian Coach for Pony Club Australia. One of my favourites was the Inter-Pacific Exchange (IPE) in Hong Kong. This trip was a real treat where we felt like royalty. We made amazing friends in teams from all over the world and am so grateful for those experiences.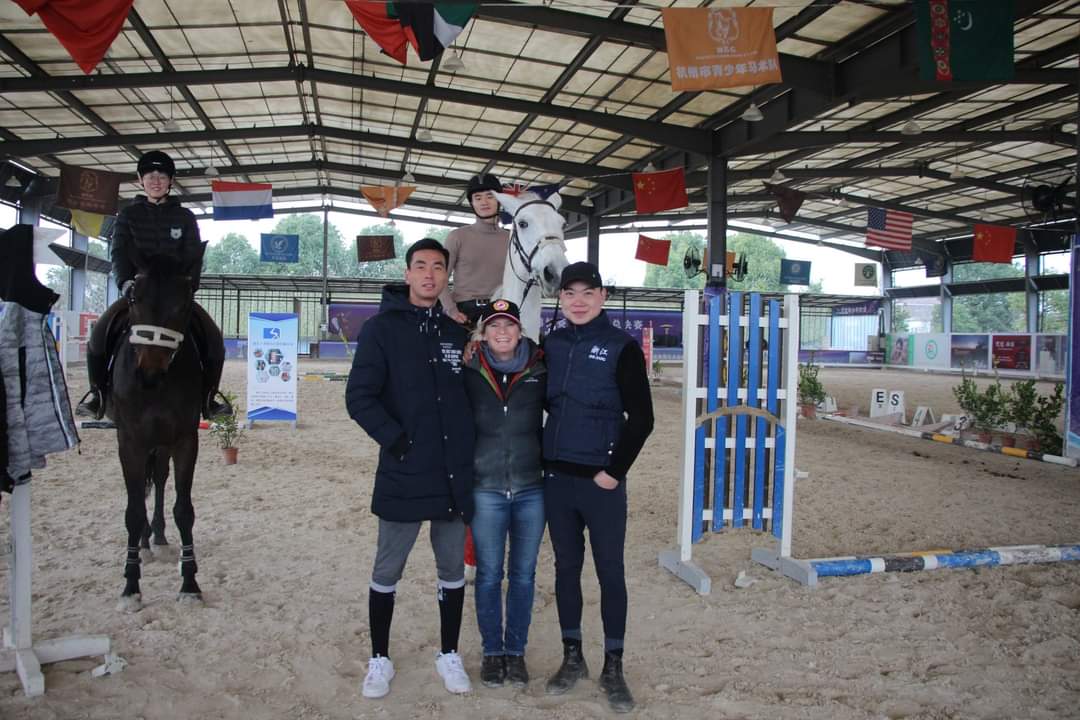 Annyka loved coaching in China
I've also worked with PCA and China Pony Club coaching, training and assessing new coaches all over China. I made many trips over a two-year period before COVID hit. This was a special time and I had such a blast with the Chinese riders and coaches.
I am now focussing my attention on completing my Level 2 Coaching so I can then move on to becoming a Coach Educator. My journey hasn't always been easy. In fact it's been fraught with challenges, and feelings of not being good enough. There have been so many times where I could have easily given it all up. I probably would have if it wasn't for several hugely supportive and compassionate coaches and mentors who kept me going. I am now ready to pay that forward.
I absolutely love my job and am so grateful for the adventures coaching has taken me on. It sure has been a wild ride! I feel so fortunate to have spent a lifetime hazing the lines between work and play, and for the many brilliant minds I have had the pleasure of learning from, and working with.
If you would like to read a little more about my story which includes the heartbreaks and all the tough stuff that we often don't want to talk about then click on the link. It's not so much of the bright and shiny, but more of the honest and vulnerable stuff. I'm hoping it might help any young coaches just starting their careers who like I was, struggling with self-confidence...READ MORE
Annyka Overton
VIEW ALL THE PREVIOUS STORIES ...