Main photo by Geoff McLean - Gone Riding Media © 2020
COACH OF THE MONTH Bianca Veneziano
COACH OF THE MONTH is a regular Education series on our website. It is a way of highlighting the EA coaches and educators who work with dedication and passion all over Australia.
Bianca Veneziano is an EA Level 1 General Coach, who lives in Riddells Creek, VIC. 
"I grew up in a non-horsey family. My grandfather owned a 10 acre family farm in Bulla, Victoria and provided a small amount of agistment for horses.
It was when I was 9 years old that I started to take an interest in horses and would go feed or groom them in the paddock. I also would go to the neighbour's house and watch the young girls ride.
I had to prove my commitment before my mum and dad purchased me a horse ...after two years of mucking out manure and caring for school horses.
As a teenager I started my competition career, Eventing until age 17. I then found a love for Dressage, turning my Eventer into a Dressage horse, who went on to win the Level 1 PC State Championships.
At 23 years old, my husband and I purchased 9 acres in Riddells Creek, Victoria. Over the years, we have built our family home and built professional dressage facilities. 
Nowadays, I am 33 years old, a full time dressage rider, trainer and coach and married with a 4 year old son, called Jacob. Outside of horses, I enjoy going to the cinema and spending quality time with both my husband and son. My husband also runs his construction & fabrication business from home, called Stable Ground http://stableground.com.au/ e.g dressage arenas, rubber matting, property driveways and custom-built entrance gates.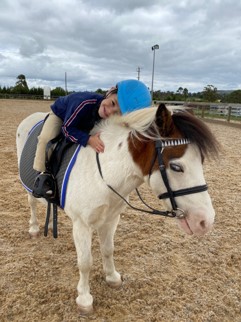 Bianca's 4 year old son, Jacob, on his lease pony 'Jack Russell' - owned by Nicole Martin
I have owned many competitive horses over the years, from young horses to FEI level.
My absolute favourite was Celerity Park Starlet, who I competed for three years (2011-2013) at Small Tour & Medium Tour, training GP. She was retired from FEI competitions and became a great school mistress for my Young Riders to learn from. I also bred a filly out of my mare, she is now 4yrs old.
In late 2019, with the support of by my close friend and student, Velsha Seaborne. a team of exciting young horses of international quality have been purchased. "Ellanbrae For Diamonds" and "Ellanbrae Le Louvre" from Ellanbrae Park, owned by Carolyn Welsh and operated from Macedon Ranges.
In 2020, I purchased myself "Sans Souci", a 12 year old gelding (IMP), by Sun Gold Out of Mirelle, from my student, Jayne Luxton.
Pre-COVID-19 plans were to compete him, however currently those plans are on hold.
I found the love for coaching when I was at school. I would help younger children in the warm ups at Interschool events, followed by many Pony Club Rallies every Sunday for 13 years. My first consistent job coaching was at Braemar College, in Macedon Ranges, monthly for 8 years. 
My transition to full time coaching was four years ago, when I worked for Gitte Donvig; I left Telstra (where I'd worked for 13 years), as she was advertising for a job. I thought what better way to learn the industry inside out, before making the move to my own business. I am forever grateful and thankful for all the time Gitte Donvig put into coaching and mentoring me through how the industry works across the board.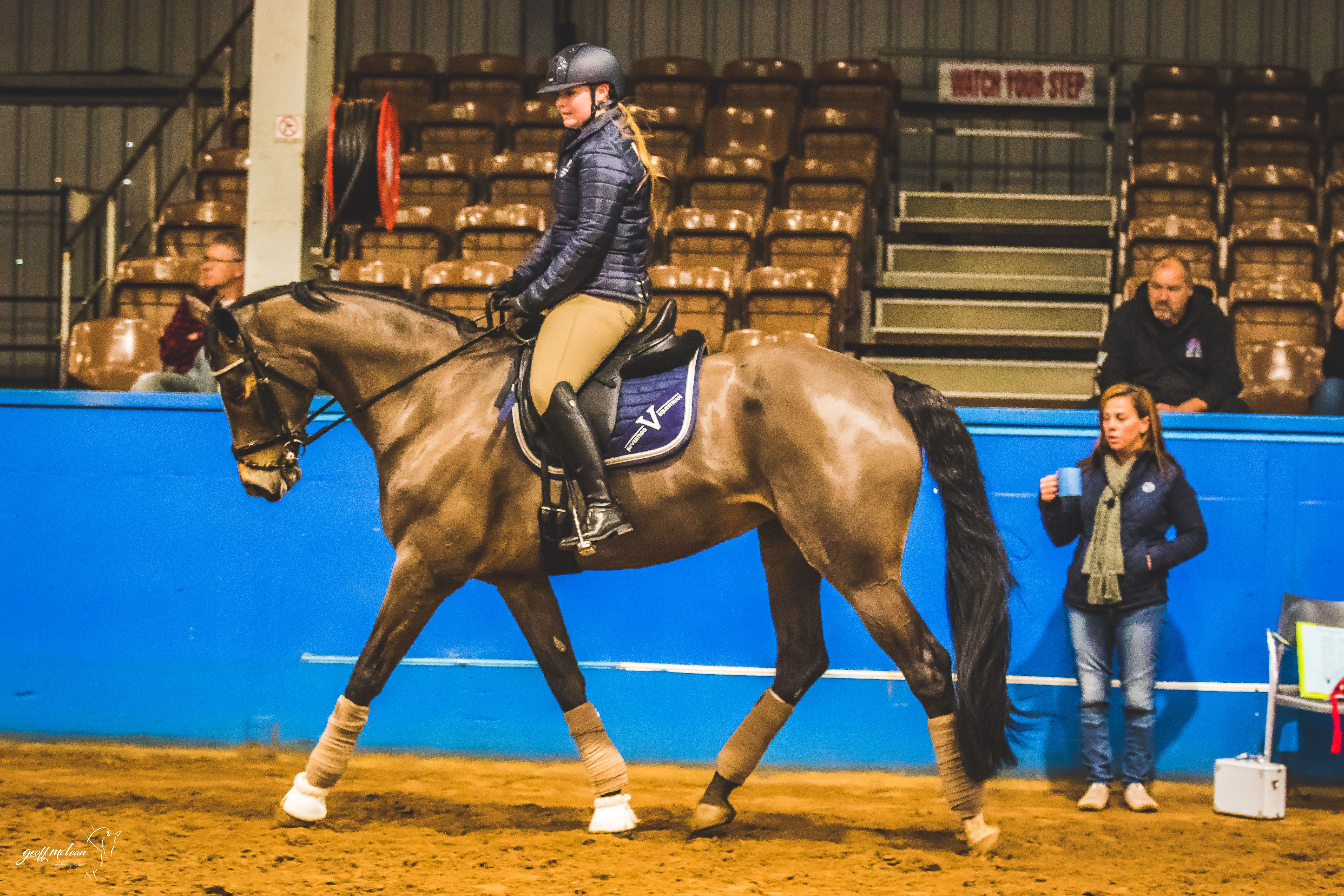 Bianca coaching Rachael Beesley, on her mare 'Jaffa', at Werribee Park National Equestrian Centre during the Victorian Young Rider Squad weekend- photo by Geoff McLean - Gone Riding Media © 2020
I feel deeply passionate about developing any level of rider to achieve their set goals, celebrating all my students' Personal Best Achievements, no matter how small or big. I enjoy being a committed, positive, enthusiastic and supportive coach. I'm very passionate for the BASICS before the tricks, educating and developing all combinations as per the German Training Scale .
This is a job I love. I get to travel regularly; I get to coach many amazing, hardworking individuals, helping them to achieve set goals; I enjoy educating individuals on the WHOLE Picture - including riding, horse management, goal-setting, fitness and nutrition.
Some of my best coaching results and achievements include:
In April 2019, at the Interschool Victoria State Championships, I had 7x Young Rider Students Win Championship placings, across multiple levels and disciplines
In September 2019, at the Australian Interschool Championships, I successfully coached 3x Victorian Young Riders to Championship Wins at National level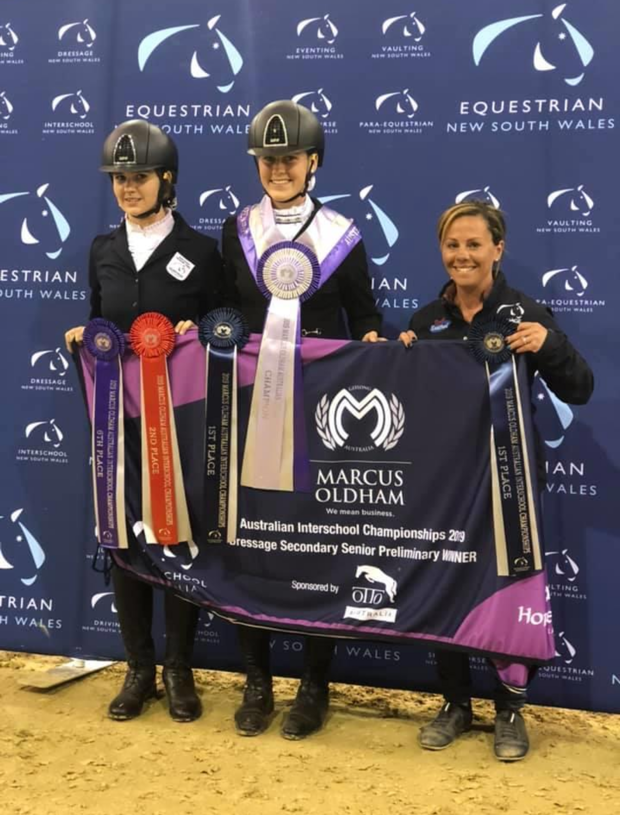 Australian Interschool (Nationals), Bianca (right) pictured with students Dakota Lyne and Abbey Mamers
As well as being accredited through Equestrian Australia as an official Level 1 Coach, I am also the Victorian Young Rider Squad Dressage Coach. I am an active member of the Equestrian Victoria Coaching Committee, an active supporter and sponsor of the Youth Victorian Dressage Championships annually and have even been a member of the Victorian Dressage State Squad.
I feel very privileged to be a part of the Victorian Young Rider Squad as a Dressage Coach. They are absolutely my favorite four clinic weekends of the year and I am very thankful to Jan Smith for the opportunity to be involved.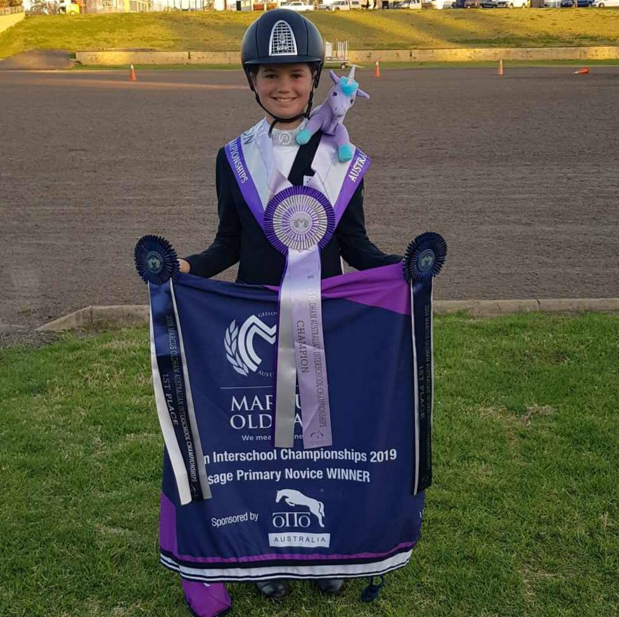 Alice Lawrence (who rides Samba), winner of the Novice Championship
My ambitions are to be the best coach I can possibly be within the Equestrian Sport. I also am very passionate and motivated to support & mentor fellow coaches, trainers and riders, on and off the horse, across the industry. I'm working towards my EA Level 2 coaching qualification and possibly becoming a Coach Educator. I am also looking forward to returning to competition with the wonderful team of horses I am lucky to have in my barn."
Bianca Veneziano
VIEW ALL THE PREVIOUS STORIES ...