Photos courtesy of Gail Simms
COACH OF THE MONTH Gail Simms
COACH OF THE MONTH is a regular Education series on our website. It is a way of highlighting the EA coaches and educators who work with dedication and passion all over Australia.
Gail Simms is an EA Level 2 General Coach and an EA Coach Educator, based in Gidgegannp, Western Australia. 
"I learned to ride in New Mexico, in the USA where we rode Western style. I came back to Australia in 1968.  I have not ridden competitively for about 20 years, but when I was competing, I did a bit of everything - as you had to back in those days.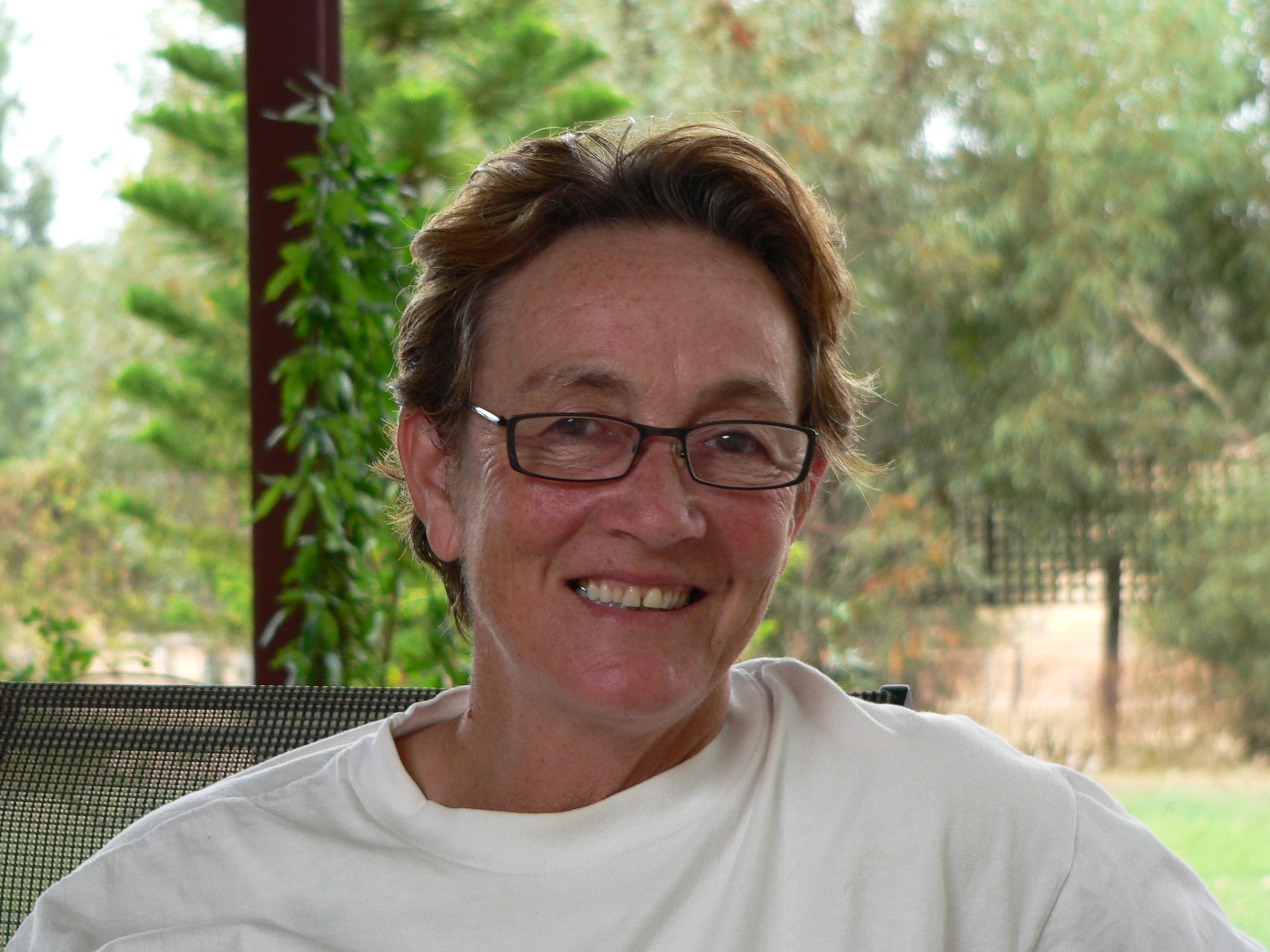 Gail Simms, EA Level 2 Coach & Coach Educator
There were only two One-Day-Events per year in WA when I started riding here, and I was one of those crazy WA riders who made the trek across the Nullarbor to ride at Gawler in 1978. One of my fellow team members was Wayne Kylie, who is now a very well-known supporter of equestrian and the owner of a successful international horse transport company. 
I competed in dressage to Advanced level, on a horse named Adonis which I bred myself. After he was sold I rode mostly for other people.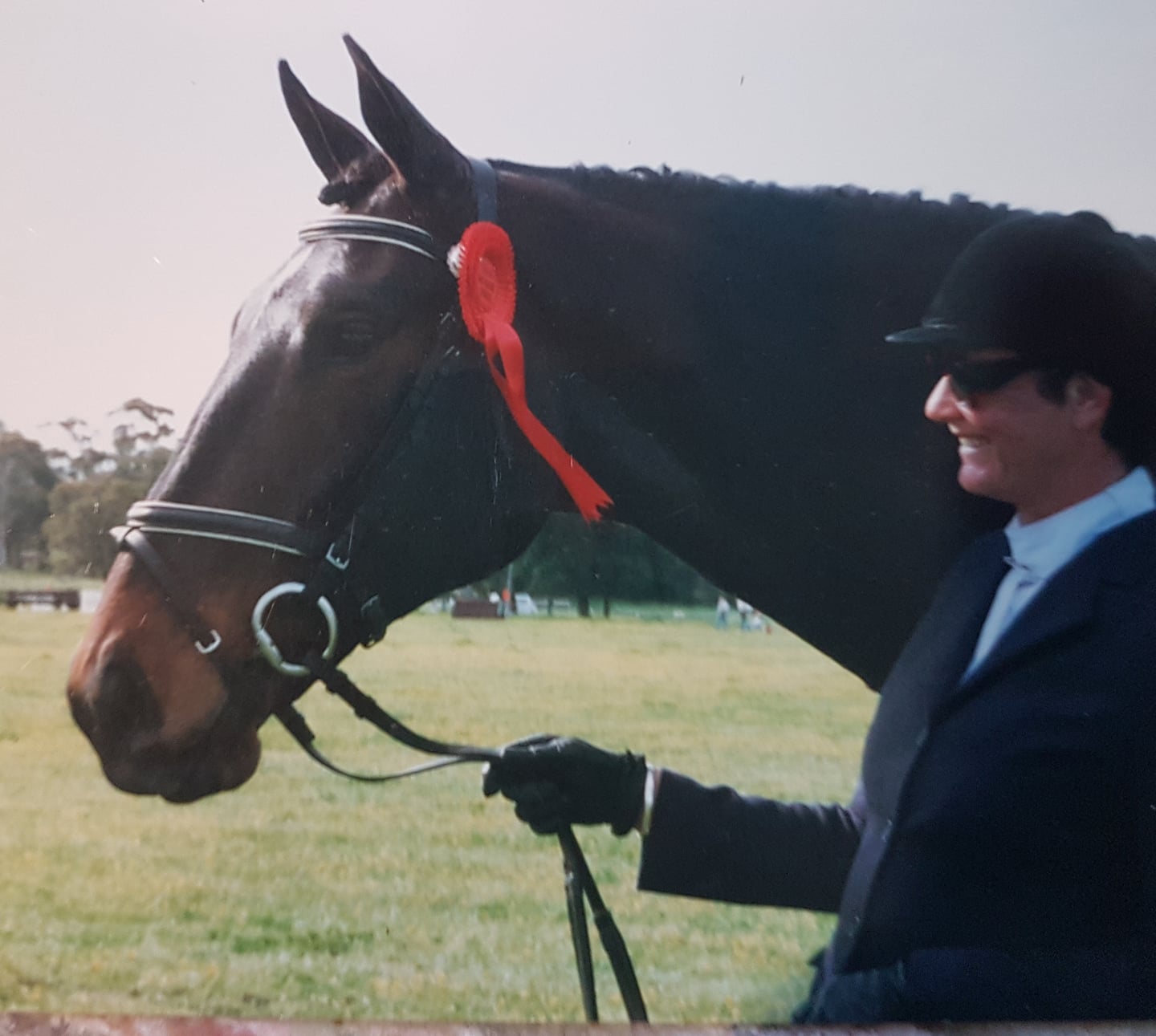 Gail and Adonis
Like many riders, I have had my share of spills and broken bones and decided after the injuries started catching up with me to focus on coaching.  I worked as a Medical Scientist for 30 years before deciding to run my riding school Zia Park full time. That was 10 years ago and still keeps me very busy.
One of my most successful students is Melanie Nixon, on her lovely dressage horse Matavia Fisher King. Mel is an inspiring and dedicated athlete who trains in almost complete isolation on a family farm in the wheatbelt. I have been coaching Mel for several years, usually on farrier visit days when she floats her horse for 3 hours to Zia Park to have his shoes done—no farriers in Kalannie! 
Her achievements include winning the Prix St George and Small Tour Freestyle and Small Tour Championship at States, then winning medium tour championships at Geraldton and FEI Showcase. They continued to achieve personal best scores at each outing up to 67% at Inter B, and finally achieving a 60% plus score at their first big tour (Inter 2). Mel and Fish were also selected for almost every rider demonstration day including Susie Hoovenaars judge's seminars, Stephen Clarke and Lone Jorgensen Master classes.
I am proud and privileged to have accompanied Mel and Fish on their journey from weanling (Fish was purchased sight unseen from Queensland from video footage), to the threshold of Grand Prix dressage. This is a first for all three of us, as Mel now rides at a higher level than I did when I was competing.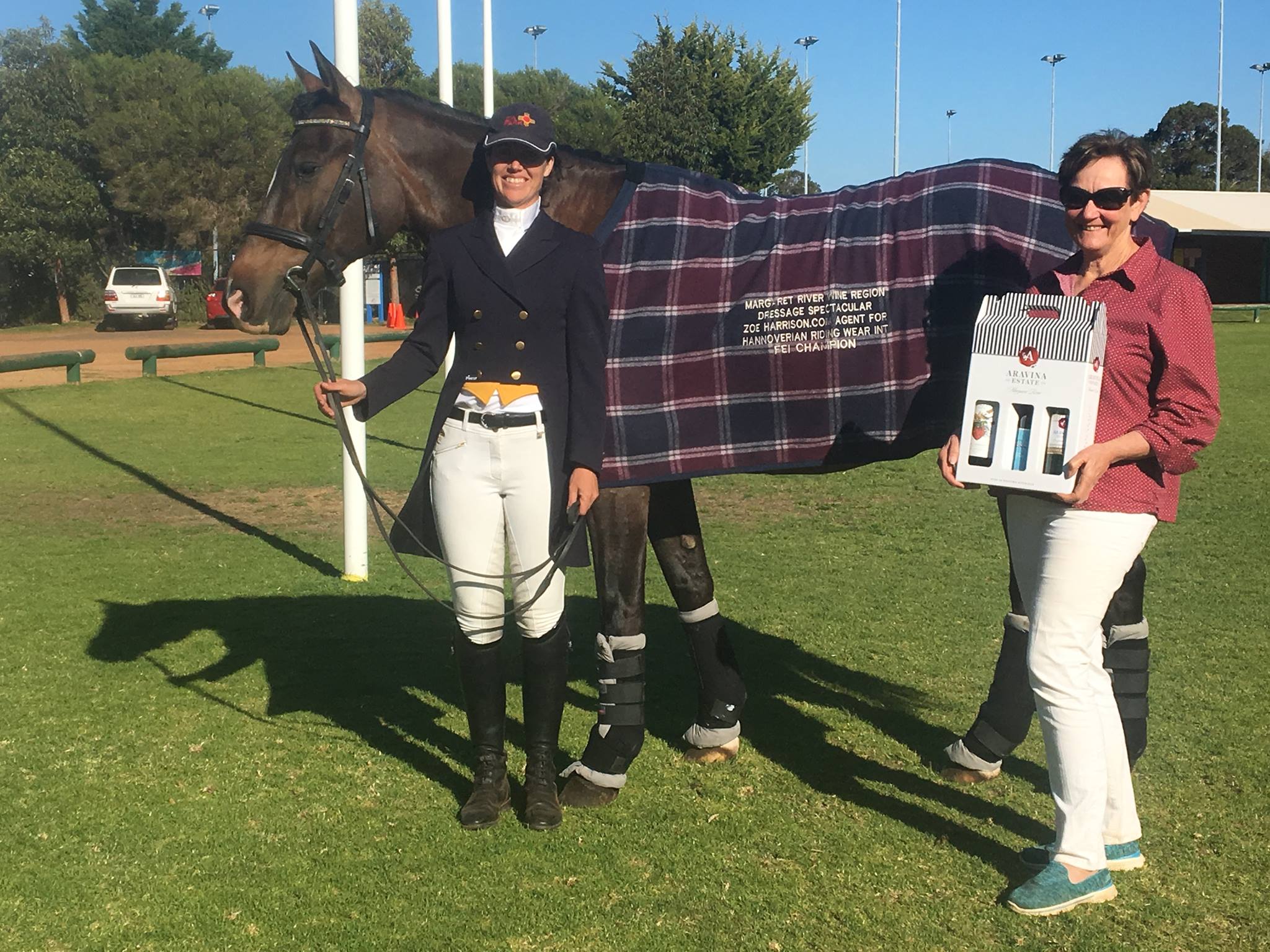 Gail with her pupil Melanie Nixon and her lovely horse Matavia Fisher King
I love it when my pupils can work with a variety of coaches and training methods.  We are very fortunate to have had the opportunity to train with prestigious internationally qualified coaches such as Steven Clarke, Lone Jorgensen and Ricky McMillan, all of whom have graciously included me in Mel's lessons.  We've come a long way! 
I do my utmost to keep up with developments in our sport and encourage my students to do likewise. I judge dressage (National C level) and am on the selectors panel for Dressage Squad members in WA. 
Being a dressage judge helps me enormously with my coaching perspectives.  Thanks to Ricky McMillan, I was fortunate last year to be invited to attend the Brisbane CDI and sit in with many national and international judges, what a fantastic week and learning opportunity.
As a coach educator, I do my best to mentor, assist and encourage good riders to become good coaches.  I have been a staunch supporter of the Equestrian Australia (EA) Coaching system from its very beginnings in the early 1980s when I was one of a small band of coaches trained by Tor Burman. 
Owning and managing a busy riding school means I am ideally placed to give trainee coaches the opportunity to practice their skills on real pupils - in a controlled environment, under my supervision.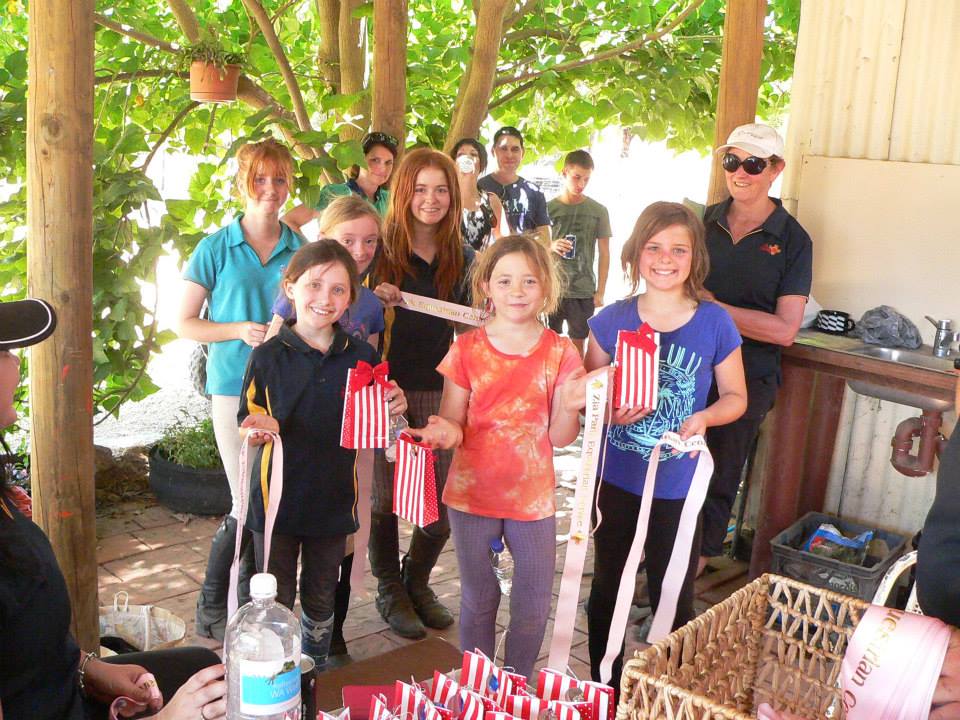 Gail & a group of hot, tired, but happy kids at the end of a Zia Park Summer Camp
Over the last several years I have helped many coaches achieve their goals of gaining EA Coaching accreditation.  Zia Park has also been heavily involved in running and developing EA's Ready Set Trot program, and we are looking forward to the next chapter where we will be running programs for older beginners and next steps in the form of the Trot Canter Gallop program. 
This year for the first time, we have partnered with Sporting Schools and Guildford Grammar School to provide horse riding as a school sport. 
I believe strongly in lifelong learning for horse riders."
Gail Simms
VIEW ALL THE PREVIOUS STORIES ...