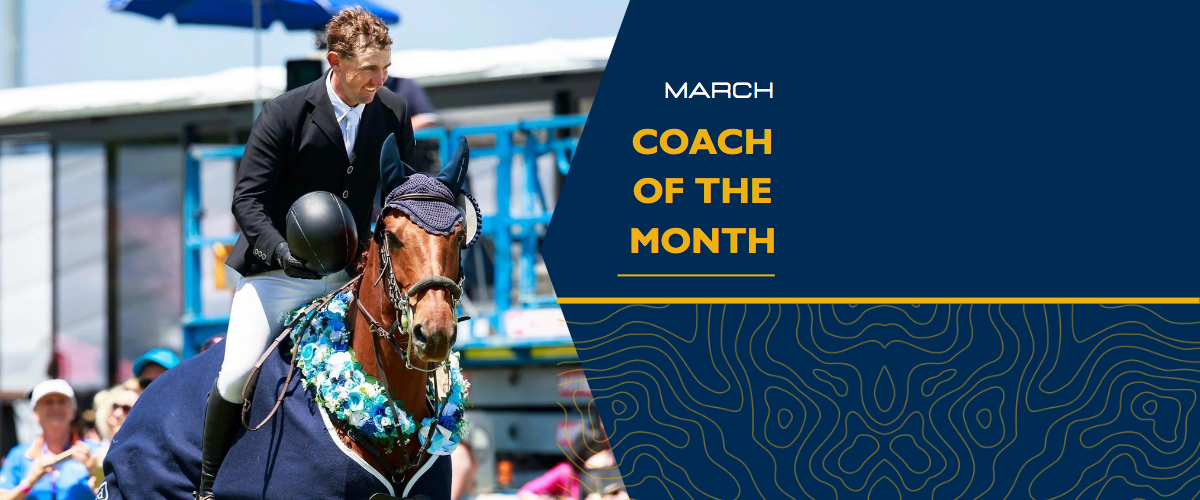 Coach of the Month - March: Andrew Barnett
Andrew Barnett is a professional rider, NCAS Level 2 Showjumping and Eventing Coach and Coach Educator. He was a Grand Prix showjumper before making a successful conversion to Eventing.
The Level 2 coach from Werakata Farm in the Hunter Valley, NSW has been selected as the Equestrian Australia Coach of the Month for March.
We caught up with Andrew to ask him about his coaching journey.
How did you get involved in Equestrian?
I was always obsessed with horses. From a little boy aged 4 or 5 had a pony. I rode lots and when I went to pony camp at age 10, it just continued from there.
I wasn't the best rider, no natural ability, I just loved it.
I was in to all horse activities.
What inspired you to become a coach?
It all started from riding and loving it so much, I wanted to be able to make a living out of it.
Early on in my riding career I started teaching to help people out and it grew from there.
I really enjoy helping people and see their improvement at all levels in the sport, from participation right through to world championship level.
What is your coaching philosophy?
It's very much about aid application.
The core of my teaching is helping riders to understand their position on the horse and how it affects your horse.
My coaching philosophy is always evolving.
I am very lucky to be involved with the AIS and training so always improve how I help people and ensuring effective teaching.
What is the most important lesson you can teach a student?
I focus on very technical aspects: Sit this way; What the aid does; Knowing the detail of what you're doing.
Understanding the rider and horse is key to a successful relationship between horse and rider.
What keeps you coming back for more?
The sport is highly addictive!
I find it more nerve wracking watching students competing than competing myself.
I love to see all their dedication and hard work coming to fruition.
I enjoy support them with their goals and dreams on their journey, I become very invested in their success and goals and ride the highs and lows with them.
What coaching challenges have you overcome?
Always been something when someone doesn't have a great day – it's really important to be there for them then, not just when they are going really well.
Some advice I received along the way was  - "A good coach is there when everything is going wrong, and fading into the background when things go well." I've adopted this in my coaching.
What advice would you give to those thinking of becoming a coach?
Three pieces of advice that I would share with new or up and coming coaches would be the following.
The more education you can get around teaching itself makes it so much easier.
One size doesn't fit all. Each rider may respond to a different approach.
1 -2 % improvement that will stick is better than a 70% improvement that doesn't hold. Consistency is key in the long game.