Cover photos courtesy of Oz Shotz
COACH OF THE MONTH Mattea Davidson
COACH OF THE MONTH is a regular Education series on our website. It is a way of highlighting the EA coaches and educators who work with dedication and passion all over Australia.
Mattea Davidson is an EA Level 1 General Coach, based in Kings Siding, QLD.
"I come from a non-horsey family and grew up in the Western Suburbs of Brisbane.
I always had a love of animals and was quite the collector - mice, Guinea pigs, birds, fish.
I had a friend at primary school whose father played polo, this is how I became involved with horses. She attended the local pony club and I would tag along and help out with the horses. This lead to me leasing my first pony Nutmeg at age 10 and I was in heaven.
He was a 13hh fat, grey pony who was a great schoolmaster, but also quite good at dislodging me when jumping.
The pony club was great as we were able to participate in everything - Gymkhanas, ODEs, local shows.
We used to hire a local cattle truck to get the horses to shows and had an old loading ramp to get them on. I remember on one occasion, we were all heading to a hunter trial and I had broken my arm the week before - my mum would not let me ride, so I tried to bribe her permission with $20 I had gotten for my birthday. I was not successful, but also quite shocked I couldn't change her mind with $20 - that was a lot of money then!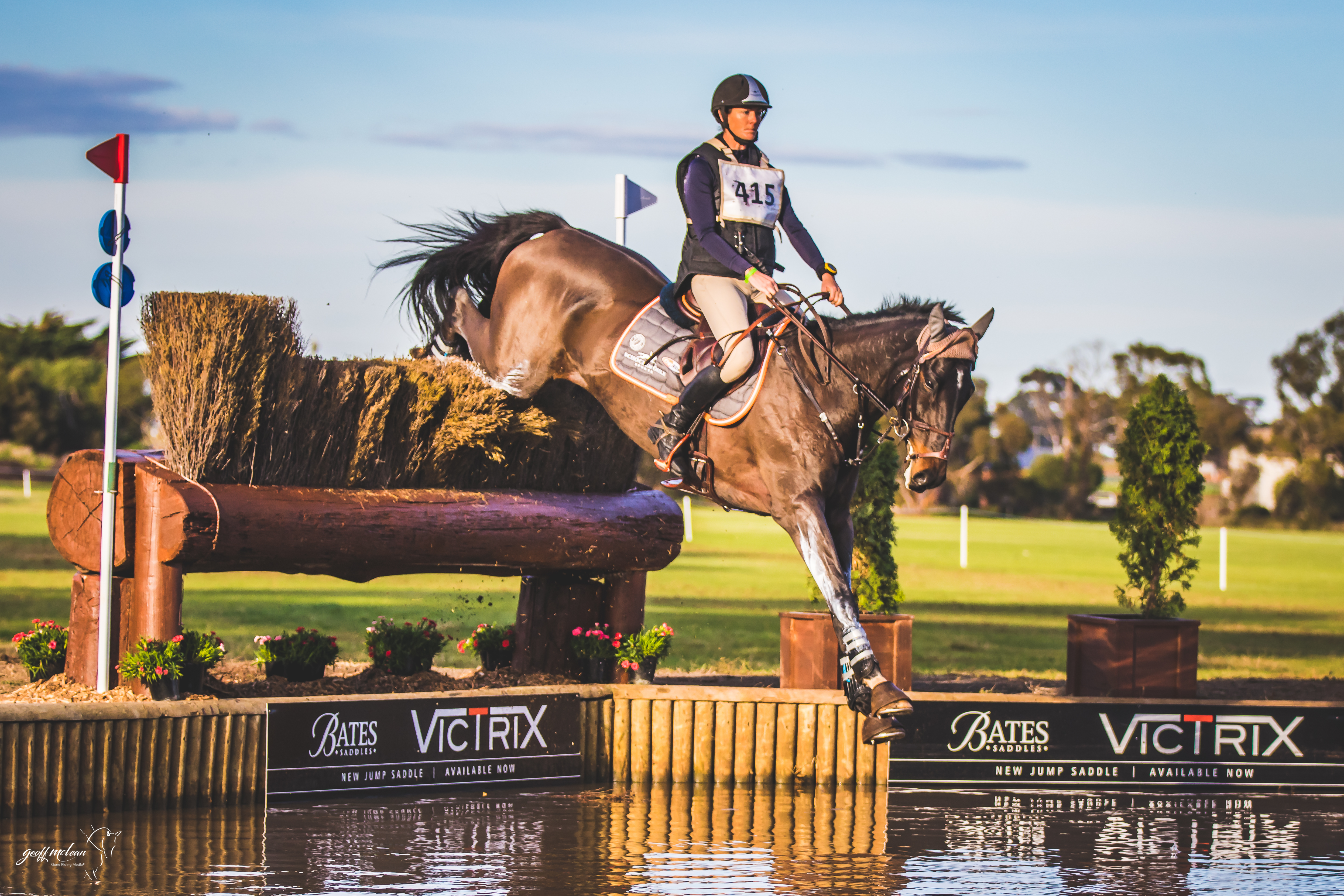 Mattea tackling the water jump - photo credit Geoff McLean
Nowadays, I recently celebrated my 33rd birthday.
I am married to another professional rider, Shane Davidson, who competes at World Cup level in Showjumping.
Together, we run Davidson Equestrian where we teach riders, train horses, and have a Performance Horse Stud. This is located in Toowoomba, about 2 hrs west of Brisbane.
My weeks are spent teaching, riding and doing veterinary work. I did work full time as a vet in practice after graduating however, as we became busier with Davidson Equestrian, I was needed in our business more.
I currently compete at 4* level in Eventing and am heading to Wallaby Hill in a couple of weeks. I have also competed at World Cup level in Showjumping, which was a real highlight for me!
Getting into coaching was just a natural progression for me, part of being a professional rider and running a business.
I don't think I was a naturally good rider when I was young, so I had to work hard to get better. I think that helps me to be a better coach - I understand why things can be hard, frustrating and scary.
I really get a lot of enjoyment out of seeing people achieve with their riding - and this can look different for every rider. It may be jumping a ditch for the first time, or it could be winning at Adelaide. Being a part of someone's personal achievements and success, however that may look is really something special.
I am also involved with running the QLD State Eventing and Development Squads - it is great to see how riders have benefitted from this program and how eventing in QLD is quite strong at the moment.
Coaching is a really interesting job, you have to manage not only the needs of the rider but also that of the horse. You can have a plan for a lesson but have to adapt quickly - I remember a lecturer at uni once told us - 'Horses are predictably unpredictable' - I think this is good advice!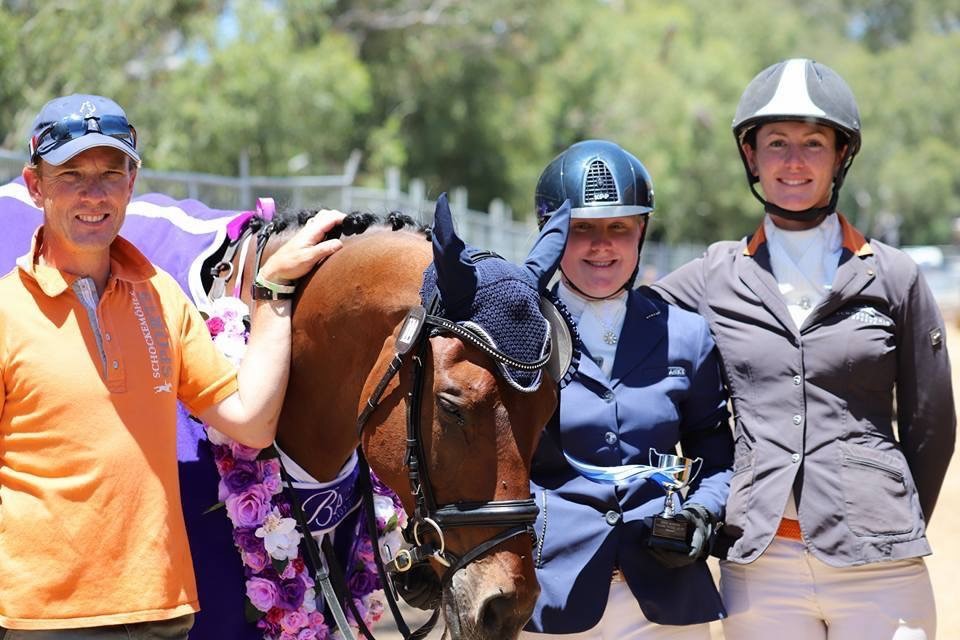 Mattea enjoying a coaching highlight
Looking to the future, my plan is to compete at Adelaide 5* in 2020. I was hoping to compete this year, but at the end of 2018 I broke 7 vertebrae, so this affected our qualifications. It has taken me about 12 months to get my fitness back again, but am feeling really good now.
I also have a few nice young showjumping horses I am looking forward to competing in 2020.
I really enjoy being involved in coaching and seeing riders progress and have fun.
My husband and I coach each other on a regular basis which can sometimes be tough, but we are both each other's biggest supporters.
A coaching highlight for me was having our working pupil, Courtney Stubberfield, win the Young Rider class at Adelaide 3DE in 2017. I was so proud of what we had achieved as a team."
Mattea Davidson
VIEW ALL THE PREVIOUS STORIES ...