Photos courtesy of Merindah Thomson
COACH OF THE MONTH Merindah Thomson
COACH OF THE MONTH is a regular Education series on our website. It is a way of highlighting the EA coaches and educators who work with dedication and passion all over Australia.
Merindah Thomson is a full-time EA Level 2 Dressage and Jumping Coach, Level 1 General Coach and a Coach Educator based in Deloraine, Tasmania. She is the current Education Coordinator for the Equestrian Tasmania (ETas) State Office. Merindah also plays a role in the sport as an official. She qualified to become a Course Designer and officiates as a Steward. She is very passionate about her role as a coach and loves helping riders get the most out of the horse they own, learn how to work successfully within the horse's limitations and talents and enjoy every step of their progress. 
"Like a lot of other coaches, I grew up with horses. My mum is also a coach and swore no child of hers would have their own pony until they were at least 5yo. Does anyone have a child that yells every time they try and ride? That was me. She gave up when I was 3 and bought me a pony. Have you ever gone to test ride and the little black shetland bucks off the owner's kid, then gallops away? That was my first pony. I think mum was trying to discourage me….
I'm under 40, (just) married to Brian, who I met through showjumping, we have a 4yo daughter who also has a little black Shetland as her first pony. It's not discouraging her so far, either! I'm a full-time coach, first and foremost, when time allows I compete a little in jumping, with an occasional dressage competition. I have a science degree, so tend to be fact-based and analytical, and set objective targets. Its been a few years since I've had a full time "real job", and since I've been coaching full time, I know I'm a much better coach. My communication skills are better and my ability to read horses and riders is improving all the time.
Glenys Shandley has been my dressage coach for over 30 years. I remember when she did her Level 1, and she said it was necessary. Therefore, I always knew it was something I would do when I was old enough. I was coaching at Pony Club from age 12 or so, and actually completed my Level 1 interstate at an experienced coaches workshop. I had the prerequisite 10 years of experience and pupils who had progressed up the grades. Many of those same pupils who helped me gain my Level 1 are still pupils today. 
One is a long term pupil of over 25 years who until recently, hadn't competed since pony club. I've taught all her life, she was a baby when her family moved next door. She used to ride a piece of poly pipe around the place pretending he was her pony. She progressed through the ponies and horses, and was married earlier this year, with her current Irish Sport Horse featuring in some stunning photos.
Another is a pupil who now has a home bred, home started youngster, and is  competing in young horse classes. She also competes on an OTTB. Both horses have progressed really well under her guidance.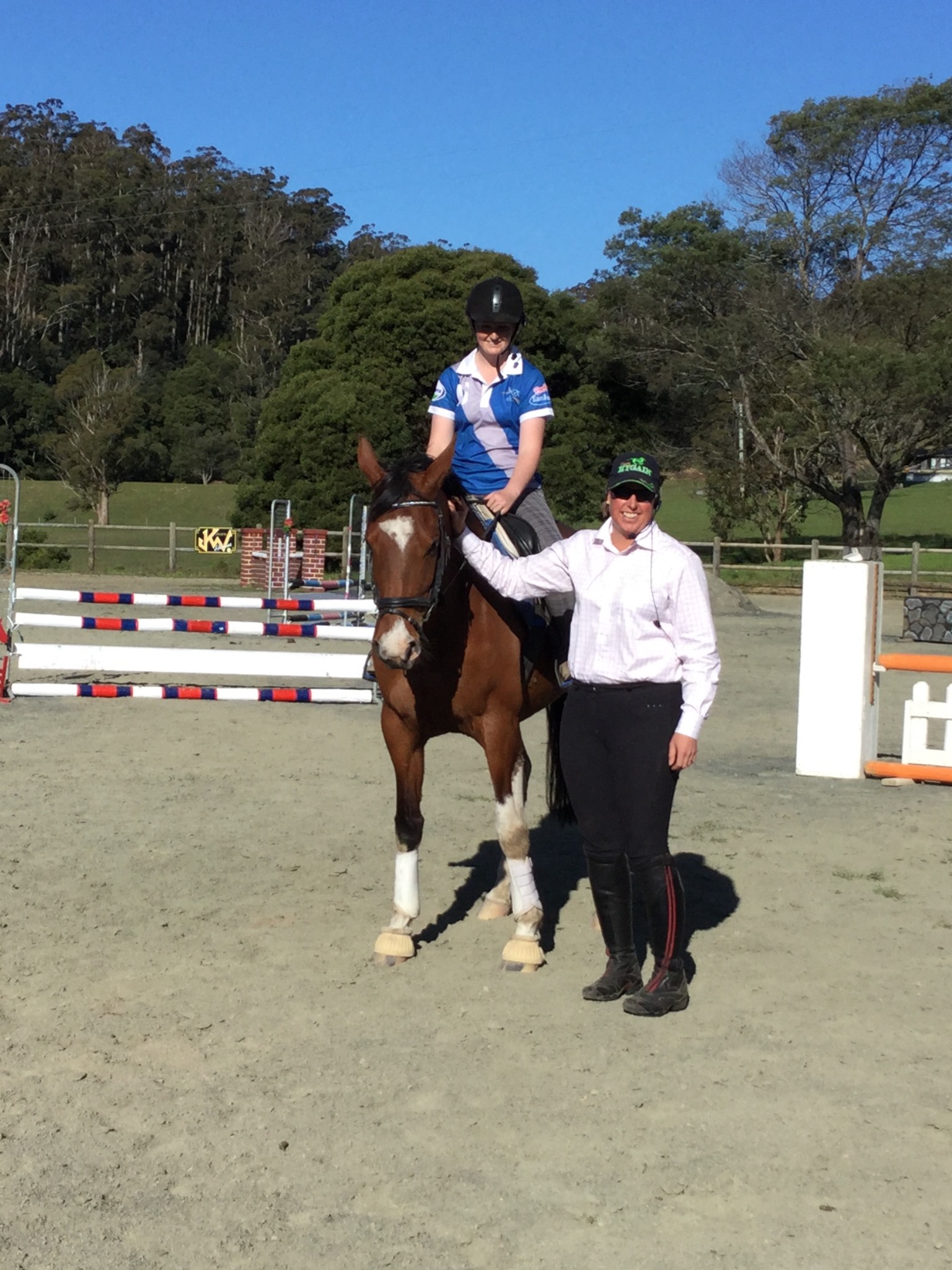 A rider who has become a very good friend I took to National Championships twice. We have both had some serious health issues, but are able to work within our capabilities. She rides a home bred racehorse that was too slow for the track. If her health allows, she will return to competition this year.
Tasmania is hosting the Australian Masters Games this week, and I have quite a few adult riders who will be competing. Many haven't jumped in years, some never!
As a Level 1 General, I coach the basics of XC, and enjoy helping young riders and horses have good first experiences. I'm a Level 2 Dressage specialist, and also a Level 2 Jumping specialist. The only one in Australia! I have a lot of jumping competitors, and all of them have flat lessons. They might initially come to me to jump, but when they see the results of furthering their education on the flat, they're converted. I also have dressage competitors who I do jumping training with.
Everyone loves the feel of a fit well trained horse, and they get the best of both worlds. I have a few jumping competitors who are braving the world of dressage competition. One is a young rider who competes jumping on a young KWPN and two TB's. She had her first 130 jumping start last year and and recently had her first open Elementary dressage start. I have a Pony Dressage competitor who has recently had an Advanced start. She does jumping training at home, and it has really helped their canter work. Tasmania rarely splits classes into horse and pony, and they are competitive against the "big" horses. He is really spooky and quirky, so the jumping training, as well as developing him athletically, has helped his mind cope with different things in his otherwise predictable arena.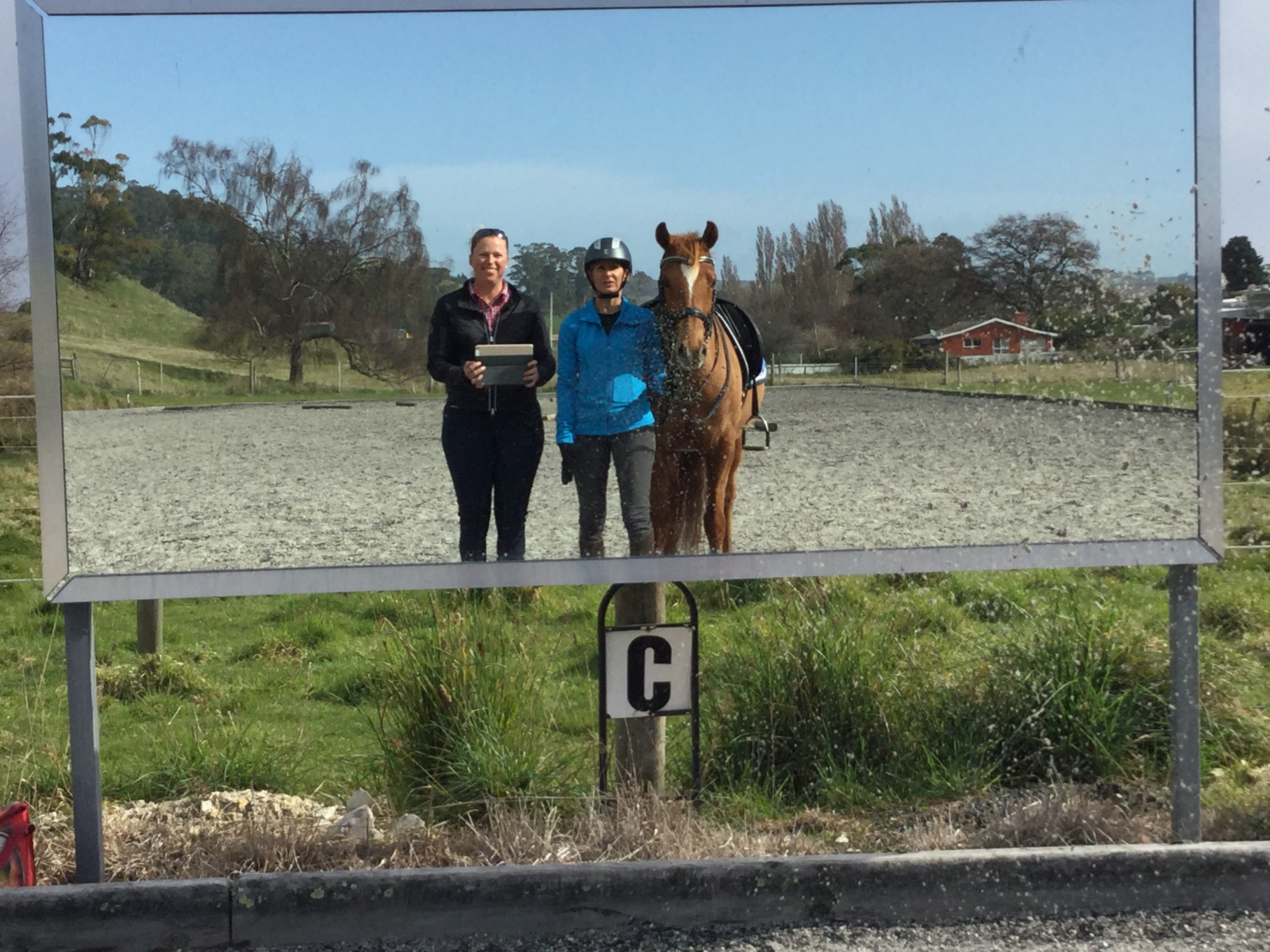 I invest many many hours into my pupils and love working with them. I'm very proud of their commitment to their learning and doing the best they know how to. If I could write about all of them, I would, but I suspect there would be too much to publish!
I'm very interested in helping everyone learn how to do the very best they can with their horse. Irrelevant whether it is purpose bred, or off the track, had a big price tag, or a hand-me-down. I want to help with whatever horse you have. I'm disappointed when coaches suggest the only way to progress is to get a different horse. There is so much knowledge and so many skills to be gained if you learn to ride and train the horse you have. Any horse can teach you a lot. Combinations with certain limitations (financial, time constraints, conformation, experience, temperament, age, lack of competition availability, whatever) learn to persevere, and it teaches patience, real horse management skills, and real riding skills.
Many people never get the opportunity to own or ride a super talented horse. I really love helping them learn how to work successfully within the limitations they have and enjoy progress. For the riders who are fortunate enough to have a talented or uncomplicated horse, this means I can spot inconsistencies early, so their riding and training remains uncomplicated. For those who have learned the "hard way" if they have the opportunity to start from scratch with their own unspoilt horse, their development is then simple. If they never have that opportunity, that's ok too – they have developed advanced skills in more situations with more limitations and have the ability to get the most out of their partnership. I have some riders with really difficult horses. They sometimes get very disappointed if their competition goals don't go to plan. They are super riders! But not everyone wins all the time. In fact, not often does anyone win! Many horses in a class and only 1 first place means it's unlikely you'll be a winner today. Their experiences, even disappointing ones, teach them a lot more than winning every week would. The ones who win sometimes don't have the necessary drive to improve that the others do. Theres no reason to improve if you win, and no measure of how much hard work you need to get better results. Recovery from performance disappointments is a major requirement for a competition rider. Resilience makes far better competitors in later years.
I also love helping people be better coaches and promoting professional development. As the ETas Education Coordinator I'm in a unique position to be able to help prospective coaches navigate the EA coaching system, and as part of the working party I'm well placed to keep abreast of all changes and help facilitate people's way through their accreditation. It's not just about getting a qualification, but continuing to learn. I believe you must help the pupil with the "how" not just the "what". As a Coach Educator this in turn is something I'm very clear about the importance of. 
How many times have you heard "keep the rhythm" or "keep him straight" or the all time favourite "do a half halt!" Often beginner riders don't know HOW to do any of those things. They also might not know why they are important. This for me is the most important aspect, and many coaches don't like teaching beginners. More experienced riders can be asked to do a half halt, and they might already know how to do that. Or they might not! What is a half halt? Why should you be doing a half halt? HOW do you do a half halt? Is the half halt you need in this situation the same as the half halt you need in that situation? Coaches can sometimes fall into bad habits when coaching only experienced riders. They make observational comments such as "needs to be more forward" or "canter needs more bounce" without telling the rider how to do it. Yes the rider might already know how to do it, but what they aren't being taught is the ability to apply it for themselves if the coach isn't there and theres no-one observing anymore. I teach using wireless headsets so I can get immediate feedback on what the horse feels like, and give immediate help rather than retrospectively. Its great to be able to discuss things on the move in real time rather than needing to bring the riders in to talk with them.
Teaching the rider how and why, and facilitating on the go with questions leads to developing feel, which leads to the riders progression in between lessons. Nervous pupils become more confident as I can ask questions and keep them talking and breathing, and praise every small progress as it happens. Feedback from my pupils is that they are made more aware of their position and aids than ever before. They detect things earlier, and know what to do about it. I always have an iPad with me to better help the visual learners by showing videos or pictures to facilitate their learning and understanding.
My pupils understand the value of using an accredited coach, knowing we have been assessed on all manner of things such as travel and feeding and seasonal planning, rugging, clipping, weight management, I'm very pleased to be able to help with all facets of horse care and riding, not just help the rider to ride the horse but provide support through all aspects. Glenys instilled in me the importance of proper well rounded education, and the aim of keeping horses happy and sound their whole career, through every level. This is what I hope to pass on to others. In Tasmania we have very distinct seasons. Winter is freezing, wet, muddy and dark. Summer the ground is very unforgiving. I help riders train through winter so they can make the best of the spring season. With the weather challenges throughout the winter this means my clients can still progress their knowledge and skills even if the conditions are against them having an enjoyable ride. I have use of a few local indoor arenas, and organise Glenys Shandley and Michelle Strapp to coach my pupils a couple of times a year. It helps me and them to have a different set of eyes. I have an extensive library of books, dvd's, and articles which I make available to regular pupils. I'm super proud that those pupils themselves also provide a great supportive team to each other.
I'm always progressing my own knowledge so I can better help my riders. I've ridden at many dressage judge forums, so I can hear first hand how judges are thinking. Some years ago I became a qualified Course Designer, which gives me the skills to help a client who has limited equipment or area set up training fences at home in a manner that can develop their horse. I am also a steward as I'm serious about promoting the welfare of the horse, and fair play for all competitors.
My aim is to help jumping riders develop better flatwork, rather than resorting to more "gear" and dressage riders to expand their work to poles and grids and casual rides so their horses are happy, relaxed, athletic, and interested in their work. My long term goal is to help riders, coaches, officials, and volunteers work together, progress their knowledge, and keep the standard of competition improving. I'm planning to host a weekend early next year with an international official, breeders, local officials, riders, coaches, anyone interested on how to develop jumping horses, build courses, design programs, and run the event so everyone can work collaboratively to progress our sport."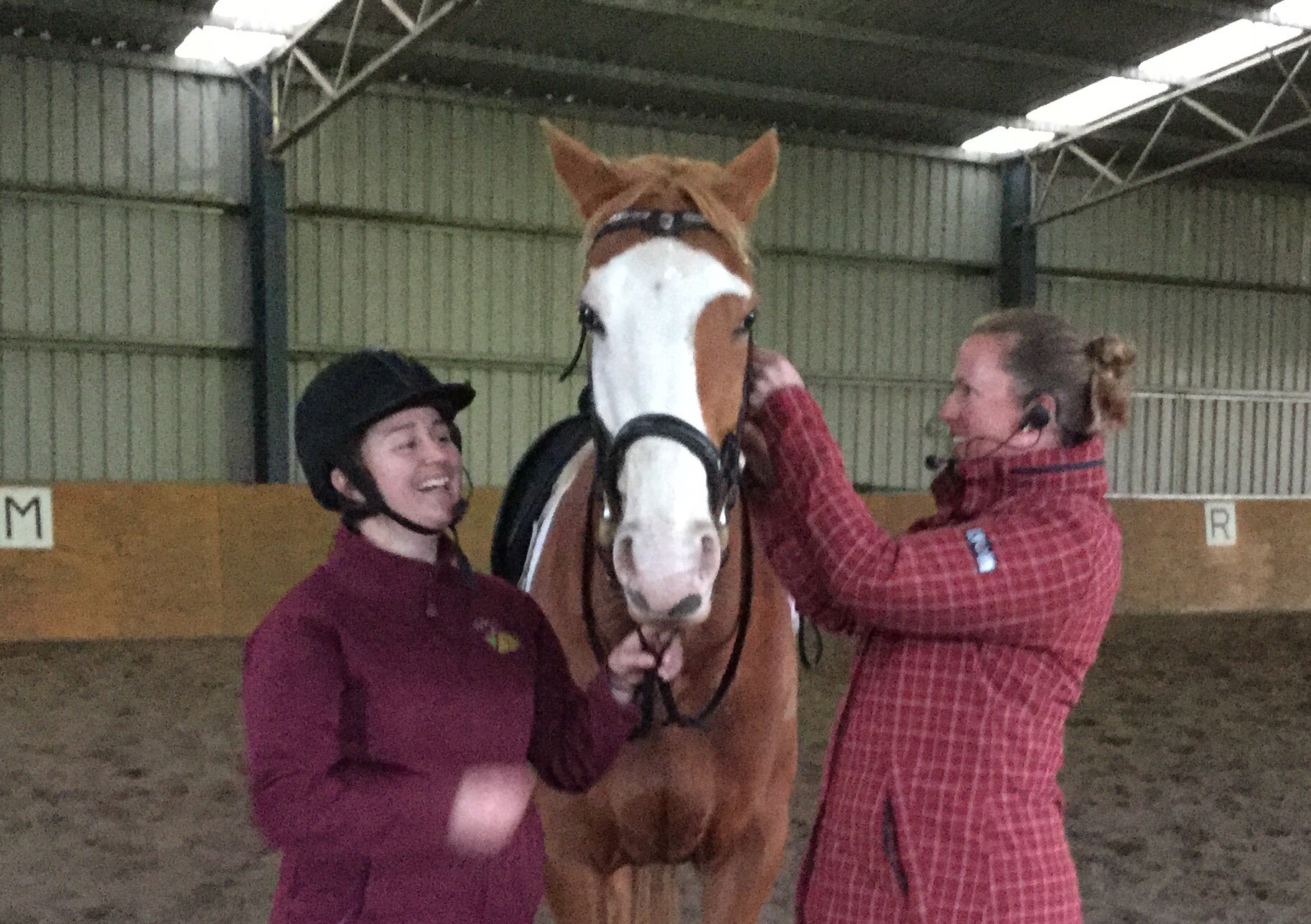 VIEW ALL THE PREVIOUS STORIES ....