Main photo courtesy of Robyn Oram-Thomson
COACH OF THE MONTH Robyn Oram-Thomson
COACH OF THE MONTH is a regular Education series on our website. It is a way of highlighting the EA coaches and educators who work with dedication and passion all over Australia.
Robyn Oram-Thomson is an EA Level One Vaulting Coach and Level One Dressage Coach, based in Birdwood, SA.
"I originate from the small farming community of Wilkawatt, in the Mallee Region of South Australia. My three sisters and I were always horse-mad. To this day, we all live on acreage and continue to enjoy horses as part of everyday life.
My early experience with horses was in stockwork, with cattle and sheep; we had cattle musters about twice a year. It wasn't uncommon for Dad to coincide sending breakers away for a quick couple of weeks of basic training just before a cattle muster.  
Us four girls would climb on board the newbies, split into two groups and head precariously off to opposite sides of the property to gather up about 500 head of cattle, including 7-8 bulls which would lag behind the herd.   
Dad insisted on having blue heeler dogs to help with the cattle work, but invariably they caused a lot of tricky moments when the dogs would stir up the bulls and then run behind our horses for protection!   
I continue to be a proud supporter & participant in the equestrian sports of both Vaulting and Dressage in SA, interstate and overseas. I enjoy spending time with my family & friends, camping, travelling and meeting new people.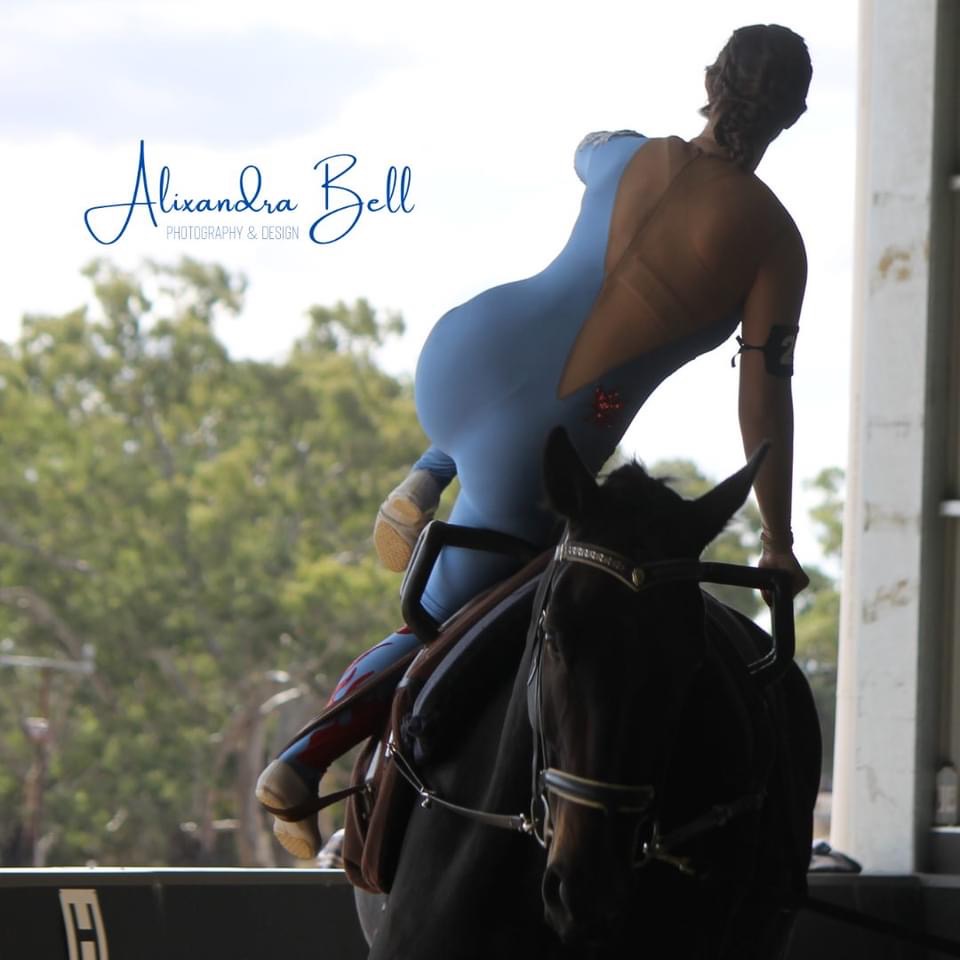 Robyn's daughter, Sophie Thomson, competing in Vaulting - photo by Alixandra Bell
Nowadays, I'm 62, married with two children and one granddaughter. As far as horses go, I am particularly fond of equestrian Vaulting because it's such an inclusive sport. I also have a deep appreciation for the benefits of Dressage.
I am a part-time coach, mainly in Vaulting; I spend many hours a week lunging! All of our Vaulting horses are also cross-trained to maintain and improve their stamina, strength and flexibility.
My daughter and I run a small private Vaulting group called Wilameka Equestrian. We have four horses, three of which are Vaulting/Dressage horses (two Warmbloods and a Friesian Warmblood) and one much-loved pleasure pony.  
Our established Vaulting horses are Wilameka Leviosa, who has competed at CVI 3* and continues to be an invaluable superstar individual Vaulting horse, particularly for my daughter Sophie who competes at Advanced or CVI 2* level.
Our 2* horse is Wilameka Balgownie Utrecht, who's the mainstay for a variety of our Wilameka Vaulters to compete on.
Our up and coming canter horse is Almazaan Billionaire, who I have also started campaigning in Dressage. He won both of his tests at the Masters' Games this year, which was a rather good kick start. While I purchased him as a two-year-old, only now is he at the stage he's mature enough, mentally and physically. 
I decided to become part of the EA system of Coaches to help forge a pathway for Coaching equestrians from grassroots to elite level. Being a coach is an ongoing learning experience. To me, it's not a job, it's a passion, a way of life.  
Important considerations are to be able to work harmoniously with our horses. Allowing for them to live a balanced existence and to be well cared for throughout their lives, including retirement.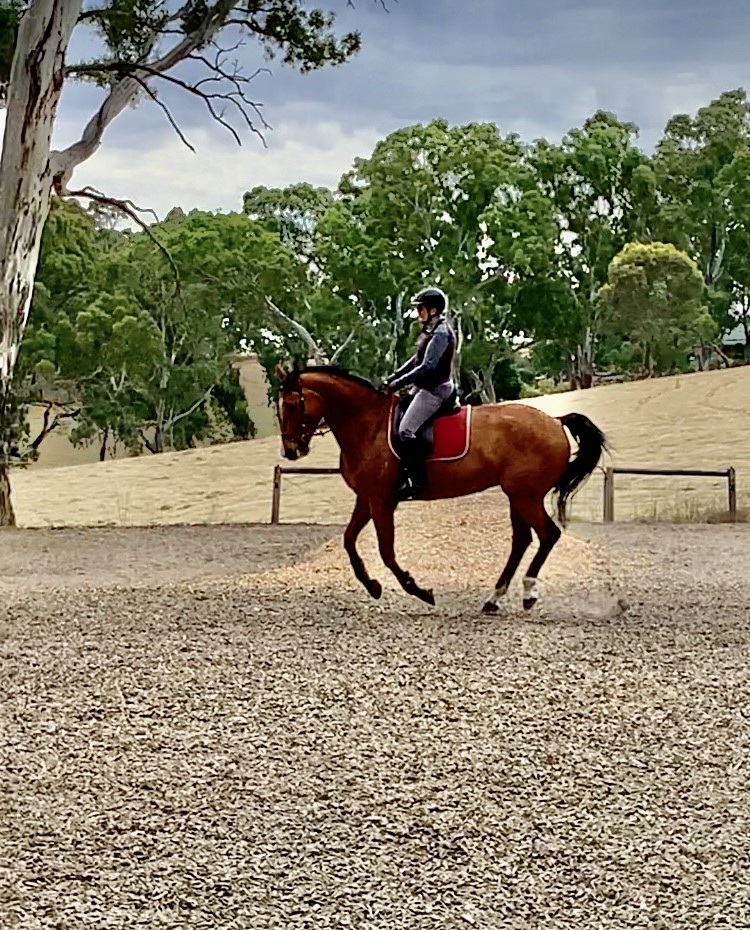 Robyn riding Dressage on one of her horses
Alongside coaching, occasionally I do some unofficial Dressage judging. I also support my daughter who is a co-coach of Wilameka Equestrian, Chairperson of the Vaulting SA Committee and in the process of getting her Equestrian Vaulting Coaches accreditation. 
I actively participate in overseas exchanges with groups and individuals, mainly European Vaulting enthusiasts. We have met some truly wonderful people, felt very welcome in their homes, shared our cultures & equestrian skills and made lasting friendships which we cherish. I plan to resume facilitating and hosting the Equestrian Vaulting Exchanges as soon as we are again able. 
Outside of horses, I'm a Property Manager with Rental Property Network in South Australia & I also relief bus drive to help support our local primary and secondary schools. 
Looking ahead, my ambitions long-term are to continue to regularly coach and lunge our vaulters in practice & in Equestrian Vaulting Competitions, sometimes four horses at a competition. This is a very busy day - about 25,000 steps within a six-hour period - exhausting, but rewarding when the horses go well for our vaulters. 
In the future, ideally, I would like to see the introduction of financial support & incentives for new and existing EA Coaches to utilise an equestrian Vaulting program and to engage with their local communities to enable more people to be involved in equestrianism and therefore grow the sport and EA membership. 
Particularly those who have a love of horses but don't necessarily have the opportunity or want to own their own horse, in saying that, we do still encourage individuals without horses to participate.
Finally, I'd especially like to encourage the over 30 age group to give a modified Vaulting program a go; you'll be surprised how much you will improve your seat and how much better you will ride!"
Robyn Oram-Thomson 
VIEW ALL THE PREVIOUS STORIES ...