Photo credit - Picture the moment
COACH OF THE MONTH Ruth White
COACH OF THE MONTH is a regular Education series on our website. It is a way of highlighting the EA coaches and educators who work with dedication and passion all over Australia.
Ruth White is an EA Level One Dressage Coach, based in Samford, QLD.
"My name is Ruth White. I live with my partner Paul Benham and we run Bratton Park Training Centre in the beautiful Samford Valley, near Brisbane. I am 59 years old and a full-time EA coach, having obtained my accreditation in the early 90s.
Life began in Nerang, Queensland and I was one of five children. The passion for horses missed a generation as my parents were not horsey, although they both grew up on dairy farms.
My mother's father was a horseman and a bullocky and I have a wonderful photo of him with his 1928 show team attending the annual Nerang Show. I wish he had been alive to share my journey in my horsey life.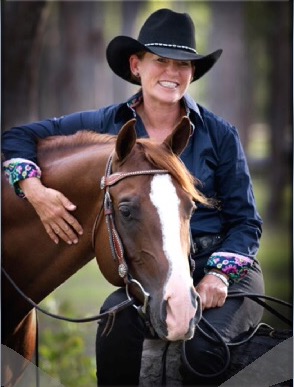 Ruth and her gorgeous Quarab stallion, RKN Excyte - photo by Thomsen Photography
The introduction I had to horses was through Clay & Shelley Cunningham. Clay was a local horseman, farrier, rodeo clown and general all-round cowboy. His daughter Joanne was my best friend at school - I practically lived at their place.
At the age of around 11-years-old, I lived and breathed horses, begging for rides on any horse that was around. I worked weekends at the local riding school 'Island Bend School of Riding', which was run by Ralma Cresswell.
My first pony was a black mare called Bonny. She belonged to a local family who was kind enough to let me take her to Pony Club.
I became a member of Nerang Pony Club and I still remember my first competition - I won a third-place ribbon and was over the moon! Around the age of 13, I was very fortunate to be given another horse to ride, Patchy, a 15hh black and white paint. Patchy was an amazing all-round horse and perfect pony club mount. We competed mainly in gymkhanas. 
Ruth & Omaru Glimmer competing in a Working Equitation competition
For my 15th birthday, my parents finally caved and purchased my first horse. He was a 4-year-old dapple grey Arab/Stock horse, green-broke, not ideal! I thought Trojan Warrior had the prettiest canter. Well, didn't he teach me a thing ...or three.
We had quite a journey over the years and competed in gymkhanas, eventing, jumping and the rest. Dressage was becoming more popular and we gradually found that it was our preferred discipline. Trojan was quite vocal about what he did and didn't like.
By this time my sister Helen had the bug and was riding as well - our poor parents. Mum and Dad bought a small acreage property for Helen and me to have our horses. Being close to the state forestry and a park, it was perfect for training.
I started having dressage lessons with Leone Galbraith who lived not far from us. With Leone's wonderful guidance, Trojan and I went from strength to strength. We represented Queensland in three consecutive years.
In my last year of Pony Club, the Dressage Nationals were in Wagga Wagga. Trojan and I won all three tests, we were Champion in our age group and our Queensland team won. It truly was amazing.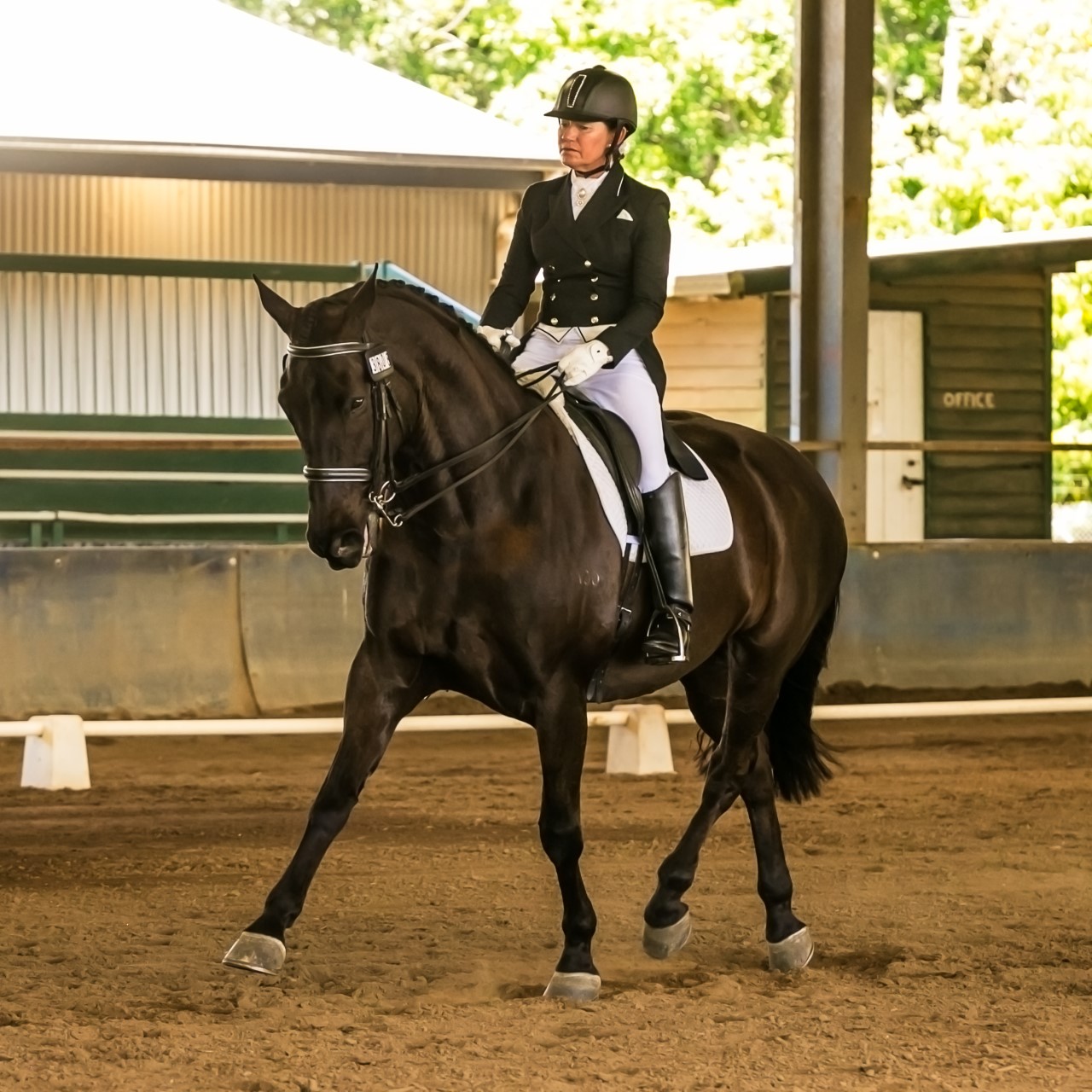 Ruth aboard the beautiful Lincoln Alexis - Photo by Picture the moment
That same year Trojan was awarded Equestrian Queensland Novice Horse of the Year and I was awarded our local Australia Day Award for my achievements in sport. What a great year!
My journey through the equestrian world included working on horse studs all over Queensland. One of the highlights in my early 20s was working with Erica Williams from Wealdbarns Arabian Stud in Preston, near Toowoomba. Erica and I, together with wonderful coaching from Erica's mum Olive Nunn, trained Quelle, a purebred Arabian mare, bred by Erica.
We embarked on an epic trip to Sydney to compete Quelle in the Australian Arabian Championships at the old Sydney Showgrounds. Quelle was entered in the massive Arabian Under Saddle Class.  Massive because, in those days, stallions, mares and geldings competed against each other.
The day of the class it was storming but the show still went ahead. Quelle and I did our workout amid rain, thunder and lightning. She went foot perfect, truly an amazing little mare. After a nail-biting wait, Quelle was announced the winner and we brought home to Queensland the coveted Australian Champion Arabian Under Saddle award. That was very cool.
After moving around with my work, I ended up in the beautiful Samford Valley near Brisbane. I had different jobs but always had a couple of horses in work & competing.
Around 1990, I bought an Anglo Arab grey gelding, Tallow Wood Domanda. Denny was a skinny little 18-month-old, but I trusted his breeding, his grandsire was the great Mildom. I started and trained Denny myself and we went on to compete and win at Arabian National Championships, under saddle and in halter.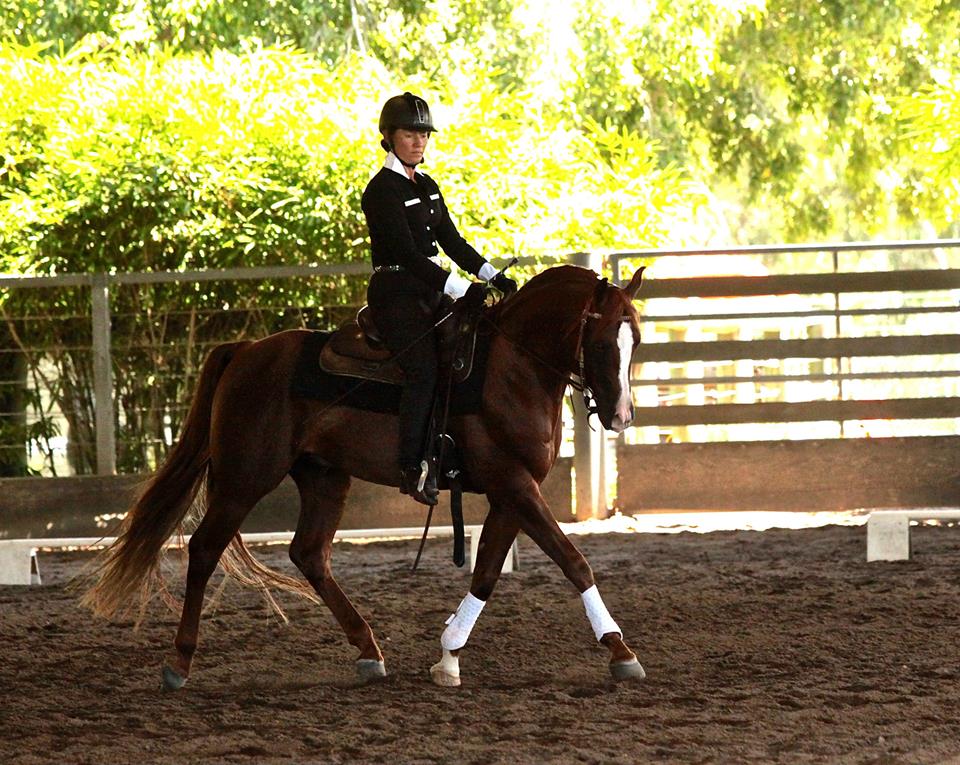 Ruth and RKN Excyte competing in Western Dressage
In Dressage, Denny went on to be top 10 in Australia at Medium/Advanced level, selected for a position on the EQ Dressage Squad and we also competed to Prix St George level. An exceptional achievement for a 15.2hh Arab! I was very honoured by receiving another Local Council Australia Day Sports Person of the Year Award because of his achievements.
Over the years, I have been very fortunate to work with some great warmbloods. My two Monopol geldings, Lanefield Enterprise (George) and Lanefield Drumrhossie (Drummer), both provided me with some very challenging times but they went on to be successful competition horses both training up to FEI.
Another special horse who came into our lives was Lincoln Alexis, owned by Dr Trevor and Marylyn Davies. Alexis is by Jaybee Alabaster (Imp). Once she was started, I took her over to begin her dressage career. We had some amazing competitions.
Unfortunately, Alexis was plagued by colic and ended up having colic surgery and had eight enteroliths removed. It was touch and go, but she pulled through with the help of our amazing vets at UQ Gatton and our local vets from Samford Vet Hospital, especially the late Brian Sheahan.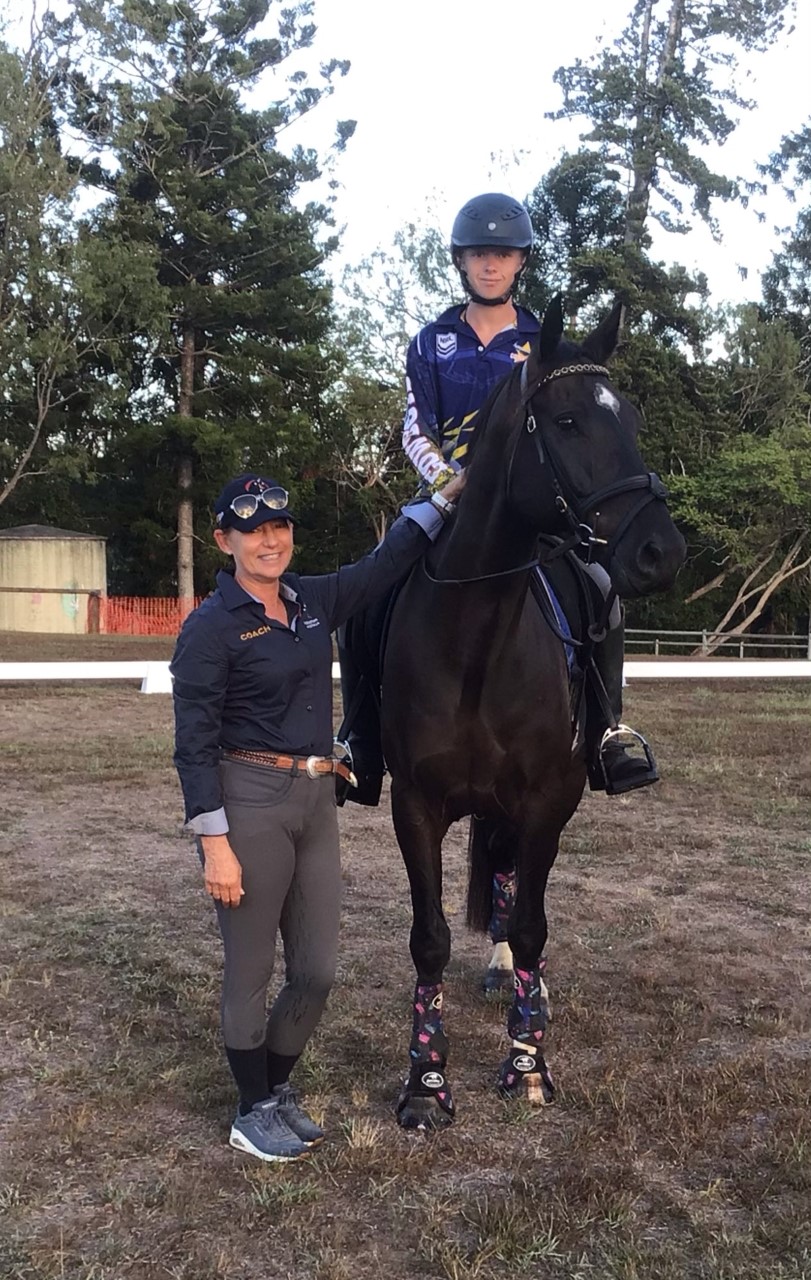 Ruth with Bailey McAuliffe & Chad at Tiaro Pony Club clinic
After a year off we started training again and ventured out at FEI Small Tour. It was suggested that she may not reach this level so I was very proud of her. I was always mindful of her limitations with the scarring from her colic surgery and retired her back to her home in 2019 with Marylyn and Trevor, where she is a wonderful schoolmaster for Marylyn to enjoy.
Another path in my life took me into the challenging world of Endurance. Friends of mine, Sue and Toby Crockett sent me an open Endurance mare for some retraining. Their words to me were "she's wrecking her riders". Wren, a 15hh purebred Arab mare was certainly a challenge.
After some chiropractic work and weeks of flatwork training, I asked if I could take her to an Endurance ride and that was the start of the Endurance bug. It led me to become an open Endurance rider within six months. I then asked what else can we do? Sue said the Tom Quilty was to be in Queensland in June 2013, so I said let's do it, what do I need to do?
Regrettably, Wren sustained an injury so I wasn't able to ride her. Fortunately, however, Sue had Alamo Minelli sitting in the paddock and as Minelli was a very seasoned open horse, it didn't take long to leg her up. After months of training and lead up rides, our qualifying 160km ride was run at Red Range in NSW 2012. To everyone's relief, we successfully completed. Fast forward to 2013 and after me having major hand surgery in February, we completed the prestigious Tom Quilty 100 mile ride. That was quite a ride!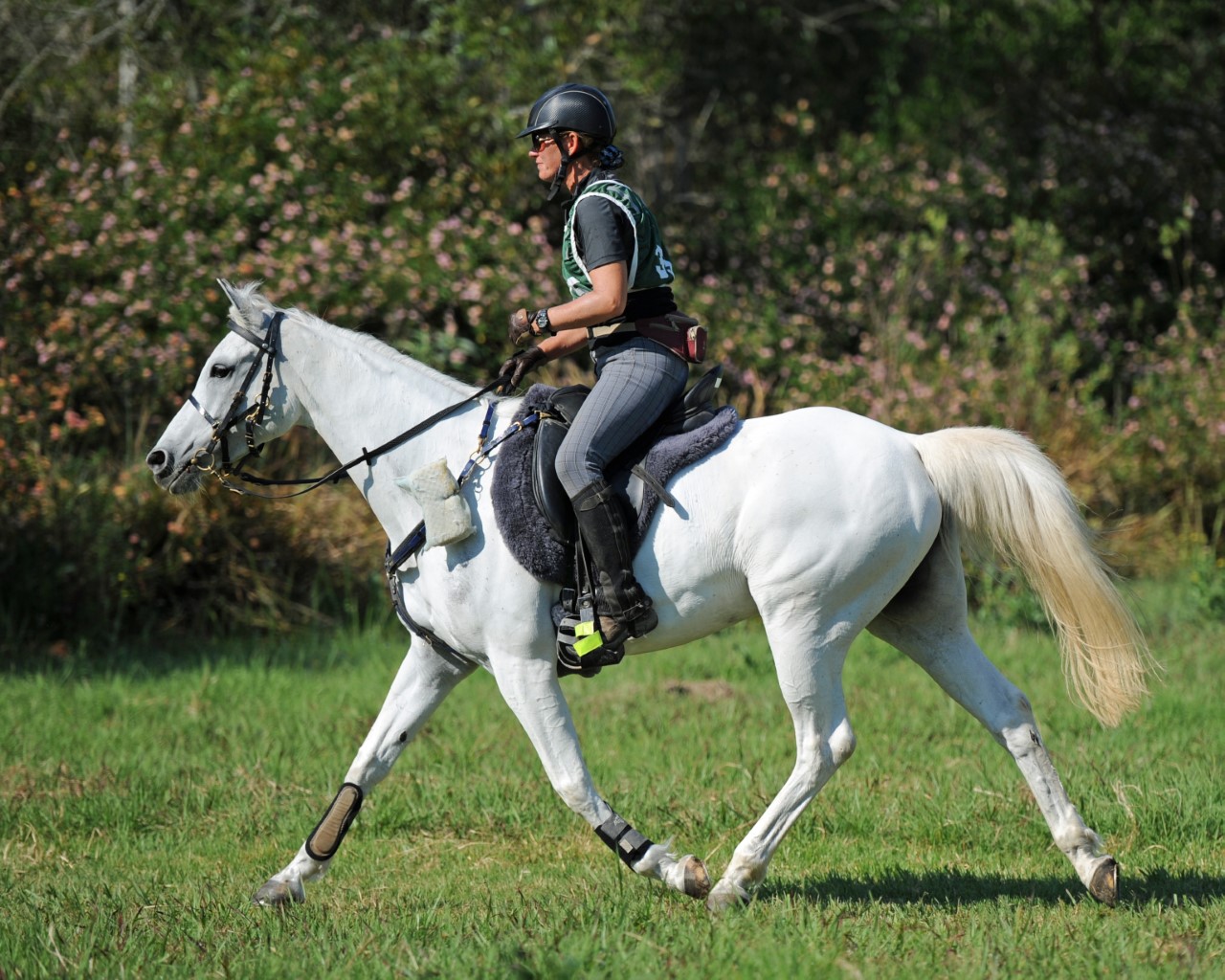 Ruth and 'Alamo Minelli' competing in an Endurance Ride - Photo by Sue Crockett
In 2019 the Quilty was again in Queensland and at the last minute, I was asked to ride Liz Terry's amazing horse Ausden Illusion because Liz was unwell. I hadn't ridden an Endurance ride for a long time but I just couldn't say no. I'm happy to say we successfully completed and I am now the proud owner of two Quilty buckles. 
I currently own three horses. Danzarla, a 9yo black warmblood mare by Danzante who I'll be competing in Dressage & Working Equitation; Westbury The Pulitzer (Joe) is a 14hh bay welsh cob and Joe will be out and about in the pony dressage ring; and Chad, a black gelding by Calgary GNZ. Chad will be competed by Bailey McAuliffe, a young rider from Tiaro in eventing and jumping. I'm so looking forward to seeing what they can do together.
Teaching for me is ever-evolving, learning every day from my students and our horses. Working on improving techniques for improving my instruction. Never losing sight that every person we coach is important and needs to be listened to and heard. For most riders, a lesson is a luxury and this must be always respected. I pride myself on conducting myself with a high standard of honesty, integrity, ethics, compassion and passion.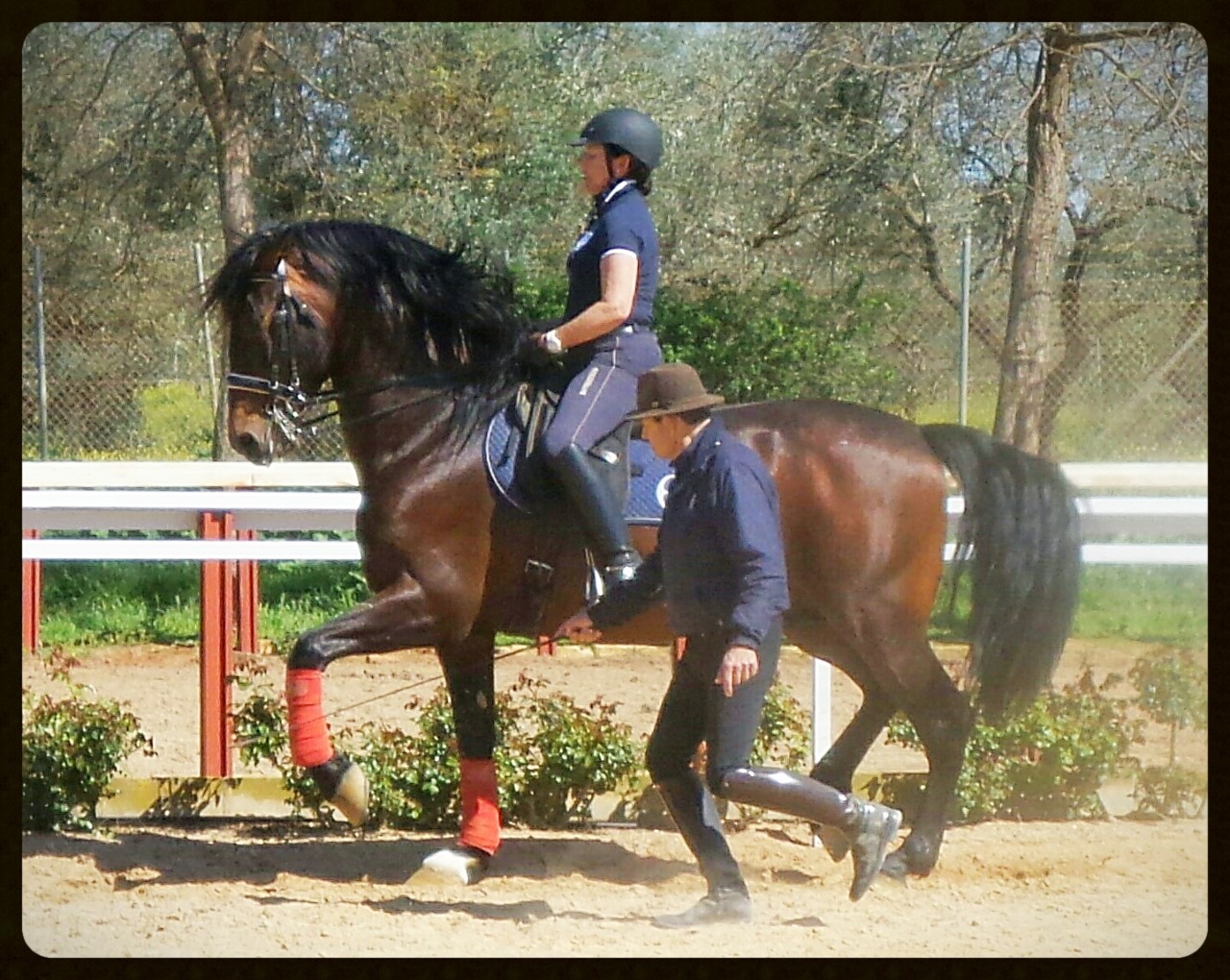 Ruth training in Spain with Rafael Soto aboard 'Galante'
To me, my experience in so many disciplines enables me to help many riders, no matter what discipline they choose, and to understand and respect their needs. This industry has given me so many opportunities in my life and has allowed me to meet amazing people all over the world and to ride so many different types and styles of horses. From riding and training in Portugal and Spain, to attending the 2014 WEG in Coen, to coaching all over Queensland.
Thank you Equestrian Australia for giving me this recognition – I am truly humbled."
Ruth White
VIEW ALL THE PREVIOUS STORIES ...