Main image by Emma Currie
COACH OF THE MONTH Victoria Welch
COACH OF THE MONTH is a regular Education series on our website. It is a way of highlighting the EA coaches and educators who work with dedication and passion all over Australia.
Victoria Welch is an EA Level 2 Dressage Coach, who lives in Upper Coomera, Queensland. 
"I started riding at the age of three.
We had 80 acres in the Adelaide Hills of South Australia, where my parents ran Beechwood Stud, which has now been established for over 30 years producing top quality horses for both the dressage and racing industries. 
From a very young age, I was always out and about with my ponies and the horses.
Victoria competing with Bellagio 11 
I always tried to help Mum with the horses, even dragging feed buckets the same size of me around, I was always one step behind like a shadow.
I have two brothers and as kids we all had ponies.
We spent many weekends riding in the back paddocks with our ponies, swimming in the dams, playing hide and seek on horseback or attending pony club, whatever it was, I loved being outside with the horses.
My poor Mum & Dad had to endure many pony club, eventing & dressage days out with the ponies, they were always encouraging me and showing me the way. For this, I am forever grateful.

As the years continued on, I became more interested in dressage and fell in love with the sport.
I hoped I would follow in my successful Mums footsteps (Libby Welch); I watched my mum compete and teach and admired her and what she was doing.

I competed a lot in the young rider ranks.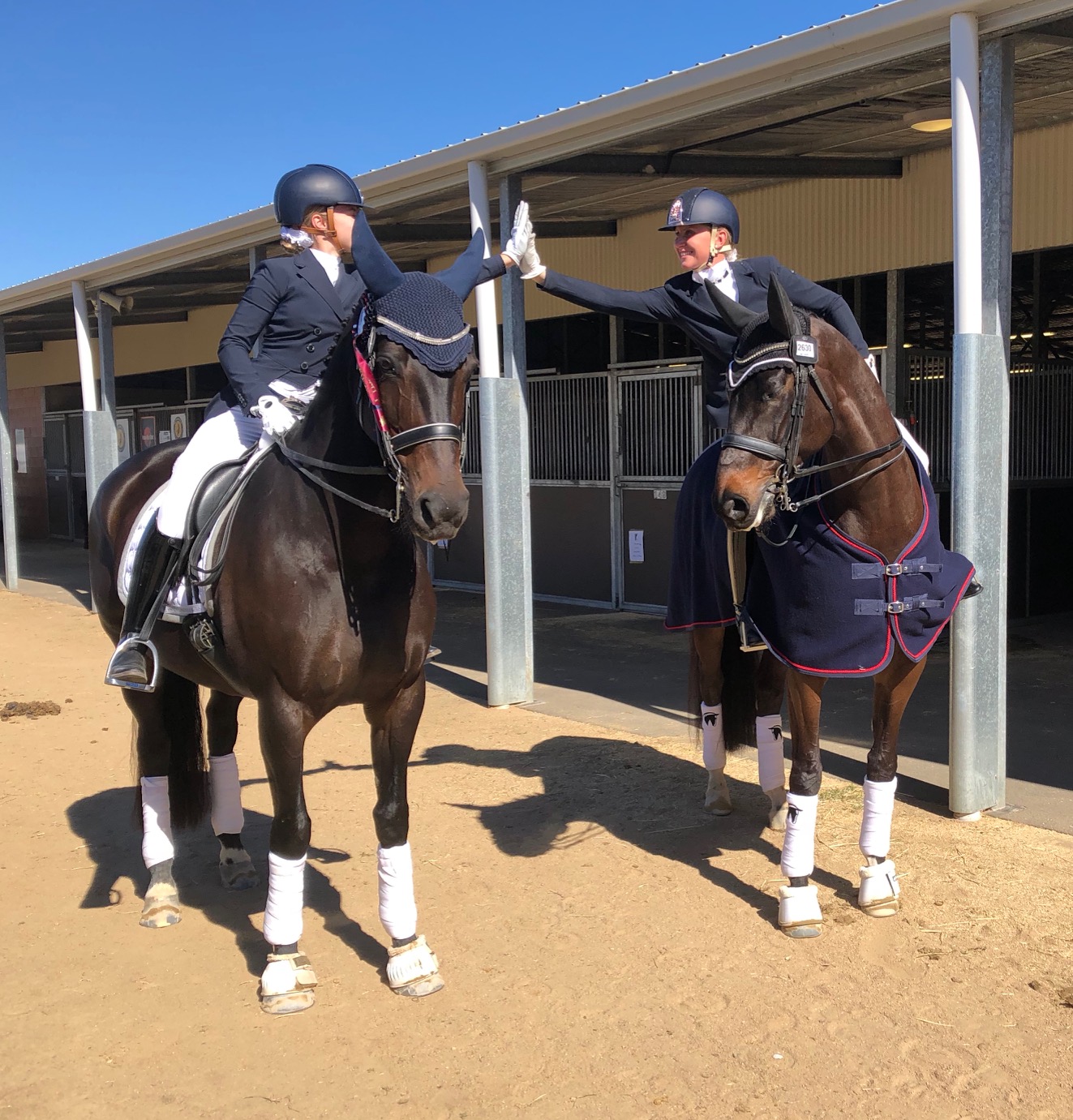 Victoria and her student Emma Moore after a great day at the Brisbane CDI
I was lucky to be selected as part of the Australian team at the 2009 Youth Olympics, where I won the Individual Dressage Gold medal and the Team Silver medal with Robbie Soster & Bella Robinson.
In 2010, I won an Australian Qualifier for World Young Rider Championships (CDI-Y) and I was lucky enough to represent Australia twice in the Trans Tasman Derby.

Currently, Libby (Mum) & myself, who are both EA Level 2 dressage specialists, run our boutique stable 'Beechwood Dressage horses' (BDH).
We specialise in dressage, providing informative coaching and professional training for our clients and their horses. 
Young or mature, we aim to develop the horses in a sound, relaxed and confident frame of mind to their highest ability.

I am 30 years old, married to Russell Mason. In November 2019 I had my first beautiful baby, George.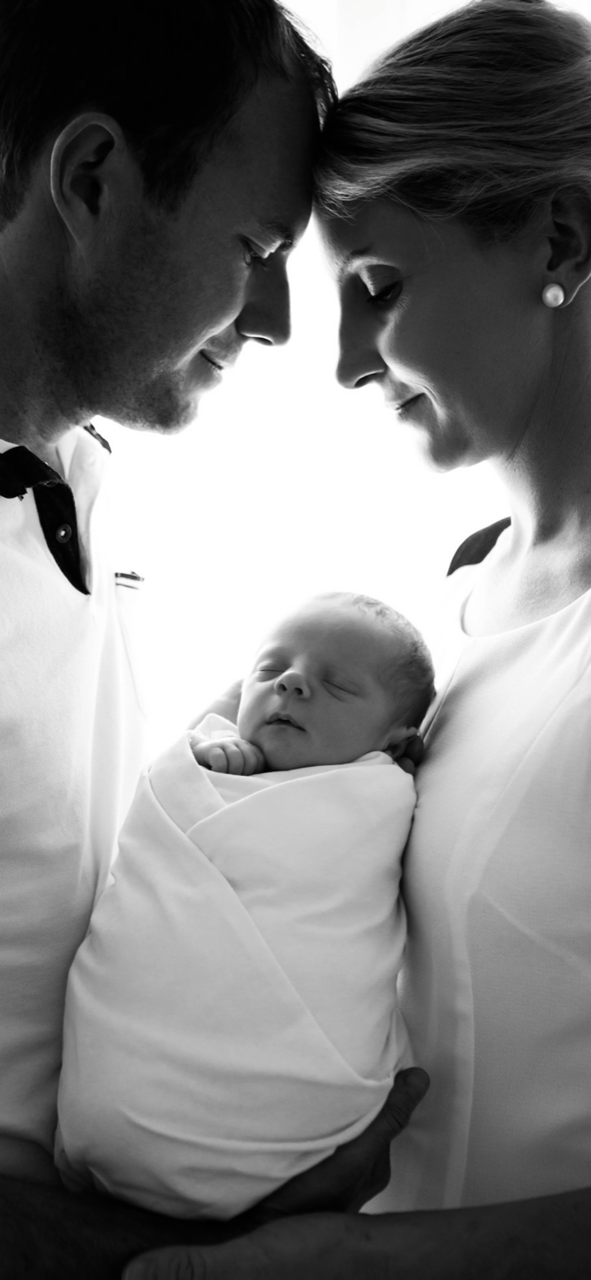 Victoria with husband, Russell, and baby George - Photography by Jemma Louise 
I am full time at BDH both riding and coaching.
I am so lucky to work alongside my mum, who is also a successful Grand Prix rider/coach and my rock.
We are very fortunate to work together; we bounce everything off one another and over many years we have developed a system that brings out the best in each of the horses, to produce them to FEI level.

I have been very lucky to have several Grand Prix horses which we have trained from young ages up to GP, including BJ Kaneto Casablanca, Brentanus, Glogau, Kalahari (owned by Jane Carcary) and now Bellagio 11 and others to FEI.
My most successful horse to date is Brentanus, a 17.3hh imported chestnut gelding by Brentano 11.
I fell in love with him as a 4-year-old at first look and together we went all the way through to Grand Prix.
Brentanus was the winner of all three CDI-W Grand Prix classes at the 2017 Brisbane CDI, qualified to represent Australia at the World Young Horse Championships as a 6-year-old, with many other championships to his name.

The BDH current team of horses consists of:
Bellagio 11 - just about to start the big tour
CP Chacha - Novice/Elementary level
Legacy of Loxley - Elementary/Medium level
Mayfield Frizzante - Advanced level
Regal Donna In Silk - Novice/Elementary level
HP Charlie Brown - Medium/ Advanced level
Brentanus - "The Boss" my wonderful Dancing partner & Grand Prix horse for many years, he is currently living a well-deserved life of luxury.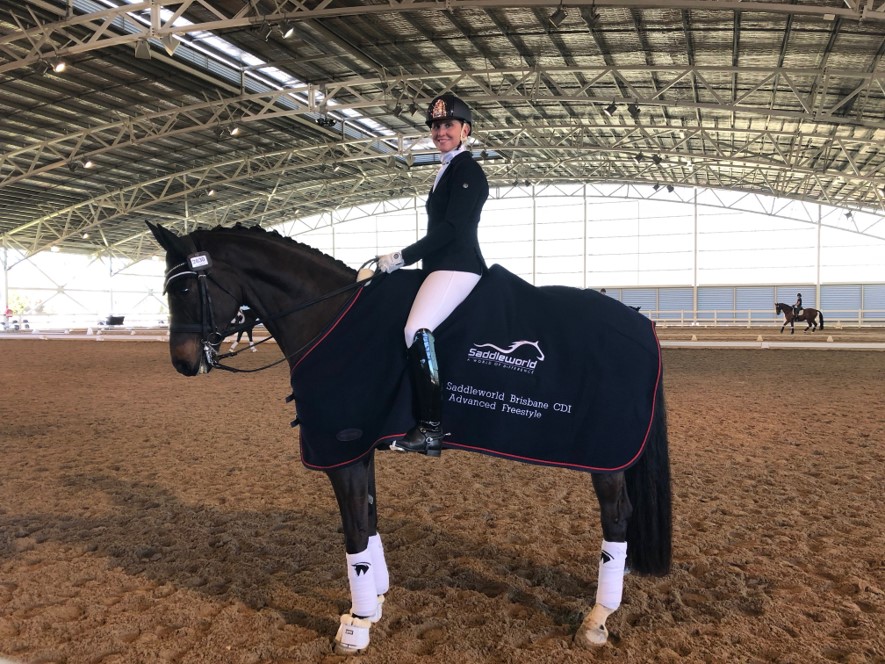 Victoria and Bellagio 11 Saddleworld Brisbane CDI Advanced Freestyle Champions
At Beechwood Dressage Horses we are very lucky to have a strong team - family, friends & staff, we have wonderful owners and clients that support us.
We haven't done many competitions over the last few months as it been summer, me having a baby and now the [Coronavirus] lockdown.
However, we did have a successful 2019.
Bellagio 11 won several championships at Medium Tour and took out the 2019 Queensland Medium Tour Horse of the year, Mayfield Frizzante was a finalist for 2019 Queensland Advanced Horse of the Year, Legacy of Loxley won the 2019 Novice Champion at the Far North Championships & I was named 2019 Equestrian Queensland Coach of the Year.
We are looking forward to 2020 and getting back out there!
We are very lucky to have some wonderful sponsors and supporters; without them, we couldn't do this. The Saddle Fitter, Prydes Easifeeds, Horseland Gold Coast, Interpath, Narelle Sealey & TC Farrier.

I am very lucky to be able to do what I love, as my career and its right on my doorstep each day, which is always easy.
I find coaching very rewarding as I get to share my knowledge and experience.
I love watching and helping horses and people develop, sharing in their journeys, hopes, dreams and helping to achieve goals.
Like all careers, there can be good and bad days, but it's still a very rewarding job. It's something that you can always learn and grow with.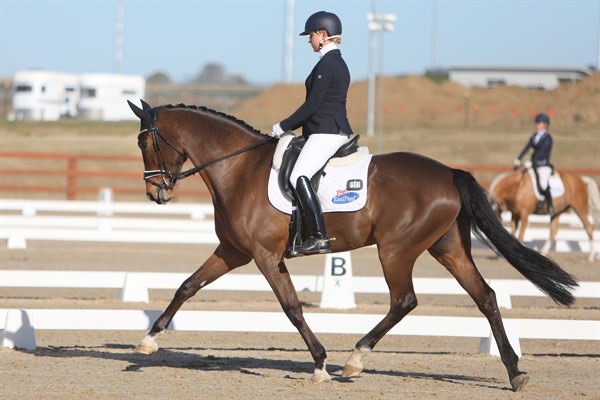 Victoria riding Legacy of Loxley at the NSW State Championships - Photography by Roger Fitzharding
In 2019, Libby and myself were a big part of the Gold Coast Equestrian club - Libby was the Vice President and we were also the Dressage & Clinic coordinator,  webmaster & general volunteers.

In the future, I will to continue to advanced my coaching, train horses and people to their highest ability and enjoy training our own horses.
I would love to one day represent Australia again at a World Cup or Olympics.

Keep safe and healthy everyone, see you all soon."
Victoria Welch
VIEW ALL THE PREVIOUS STORIES ...