Photos courtesy of Tayla Hadzi
Diary of an Endurance rider : the Journey to the World Championships
Tayla Hadzi was selected in June 2017 to represent Australia at the upcoming FEI World Endurance Championships for Juniors & Young Riders from 22 – 24 September 2017, in Valeggio sul Mincio, Italy with her mare Oso Edith. Here she shares with us her story ...
"I started Endurance seven years ago at the age of 14. My interest in Endurance began when I started riding at Splendacrest Endurance Stables near Toowoomba, Qld. From the beginning, I have always wanted to compete at the highest possible level that I can. I remember watching the World Youth Endurance Championships in Abu Dhabi in 2011 and knew that was where I wanted to be someday. I competed in my first FEI ride in 2011 at Red Range on Ausden Prince Mahal, aka Rabbit, who is owned by Jay Randle. This combination helped me continue and start qualifying for the World Youth Endurance Championships in Italy 2017. I did my first 3 * 160km ride at the end of 2015 on Rabbit and we completed it in 10hrs and 35mins and took out First youth and Best Conditioned as well as Best Managed horse in both the youth and open divisions. Having ended that year of Endurance on such a high I was ready to take on the next year to do bigger and better things.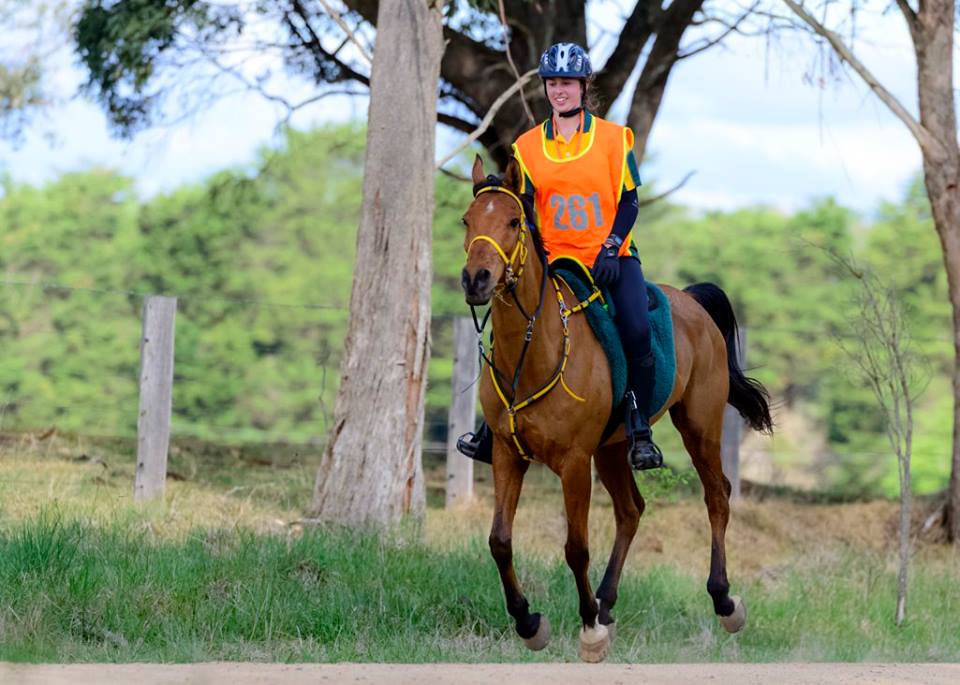 Tayla and Rabbit
I flew down to Melbourne at the beginning of 2016, meeting like-minded people who all had their sights set on competing or being part of an Australian Endurance team. This was a great introduction to all of people who were ready to help all of us on our journey.
In January 2016 I joined Oso Arabians in Albury, managers Amanda and Andrew Kettlewell had a big professional Stable that I was keen to be a part of. This was an exciting new step for me making Endurance my life.  Working at Oso has taken my riding to a new level, competing in different states and spending many hours in the saddle.
Oso Arabians was host for the Australian team camp and the first FEI ride of 2016. This was a very busy and exciting week, prepping horses for the FEI ride as well as working and participating in the camp. The camp was an awesome opportunity for everyone to get know each other as well as having many guest speakers share their knowledge with everyone. Meeting previous Australian team competitors, selectors and team vets. After a very informative week I was partnered with Oso Lorikeet for the 120km 2* and came away with a completion and 4th Youth.
In 2016 at the Oso stables there was a big focus on prepping two main horses for the 2016 World Endurance Championships in Slovakia. On the long list, we had two riders who were potentially riding the Oso Horses - Ben Hudson and Sasha Laws King. Oso Edith and I spent a lot of time together in training, as well as Oso Lee and Cap Braveheart. Once the selection of both riders and horses (Oso Edith and Cap Braveheart) were made, I had the honour of being part of the crew. I flew to and met the horses in Slovakia two weeks out from the event. I had the best time training them in another country and it was my first time overseas. The event came around very quickly and soon we had our roles. My responsibility was Oso Edith and I was in charge of her head. This meant that I grabbed her as soon as she crossed the line and I had to make sure she got from there to the vet ring safely. In a chaotic strapping area with hundreds of people and horses everywhere I was intimidated at first but I wasn't letting the team down and I took my role very seriously. This was a day that went so quickly and all of sudden I was there next to Edith and Sasha waiting for the result from our last trot up. We got the 'thumbs up' and this had to be one of the proudest moments of my life. Having had such a big role in this result was quite an awesome feeling.
It was later decided that Edith would stay in the UK and be trained by Nikki Malcolm and Nathan Sweeney from Stride Ahead. This still meant I would need to get a combination Qualifier ride with Edith, which meant a 120km 2* ride at 14km/hr or more.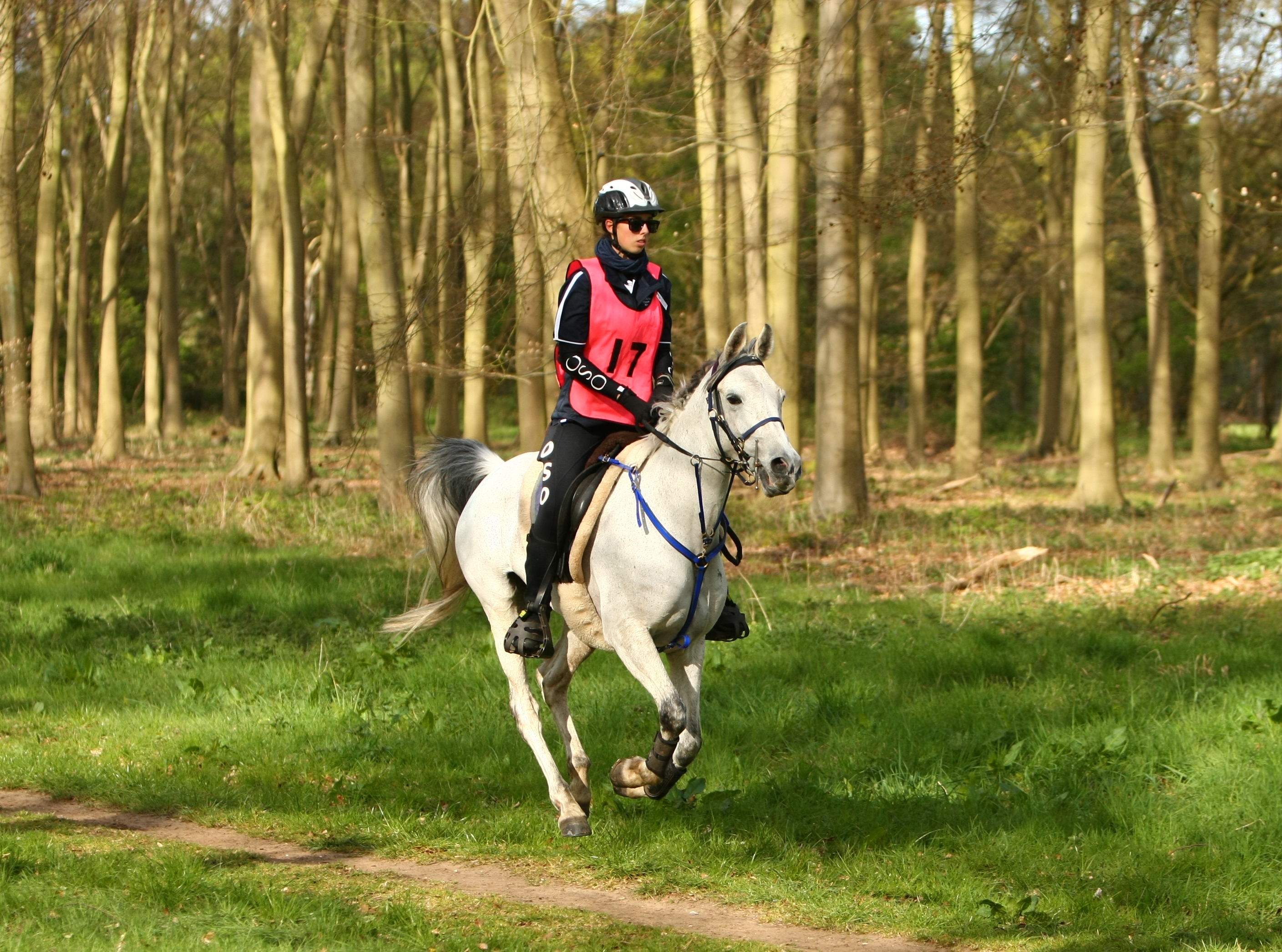 The next flights were booked and I was on my way to the UK with Amanda and her daughter Poppy for a quick but exciting 10-day trip. Amanda dropped me off at Stride ahead and I was to spend the next week with Edith and then meet Amanda at King Forest Endurance Ride. I had an awesome week mainly hanging out with the much missed Oso Edith. She was still the same Diva that she was in Australia. I got to ride on some awesome gallops, in the woods and in the indoor arena. Edith obviously was super fit and all we were doing was just a nice and easy week ticking her over to the event. It was a 5 or so hour trip to ride base, we had a very good drive not much traffic on the freeway. At the ride base, we didn't need to set up a camp like we do here in Australia, we made a day yard for Edith and then set up our strapping area. Edith was staying in the stables just a 5km ride away. It was quite a relaxed location, beautiful spacious strapping area and a pretty vet ring. After a lovely textbook pre-ride vetting, I headed off for a ride to find the stables. Nikki following on foot and Amanda meeting me at the other end. We were worried I would get lost…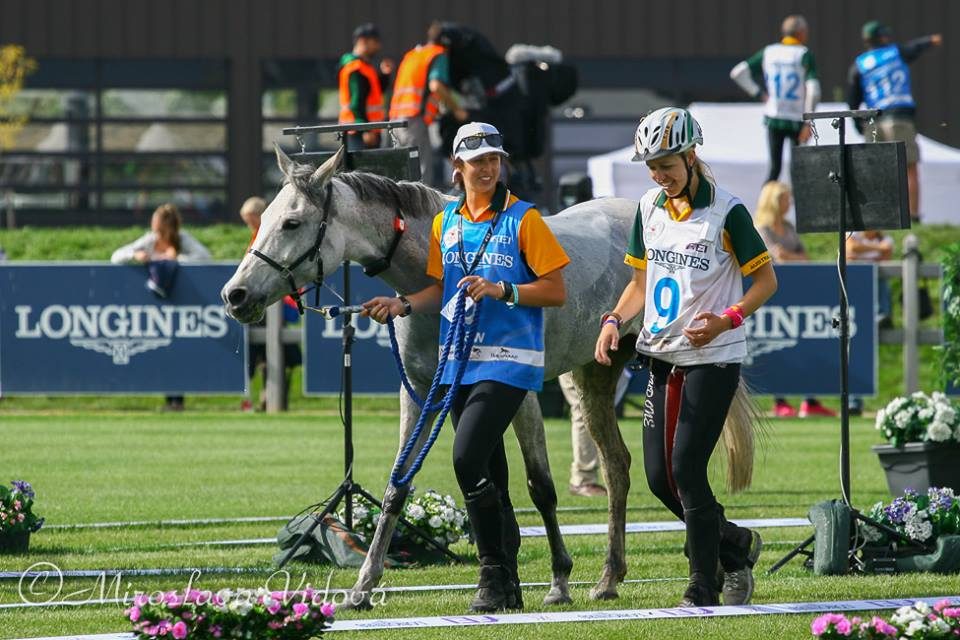 The ride started at 6 am which is a very reasonable time, when in Australia I was used to very early morning starts for rides. I rode from the stables to ride base to ensure Edith had a good warm up and then kept her warm while waiting for my ride to start. Being a youth, I started 15mins behind the open division, with 2 other youth riders. It was quite a relaxed marshall as there weren't many riders and everyone milled out slowly. When it came to starting, Edith knew exactly how many horses she needed to hunt down. Our start was not nearly as chilled as some, as she jumped along for the first 100m then we had to weave through some overgrown bushes. I had to keep reminding Edi that we were just to get her around the course but this made no difference. We eventually caught up to most of the open riders passing many of them. The track was absolutely beautiful, lovely long grassy tracks through forest. Best underfoot ride I had ever ridden. We sat with the two leading open riders, knowing there was no need for us to pass and Edith travelling at a good consistent pace. We came across the line directly behind the two open riders and passed our final vetting. We had a very nerve wracking wait for the verdict. There were lots of cheers when we left the vet ring and we had so much support from Amanda's friends. We had done it, I had travelled a long way and was now qualified on Edith for World Youth Championships!  Oso Edith and I completed the ride at 18km/hr and took out first youth, although in the UK they don't give out line honours I was happy to say I had the fastest ride time of the day.
Edith in prep for Italy has competed in two 80km 1* rides with Nikki and has absolutely smashed them. She is looking amazing and ready to blitz it at Italy. This is only the start of an amazing Journey."