Dramatic end to Jumping Qualifier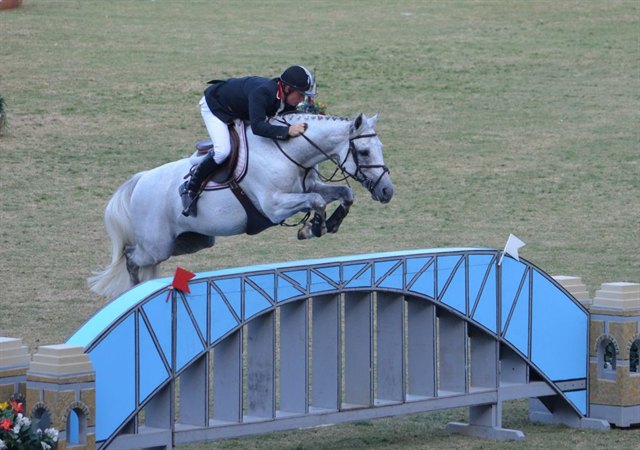 Jamie Kermond and Valhalla at the 2012 Sydney Royal CSI1*-W
The qualifying event for Sunday's Gold Tour Grand Prix at the Showcase of Showjumping in Richmond ended in dramatic style today when the final competitor, and one of the favourites to take out the event, Jamie Kermond fell from his mount YANDOO LAUGHTONS LEGACY.
The fall as a result of Kermond's horse refusing at fence 4 handed the win to the provisional leader Paul Athanasoff riding WIRRAGULLA NICKLAUS. It was a rather ironic result given that Athanasoff himself (reserve member of Australia's  2010 World Equestrian Games team) had fallen during last week's World Cup qualifying event at the Royal Easter Show.
At the prizegiving presentation today Athanasoff quipped,
"After last week people have been saying to me that I better have sticky tape to hold me on. I can tell you, I had Velcro as well!"
Kermond finished in second place on another horse VALHALLA who he had ridden earlier in the class.  When asked how he was after the fall, Kermond responded,
"I'm ok, its just my pride that's hurt.  I rode that quite badly and got what I deserved. It was a good wake up call, and I'm now more determined than ever to do well in tomorrow's final."
Third place went to Sharon Slater and ULIXES, who has enjoyed a purple patch of late, having been part of the Australia team that completed a white wash test series against the Kiwis in New Zealand last month, before returning to Australia to win the World Cup qualifier at the Royal Easter Show.
The focus now shifts to Sunday's $130,000 Gold Tour Final to be held at 3pm.
The event will be the first ever internationally ranked 3* showjumping event to be held in Australia. Staged at the Sydney Polo Club at Richmond NSW, jumping begins at 7.30am tomorrow and continues throughout the day. Admission is FREE and more details can be found at the facebook page Showcase of Showjumping.
4 April 2013
Showcase of Showjumping raises the bar with Australia's first ever CSI3*
As the host of Australia's very first FEI 3* jumping class, this weekend's Showcase of Showjumping will be an event for the history books.
For the first time, Australia's top horse and rider combinations will have a chance to experience a 3* jumping competition on home soil and the organisers of the annual Showcase of Showjumping event are hoping other events will follow in their footsteps.   
"We've got a number of shows earmarked and we've spoken to the people who run those shows and most of them are quite enthusiastic about it. We've even spoken to the Royal Agricultural Show and there's every chance that next year's Sydney Royal will be a 3* event," said organiser John Winning.
With a second 3* event scheduled in late April at the Sydney International Horse Trials, John hopes to see an influx of competition at this level in Australia.
"I'd ultimately like to see one show a month being held in Australia," he said.
As well as securing the necessary six figure prize purse, organisers of this weekend's Showcase of Showjumping have had to ensure that all other mandatory requirements for hosting an FEI 3* jumping event have been met.
"We've managed to secure a sponsor that will offer the required $170,000 in prize money, secured the services of an international course designer in Kevin Hansen and met the stabling and steward requirements for a 3* jumping event," said John.  
"It's been a lot easier than we anticipated and the feedback we've received has been very positive."
John hopes the introduction of 3* events to the domestic jumping calendar will see promising riders delay their departure to Europe and further develop their skills at home.
"There's an urge to send riders overseas to get experience and it's not that easy to get into shows there. You can get yourself to Europe but you don't always get a start in the best shows. The idea is to run shows here in Australia that are as good, or nearly as good as the European shows."
 "At some stage they'll leave our shores but it would be nice if our riders could get more experience before leaving," he said.
In addition to offering Australia's top talent with a higher level of competition, offering 3* events in Australia also presents an opportunity to attract competitors from the Asia-Pacific region, which provides local combinations with even greater competition experience.
"We could see some of the Japanese or American riders, maybe even some of the European riders who are having difficulty breaking into the European circuit coming over to compete."
This year's Showcase of Showjumping is offering free entry on both days so all equestrian enthusiasts are able to come along and be a part of this history making occasion.  
Location: Highfield, Sydney Polo Club, 100 Old Kurrajong Road, Richmond NSW