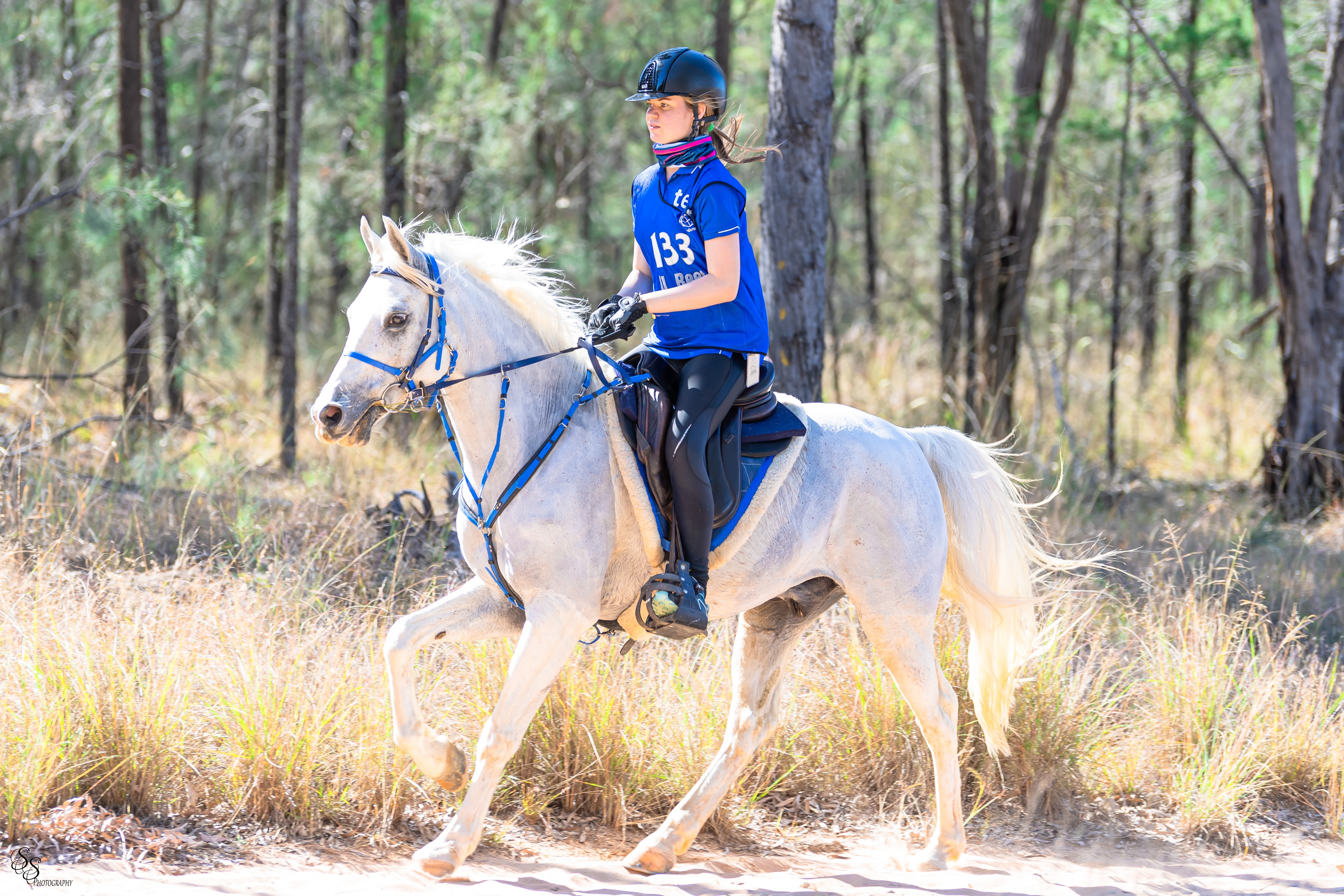 Eadie McWilliam to represent Australia at the FEI Endurance World Cup for Young Riders and Juniors
By Berni Saunders. Photos by Sarah Sullivan Photography.
Eadie Mc William has enjoyed some major successes during 2023 and now has three qualifications for the Endurance World Cup for Young Riders and Juniors in Castelsagrat (FRA) on the 2nd September 2023. 
Athough the 15 year old Queenslander spends much of her time studying or caring for horses and preparing to take part in upcoming endurance competitions, she  does try to keep life in balance by making time to step away from the pressures of study and horses, to hang out with friends, and she particularly loves a day at the beach.  
When asked about her riding career so far and the upcoming championships, Eadie told Equestrian Australia, "I have always been interested in horses and began riding at a local riding school when I was 4 years old where I did some jumping, gymkhana games and also helped with grooming and care of the ponies.  All too soon I outgrew the school ponies and progressed to Toft Endurance in Marburg, Queensland."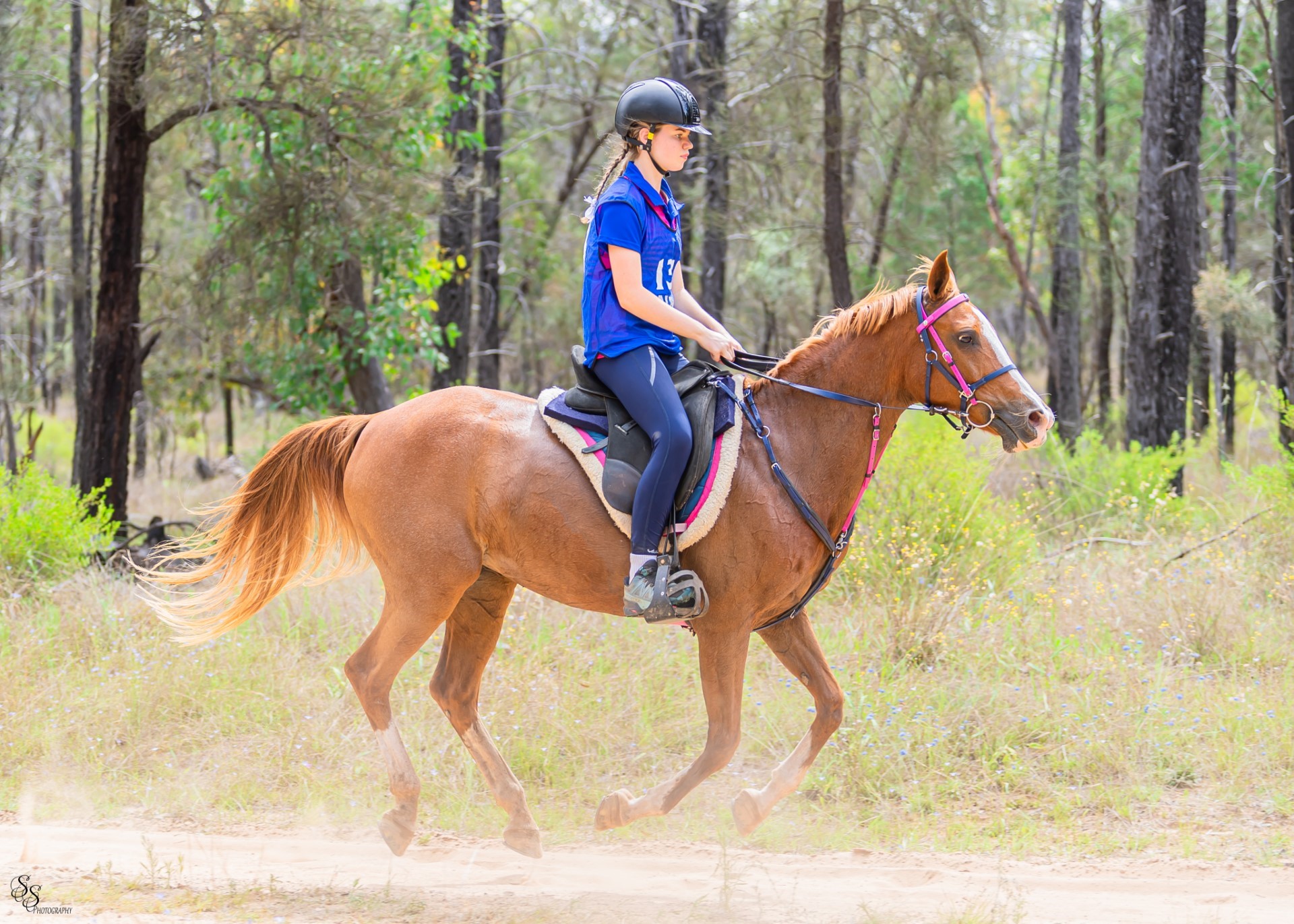 "My time with Toft Endurance started as lessons with Penny and I had my first endurance ride in 2018 and I thank Alexandra for her guidance and help.  Since these early days I have gained a wealth of knowledge and now understand the importance of a good relationship between horse and rider.  In our sport, the health, welfare and safety of our horses is the number one priority and close monitoring of the horse's wellbeing is key to achieving peak fitness and the soundness required to be successful in endurance."

"I attend St Margaret's Anglican Girls School in Brisbane and am thankful that they grant me time off for competitions and other horsey commitments. I have two spare periods each week and these times are set aside to enable me to catch up.  Good grades are important as I hope to become a veterinarian when I finish my studies.  Both of my parents and the Toft family have supported me in every way possible and I could not have made it this far without them."

"The Toft family (Peter, Penny and Alexandra) are inspiring mentors and have generously shared their knowledge and experience with horses and the sport of endurance.  Over the years I have gone from a keen kid to representing my country on the world stage."

"Throughout my endurance journey it has been really special to ride alongside Penny and Alexandra, two of the country's best, whilst having Peter on the ground as the team captain.  It does not get much better than that, and qualifying for the World Champs is the icing on the cake. I now hope to do all of my Australian connections proud."

"The Tofts have helped me to set goals and put the plans in place to make these happen. I was fortunate enough to complete the 120km 2** test event for the World Endurance Championship for Young Riders in May this year at Castelsagrat, France, where I rode Dream Dancer te (Chip Chase Sadaqa x Sharahd Sakura)."

"Some other highlights in 2023 were finishing my first 160km 3***, earning a buckle at the Tom Quilty Gold Cup and placing 3rd Junior, then taking part in the iconic Winton to Longreach 220km ride.  While I was overseas, I had the opportunity to ride in Barocca D'Alva, Portugal, all wonderful experiences that have prepared me for the Endurance World Cup."
"My favourite three mares on the farm are Beaudacious te, Limited Edition te and Samantha te. I have ridden Beaudacious te for most of my competitive kilometres, and we have had two podium finishes 160kms, 100 km 1* and 120km 2**. These results qualified us as a combination for the upcoming Championships in September. I have been riding Limited Edition te ever since she was a young breaker, and have taken her through all of her competitions, from introductory 20km rides, 1*'s and most recently the Tom Quilty 160km. With Beaudacious te and Limited Editon te, I have achieved many top 5 State and National rankings within the Australian Endurance Riders Association. I have many fond memories of the years with Samantha te, she is a special but feisty mare and the one who taught me to ride. Samantha is now retired and enjoying motherhood, she is expecting a foal early next year to Zerox te (Chip Chase Sadaqa x Aloha Zariba), and we anticipate something special from this mating."
"Part of our selection plan for the World Cup was to also qualify the 18-year-old mare Dream Dancer te (Chip Chase Sadaqa x Sharahd Sakura).  She is owned by Penny, Peter and Alexandra Toft and trained by Jean-Michel Grimal and Clémentine Chaud from Élevage d'Artagnan. I was fortunate enough to complete the 120km 2** test event for the FEI World Endurance Championship for Young Riders this year on the 2nd of May in Castelsagrat, France. Dream Dancer te was one of the three options for September, as I also qualified on two horses in Australia."

"After lots of team discussion, it was decided that I should take Larntainey Silver Treasure on the journey to the championships. Treasure travelled to Europe with his stable buddy and arrived at Jean-Michel and Clémentine's stables where he will be conditioned and acclimatised for the very hot European summer conditions in preparation for the race on the 2nd of September." 
"Back home in Australia, Treasure is trained and ridden by Penny Toft and I admire the partnership that she has established with him.  I am extremely grateful to have been given the opportunity to partner Treasure for two very solid performances that have qualified us for the FEI World Endurance Championships for Young Riders (a 120km 2** and a 160km 3***).  Team Toft are all really pleased with the horse's preparation and I am looking forward to embracing the challenges in France.  Treasure has a special personality and is a very big part of the Toft Endurance team."
"The Castelsagrat course covers a distance of 120km over four loops, on technical and challenging terrain in the South of France. With 96 competitors from 26 countries, it is a truly important event on the international endurance calendar.  I am one of the youngest riders in the race and will take part alongside the world's elite young endurance riders.  Peter Toft will be the Australian Chef d'Equipe, and I value having him there to help me." Eadie concluded.
Eadie McWilliam leaves for France on the 23rd August followed by Peter Toft a few days later.  I am sure that Australian equestrians from all disciplines will acknowledge Eadie's hard work and success, as qualifying for international competition is in itself reward for hard work, and we wish her a safe, happy and memorable ride at Castelsagrat.

Eadie has promised to keep notes and take some pictures so she can share her experiences with everyone back home.  She hopes that her adventures will inspire a new group of young riders to take up the fun and friendship that is a big part of endurance riding.