Equestrian Australia reveals 2013 national squad requirements for Eventing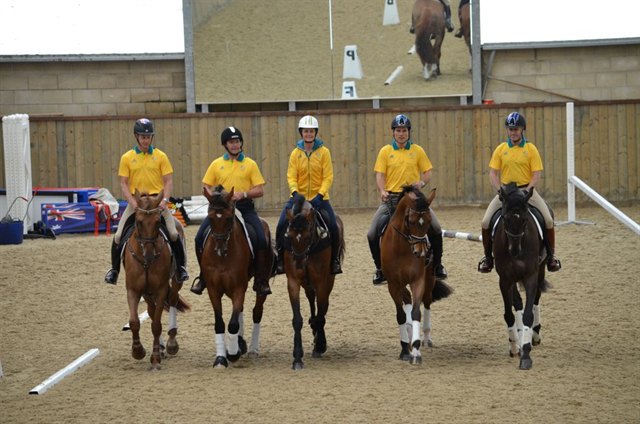 2012 Eventing Team at the London Olympic Games training camp
Equestrian Australia is pleased to unveil the interim national squad requirements for Eventing for 2013.
The long-term objectives for the program and what changes are required in order to achieve the outcomes will be revealed following the analysis of the last Olympic cycle which is still under way.
EA National Performance Director for Eventing, Prue Barrett, said ambitious goals have been set for the program. "We're aiming for a team medal at the 2014 World Equestrian Games, and two medals at the 2016 Olympic Games, including a gold medal.
"In order to achieve those goals, we needed to look at how riders were selected and prepared for the various major Championships.
"As such we have revised the national squads into the '2014 WEG squad' and '2016 Rio squad' – each has specific criteria and obvious goals within those squads. We believe this will give riders and their wider support teams a clearer focus on what they are working to, as indicated in the squad names," she said.
In addition to the revised squad names and criteria, the national program will now be better aligned with the State program, to ensure a complete pathway for riders, horses and owners. Working closely with EA, each State will develop its own program of which details will be released in coming months, but they will include squads such as Futures Squads, Development Squads and other areas that are designed to recognise promising combinations at the lower levels.
Below is a summary of the national squad requirements for Eventing for 2013 – For the full interim selection criteria –click here.
2014 WEG Squad
Minimum performance criteria (but does not mean automatic selection):
CCI4* 50 penalties or less
CCI3* 48 penalties of less
2016 Rio Squad
Minimum performance criteria (but does not mean automatic selection):
CCI2* 50 penalties or less
CCI3* 55 penalties or less
CCI4* 60 penalties or less
Age restriction of horse 6-13 years
Veterinary assessment compulsory before inclusion on a National Squad
So what has changed?
i. Clearly identified scores
EA recognises that in order to achieve the results/outcomes that are outlined, combinations need to be scoring certain penalty scores at the various levels of competition. While this is not the only criteria that will be used when selecting combinations for the squads, it gives a clear target for combinations to start working towards.
ii. Futures squads to be delivered at State level
By working closer with the State Branches and having programs aligned, EA believes that the States will be able to identify futures squads' combinations that will potentially feed through to the national program.
iii. No national talent ID program for eventing
Competition performance will become the primary method for identifying talented young horses and or riders. Performance at CCI** level has been included in the selection criteria of the 2016 Rio squad to assist in the identification of young talent.
Barrett says the revised squad structure will give Australia's eventing team the best possible chance of achieving its targets.
"The goals we have set are bold but are well within reach and are not uncharacteristic of expectations that have been set for previous Australian eventing teams," she said.