Eventing Team looking to get Australia back on the podium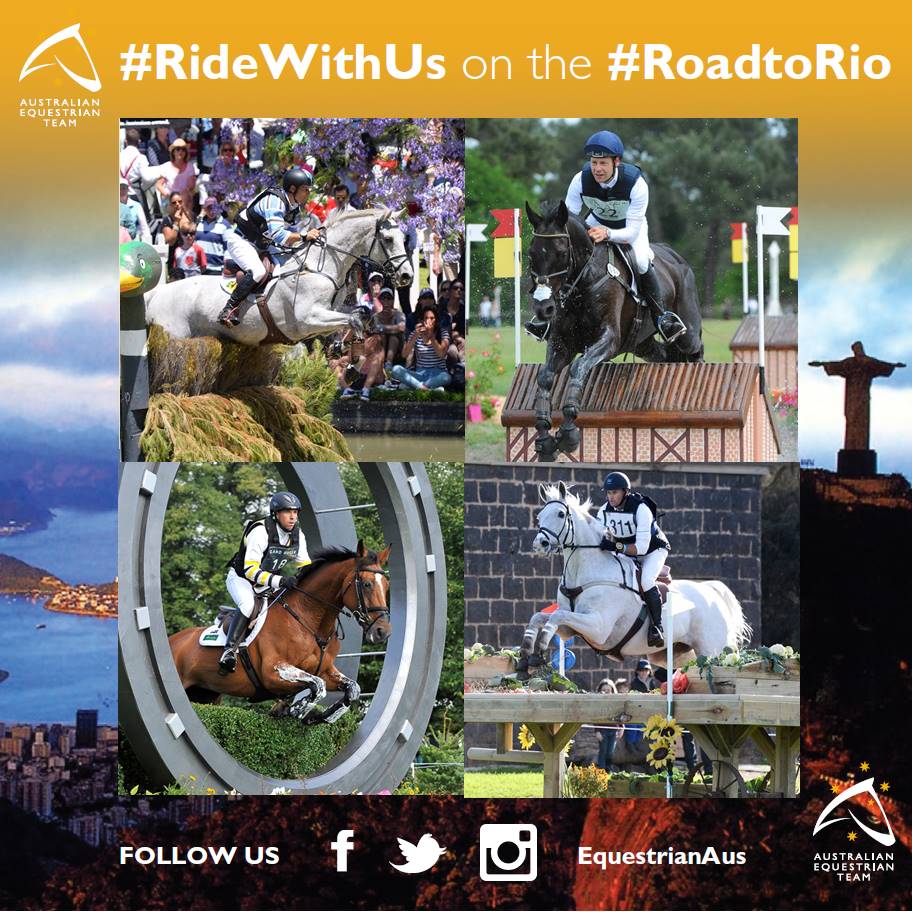 EQUESTRIAN: The four Eventing rider and horse combinations selected for the 2016 Australian Olympic Team – Chris Burton (Santano II), Sam Griffiths (Paulank Brockagh), Shane Rose (CP Qualified) and Stuart Tinney (Pluto Mio) - have already been on their own amazing journey to get to Rio, and are poised to add to Australia's remarkable history in this event.
Rose, a Team silver medallist from Beijing 2008, knows what it takes to succeed and about Olympic heartbreak. This is his fourth Olympic Team but injuries to horses twice meant 2008 was the only time he was able to compete.
"Setbacks happen, you need to learn from the mistakes. I feel like I've done that," said Rose, who qualified for the 1996 and 2012 Games only to withdraw due to horse injuries.  
"I want to win a gold medal. I want to be the best in the world. You don't need a lot of extra motivation. Every stone has been turned, but horses are unique creatures, it's not as though I'm just preparing myself, things happen, we just have to deal with them as best as we can."
All four riders have their individual goals and it is those results that will determine the Team placing.
"We need to be at our best from start to finish. It's the Olympic Games, everyone is primed for it," Rose said. "The best riders from around the world will be there so we need to be on top form to win that medal.
"There's an experienced feel about the team. With that experience there's also that cutting edge that we need to be able to get that gold medal. The ability to get mid-low 30s dressage scores and if three of us can finish in the mid-low 30s then we're a massive chance for that gold medal."
Australian Eventing riders have won 11 medals between Rome 1960 and Beijing 2008. Six of those have been gold.
Tinney was part of the last Team gold at Sydney 2000 and if the current format was in place he would have also won Individual gold. His horse Pluto Mio was also the best performing Australian horse at the 2014 FEI World Equestrian Games.
"He's a top class international horse and it will be good to get out there on the stage and compete against the rest of the world with him," Tinney said. "He's a very nice horse and as good as I've had that's for sure."  
Griffiths was selected as reserve for 2012 and got his first Olympic opportunity with the withdrawal of Rose and Megan Jones. He fell from his horse in the cross country and with Rio selection gets another chance.
"I am obviously thrilled to be able to represent Australia at the Olympics for a second Games," Griffiths said. "It is a huge honour - it is, without doubt, the pinnacle of our sport and I am over the moon to be in the team. 
"This differs somewhat to London. At London I was called into the team at the VERY last minute - on the first day of the competition to be precise! So London was all a bit 'last minute' for me as it was a mad dash to get everything packed and get into central London in time for the trot up! 
"I felt that I was a bit unlucky at London, but this time I will be very well prepared and determined to go well. I have represented Australia at three Championships so far - Kentucky, London, Normandy and now Rio so I am one of the more experienced team members and have learnt a huge amount from each Championship experience.
"I have very high expectations. I will need to perform at my best, as the competition is always fierce at a Championship like this. But I do know that, having won Badminton 2014 with my Rio horse, Paulank Brockagh, I am sitting on one of the best horses in the world and I know that we can be very competitive and really 'cut it' with the best. I think the team itself is incredibly competitive and I can't wait to get out there and get the job done."  
Griffiths believes 2016 is the year when Australia gets back on the Eventing team podium. 
"That's our aim! We have a very strong team, with a lot of depth and a proud history of doing well at an Olympics. Each team member has proven themselves at Championship level and we are all on exciting horses that could give any nation a decent run for their money. As a group we will feel very disappointed if we don't get on the podium." 
Burton is ranked no.2 on the individual rider world rankings and ready for his second Olympic Team after placing 16th in the Individual for London 2012 when the Team was sixth.
"It is a very special thing to be selected to represent your country at the Olympic Games," Burton said.
"A huge amount goes into preparing and qualifying a horse for selection so it is a nice reward to have all the hard work pay off. London was my first Olympics so that was special but I can't say there is any less excitement this time around. 
"Of course, like anyone, the aim is to be on the podium at the end of the competition. My horse will be one of the least experienced horses there but we wouldn't be taking him if we didn't think he was up to it.
"Santano is actually bred for dressage but he has somehow defied all breeding logic and turned into a fabulous eventing horse. He is one of the fastest horses across the ground that I have ridden and has amazing stamina for a horse with so little blood in his breeding. He is a very special horse who wakes you every morning and is excited to be an event horse."
The Australians are prepared for the conditions at Deodoro Olympic Park.
"We have been well briefed about the conditions at Rio, and are familiar with the style of courses that Pierre Michelet designs," Burton explained.
"Like my teammates, I have ridden around a great deal of Pierre's courses and they give you a good feel. We know it will be technical, but we also know we will be ready for it." 
Rio 2016 – Australian Eventing Reserves Announcement 
Equestrian Australia (EA) can confirm the unranked reserve combinations that will attend the pre-Games staging camp in the UK. They are (in alphabetical order):
Samantha Birch & Hunter Valley II
Chris Burton & Nobilis 18
Sonja Johnson & Parkiarrup Illicit Liaison
William Levett & Alexander NJ
William Levett and Improvise
Shane Rose & Virgil
Paul Tapner & Prince Mayo
Stuart Tinney & Carlchen
On or before the 26 July 2016, the Eventing Selection Panel will identify one of the listed reserves to travel to Rio de Janeiro as the travelling reserve combination.
Some athletes have been listed with reserve horses. For the avoidance of doubt, if an athlete's first nominated horse becomes unavailable, their second horse will be considered amongst the group of reserve combinations. They may however, not necessarily become a direct substitution. This decision will be at the discretion of the selectors.