Exhibition Eventing finalists named for Be the Influence Equestrian Grand Final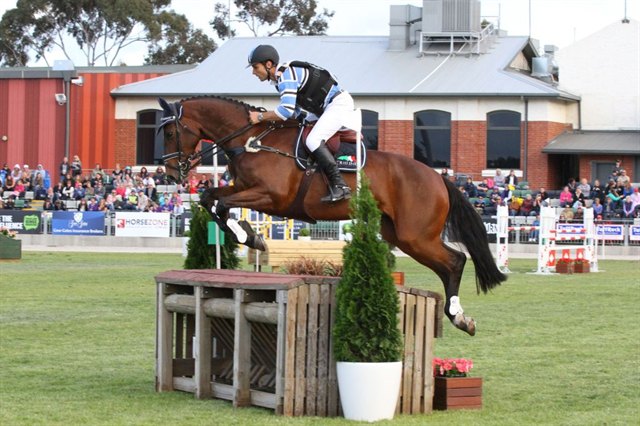 Shane Rose and Virgil winners of the Be the Influence Equestrian Grand Final in Exhibition Eventing 
Photograph:Michelle Terlato (EQ Life)
With just a week to go to the 2013 Be the Influence Equestrian Grand Final gets underway Equestrian Australia can reveal the finalists for this year's Exhibition Eventing showdown.
All eyes will be on Olympian Shane Rose to see if he can muster a performance which will deliver him a third successive title. Rose has never lost at Exhibition Eventing so the weight of expectation he'll carry into the final will be heavy, but the Olympic silver medallist is no stranger to big competition and he'll be the overwhelming favourite leading into the Final.
Rose will find himself up against his Beijing Olympics team mate Megan Jones, the 2010 Badminton Champion Paul Tapner as well as automatic qualifiers Anthony Thomas, Robert Palm, Crystal Conning, Jade Findlay and Elizabeth Lowery.
An injury to the winner of the Royal Melbourne Show qualifier, Amanda Ross, has forced the Sydney Olympian out of the starting line-up.
For the first time the Be the Influence Equestrian Grand Final will be staged under the lights of the Dome Arena providing spectators and riders with a unique competition experience.
And although the final doesn't follow the traditional eventing format, it's still an event that Rose looks forward to each year.
"It's not eventing as we know it but it certainly has some amazing aspects, the competiveness, the galloping and jumping is all there.
"It's got enough of the elements of eventing, so people who otherwise wouldn't get to see our sport can get a glimpse of it and hopefully seek out the other major competitions.
"It's a bit like test cricket and 20/20 format - they're not really the same game but they involve the same elements and it's a way that we can bring our sport to a public audience," he said.
2013 Be the Influence Equestrian Grand Final – Exhibition Eventing Finalists
| | |
| --- | --- |
| Tim Boland | Paul Tapner |
| Anthony Thomas | Emma Mason |
| Elizabeth Lowery | Rachael Lee |
| Crystal Conning | Jade Findlay |
| Megan Jones | Shane Rose |
| Soigne Jackson | Katie Henderson |
| Cassie Webb | Sam Lyle |
The Be the Influence Equestrian Grand Final will take place on Friday 8 November commencing with the dressage phase at 9:30am and concluding with the combined jumping phase at 4:30pm.