FEI World Cup Driving 2013/2014 Final preview: Best drivers on board for brilliant Bordeaux finale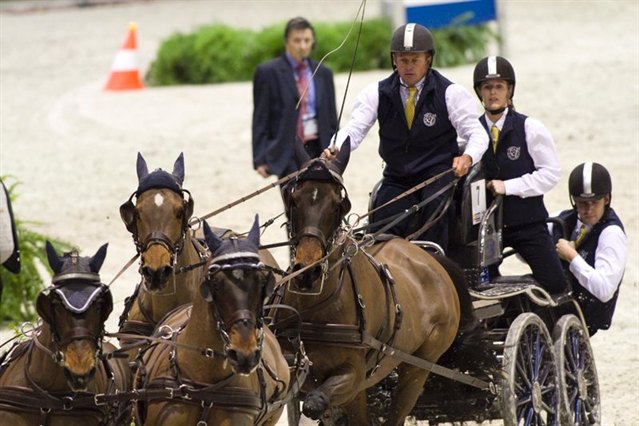 The renowned French event Le Jumping International de Bordeaux will host what promises to be a breathtaking FEI World Cup Driving Final for the third time in a row.
Six four-in-hand drivers from four nations earned their tickets at nine qualifiers held from October 2013 to January 2014. Given that each contestant has won at least one event, the odds are wide open for the French thriller as all the participants have equal chances to conquer the much coveted FEI World Cup™ Driving champion 2014 title.
Boyd Exell (AUS)
Four-time FEI World Cup™ Driving champion Boyd Exell won the newly added qualifier in Verona (ITA) as well as the series Swiss leg held in Geneva and finished second in Hannover (GER). After his trump Bill died last summer, Exell has tried several new horses and new combinations to be able to match the high level he had set in past years.
IJsbrand Chardon (NED)
IJsbrand Chardon is the standings leader at the end of the series 13th season thanks to his victories in Budapest (HUN) and London Olympia (GBR) and his second place in Geneva (SUI) and Leipzig (GER). Chardon, who won the FEI World Cup™ Driving in 2005 alongside Germany's Michael Freund and a second time in 2006, has been competing with his special indoor team of Lipizzaner horses since 2009 and has improved every season. Chardon tried a new Lipizzaner horse in his team on several occasions in a bid to increase his team's speed. He is likely however to take his most experienced horses to Bordeaux to minimise risks.
Daniel Schneiders (GER)
Newcomer Daniel Schneiders made a great impression during his first FEI World Cup™ Driving season. Although he was not in the Top 10 at the end of the qualifying outdoor period, he managed to get in at the last minute after his compatriot Christoph Sandmann and Chester Weber (USA) decided not to compete in the FEI World Cup™ Driving season 2013/2014. Schneiders won on home ground in Stuttgart ahead of his experienced fellow countryman Georg von Stein and Boyd Exell. The victory was followed by two weaker performances in Budapest and London, the latter resulting from the use of a new horse. He made up for these disappointments at the last FEI World Cup™ Driving competition of the season in Leipzig and beat hot favourites IJsbrand Chardon and Koos de Ronde thus booking a last-minute ticket to the Final.
Koos de Ronde (NED)
Title defender Koos de Ronde had a season of ups and downs. After his victory in the series opening event in Hannover, De Ronde made changes to his four-in-hand due to small injuries suffered by several of his experienced indoor horses. He finished second at London Olympia using a new horse in a new position for the first time. His best four-in-hand came back together at Mechelen (BEL) where he competed with a wildcard and finished second. His third place in Leipzig brought him to the Final at Bordeaux.
Theo Timmerman (NED)
Reigning Dutch and European champion Theo Timmerman finished second with a wildcard in Verona and matched this result in Budapest, where he received the much-needed World Cup points. After average performances in Geneva and London, Timmerman deservedly won the last competition for 2013 in Mechelen, securing his place in the Final.
Tomas Eriksson (SWE)
The Swedish driver managed to qualify for the series 13th season after he found a new sponsor halfway through the outdoor season. This unexpected opportunity allowing him to buy new horses which was followed by significantly improved results. For the indoor season, he borrowed two horses from his teammate Axel Olin, who acted as his navigator at some of the competitions. Eriksson won his first FEI World Cup™ Driving competition on home soil in Stockholm and finished third in Geneva and Mechelen. With the points he received for the fourth place in Leipzig, he secured his starting place in Bordeaux.
Protest and FEI Tribunal decision
German driver Georg von Stein lodged a protest with the FEI Tribunal in connection with the results of the FEI World Cup™ Driving qualifier held in Stockholm from 29 November to 1 December 2013, where he had placed second. The FEI argued that the protest was inadmissible as in the first place, it should have been lodged with the Ground Jury of the event, and secondly, it had not been lodged within the deadline foreseen under the FEI General Regulations. The FEI Tribunal decided to reject Georg von Stein's protest. The FEI Tribunal decision means that Von Stein remains in seventh place in the series end-of-season rankings and is therefore not eligible for the Final in Bordeaux. The complete FEI Tribunal decision is available here.
Wildcard
The wildcard for the FEI World Cup™ Driving Final 2014 was allocated to French driver Thibault Coudry as had been the case in previous years. In 2010 Coudry impressed by winning the World Cup competition; he came in fourth the following year and finished in sixth place in 2013.
The Jack Pemberton trophy
Honorary FEI Bureau member Jack Pemberton (CAN) has generously donated the trophy, which is awarded to the winner of the FEI World Cup™ Driving Final. The first Jack Pemberton trophy was presented to Australia's Boyd Exell after the 2012 Final. Jack Pemberton, who chaired the FEI Driving Committee form 1995 to 2003, has been involved with the FEI since 1968 and has made a huge impact on equestrian sport. He has been part of over 20 equine associations in his life. He was made a life member of the British Horse Society and the Canadian Combined Driving Association. In 2007 Jack Pemberton was the inaugural recipient of the Equine Canada Lifetime Achievement Award.
Scoring
According to the scoring system introduced for the FEI World Cup™ Driving Final in 2012, 50% of the score differential between each driver and the leading driver from the first competition on Saturday evening converted into seconds will be carried forward by that driver into the competition on Sunday. Scores from the first round on Sunday will be carried forward by the qualified drivers into the drive off.
Timetable and live broadcast on FEI TV
The first FEI World Cup™ Driving competition in Bordeaux takes place on Saturday 8 February at 23.20 CET (local time in France). The FEI World Cup™ Driving Final will begin on Sunday 9 February at 17.00 CET and will be broadcast live on the FEI online official video platform FEI TV.
The complete results and finalised standings of the FEI World Cup™ Driving 2013/2014 season are published on the FEI website here.