Four Australians in the fight for Luhmuhlen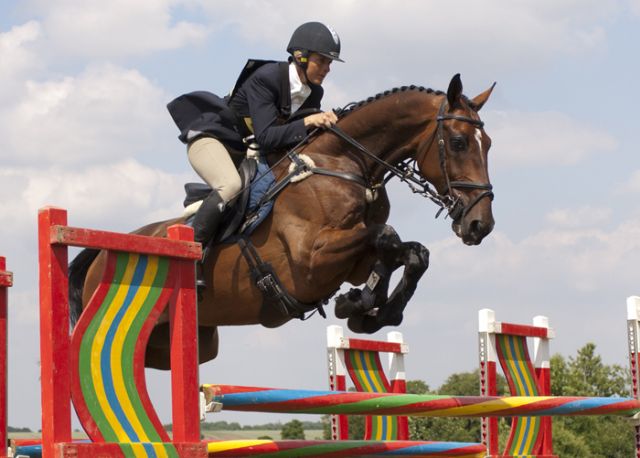 Lucinda Fredericks and Flying Finish
Action will soon get underway in the Luhmuhlen CCI4* and there are four Australians among the list of entries.
The event has attracted a top class field of riders who are vying for one of six of the world's CCI4* titles as well as crucial points in the HSBC FEI Classics Series.
Australia will be represented by Olympians Andrew Hoy (Rutherglen) and Lucinda Fredericks (Flying Finish) as well as Emma Dougall (Kelecyn Ice Age) and Kevin McNab (Clifton Pinot).
An Australian has never won the Luhmuhlen CCI4* but Lucinda Fredericks came close in 2012 when she and Flying Finish placed second.
The two-time Olympian stepped out for Australia at last month's Houghton Hall CICO3* and since then has been working hard on fitness.
"Houghton Hall was a big step forward for me personally as it's been my one and only competitive run since my fall 3 months ago. I was very happy with how it went and somewhat relieved as I thoroughly enjoyed being faced with some decent cross country fences.
"Since then I have worked hard on both Christi's (Flying Finish's) fitness and my own. I have prepared us both as best as I can in a short space of time by going out locally to do show jumping, dressage and XC schooling," Fredericks said.
Being one of only six CCI4* events, Luhmuhlen provides riders with premium facilities and conditions.
"The surfaces for dressage and show jumping are perfect like the Olympics and the hacking through the woods is lovely too.
"It's always a tough track requiring power jumping and 4 really testing water jumps." Frederciks said.
Andrew Hoy (Cheeky Calimbo) and Murray Lamperd (Under the Clocks) will also contest the CIC3* before they head to Aachen CICO3* to meet up with the rest of the Australian squad for this event.
Luhmuhlen is the penultimate leg of the HSBC FEI Classics series. You can follow all the Cross Country and Jumping action from Luhmuhlen live athttp://www.feitv.org at the following times:
15 June 2012 - Cross Country live from 8:20pm AEST
17 June 2012 - Jumping live from 9:45pm AEST
For full results visit the Luhmuhlen website http://www.luhmuhlen.de