Historic win for Heath Ryan at Sydney CDI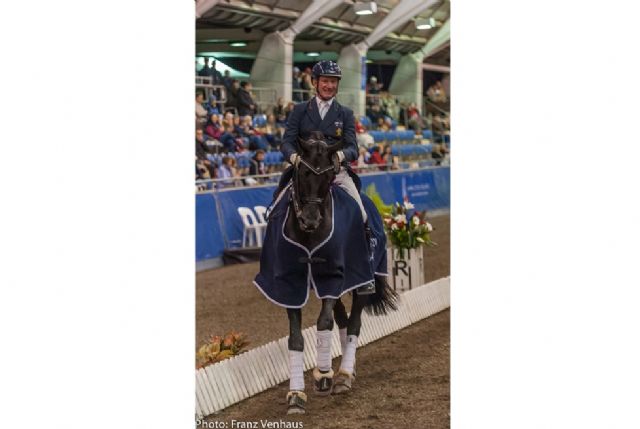 The curtain has closed on the Sydney CDI for another year but not before an action packed evening of competition concluded with the crowning of Heath Ryan and Regardez Moi as champions of the Grand Prix Freestyle.
It was an historic triumph for Ryan who in winning the title takes the Sydney CDI Grand Prix Freestyle crown for the sixth occasion (previous wins were in 2012, 2008, 2007, 2003, 2000) which is more than any other rider. It is also 18 year old Regardez Moi's fourth victory in the Grand Prix Freestyle at this event (previous wins were in 2012, 2008, 2003).
An ecstatic Ryan, who was awarded a score of 73.78%, was thrilled with his old companion who is not showing any signs of slowing down.
"He's been the most amazing horse. I was involved with breeding him so I've had him since he was conceived and he's 18 now.
"I don't know if I'll ever have a horse as magnificent as this ever again in my life, the odds are I won't.
"If I was sensible we'd retire while he's doing so well but we're not going to because he just loves it and I love riding him.
"We started off together as a bit of an embarrassment to everyone but we've grown and it's been a wonderful journey. I do suspect that in years to come we'll be an embarrassment as we go over the hill, because we are going to continue to come back," Ryan said.
Crowd pleaser Brett Parbery was a welcomed addition to this evening's line-up, returning to the Grand Prix Freestyle at this event for the first time since 2011. Parbery put competitors on notice early on when his 11 year old Hanoverian gelding DP Weltmiser was awarded a score of 69.43% in its first outing at this level. The score secure them 3rd place overall.
Winner of Friday's Grand Prix, Caroline Wagner and Tango V, were marginally better with a score of 69.43% which saw them slot into second place.
The addition of a show jumping accumulator to the final night of competition gave spectators further reason to cheer and a joker fence (which wiped four penalties of a combination's score if cleared) and strong field, including Olympians Vicki Roycroft and Chris Chugg, were well received by the enthusiastic crowd.
"We don't normally get to compete in front of a crowd as big as this, it's been a great competition," said winner of the class Colleen Brook (ASB Quindoctro).
Earlier in the day the Futures squad combination of Lisa Martin and First Famous were decisive winners of the IRT Intermediate Freestyle finishing more than seven percentage points ahead of second positioned Sally Evans and A Spider Bite. The pairing impressed spectators with their performance and were rewarded accordingly with a score of 76.125%. Third in this class went to Rebecca Woff and Jazzari.
Having finished as runner-up in yesterday's Mulawa Performance Grand Prix under 25 class, Young Rider Megan Byrant got the win she had been chasing in the Under 25 Freestyle. Bryant and Northern Xanthus III were awarded a score of 67.185%, ahead of Victoria Welch and Bretanus who scored 65.875%. Robbie Soster and Robali Razzamatazz fell into third place with a score of 65.550%.
In taking first place in the Zilco Intermediate I Freestyle, Brett Parbery's Good as Gold also won the small tour champion title. Parbery and his 14 year old warmblood gelding were clear winners in this class with all five judges placing the pair first. Collectively the combination scored 72.475% which was ahead of second placed combination Victoria Welch and Glogau who scored 70.375%. Third place went to Sheridyn Ashwood and Fererro Chocolate Box (69.250%).
"This has been a tough group to compete against and the camaraderie is fantastic. Thank-you to everyone who has come along to support us tonight," Parbery said.  
The Gow Gates FEI Young Rider CDI-Y was won by Courtney Barbera on Half Mood Delicato (69.825%) followed by Victoria Stuckey (67.600%) and Morgan Duell and Florinzz (67.050%).
Full results from the 2014 Sydney CDI is available at the event websitehttp://www.sydneycdi.com                                                                                  
3 May 2014
Heath Ryan takes top honours on day two of the Sydney CDI
He may be in the sunset of his career but Heath Ryan's 18 year old stallion Regardez Moi continues to impress, today winning the Bates Saddles Grand Prix Special at the Sydney CDI.
Ryan and his mount were the first combination to go in today's Special and their score of 68.41% proved unbeatable. Yesterday's Grand Prix winner, Carolyn Wagner and Tango V placed second with a score of 66.65% while Jayden Brown and Furst Friedrich improved upon their 13th place in the Grand Prix to finish in third. The battle for second and third place was close with Furst Friederich scoring 66.20%.
Winner of the Special Ryan says his mount's age hadn't affected his ability in the arena.
"Regardez Moi is in the evening of his career and he's been a mighty horse for me. He's had over 40 Grand Prix wins, he's won the Grand Final at Equitana three years running and has represented Australia internationally, but he's 18 so it's all coming to a close.
"He's still a great horse though so if I can get the timing right he can give everyone a serious run for his money. 
"He was first out today which is a bugger of a spot to win a competition from, but he posted a blinder and he hung on and we won so it's wonderful," he said.
 Ryan also competed with Regardez Moi's son, 9 year old Utopian Cardinal, who placed fifth with a score of 65.16% and is emerging as a horse for the future.     
"I made a couple of mistakes on Utopian Cardinal today, which was crazy because I had the door just open - he could have slipped up (in the placings) and done really well as well," he said. 
With 32 combinations, the IRT Advanced Tournament for horses boasted a big field and there was a clear standout at the end of the day with Rodney Martin (NSW) and SS Sonata Hit winning both the 5.2 and 5.3 classes.
 "I'm thrilled with SS Sonata Hit he is getting better and better all the time, he is just the best horse I have ever ridden," Martin said.
The top two placings in the Mulawa Performance Grand Prix under 25 class were filled by National Youth Development Squad riders.
Victoria Welch (QLD) and Brentanus were first with a score of 63.093%. and Megan Bryant (NSW) on Northern Xanthus III followed in second place by a margin of just 0.04%.
Having also won the Wagners under 25 Intermediate II yesterday, Welch is having a fairy-tale end to her final Sydney CDI competition in the under 25 class. "This is Brentanus' first season at Grand Prix level and I'm really happy with my test today. He was so willing and focused," said Welch.
Runner-up Bryant has finished in second place in the Grand Prix of this event every year since its inception in 2012 and although she still has two more years in this age class to crack a first place, she is hoping for a good result in Saturday's Freestyle.
"I'm pretty excited, Freestyle is really fun and Northern Xanthus really likes doing it, the movements are really suited to him so hopefully I can do well," said Bryant.
Victoria Stuckey (VIC) and Mayfield Be Brave were the winners of the Agnes Banks Equine Clinic FEI Young Rider Individual test.
"I was a bit worried about the test, because it's in the indoor and I have never done a good test in this arena, but I guess it paid off today.
"All the young riders are doing such a good job, the scores were really close today and it's really nice to have tough competition. There are some great horses and riders out there and there is a real team atmosphere, there is at least two riders from Victoria, New South Wales and Queensland in the field," commented Stuckey.
Stuckey will be returning to Sydney on Wednesday night to attend the Equestrian Australia Sport Achievement Awards Night. "I was really surprised to be nominated for the Young Athlete of the Year award and I am honoured to be in contention of an award at that level," she said.
The Intermediate I CDI was won by Janina Kletke and the nine year old warmblood stallion Bluefields Floreno with judges awarding the pair a combined score of 69.158%. Brett Parbery (NSW) and the Carolyn Lieutenant owned Good as Gold were in second after their test received a score of 68.632%. Young Rider Victoria Welch continued her good form at this event placing 4th in the class with the 11 year old Hanoverian mare Glogau, while Judy Dierks (NSW) and Diamond Star were third.
The addition of an accumulator jumping class to Saturday evening's main event will add further excitement to tomorrow night's Freestyle competition. For full results, ticket information and more please visit the website www.sydneycdi.com
1st May 2014
Caroline Wagner and Tango V win Sydney CDI Grand Prix
Caroline Wagner has ridden an accurate test to claim the Sydney CDI3* Grand Prix on a glorious day at the Sydney International Equestrian Centre which brought fierce competition in all grades.
In taking first position in the Grand Prix Wagner and her Jazz gelding Tango V showed fluent trot work, passage and piaffe.
"I'm very excited and I still can't quite believe it. I'm very proud of Tango, he coped really well indoors today.
"I actually came out of the arena disappointed thinking I could have done certain bits better, but there were some definite improvements," commented Wagner.
Tango's final score was 67.82% with FEI 5* Judge Mary Seefried, the judge at B awarding him 70.60%.  
Veteran New South Wales rider Heath Ryan claimed second and third places with the enduring stallion Regardez Moi and Utopian Cardinal.  This is a rare quinella as Utopian Cardinal is actually a son of Regardez Moi. 
Victorian rider Fiona Selby (formerly Fiona McNaught), produced a very polished test with her recently imported mare Tacita for a creditable 66.54% and a close fourth.  This was only Tacita's second CDI in Australia. 
Another promising result came from national youth development squad member Kate Farrell from Galston (NSW). In her first CDI Grand Prix, the first year University student rode a confident and polished test with the 12 year old Hanoverian gelding Luxor 118, for an overall score of 65.32% and sixth place.
In other results London Paralympian Hannah Dodd (NSW) was among the field in the Young Dressage Horse Championship in the four year old P, ony division where she finished third with Garden Vale Stylish Poe. Dodd is also competing in the IRT Advanced competition with her elite squad horse Grand Sam and will return for the second round of the Young Horse Championships for Ponies tomorrow.
"I like the challenge of able bodied competitions and this is my first CDI competing on a horse that I own and have trained myself which is super exciting.
"I thought my horse did a super job in the indoor arena today although he wasn't particularly keen on some of the pot plants," she said.
Sunshine and a glorious clear blue sky greeted both spectators and competitors on the opening day of competition at the 2014 Sydney CDI3* at the Sydney International Equestrian Centre.
Other winners on day one include Judy Dierks and Diamond Star (Prix St Georges CDI), Brett Parbery and PPH Zeppelin (Prix St Georges CDN), Alison Gill and Bamborough Epic (Prix St Georges CDN – Pony), Victoria Stuckey and Mayfield be Brave (Young Rider FEI Team Test – CDI- Y), Tor Ven den Berge and Lauries As (FEI Intermediate A), Linda Foster and Mauritius (Grand Prix CDN) and Victoria Welch and Brentanus (Under 25 ye, , ars FEI Intermediate II). 
With entries to this year's event an improvement on the previous year spectators have plenty of action to choose from.  Competition at the Sydney CDI will continue on Friday. For more information on the event please visit the websitehttp://www.sydneycdi.com
30th April 2014
Wagner aiming for magical 70% scores at Sydney CDI
Australia's dressage stars are ready for three days of action at the Sydney International Equestrian Centre for the Sydney CDI and among them is Caroline Wagner and Tango V.
The Sydney CDI will be Wagner's fourth year competing in Grand Prix at the premier dressage event. Since Wagner and Tango V's Grand Prix debut in 2011 their scores have consistently improved and this year it is no different.
"My aim is to keep going and aiming for a personal best in all three of my classes, and just keep aiming to getting better and better scores, especially in the Grand Prix and to improve my overall performance."
"It all feels like its heading in the right direction. Every time I ride him it feels like he is going better and better, so I keep trying to keep focused and ride him as well as I can and keep aiming for better scores," she said.
In February this year Wagner achieved a new personal best of 72.725% in the Grand Prix Freestyle at the Dressage With Altitude competition in Orange, this score also took her to the top of the Be The Influence Equestrian Grand Final Leader Board for dressage.  Wagner attributes her successful start to 2014 to consistency. "Consistency is crucial. Just working hard on a daily basis and consistently trying to make sure you are improving as well is important."
Caroline traded her show hacks for dressage horses in pursuit of a new challenge after a very successful show riding career.
"I think dressage in general is always a challenge with all the technical difficulties that are involved make it such a great challenge. I don't think you ever stop learning when it comes to Dressage,"
"When you get it right, you get that great feeling and that's when you go onto the next moment," she said.
Caroline and her youngster WS Dinnermann will be competing in the Prix St Georges on Thursday, then Tango V will take the stage in the Grand Prix on Thursday, Grand Prix Special on Friday and the Grand Prix Freestyle will conclude the competition on Saturday night.
The Sydney CDI will be held at the Sydney International Equestrian Centre from 1-3 May. For more information on the event please visit the website http://www.sydneycdi.com
17th April 2014
Sydney CDI - It is all about the horse
To have qualified for the Sydney CDI Dressage Event is quite an achievement in itself.
The starting level of competition is Advanced and the criteria is strict. This means the best dressage horse and rider combinations in Australia will arrive at the Sydney International Equestrian Centre at the beginning of May all a,, , iming for a personal best and if eve, ryt, hing goes to plan they may even secure a 'Top Ten' position in a field of up to sometimes thirty horses. 
Every horse and rider has done years of training to get to this level and as the classes increase in diffic, ulty their journey has been that b, it longer and harder. It is nearly impossible for any of these riders to get to this level without caring for their horses every step of the way. Yes, there are some that decide to take shortcuts without considering the horse first but these are the minority. The majority have put their horses' needs first and adapted their training program to ensure a happy and healthy horse.
A great example of this is the journey of the Oldenburg chestnut gelding, Feramo K  (Fidermark/Diana/Damenstolz), owned by the Oatley family and ridden by Judy Dierks. This impressive horse was originally bought in Europe for Olympian, Lyndal Oatley, but unfortunately he had a serious injury in the stable and that was when his story of rehabilitation began.
Lyndal says, "Feramo is a special horse, for many reasons, and to ensure whatever quality of life we could give him became the priority for me and my family. Our horses are an important part of our family, and my parents always taught me that if we are lucky enough to have horses that put their trust in us, then we have to do all we can to help them... and that is what we do".
Initially, Carol and Andrew Oatley's main priority was to get the horse fit enough to endure the trip to Australia so they could retire him. This took months to get Feramo to this stage but it eventually happened and he arrived safely in Australia in early 2010.
I spoke to Judy to find out her involvement with the journey. "As I understand it," said Judy, "Once Feramo was back in Australia he seemed to be getting better and better so Sandy (Andrew Oatley) started to walk him daily in hand.  After a lot of consultation with the vets we were told that he could be walked under saddle. That's when he came to me. It started with a 10-minute walk under saddle morning and afternoon and eventually we increased to trotting the long side and walk the short side and eventually we got to canter work. The whole process took some time, and several attempts, but Feramo never gave up so neither did we!"
Now, several years on, Feramo, Judy and the Oatley family look forward to the Sydney CDI and their first International start together, a goal that still feels surreal to the team. After testing the water in small tour, Feramo has produced two great starts at Grand Prix, posting impressive scores. Judy and Feramo did their first Grand Prix with a score of 67.800 and then backed it up a month later with a score of 71.567.
To get a score of over 70, there must have been some high scores for individual movements. Judy has done so many tests that she had to pause for a moment. "I think he got some 9s for his onetime changes which was great. I don't overtax him. We're lucky that he's very sensitive but at the same time very sensible. It's still early days - it's all about nurturing him. He's new to GP and still needs to be helped through the test. It's quite amazing that he has got to where he is today. He's lucky that the Oatley family love him so much, they've done everything to get him right."
So why did this team of owners and trainers keep on trying? "The horse always came first," said Judy. "The thing that kept us going was the horse has such a kind nature and seemed to be happier when in work so we went with the flow."
As for the team's hopes for the Sydney CDI, Carol Oatley says "To have a happy, healthy horse was, and is, the priority. To be able to see Judy and Feramo go down the centreline at the CDI is a dream come true, and purely a moment to celebrate that we were able to get him to this point. Everything from here on is simply a bonus that we all enjoy. There is no pressure to achieve a certain score, we are just thrilled Feramo and Judy can go out there and have some fun". For Judy it's slightly different. "If I can duplicate what I did at the last competition. I think his score could well be the same but I have to manage to do this. He's not consolidated at Grand Prix yet." 
Typically in life, we all love a story of survival and watching people or animals do what seems like the impossible. This team of owners, trainers and, of course, the horse are a great example of what can be achieved in dressage if the focus is on the horse and not the results.
1 April 2014
The Sydney CDI Where City and Country Meet
It has always been said that Sydney's Royal Easter Show is the place where the city and country met. Although the Royal hasn't been held in Paddington since 1997 - it's safe to say that the equestrian tradition is very much alive and well in Sydney's eastern suburbs.
At the heart of the equestrian community in Sydney's east is the Sydney Centennial Park Equestrian Centre. Here, only minutes away from Sydney's CBD; Sydney's urban equestrians and dressage enthusiasts are blessed with exceptional facilities. This unique centre boasts five riding schools, both indoor and outdoor arenas and perhaps the most incredible equine resource is actually - Centennial Park itself!
You might be surprised to discover that some of Australia's most prominent dressage riders, coaches and owners competing in this year's Sydney CDI, actually live and train their horse's smack bang in the middle of the city, in Sydney's eastern suburbs. Leading riders you might expect to see enjoying the facilities at Centennial Park include Pamela Bode, Denise Rogan, Damon Barlow, Mark Arthur and Alison Castle.
Local rider, Pamela Bode, lives in Clovelly and trains in Centennial Park with her coach Rachael Downs. An accomplished rider in her own right, Rachael has represented Australia in both the World Equestrian Games and the Olympics. Pamela described working with Rachael as "very inspirational". In their training Pamela and Rachael have been working together "to improve the movements, the accuracy and the flow of our tests". As a result, Pamela thinks her competition results have improved in her lead up to the Sydney CDI.
This year Pamela has qualified for the Sydney CDI on Quinto 26 in the Prix St George, Intermediate 1 competitions and if they finish in the top 12 in the Intermediate I they qualify for the Intermediate Freestyle. Quinto 26 is owned by both Pamela and another member of eastern suburbs equestrian community, Andrea Roberts of Double Bay.
I asked Pamela if there was a sense of camaraderie with the dressage riders who train at Centennial Park. Here's what she had to say;
"Very much so, I had so many comments of congratulations with being accepted into my classes at the CDI and there will be quite a few people from there who will come up to the CDI to watch, especially on the Saturday night. After returning back to the stables from the competition there are always people to ask how you went. We look out for each other. If you need help there is always someone to lend a hand, it's also social"
As the Sydney CDI is truly an international event I was curious to know if Pamela's varies her training in preparation for an event of this calibre.
"I try not to make it any different as I don't want to add any stress to my horse, I want him relaxed and want to preform and dance with me keeping him supple and sound. I will have more coaching with Rachael Downs and I will be going to Young for 3 days as a warm up to the CDI and it is good for fitness competing for those days"
With an impressive line- up of judges set to officiate at the Sydney CDI 2014. Including, Mr Stephen Clarke (FEI 5* Judge from Great Britain),  Mr Peter Holler (FEI 5* Judge from Germany), Mrs Lilo Fore (FEI 5* Judge from the USA), Mrs Victoire Mandl (DEI 4* Judge from Austria), Mrs Sue Hobson (FEI 4* judge from New Zealand), Mrs Helen Hughes-Keen  (FEI 4*  Judge from New Zealand), Australia's  Mary Seefried (FEI 5*), Susan Hoevenaars (FEI 5*), Maria Schwennesen (FEI 4*), Joanne Fowler (FEI 3*), Jane Ventura (FEI 4*), Gisela Nilsson-Harding (FEI 3*) – I asked Pamela how she thought local riders benefited from the feedback from the international judges.
 Pamela's thoughts on the matter were…
"I think it is fantastic to have international Judges judging us, it makes the competition more      prestigious, and it's always interesting reading the individual comments from the International Judges for each of the movements I can learn a lot from that with my training at home to improve for the next competitions. With Dressage there is never an end to learning more and improving more"
If you're a fan of Pamela Bode come and see the fruits of her labour as she competes on Quinto 26 in the following classes:
the Jilli Cobcroft Prix St George on Saturday May the 3rd,2014
in the Equilibrium Intermediate 1 on Friday May the 2nd 2014
and in the Zilco Intermediate Freestyle on Saturday the 3rd of May 2014
It promises to be a thrilling competition as the Sydney CDI keeps on getting bigger and better.
25th March 2014
The Importance of the Sydney CDI
In six weeks time the Sydney CDI will be once again be hosted at the impressive Sydney International Equestrian Centre. This event has been running since 1992 and is heralded by many as Australia's most prestigious Dressage competition.
I managed to catch up with three top riders to gather their thoughts on the event - One of Australia's best spokesman for many equestrian pursuits, Heath Ryan, the passionate professional and breeder Dr Kerry Mack, and Jayden Brown who has become one of the most respected and sort after riders throughout Australia. Heath considers the Sydney CDI to be one of the most important dressage competitions in Australia. "The Sydney CDI is always in my mind the biggest of the international shows in Australia. The invited international judges for the Sydney CDI will often represent the best the world has to offer and so it is on this weekend that Australian rider needs to put their best foot forward and so gain a score that is often referred back to by the Australian judges for the rest of the year. Progress is always so subtle once a rider has reached Grand Prix that those immediately around them perhaps fail to discern this progress and so subtly adjust the scores. Of course the opposite can happen and you can have perhaps pursued a training idea that is not quite so healthy and again this is much more likely to be picked up by confident international judges. Certainly the scores a rider receives at the Sydney CDI are significant and will reflect, progress, a plateauing, or a decline in the standard of Grand Prix presentation. It is also a moment where those of us who are Australian based will compare our scores with those being received by fellow Australians based in the Northern Hemisphere. All of us operating at Grand Prix here in Australia are desperate to start scoring through the seventy percent mark."
Dressage can be quite an insular sport – once in the arena, the concentration is intense. It is solely about the horse and rider at this stage; everything else vanishes in the background. It's about communicating with a prey animal that weighs in the vicinity of 700 kilos.  It's not always about winning; it's about digging deep inside trying to produce a 'Personal Best'. At competitions like the Sydney CDI, the pressure is intense and the personal goals are paramount. Kerry Mack is no different. "The goal I always set is a personal best, and I love to get into the top three (which I haven't yet achieved in Sydney yet). The personal best goal makes sense to me as I cannot control what the other riders achieve. Perhaps someone will have a fabulous new horse, perhaps someone will do the test of their lives. Dressage is not a sport that you can set out to beat someone else. In the Grand Prix my goal is always to ride a mistake free test. It is so easy to canter in the passage when you try to make more energy. It is easy to over rotate a pirouette when you have to finish it exactly on the centreline. These easy mistakes are very expensive in the marks. Consistency is rewarded but it is hard to get 7s for everything in the GP."
As most dressage enthusiasts would know, it is a long and arduous road to get to the elite level of Grand Prix. Developing a healthy, strong and happy 'Big Tour' horse is like a balancing act – everything has to be taken into account – training, feeding, mental stability, warm up method, exposure to outside influencers and the list goes on.  Heath elaborated. "Riding at the top levels is a reflection of just so much hard work, study, soul searching and pure torture that when you can perform in front of a crowd and they show their appreciation at the end of a performance it is a really nice thing."
Over the years, the Sydney CDI has attracted thousands of spectators – many who have returned each year to see their favourite horse and rider combinations steadily climb through the ranks. Although the program is generally the same, with a few new inclusions here and there, the champions (both horse and rider) change on a regular basis. There's nothing like seeing these athletes in the flesh. It is important that these events keep attracting a significant crowd not only for the enjoyment of the spectator but also for the education of the horse. Jayden Brown couldn't agree more. "We have some very talented horses and riders in Australia and it would be great for them to have exposure to competitions with a bigger atmosphere. Watching from home is great but you miss out on the fun of being at a competition.  Watching the warm up or the talented younger horses being trained is always interesting. I also enjoy the social aspect of the CDI – it's a lot of fun!"
So what will be different at this year's CDI? Jayden and his beautiful gelding Furst Friedrich who last year started in the U25 Grand Prix division will be stepping up to the Open classes this year. "The competition will be a little tougher," said Jayden, "but I don't think there will be any more pressure than any other competition."
By the sounds of it, Heath Ryan's program will also be a bit different. "Hopefully I will have three Grand Prix horses in Regardez Moi, Utopian Cardinal and Johnny Depp. Regardez Moi is in the evening of his Grand Prix career now being 18 years of age and I am on a program that involves a conservative preparation. Funnily enough Regardez Moi is doing some of his best work ever and I know if I am really clever he can still step up and win. Utopian Cardinal is young and just starting to flex muscle. I think he is really exciting however although his dad is Regardez Moi he is a very different horse and I am still trying to work out how best to present him in a Grand Prix competition. Johnny Depp is the baby of the team being just 8 years of age. Johnny was born mega mega powerful however encouraging him to be light and delicate and artistic is a project in progress. I doubt I will ever have three Grand Prix horses on the go at the same time ever again so I will be enjoying the moment."
17th March 2014
Sydney CDI Announces  Young Horse Guest Rider
As part of its sponsorship of the NSW  Young Horse Championships at the Sydney CDI, the Hanoverian Horse Society of Australia is thrilled  to announce that Anna - Sophie Fiebelkorn (Germany) will be making a return visit to Sydney to be the Guest Rider in 2014.
Anna-Sophie  was the Guest Rider in 2011 and 2013, and her skill as a talented rider and trainer impressed the audience along with her sensitive riding  and positive commentary  on each of the horses after each ride. We look forward to providing Australia with this top Dressage rider  again in 2014 to further  the s, uccess of the Sydney CDI Young Horse Championships, which have become an exciting element of the event. Anna-Sophie is well known in Germany for producing championship Dressage horses with great success. Her achievements include wins and placings in the prestigious Bundeschampionate in Germany and the FEI World Dressage Championships for Young Horses in Verden. Some of Anna-Sophie's top horses include Callaho's Benicio, For Compliment and Kanganyas Benetton Dream FRH.
Anna-Sophie runs her own training  establishment in Bartelsdorf  Germany  where she has a select stable of young and talented horses trained  up to Grand  Prix Level Dressage. Anna-Sophie  currently trains with German Olympian Heike Kemmer and Hans-Heinrich Meyer zu Strohen.The H.H.S.A. look forward to providing Australia with this top Dressage rider  in 2014 to further the success of the Young Horse Competition.
Young Horse qualifying competitions will be held on Thursday (1 May) and Friday (2 May) with the top three horses after the second round  on Friday  going forward  to the Final on Saturday (3 May) afternoon. HHSA will be conducting clinics with this talented rider and trainer after the Sydney CDI and if the last clinics were any indication  they will certainly be full. Details on the clinics can be found on the HHSA website http://www.hanoverian.org.au/
13th March 2014
Sydney CDI Where the Stars Gather....
Australia's premier dressage event, the Sydney CDI, will again provide something for every dressage and horse lover the ultimate experience in FEI-level dressage in Australasia culminating in the Grand Prix Freestyle on Saturday evening.
The event has wide appeal showcasing Australia's top combinations as well as the best of our young riders who will feature in the CDI - Y (World Cup Qualifier for Young Riders) and the Under-­ 25 Grand Prix Tour. The horses of the future will feature in the Hanoverian Horse Society of Australia NSW Young Horse Championships. The Final round to determine a Champion in each group will take place on Saturday afternoon.  
Young Horse Jumping classes will feature once again on Saturday AND an exciting action packed Jumping Accumulator Stakes Competition sponsored by Equestrian NSW will be held on Saturday night before the Grand Prix Freestyle.  A stellar line up of FEI accredited judges from around the world will officiate providing riders with a top line up of judges to assess their performances.  
One of the added attractions at the Sydney CDI is the popular shopping area featuring a wide range of products, from arena equipment, arts and crafts, accessories, to the best in clothing, saddlery, horse feed, nutrition and health products, giftware, horse transport and more. There are always plenty of specials and bargains on offer during the event.The Sydney CDI is renowned for its hospitality in the Top Spot Marquee.  Enjoy great food, fine coffee and wines in the marquee located in the Indoor Arena. Morning, afternoon tea and lunch with Wild Oats wines included and other privileges apply.   
If you are thinking about purchasing tickets for the popular Saturday Evening Bon Appétit Dinner, we urge you do so early as tickets sell out fast.   Book tickets for the Marquee on line or download a booking form from the website. The event will conclude on Saturday night with The Riders Shoppe CDI Après Party in the Indoor. DJ booked and the bar will remain open and complimentary refreshments provided. An Educational Workshop for Judges, riders and dressage enthusiasts will be held on Sunday, 4 May, with Peter Holler (5* Judge Germany) and Lilo Fore (5* Judge USA).   Bookings are essential and you can book on line via Nominate.