Samuel Noakes
Hunter Valley Team 2019 National Vaulting Squad Champions
Recently we caught up with Sharna Kirkham, coach of the Hunter Valley Vaulting Team.
This team, who were the 2019 National Squad Champions is made up of six vaulters, Eloise Tate (19), vaulting for seven years, Lydia George (16), vaulting for six years, Poppy Loveland (16), vaulting for ten years and Zoe Caddis (16), vaulting for three years, along with Assistant Coach and Lunger, Martine Fogg (24), vaulting for 13 years and Assistant Coach and Lunger Sabine Osmotherly (22), vaulting for 12 years.
Each member has joined the sport in different ways. Some attended a clinic, some were riders first, others got into vaulting by word of mouth and another continued vaulting in Australia when she moved over from Wales.
The six vaulters on the squad train three times a week. They work exceptionally hard and juggle uni, school, jobs and life very well.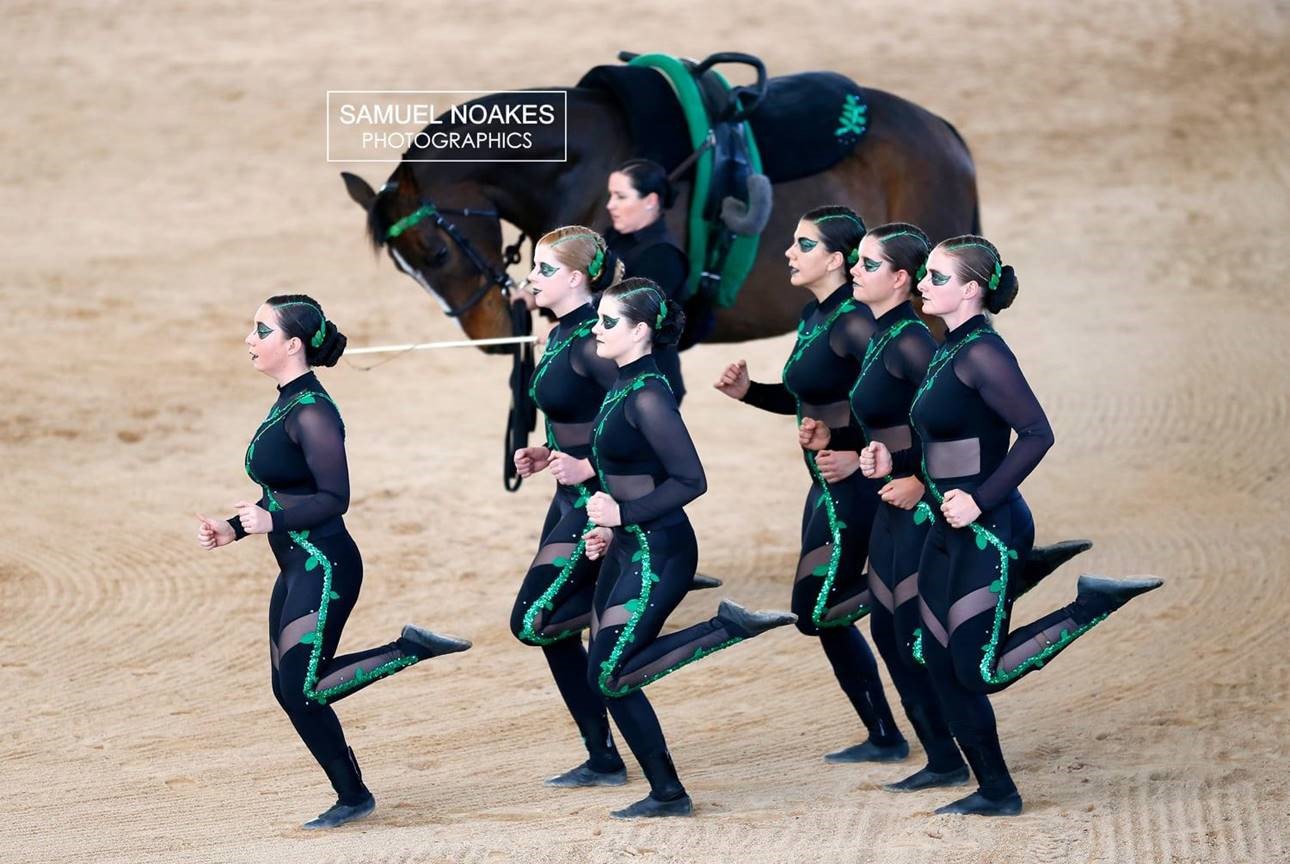 These girls practise to perfect every detail
"As their coach, I have truly enjoyed being part of their journey as they push themselves further and further each session. True teamwork and commitment is needed to achieve what we have done this year," says Sharna.
At Nationals, the Hunter Valley Vaulting Team was also named Barrel Squad Champions, receiving perfect 10s for their performance. Achieved through "a lot of hard work and training," shares Sharna.
"Our amazing horse worked so hard, giving the girls confidence to push the boundaries and evolve into a real team unit of creative beauty. 2019 has us finishing as State and National Squad Champions and we can't wait for the 2020 Vaulting season to begin. Watch this space," tells Sharna proudly.
Working towards the recently acquired National Championship title has taken time, determination and dedication.
"In many ways, we have been working towards the National Squad title since we evolved this canter team in 2016. We have learnt a lot along the way about how to go about achieving our goals and careful planning and commitment," explains coach Sharna.
In the sport of Vaulting, vaulters can compete individually, in pairs (pas de deux) or in teams of six. It is up to each team member to plan for their own future and goals. Points of consideration are the vaulting horse's workload and education, along with a vaulter's current level and training availability.
Sharna does other classes as well, but the collective focus this year was to progress the squad unit into "something special".
Like all equestrian disciplines, when it comes to finding the perfect vaulting horse, there are many key factors to consider. Obviously what level and class they are to be used for, whether it is individual, pas de deux or teams is important, however, the key factor is a friendly, patient and trainable temperament. They must be happy to be around a lot of people and get lots of attention.
Sharna is quite specific on the point that with a vaulting horse. "There is no deadline for when they're ready. They evolve like the vaulters - in their own time".
On the horse the squad currently uses, Sharna tells, "We were looking for something big, solid and athletic, because they have to be strong and balanced enough to maintain a canter with three vaulters moving on top. Our squad horse, Cruise, is a 17.3h Irish Sporthorse who looks like a wine barrel on legs, he is amazing!"
When it comes to competition, in the initial stages of an event, all vaulters have to perform six to eight 'compulsories', which are set moves based on the vaulting level, from which vaulters are graded into categories for advancement.
After compulsories, vaulters then move on to being able to perform the highlight, which is their freestyle.
The length of a freestyle varies, depending on the type of competition. Individuals have a one minute freestyle, Pas de Deux has two minutes and a Squad has 4 minutes. The freestyle is choreographed based on the vaulters' skills and the horse's development.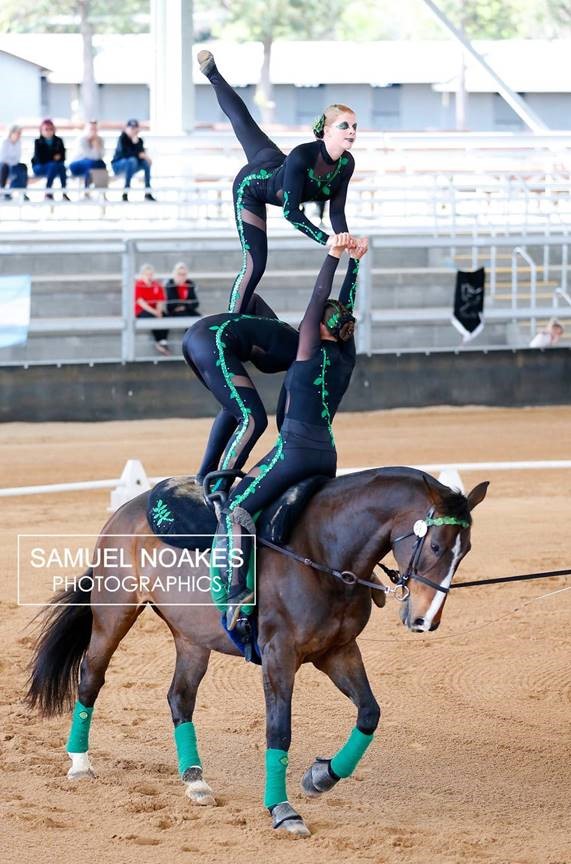 The team, with much-loved Cruise, work together to highlight their individual strengths for maximum overall team impact
"It [the freestyle] should highlight each individuals' strengths and be something that is creatively original. We had to wait for Cruise's fitness to develop before we introduced him to our more complex moves," explains Sharna.
When planning a winning freestyle, areas to consider are artistic, technique, performance, static and dynamic moves and music interpretation.
"I say to my vaulters their goal is to turn heads. Make someone walking past their performance do a double-take and want to see more. Stand out," describes Sharna.
Looking forward, the Squad are continuing to work hard and are aiming towards some bigger international CVI's in the future.
"These Hunter Valley girls are pretty special," says Sharna, who has been a part of this amazing sport for 25 years as a vaulter, lunger and coach.
"[Vaulting is] a challenging, exciting and huge part of my life that is ignited purely by my passion for horses and a beautiful and harmonious relationship of vaulters, coach and horses."
If you've ever considered vaulting, Sharna's best piece of advice is, "If you get a chance, try it. No one starts off at high level. One of my best vaulters was terrified to even let go without holding my hand as I walked next to her. My vaulters don't peak too early and it's important they understand my philosophy of that if it's not fun, you shouldn't be doing it! Sport should be an enjoyable challenge!"