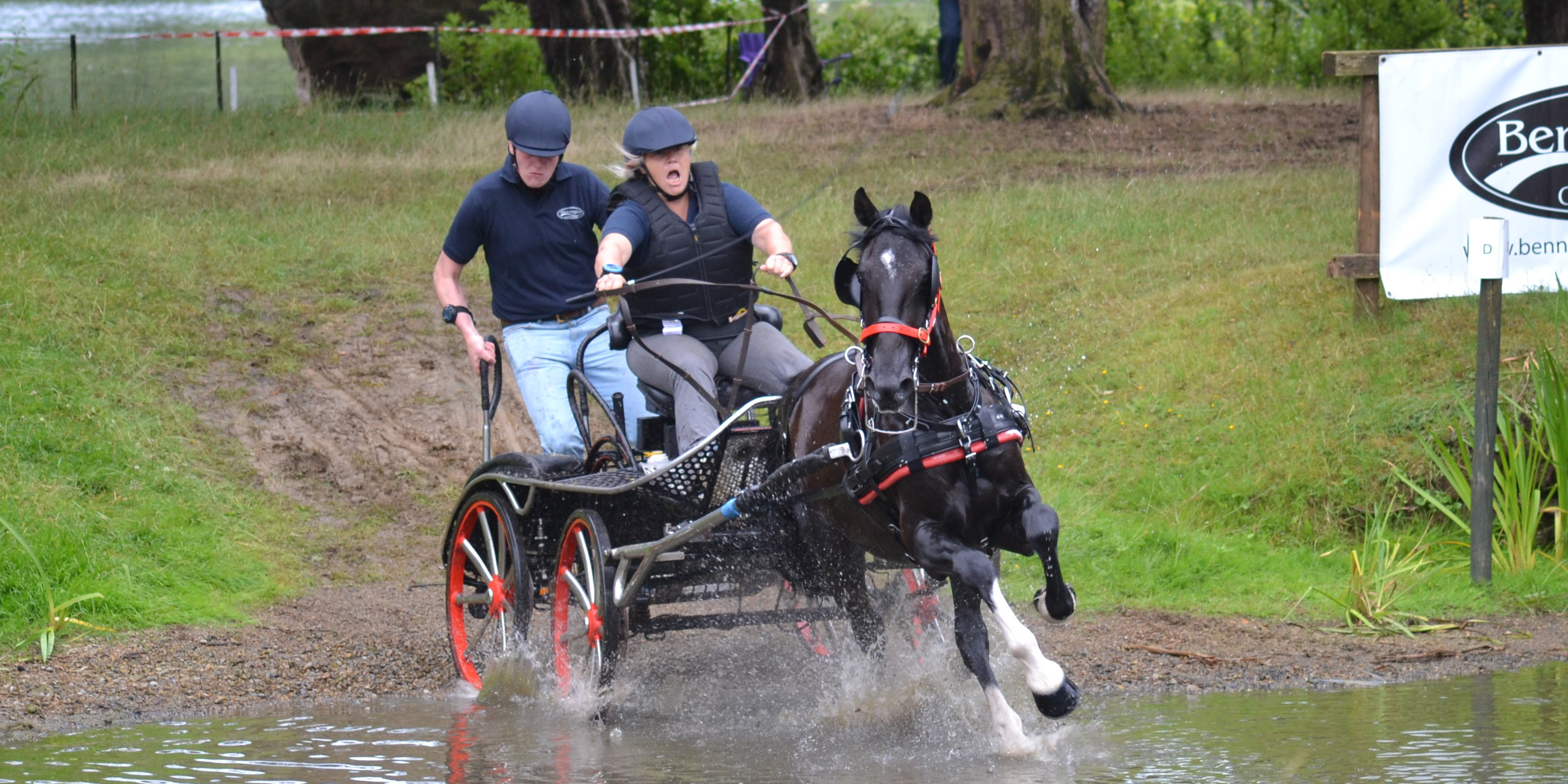 Jodie Mc Keone all set for the World Championship Para Driving.
By Berni Saunders

Australia will challenge this important event on the international calendar with the acceptance of the entry of Victorian Driver Jodie McKeone. This is the 7th edition of the World Championships for Para Driving and the event will take place in Exloo in The Netherlands from the 23-27 August 2023.

Australia's Jodie McKeone joins twenty-four competitors in a truly international line-up with representatives from nine nations. This is Australia's first appearance at the World Championships for Para Driving which is held in conjunction with the European Championships.

In the Para Driving Championships, competitors take part in two classes, Grade 1 and Grade 2, with the presentation of the individual and team medals on Sunday 27th August. With only one representative, Australia is not eligible for team awards.
Jodie drives at a variety of National events including Australian Carriage Driving Society (ACDS) and Equestrian Australia Driving competitions.

Equestrian Australia spoke with Jodie McKeone at her UK base and reports that her excitement and anticipation are obvious, Jodie says "This is the culmination of many years hard work and meeting the goals I set for myself in five and ten-year plans. I have always driven, as both of my parents drove harness horses for the film industry and as kids we drove donkeys pulling logs out of the bush to build our house in the new England tablelands of NSW, and there was always a big demand for firewood."

"It was a natural progression to get into show driving at Royal shows and presenting the horses bred by my mum Evanne Chesson, who operates Shepherds Hill Farm in Victoria. Her stud specialises in the baroque breeds and Warlander horses, a breed that crosses Andalusion or Lusitano horses with Friesians, the result being an imposing specialist carriage horse. Shepherds Hill is the largest breeder of Warlander horses in the world."

Just before she left for England in April 2023, Jodie attended the Friesian Keuring (Classification) where the mare Asante Sane of Bracken Hill was the first Australian bred horse to pass the IBOP harness test with a score that exceeded 77 points.

Jodie added. "As a para-equestrian, I have had my share of ups and downs and have struggled with the effects of Multiple Sclerosis Relaxing Remitting (MSRR). In addition, I was diagnosed with stroke and Spinal Segmental Myoclonus in January 2023. I took a deep breath and had a chat to myself, realising that my health was unlikely to improve and I had to follow my dreams … now!"

"I have had the most wonderful support from Equestrian Australia's Christie Freeman (EA Board Member), Julia Battams (Equine Pathways) and Corby Cunnington (EA's Driving Athlete Representative). The encouragement shown by Christie, Julia and Corby gave me the drive to go for it, and here I am!"

"I had to make my own way to the UK to qualify for the World Championships and I have been based at George Bowman's yard in the Lakes District (Cumbria), near the Scottish border and I have had the use of his horses to prepare and take part at Exloo." "Being based with the Bowmans has been educational and inspirational. George Senior, aged 88, still drives a team of four every day."

"I will be taking the 7YO purebred Hackney KWPN gelding, Royal Walker to the World Champs. I am so grateful to the Bowman family for their generosity and support and I look forward to my participation helping to raise awareness of Driving in Australia, and help to grow the fan base."

At a recent warm-up event, and  in a show of Aussie patriotism, Jodie not only prepared the horses,  but also acknowledged the multi-nation effort involved in getting to the championships, with this colourful finger display. The Bowmans from the UK, her coach and Chef d'Equipe are from The Netherlands and Jodie's Aussie connections are all represented in her colourful finger art.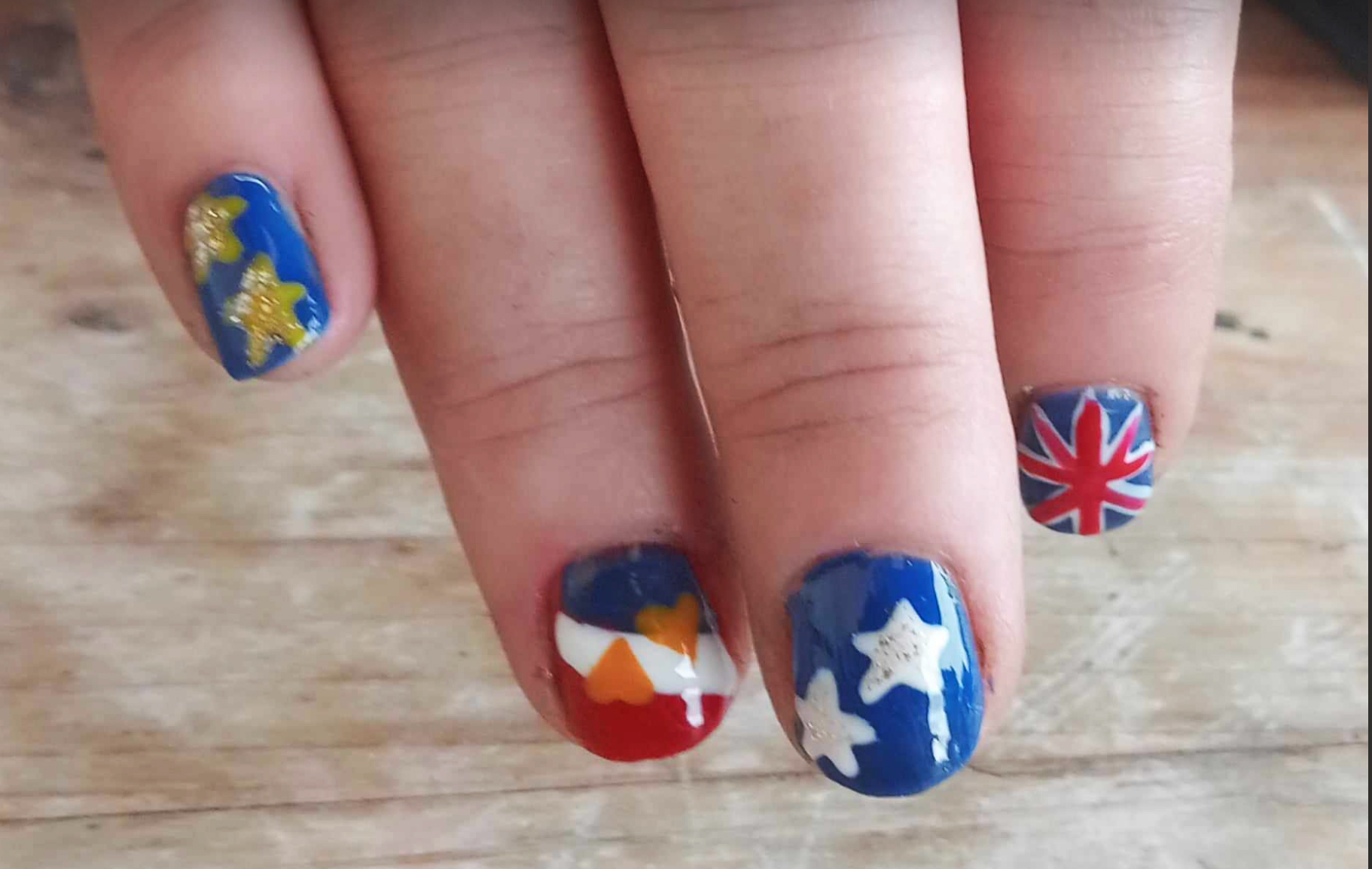 Jodie's husband Jason has been holding things together back home. On his first International flight, Jason  will head to The Netherlands to support Jodie. "It will be a special time in our 30-year marriage, as this is the first time we have had more than 3 days away together. I am looking forward to having him with me".
Be sure to follow Jodie's journey and watch out for updates here on the Equestrian Australia website and Facebook page. Thank you, Jodie, you will have Australia riding with you in the carriage at Exloo.